A good sleeping bag is one of the best investments you can make as an outdoor enthusiast. Packability, warmth, weight, and versatility are all important factors to consider when buying the best sleeping bag for backpacking, and there's a lot to choose from. From technology to new fabrics, a quick Google search might leave you with a dizzying amount of options, so we decided to do some of the work for you.
In this blog post, we list the best sleeping bags for backpacking, plus information on how to choose a backpacking sleeping bag. They're some of the most popular on the market because they adhere to the standards of warmth, weight, and comfort. You might not expect to get your best night's sleep while camping or backpacking, but these sleeping bags will sure help you come close.
Here are the best sleeping bags for backpacking and tips to help you choose the right one for you.
Pro-tip: A good backpacking sleeping bag is one of the larger backpacking gear expenses you'll encounter so try to catch it on sale if you can! Use the links below to shop around.
Nemo Disco 30
Most Comfortable Sleeping Bag for Side Sleepers
Key Features:
Weight: 2 lbs, 5 oz
Temperature Rating: 30°F (also available in 15°F)
Insulation: Down certified to the Responsible Down Standard (RDS)
Shell: 30-denier ripstop nylon
Shape: semi-rectangular
Price: $259.95
Check price: NEMO | REI | Backcountry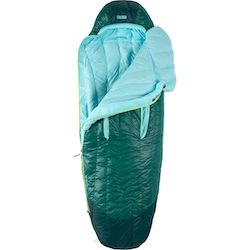 Great for: side and stomach sleepers, people who toss & turn, 3-season backpacking
Pros: provides maximum comfort, roomy to move around, pillow pocket, foot box is made of waterproof materials which is helpful protecting the bag against tent condensation
Cons: doesn't compress down super well, roomy bags take longer to warm up, loose-fitting stuff sack
The NEMO Disco 30 is one of the most popular backpacking sleeping bags on the market with its unique Classic Spoon™ shape, which provides extra support at the elbows and knees so side sleepers can shift positions comfortably. This bag has Thermo Gills™ technology which vents body heat to help regulate temperature without letting cold drafts in.
It can also be zipped together with another NEMO bag (one right zip and one left zip bag will zip together), creating a two-person cocoon. You can find the men's version here.
REI Co-op Magma 15 Sleeping Bag
Best All Around Sleeping Bag
Key Features:
Weight: 2 lbs 4 oz
Temperature Rating: 17°F (also available in 30F)
Insulation: 850-fill goose down (RDS certified and bluesign® approved)
Shell: Pertex® 15-denier ripstop nylon (bluesign® approved)
Shape: mummy
Price: $399
 Check price: REI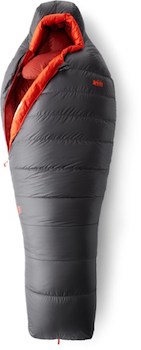 Great for: 3-season backpacking, back sleepers
Pros: great value buy for comfort, weight & price, solid warmth-to-weight ratio
Cons: snug, narrow bag fit (especially the foot box)
This is one of the best lightweight sleeping bags for backpacking on really cold nights. The REI Magma 15 has a trapezoidal footbox designed to keep your feet extra warm. It also has an anti-snag zipper so you don't have to worry about middle-of-the-night zipper snafus and a contoured hood so it fits snug to retain warmth around your head and neck. For the price, quality, and seasonality, this is one of the best backpacking sleeping bags you can buy. You can find the men's version here.
Sea to Summit Spark
Most Lightweight Sleeping Bag
Key Features:
Weight: 12 oz – 1 lb 15oz
Temperature Ratings: 5F, 18F, 28F, 40F
Insulation: 850-fill UltraDry Down™
Shell: 10-denier nylon
Shape: mummy
Price: $269-$589
Check price: Sea to Summit | REI


Great for: ultralight backpacking, 1-4 season backpacking
Pros: most lightweight bag on our list, available in multiple temperature ratings to fit your needs, highly compressible
Cons: doesn't fit well in the included compression sack
The Sea to Summit Spark is the best sleeping bag option on the market for ultralight backpacking. With most Spark bags weighing well under 1lb (less than some sleeping pads!) and packing down to the size of a football, it's perfect for saving a ton of weight and space in your backpack.
BFT's Director Linda uses the women's version of the Spark (Sea to Summit Flame 25F) and it's by far the lightest and warmest backpacking sleeping bag she's ever used. Both the Spark and Flame come in a variety of temperature ratings, so you can decide which best fits your needs.
Enlightened Equipment Revelation Quilt
Key Features:
Weight: 1 lbs 4 oz (20 degree regular version)
Temperature Rating: available in 0° – 50°F
Insulation: 850-fill down ethically sourced
Shell: ultralight nylon fabric coated with Durable Water Repellant
Handmade in Minnesota, USA
Price: $320
Check price: Enlightened Equipment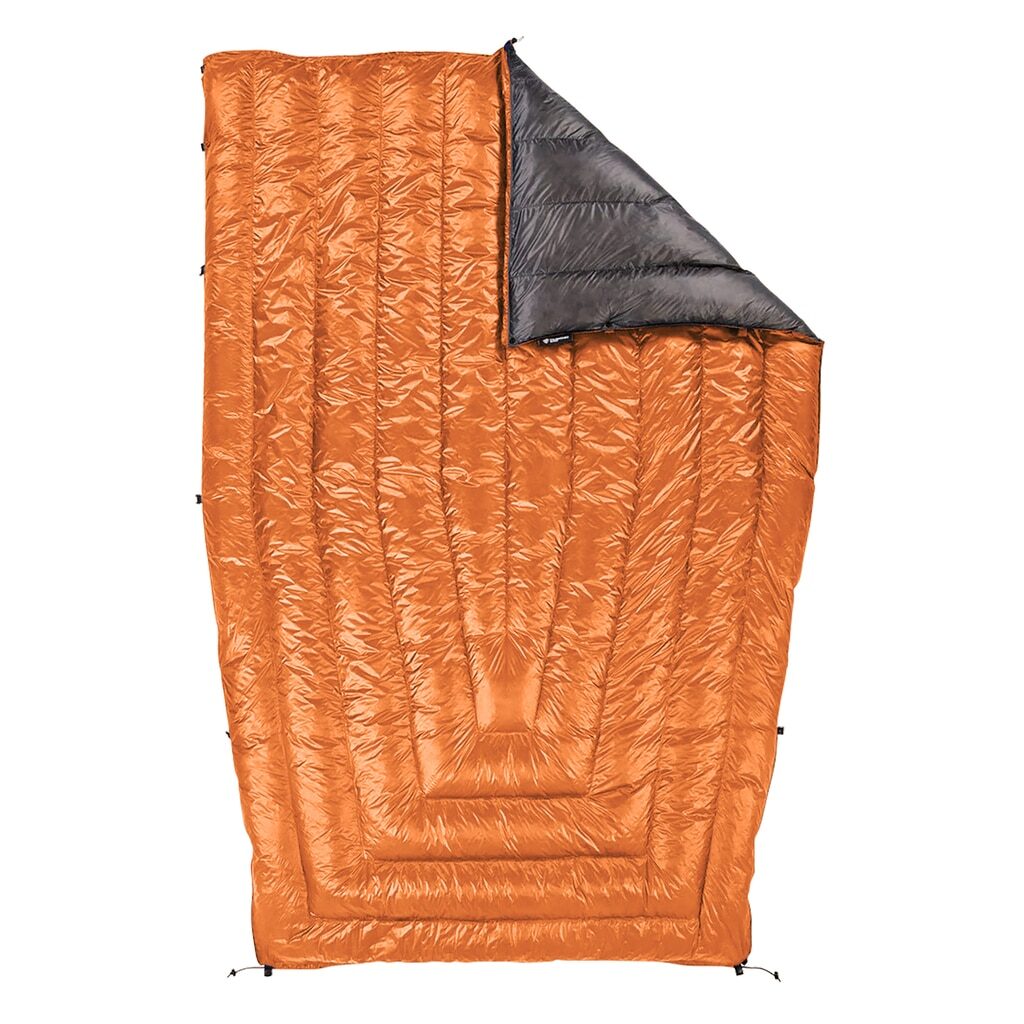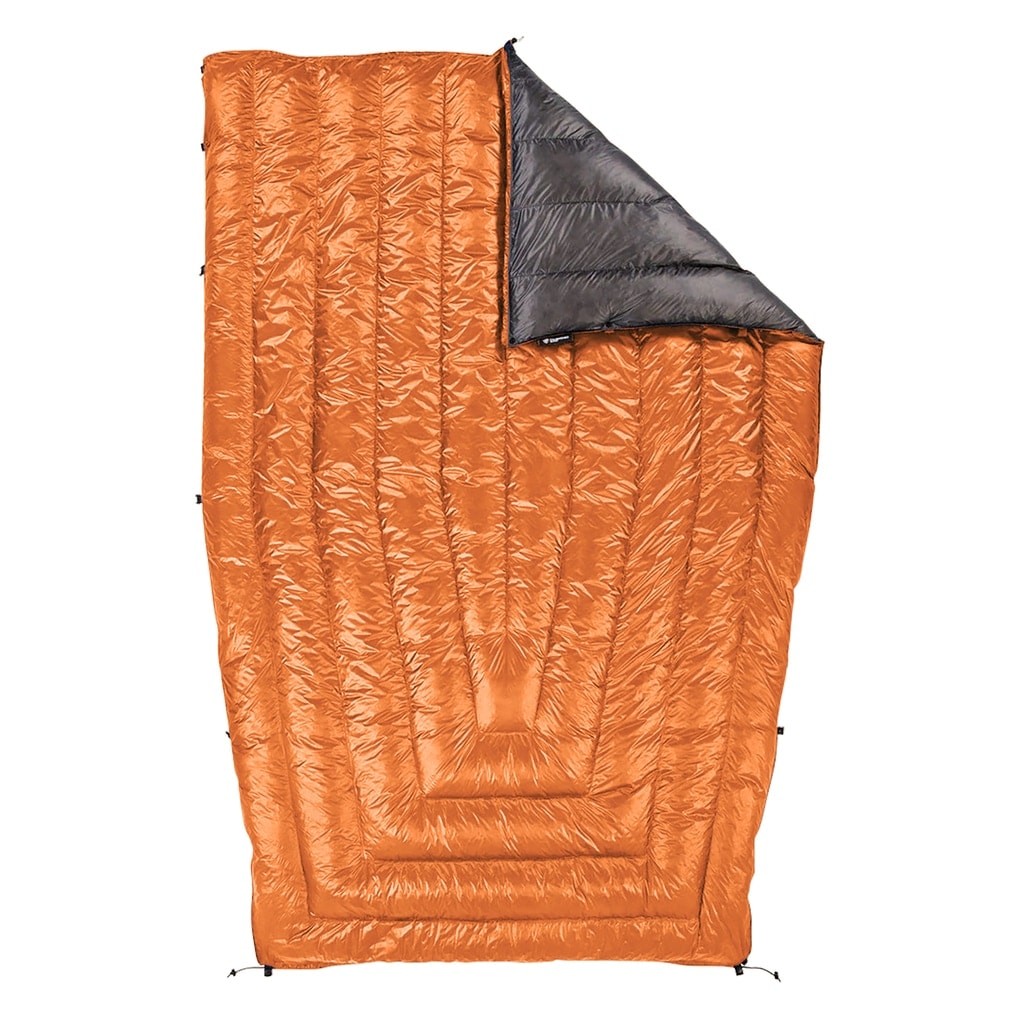 Great for: ultralight backpacking, 3-season backpacking, people who move around a lot while sleeping or don't want to feel constricted in a sleeping bag
Pros: one of the lightest bags on our list, customizable, highly compressible, can easily be used as a blanket around the fire
Cons: requires a proper sleeping pad for maximum warmth, custom orders can take a while to ship
If you've ever considered ditching the sleeping bag for a quilt, Enlightened Equipment's Revelation quilt is the one to use. This quilt is perfect for backpackers – ultralight and ultra-versatile. For warm nights, you can simply lay it out as a blanket and on colder nights, you can cinch the adjustable footbed closed. This design is perfect for thru-hikers and anyone who wants a bag that can be used in various temperatures and climates. Note that quilts are meant to be paired with a sleeping pad – if you're also in the market for a sleeping pad, we've rounded up the best sleeping pads for backpacking as well.
Along with the other advantages, this quilt weighs well under 2 pounds (depending on temperature and fill), making it ideal for ultralight backpackers. I've been using Enlightened Equipment 2-Man Accomplice Quilt and I love it. If you're looking to snuggle up with your partner, check out our roundup of the best 2-person sleeping bags.
North Face Eco Trail Synthetic 20
Best Synthetic Backpacking Sleeping Bag
Key Features:
Weight: 3 lbs 14 oz
Temperature Rating: 20°F
Insulation: Recycled polyester
Shell: Recycled polyester
Shape: mummy
Price: $129
Check price: REI | Backcountry | Moosejaw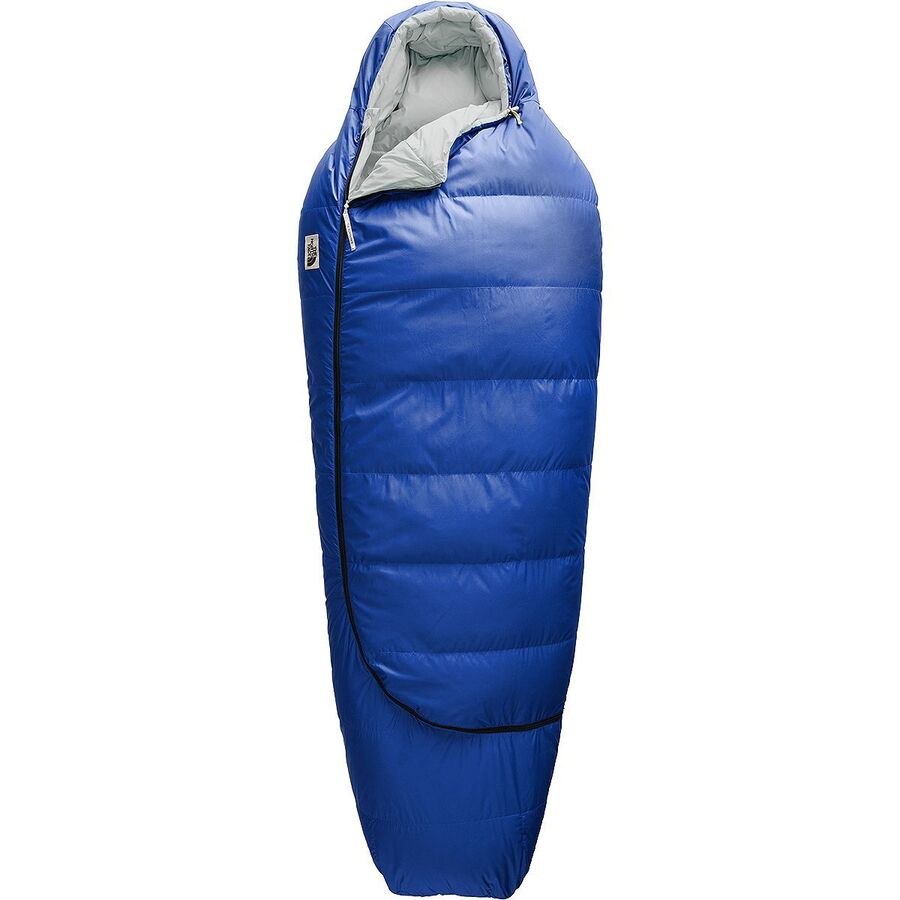 Great for: 3-season backpacking, vegans, wet weather camping, beginner backpackers
Pros: budget-friendly, holds up better than down in wet weather, made of all-recycled materials
Cons: one of the heaviest backpacking sleeping bags, doesn't compress down well
The North Face Eco Trail Synthetic 20 is a great 3-season bag that offers eco-friendly all-recycled construction (minus the zipper teeth). It has recycled synthetic insulation that will keep you warm even in wet camping conditions. This bag also has extended width in the knees and a vaulted footbed, giving you extra mobility. This bag is incredibly warm and durable. It's not the lightest sleeping bag for backpacking, but it's a great eco-friendly and budget-friendly option that gets the job done.
Western Mountaineering Kodiak MF 0F Down
Best Cold Weather Sleeping Bag
Key Features:
Weight: 2lbs 12 oz
Temperature Rating: 0F
Insulation: 850-fill down with 7″ of loft
Shape: mummy
Available sizes: 6′, 6'6, 7′
Price: $730
Check Price: Backcountry | Moosejaw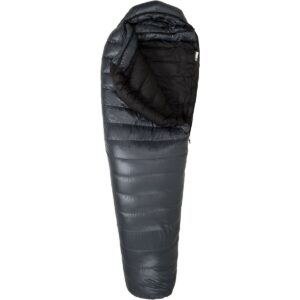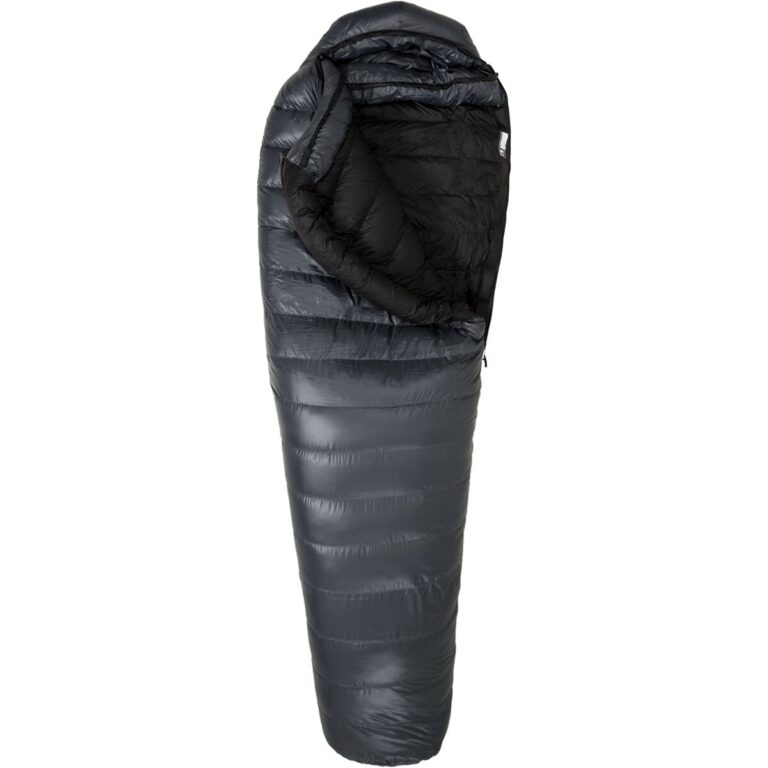 Great for: winter backpacking, people who run cold at night
Pros: warmest bag on our list, 7 inches of loft provides maximum warmth and comfort
Cons: expensive investment, might be too large for smaller bodies
Western Mountaineering has long been the leader for cold weather sleeping bags and the Kodiak MF 0F Down Sleeping Bag takes the cake for its warmth, comfort, and size. What makes this bag stand out is the extra wiggle room, especially in the shoulders, which gives you plenty of room to move around if you're a side or stomach sleeper. The extra room also gives you space to stuff your clothes and electronics inside your bag to stay toasty for the morning. What makes this bag even comfier is the full 7 inches of loft – this will make even the coldest of temperatures seem toasty!
For temperatures down to 0 degrees, you can't find a sleeping bag better than this one. It may be at the top of your price bracket at around $730, understandably. But, with proper care, this sleeping bag should last you a very, very long time.
Mountain Hardwear Bishop Pass 30
Best Value for Price
Key Features:
Weight: 1 lb 14 oz
Temperature Rating: 30°F (also available in 15F)
Insulation: 650-fill-power fluorine-free RDS down (80% down/20% feather)
Shell: 20-denier ripstop nylon
Shape: mummy
Price: $235
Check price: REI | Backcountry | Moosejaw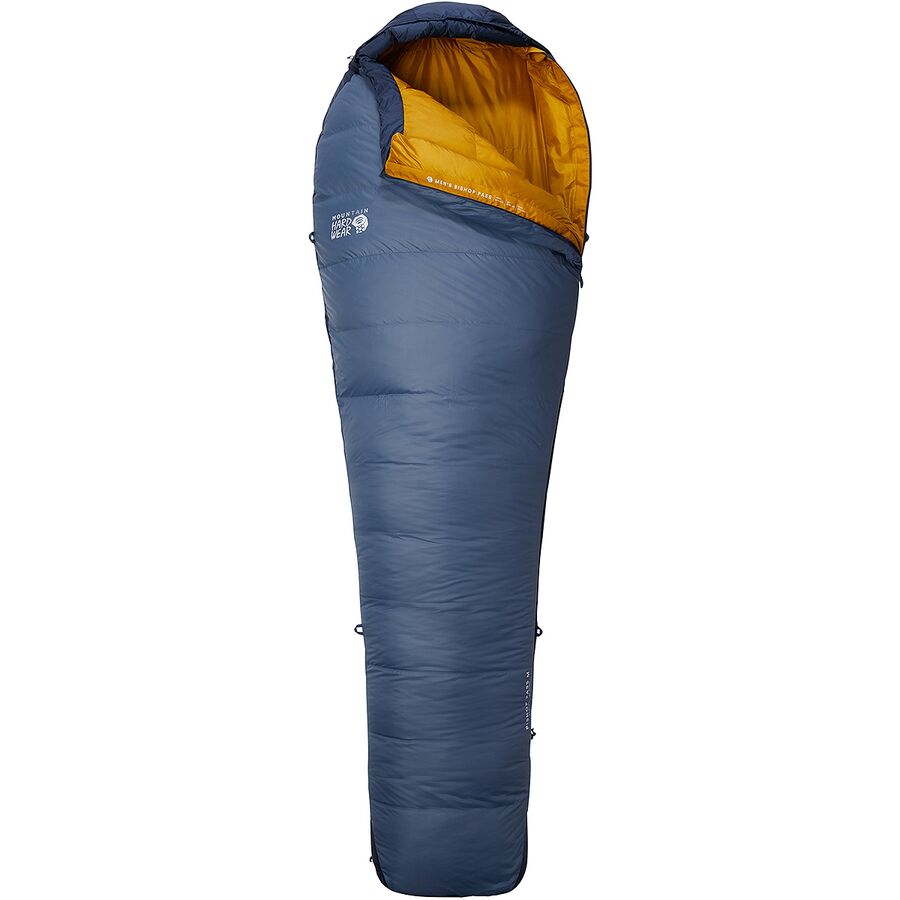 Great for: 3-season backpacking, lightweight backpacking
Pros: lightweight and easily compressible, can be zipped together with another bag to create a 2-person sleeping bag
Cons: not great for side sleepers, several reviewers felt cold in temperatures around 30-40F
The Mountain Hardwear Bishop Pass 30 is a great lightweight value-driven down sleeping bag for 3-season backpacking adventures. The bag's mummy cut fits close to the body for warmth and efficiency but leaves more wiggle room than the standard mummy bag. This bag can also be zipped to select Mountain Hardwear sleeping bags with the opposing zipper side to create a 2-person bag. You can find the men's version here.
Kelty Cosmic 20
Best Budget Backpacking Sleeping Bag


Great for: 3-season backpacking, beginner backpackers
Pros: great value for price, easily compressible
Cons: delicate in the washing machine, not as compressible as other bags
For less than $210, the Kelty Cosmic 20 Sleeping Bag has won many awards for being an all-around good-quality sleeping bag. Made with hydrophobic down, it's lightweight but it will not perform as well in wet weather. Available in 0° and 20°, it's one of the best sleeping bags for backpacking in its price range and a great option for new backpackers looking to get into the sport. It's also available in a men's version.
How to Choose a Backpacking Sleeping Bag
Picking out a new backpacking sleeping bag for any outdoor adventure can be super overwhelming. There are so many choices and so many features to consider, not to mention the price tag. So, we've put together this simple guide on how to choose a backpacking sleeping bag for your next great adventure. Hopefully, this makes your gear buying process easier.
Sleeping Bag Temperature Rating
The sleeping bag temperature rating is the first place to start when picking out a new backpacking sleeping bag. Think about when and where you plan to use it the most.
Sleeping bags can be broken down into three simple categories: summer, 3-season, and winter based on the temperature ratings shown in the table below.

Most people will be happy with a 3-season bag, which will keep you comfortable most of the year. Remember you can always zip down the bag for a summer camping trip or add a sleeping bag liner to your bag for an occasional winter camping trip. Most 3-season backpacking bags will list a European Norm (EN) testing rating with two temperature ratings known as the "comfort rating" and the "lower-limit rating". EU ratings are standardized rating systems that keep temperature ratings consistent across brands.
Comfort rating is the lowest temperature at which the bag will keep the average woman or "cold sleeper" comfortable. Lower-limit rating is the lowest temperature at which the bag will keep a man or "warm sleeper" comfortable. (EN ratings are based on a sleeper wearing one long underwear layer and a hat, and sleeping on a single one-inch thick insulating pad.)
The number listed with most sleeping bags (example: Nemo Disco 30) is the EN Lower Limit which is usually 10-15 degrees lower than the EN Comfort Rating. So, for most people, the Nemo Disco 30 would be comfortable in 40F sleeping temperatures.
Sleeping Bag Shape
While the sleeping bag shape might not seem important, it is for two big reasons:
First, sleeping bags keep you warm by trapping air and holding it in a layer next to your body. Your body heats up this layer of trapped air to keep you warm. The less air space there is in the bag, the faster you warm up and stay warm! Picking a bag based on your body size and shape is important for efficiency and warmth. Roomier sleeping bags will often be heavier as well.
We recommend selecting a semi-rectangular bag or mummy bag which is versatile and can work for backpacking as well as car camping. Semi-rectangular bags are good for backpackers with larger frames or those who don't like the constrictive feeling of a mummy bag.
To Quilt or Not to Quilt?
Some lightweight backpackers won't even entertain the idea of a sleeping bag, and instead, opt for a camping quilt. Quilts are a lightweight backcountry option generally designed to be paired with a sleeping pad. It's basically a blanket with a foot box that will keep you warm without any unnecessary insulation or weight. Quilts offer a better warmth-to-weight ratio since they cut out material that's normally compressed under your body in a traditional mummy bag.
However, quilts are more drafty than mummy bags, so in cold or windy conditions we'd opt for a mummy bag. Be sure to check out Enlightened Equipment if you're interested in going ultralight with a sleeping quilt.
Synthetic vs. Down Sleeping Bag Insulation
Since switching to a plant-based diet and eliminating all animal products from my diet, I've also questioned whether or not to switch out my outdoor gear made from animals – one of the biggest culprits being down (feathers). I have outlined the key differences and pros/cons below, but you can deep dive into the ethics of buying/using down in this blog post to help you understand the ethics and sustainability behind down feathers.
Synthetic sleeping bags are usually insulated with polyester. Synthetic bags are quick-drying and still hold up to their insulation power even when damp or wet. Often, they are cheaper than down, and they're non-allergenic. One of the downsides of synthetic bags is that they don't compress as small as down sleeping bags, and they tend to be heavier than down (but that's not always the case as technology improves). Also, polyester is usually derived from petroleum, although recycled polyester is now being made from plastic bottles and other recycled plastics for more sustainable options.
Synthetic sleeping bags are a good option for those that live a vegan lifestyle because natural down is produced from geese or ducks.
The biggest advantage of down over synthetic sleeping bags is that down bags tend to be lighter and compress smaller when packed away – key characteristics when you're looking for the best backpacking sleeping bag. Generally down is more expensive than synthetic, and some people say it's more durable, so it's a long-lasting investment. The primary downside to down is that it loses its insulation power when it gets wet. So, it's most suited for cool, dry conditions. However, many down sleeping bags are now coated with a water-repellent finish that will keep you warm and dry in damp conditions. Otherwise, down sleeping bags are a lightweight, warm, and packable choice for backpacking.
Most of the notable outdoor gear companies have instituted the Responsible Down Standard (RDS), or Global Traceable Down Standard (TDS). These standards ensure that the down and feathers used in these products came from animals that were treated well, and were not force-fed or live-plucked. All of the down sleeping bags listed here are certified to the RDS or TDS.
Other Important Backpacking Sleeping Bag Features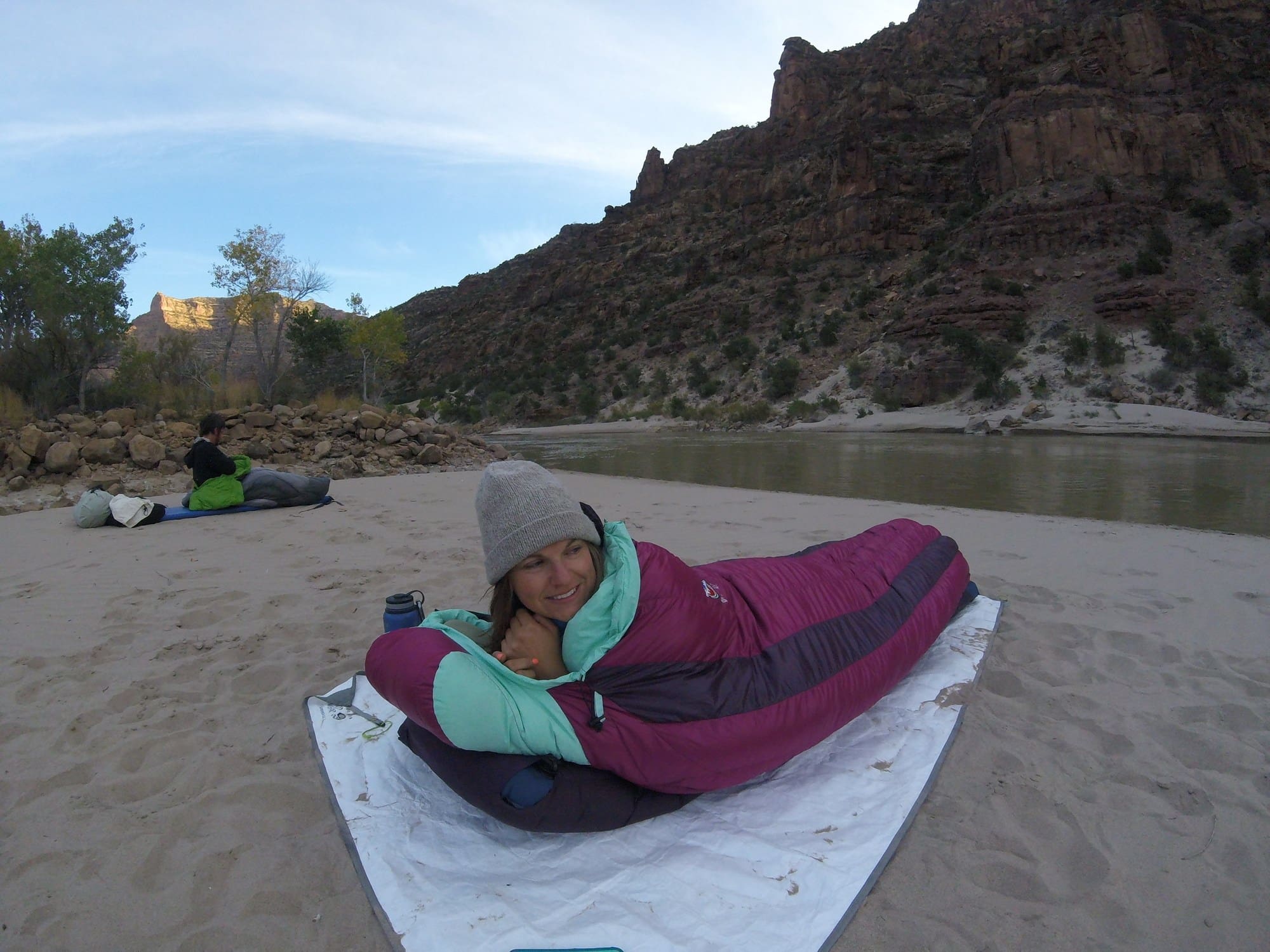 Sleeping Bag Hood
Having a hood on your sleeping bag can make or break your sleeping comfort. It can mean the difference between being freezing at night or toasty warm. Because the rest of your body is encapsulated in your mummy bag, your body's heat would escape through the head without a hood. And, that defeats the purpose of the sleeping bag. So, opt for a bag with a hood if you want to be warm and comfortable. Most mummy bags and semi-rectangular bags come with a hood anyway. Quilts typically don't have a hood, but many companies sell hoods as an add-on purchase. If you plan to backpack in warm environments always, it's not as crucial. But, it's better to be safe than sorry.
Pockets
Some bags come with pockets that you can stuff with clothes to create a pillow. Others come with stash pockets to keep your glasses, a watch, headlamp, or cell phone nearby.  Some bags also come with a pocket or sleeve designed to fit a sleeping pad so you don't roll off in the middle of the night. The extra fabric might add to the total weight of the bag, but it's a matter of personal preference and needs.
What's your favorite backpacking sleeping bag? Share your comments and questions below.