Driving into Kanab you pass a sign that says "Greatest Earth on Show". The first time I saw it, I remember thinking how bold of a statement that was, even for Southern Utah whose landscapes are world-famous.  Turns out, they were right.
From the bottom of its slot canyons to the top of its mesas and buttes, Southwest Utah and Northwest Arizona are home to some of the most uniquely stunning natural wonders that can be found in the United States. On the western edge of The Grand Staircase Escalante National Monument, 30 miles from Zion, 77 miles from Bryce, 67 miles from Lake Powell, and 80 miles from the north rim of the Grand Canyon, Kanab, Utah is quite smack dab in the middle of one of the most beautiful places on earth and offers a wide range of things to do and see. Curious about the best things to do in Kanab, Utah? We've got you covered.
With so much to do, it's easy to get overwhelmed by the options which is why in this guide, we'll go over the best things to do in Kanab, Utah.
All photos courtesy of Jono Melamed
Important Reminder: As it goes in all of the destinations we share, please practice good trail etiquette and remember to Leave No Trace. This means packing out all of your garbage (including toilet paper) and following the established rules. In the desert, this also means learning how to protect cryptobiotic soil and how it has a huge impact on our ecosystems.
Getting to Kanab, Utah
With the closest international airport being in Las Vegas, a 3-hour drive to the west, Kanab is definitely a road trip destination.  Kanab is about 1 hour from Page, Arizona, 5 hours south of Salt Lake City, and 3.5 hours north of Flagstaff. As a seasoned road trip addict, I can tell you in good faith that each of these drives is exceptionally beautiful.
Public transportation in Kanab is practically non-existent so, if you don't live within driving distance, you'll need to rent a car. If you are going to rent a car, I'd recommend something with either 4-wheel drive or all-wheel drive.  Just trust us on this one, Southwest Utah is a very sandy place and occasionally muddy place.  It's very easy to get stuck before you realize what's happening, even just pulling over off the highway.
Best Time to Visit Kanab, Utah
As with most desert locations, the weather in southern Utah can be a lesson in extremes, with summer days regularly in the low hundreds and winter nights dipping into the low teens.  Thanks to this, visiting Kanab is most popular during the spring and fall when it's not quite as hot as summer but also not completely frozen at night.  If you're a fair-weather traveler, this is the best time to visit Kanab and the surrounding area, especially if you're going to be camping. If you're a weirdo like me, however, maybe you'll agree with my unpopular opinion… winter in Southern Utah is amazing.  
It's no secret that National Parks like Zion and Bryce Canyon are getting busier year after year which can make visiting them a challenge if you're trying to avoid crowds. If you're trying to get outside without dealing with the crowds, winter is your best bet.  Sure, it's a bit cold sometimes but, for the most part, it's bearable if you learn how to layer. Additionally, permits for attractions like The Wave or The Narrows in Zion are much easier to get when there aren't a million people in town applying for them.  The downside of visiting in the winter is that many of the local businesses are seasonal and close for the winter, which can be a bummer.
If braving the cold isn't really your vibe, then be prepared to get up early so that you can try and beat the crowds at the parks and on the trails.  No matter which season you visit Southern Utah, there will be plenty to do. Lastly, I've met plenty of people who have traveled quite the distance to find out they couldn't get permits or shuttle tickets, effectively ruining their trip, so be sure to do your research about the permits and regulations at the places you intend to visit.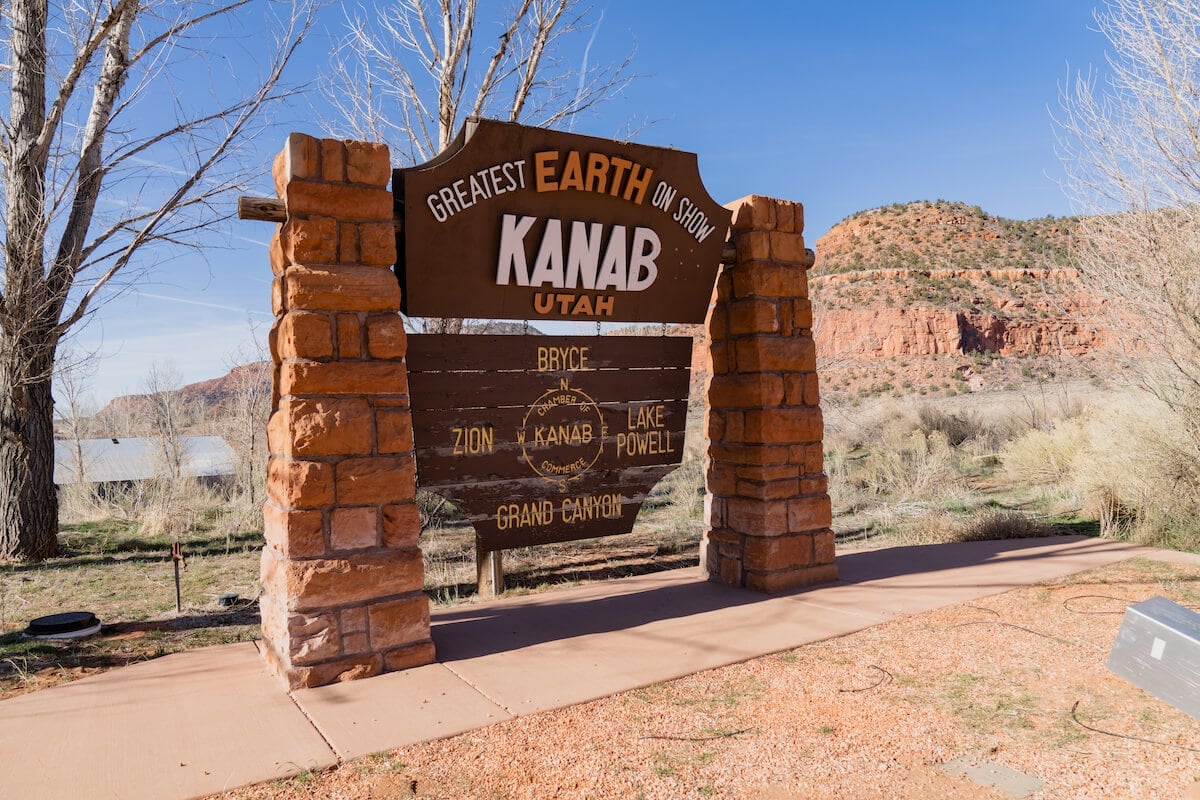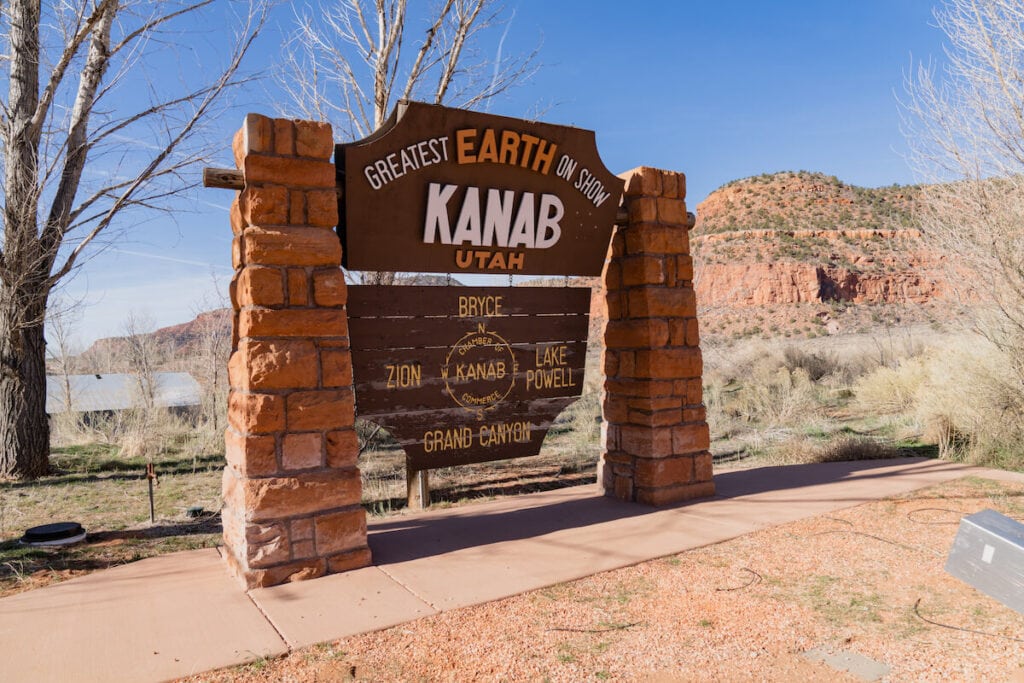 Best Things to Do in Kanab, Utah
What are the best things to do in Kanab, Utah? Well, they all happen outside.
Visit a National Park
Utah is home to five National Parks, three of which are less than two hours from Kanab.  Just 30 minutes from Zion National Park, 90 minutes from both Bryce Canyon National Park and the North Rim of the Grand Canyon, Kanab is a great basecamp for a National Park road trip.  With each park offering a unique experience, you can hike through Bryce's hoodoos, contemplate your mortality on the way up to Angel's Landing, or howl into the Grand Canyon — all on the same trip.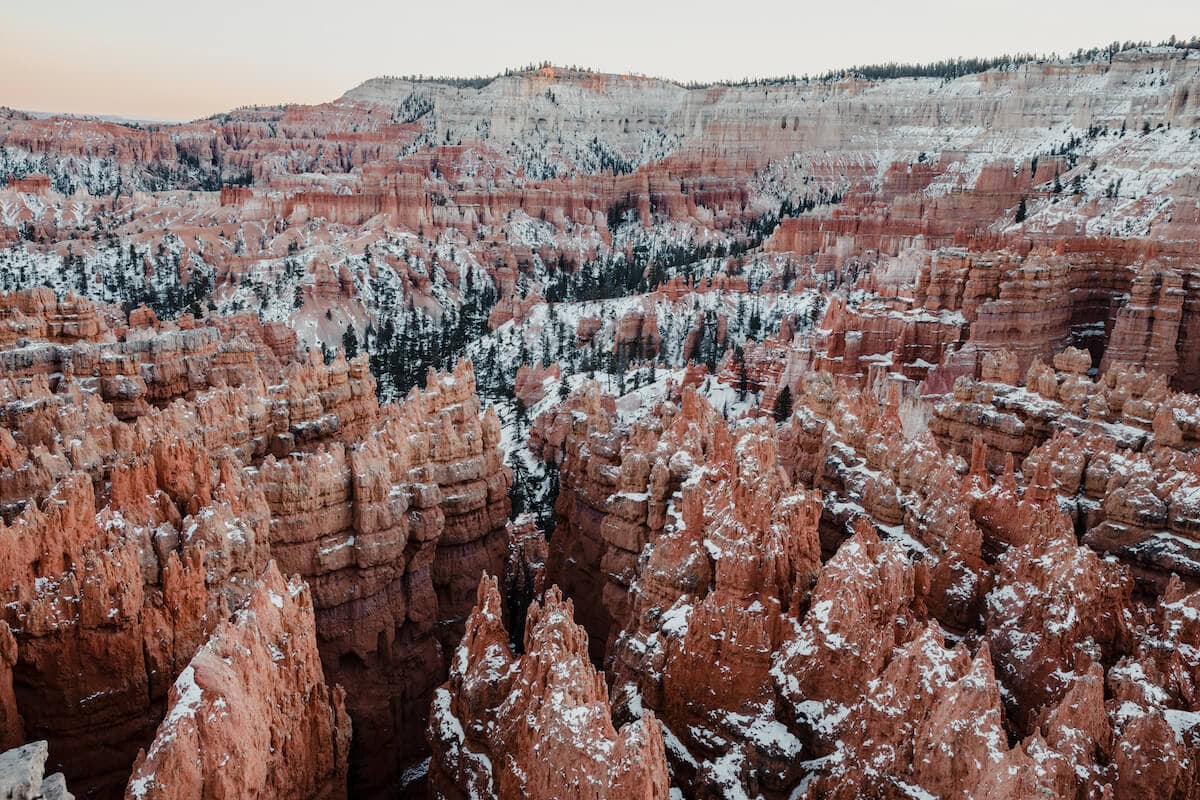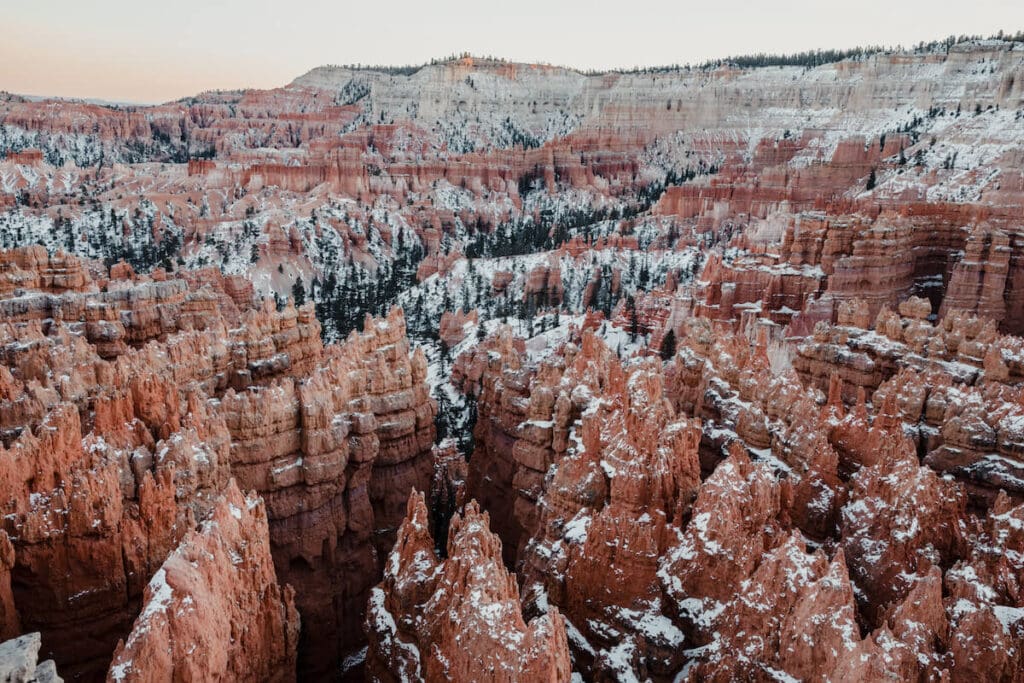 Explore the National Monuments
Don't get me wrong, I love the National Parks but the Monuments, they're my favorite.  Millions of acres of mesas, buttes, and canyons with seemingly endless dirt roads and very few people… For me, that's what Southern Utah is all about.  Kanab has five National Monuments nearby: Vermillion Cliffs, Cedar Breaks, Pipe Spring, Lake Powell, and Grand Staircase Escalante. In my opinion, they're the best parts of this desert, the wildest of the wild.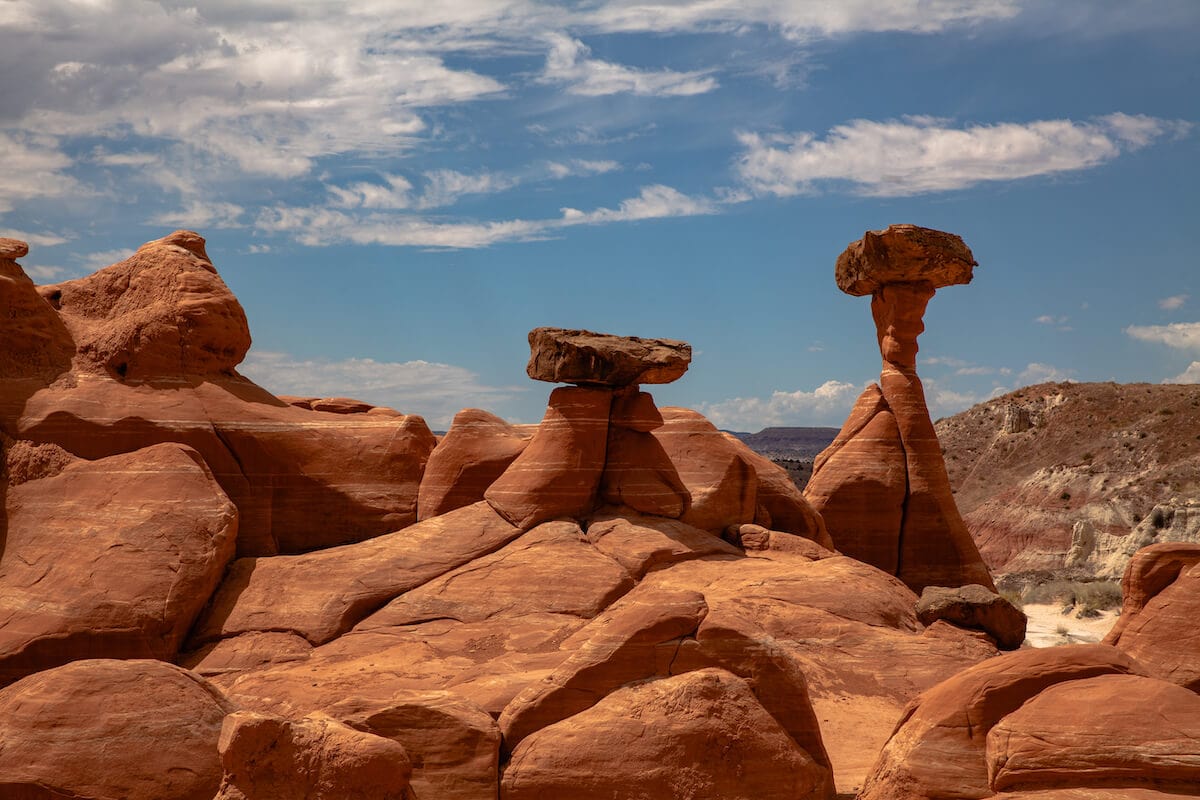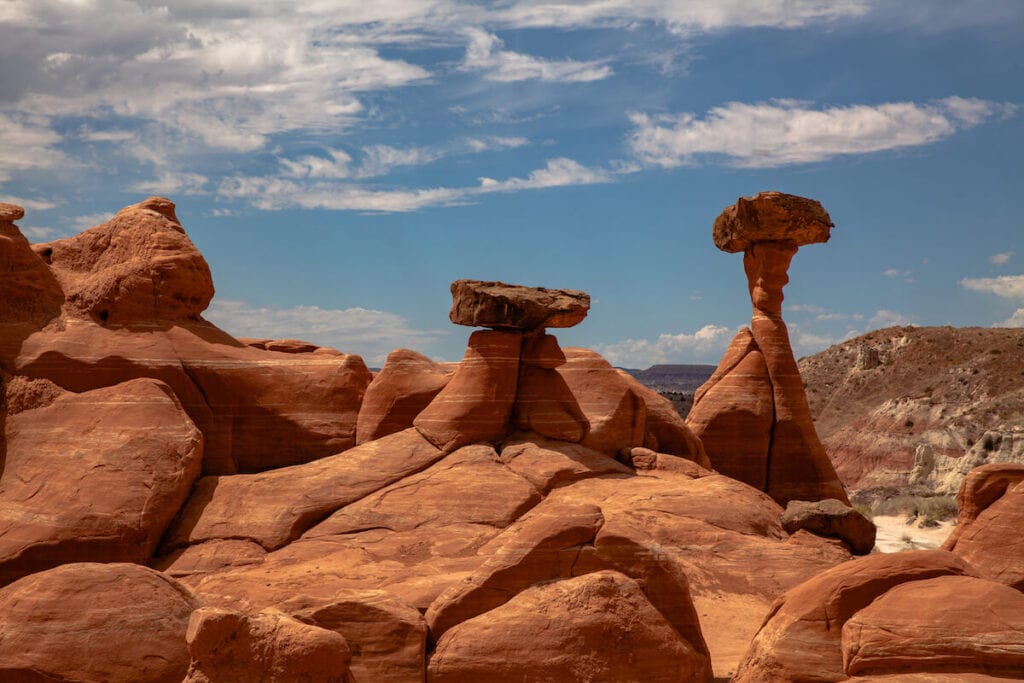 Drop Into a Slot Canyon
If you asked me what you should do if you only had time for one thing, I would tell you to drop into a slot canyon – it's hands down my favorite thing to do in Kanab, Utah.  There are so many different kinds of outdoor activities to be had out here and so many beautiful places to try them but, in my opinion, the slot canyons are the most special part of this area and offer a truly unique experience.  If you don't have much time, Peek-a-Boo Canyon is a great option and is basically in town.  Despite being very close it is one of the least accessible canyons around and I don't suggest trying to drive out there unless both have a very capable vehicle and have experience driving in deep sand.  If that doesn't describe you, there are plenty of guide outfits in town that will bring you out there.
If you have some more time, you can check out the Cottonwood Narrows or Lick Wash, east of town, both of which are easy hikes with great scenery and can be accessed by most cars as long as it hasn't rained recently. 
There are hundreds, if not thousands of canyons out here which makes picking a favorite nearly impossible but, if I had to choose, it would probably be Buckskin Gulch.  Buckskin is one of the longest and deepest canyons in the world and is most often accessed from Wirepass.  What I love about buckskin is how diverse it is geologically.  Every quarter mile or so, you feel like you're in a new canyon as the walls around change color and shape.  
A note on safety: always check the weather when heading into a canyon.  Flash floods are quick, terrifying, and deadly.  As a general rule of thumb, if there's a chance of rain just stay out of the canyons.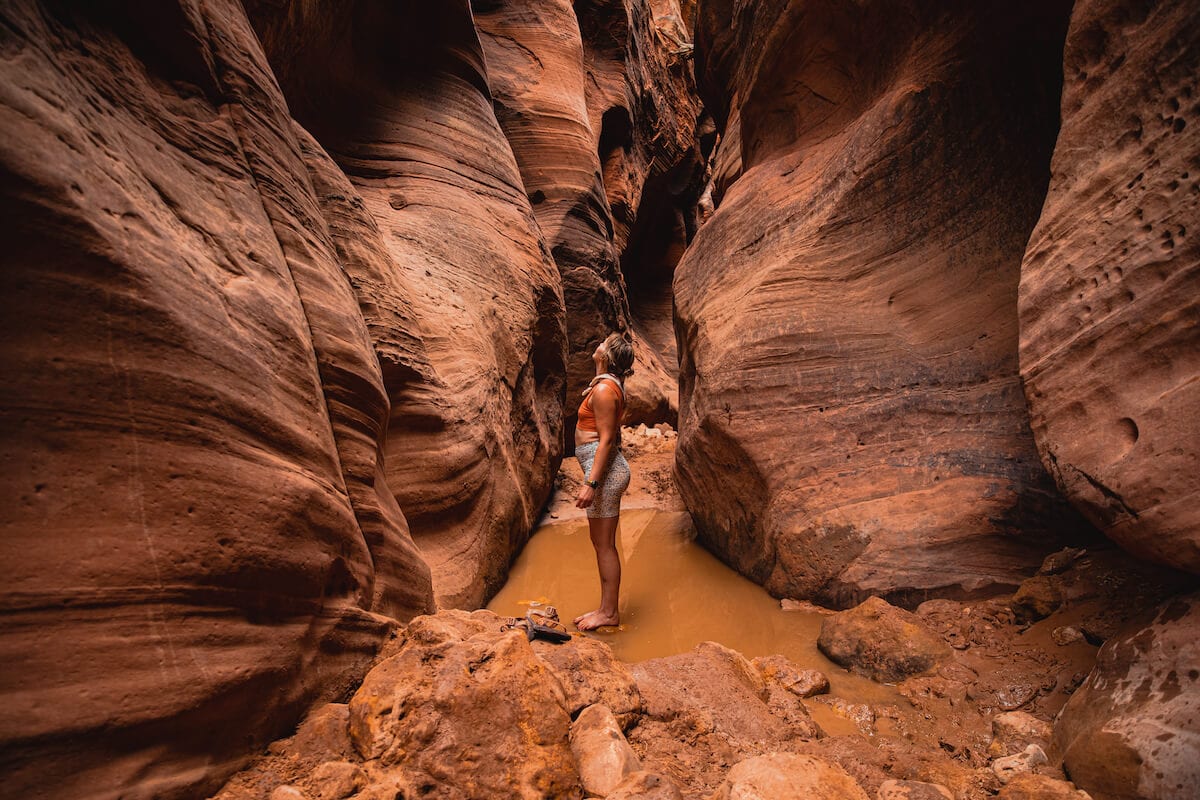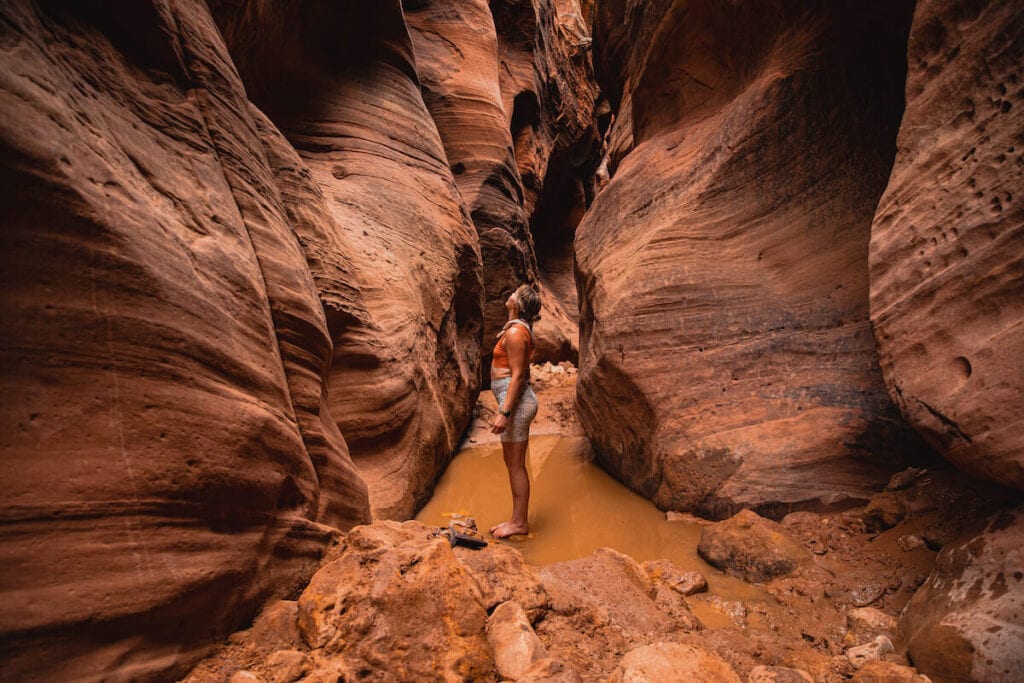 Look at Some Cool Rocks
The area around Kanab is home to some of the most unique and beautiful geology on the planet.  With a wide variety of otherworldly colors and formations, visitors have several opportunities to run around some truly fascinating landscapes.
Hike The Wave
The most well-known of these formations is The Wave, a swirly area that has a competitive permitting system that can make it difficult to get to.  If you manage to land a permit, however, it is a truly magical sight to see. Learn about hiking the Wave here.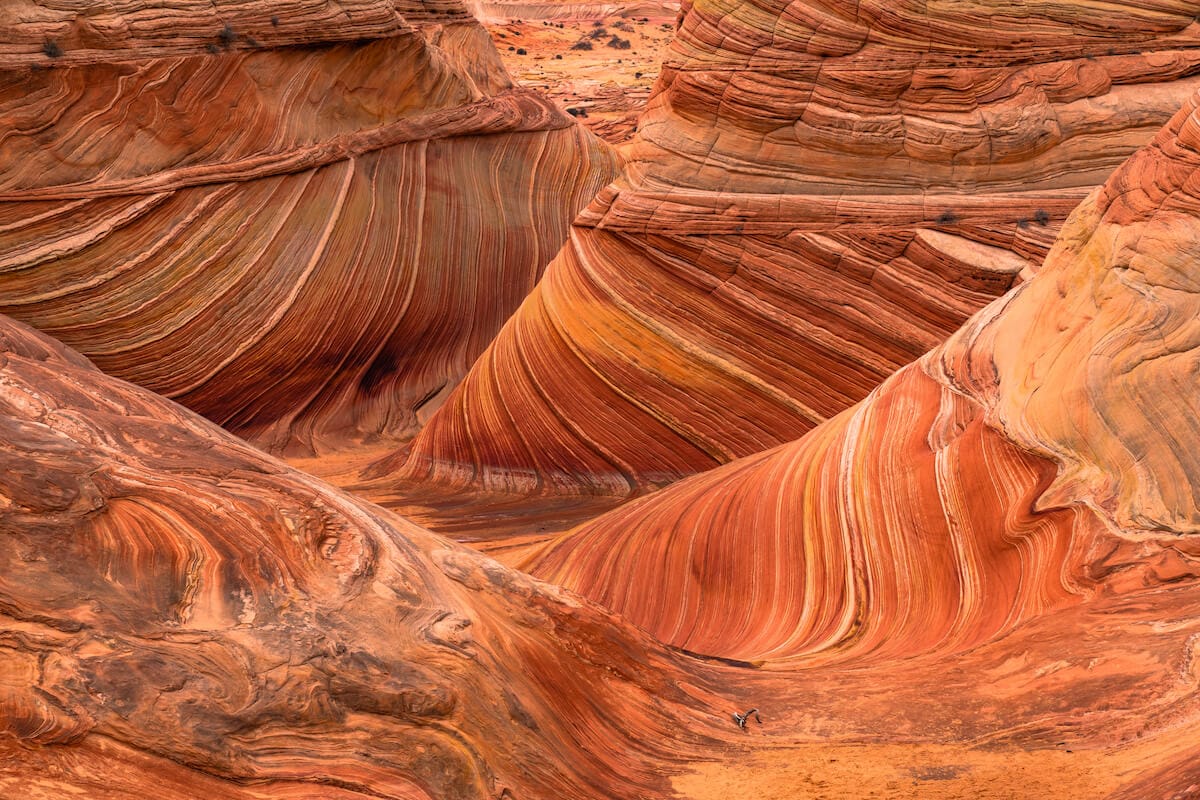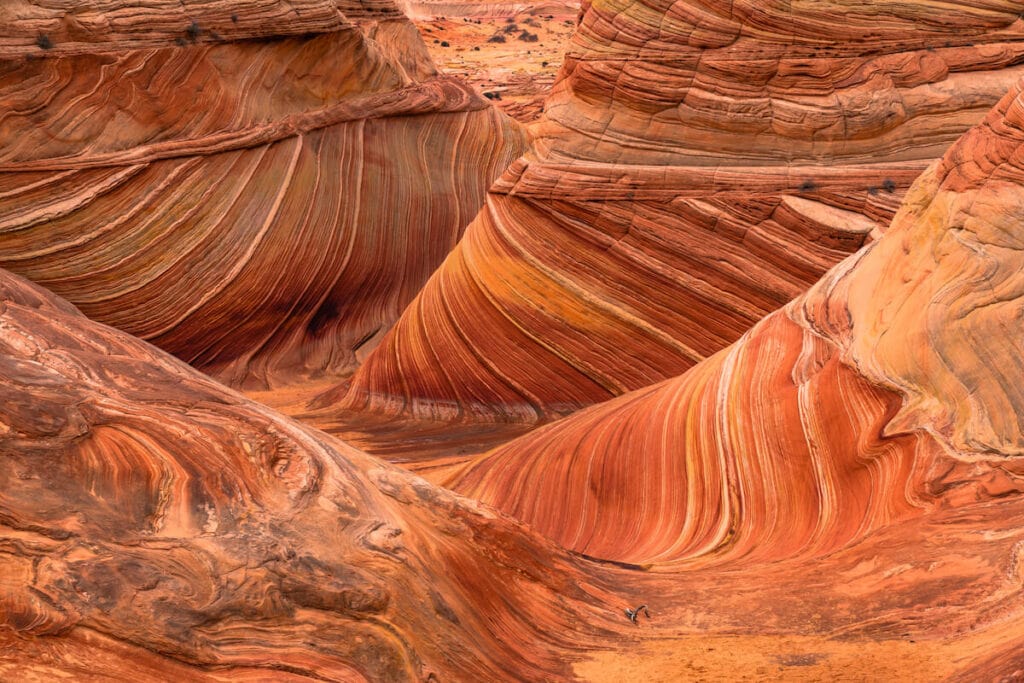 Visit the White Pocket
Less well known and much more accessible, The White Pocket is a collection of sandstone features in The Vermillion Cliffs National Monument.  Walking around the white pocket, it's easy to forget that you're still on Earth.  Though it doesn't require a permit, it does require 4-wheel drive to access so you may need some help getting there.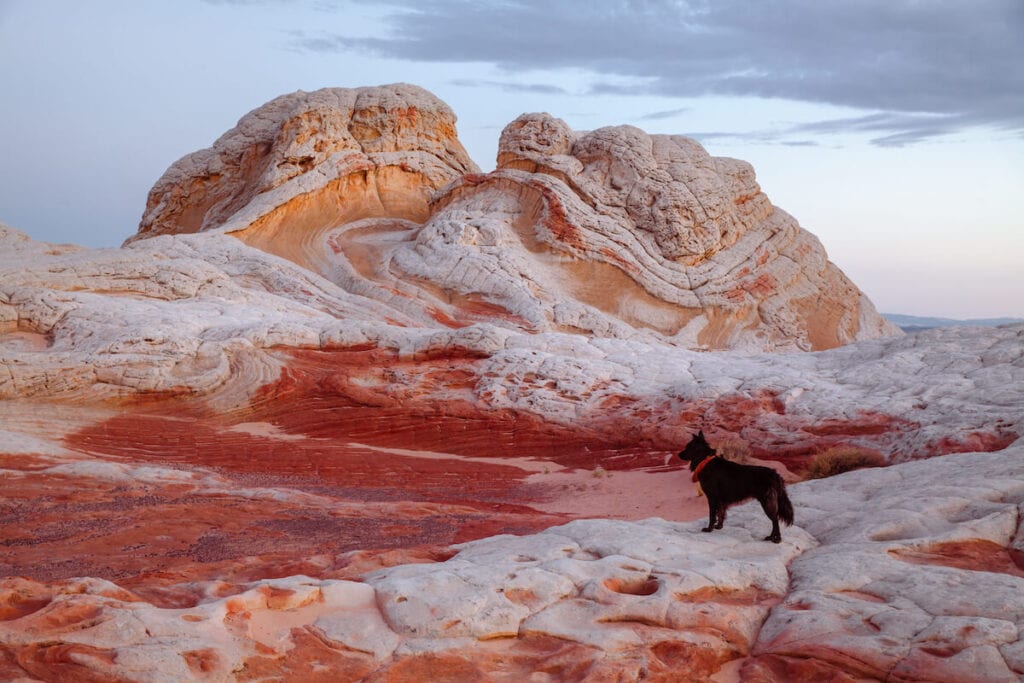 Visit South Coyote Buttes
The South Coyote Buttes also require a permit but it's much easier to acquire.  The buttes offer an incredibly unique collection of formations, everything from cute little rock bubbles to oddly mangled towers.  Many people pick up a South Coyote permit if they can't manage to get one for The Wave.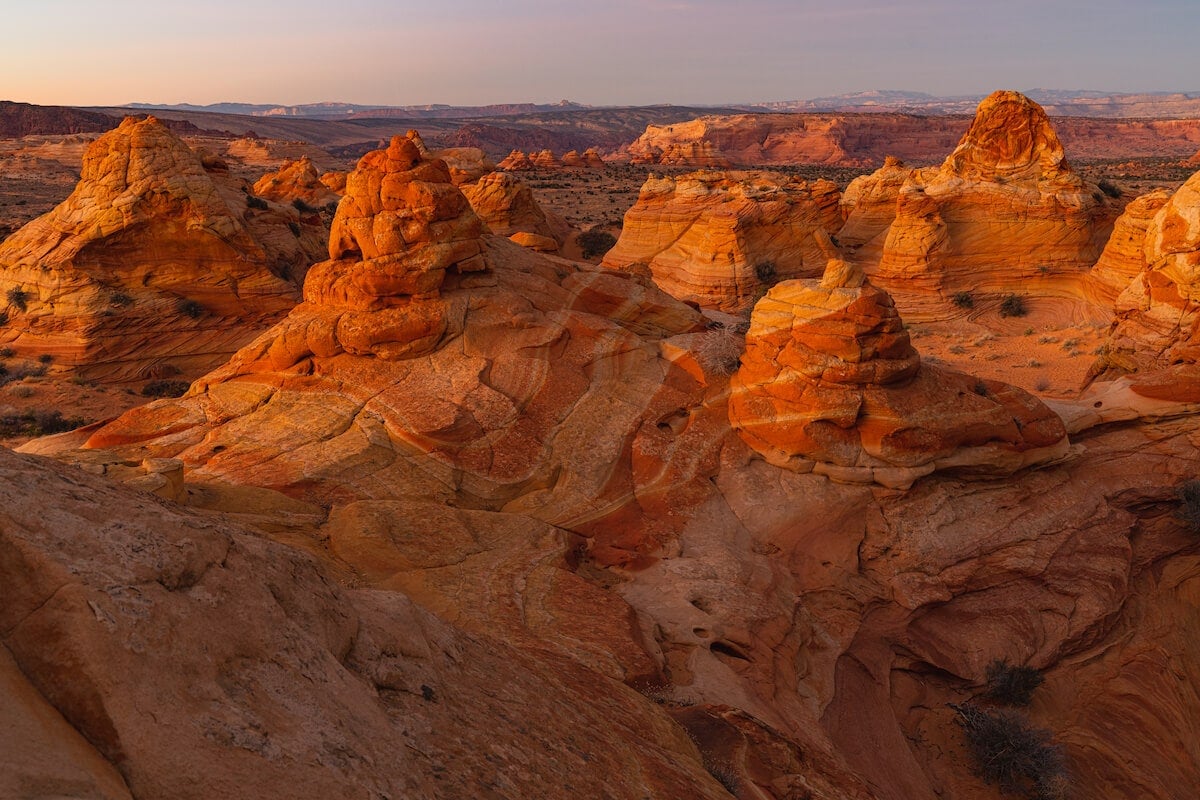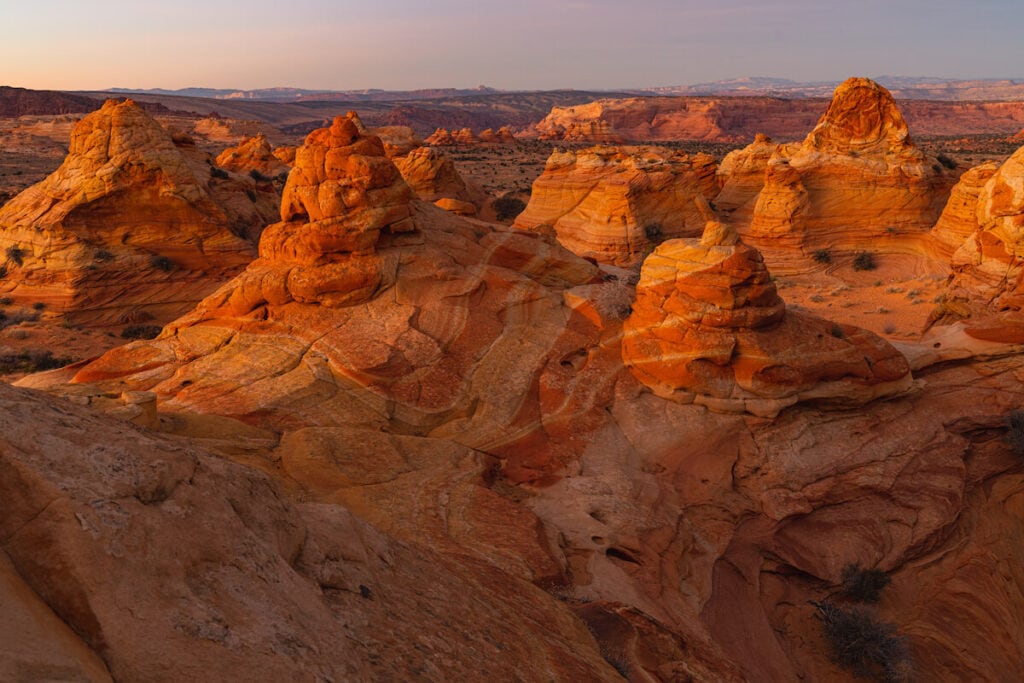 Swim or Paddle on Lake Powell
Lake Powell is a desert dream with several hundred square miles of water that snakes through what used to be Glenn Canyon, one of the most unique canyons in the world.  At the lake, visitors can rent everything from kayaks and paddleboards to jet skis and pontoon boats, depending on how fast you like to go on the water.  The lake is particularly enjoyable during the hot summer months when hiking in the hot sun is less than preferable.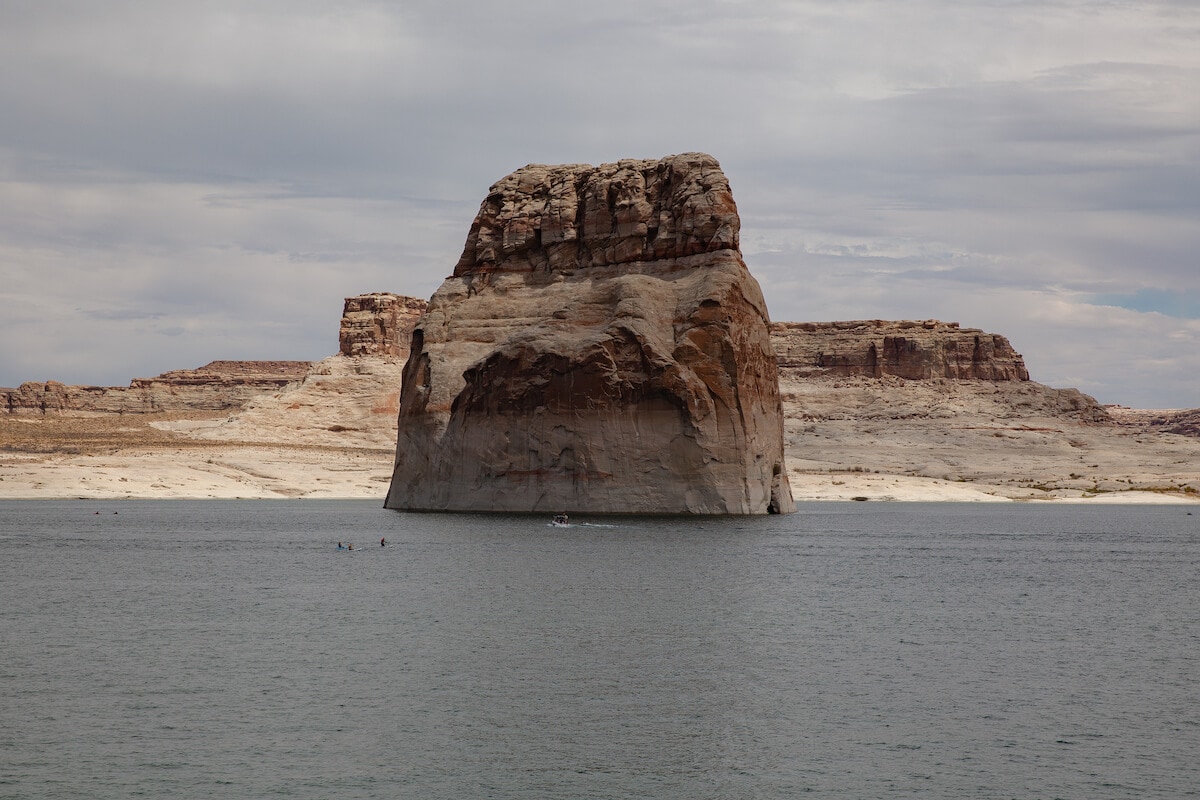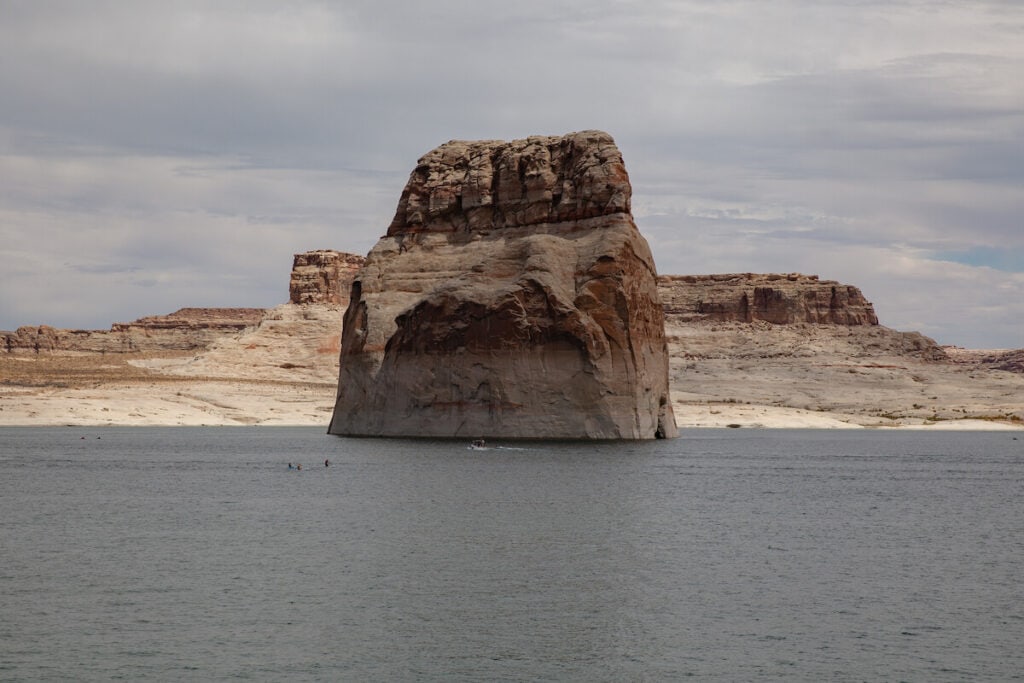 Make Some Four-legged Friends at Best Friends Animal Sanctuary
Best Friends Animal Sanctuary is home to 1600 rescued animals of all shapes and sizes and is the largest sanctuary for homeless animals in the country.  Though they have facilities and partners all around the U.S, the sanctuary is at the center of their operations and Kanab is their home.  If you love puppies, kittens, and other adorable furry friends, taking a tour of the sanctuary or donating some of your time by volunteering is a unique experience that only Kanab can offer.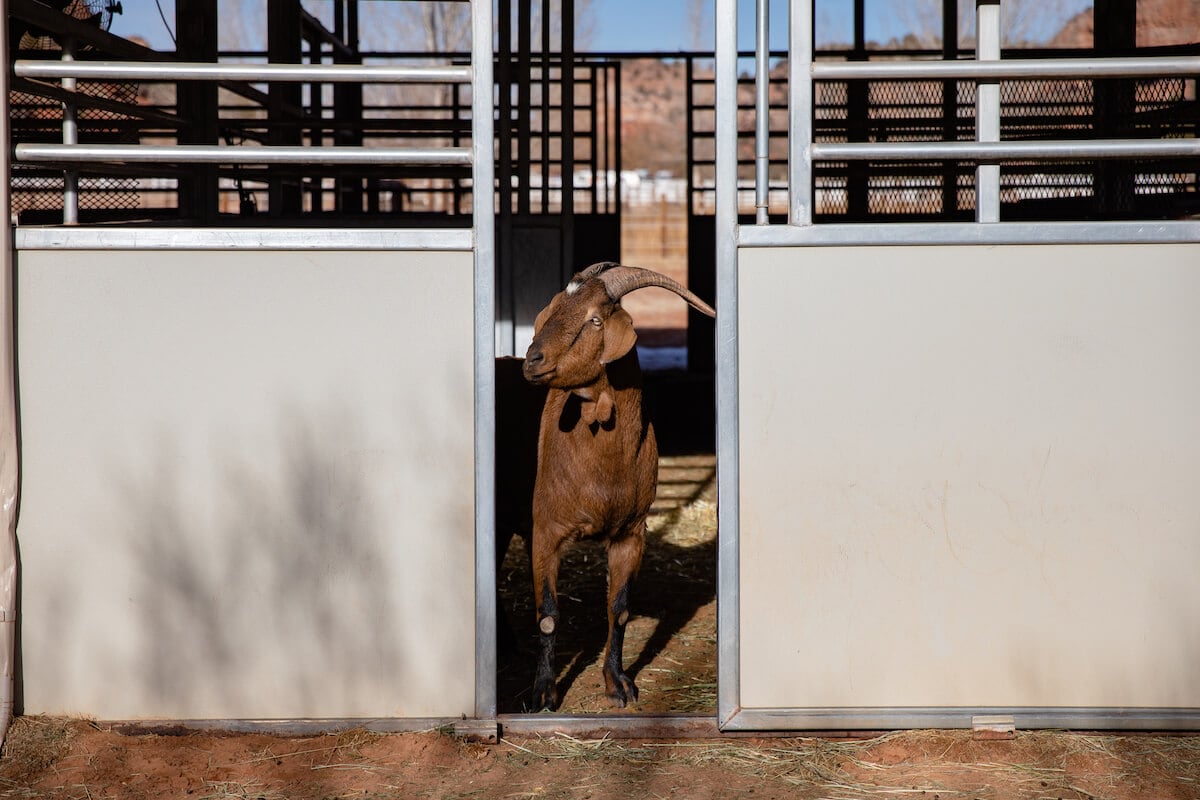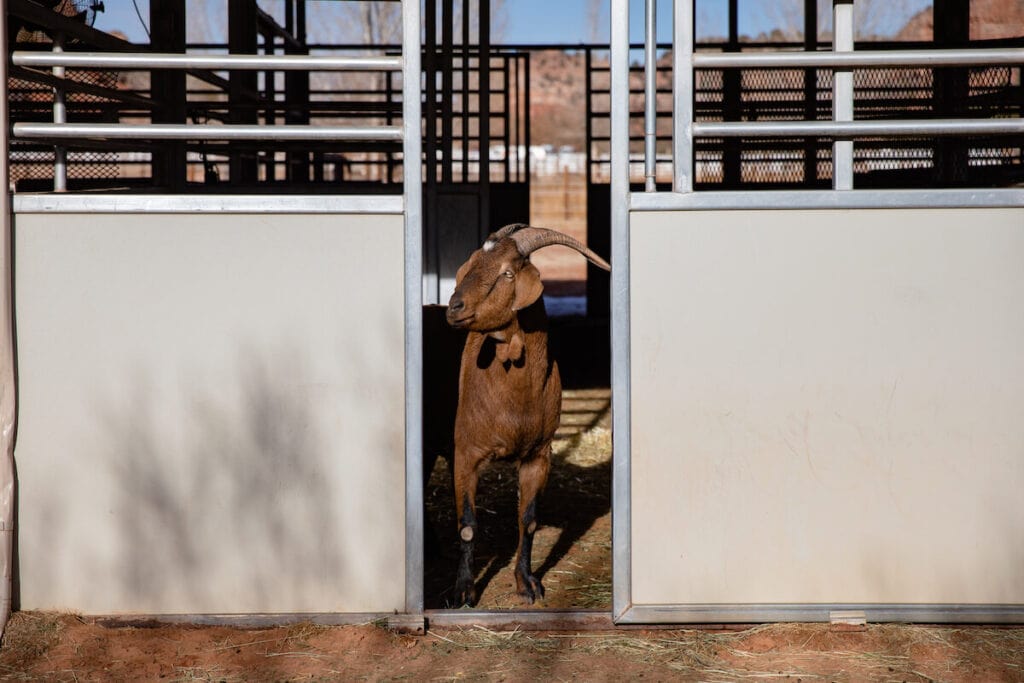 Take a Scenic Drive
If you don't feel like hiking but still want to see plenty of scenery, then take a scenic drive. Scenic drives are a great way to cover a lot of ground without having to do too much walking. The Cottonwood Road Loop is a phenomenal drive through the Grand Staircase Escalante National Monument and has plenty of places to stop and take a look around.  
Another loop that I like to take starts by taking 89 south out of Kanab, up and over the Kaibab plateau and down towards Lees Ferry which is one of the few places around where are you can access the Colorado River easily. There's also a colony of California condors that can be easily viewed from the old Navajo bridge just outside the entrance to Lee's Ferry.  Along your route, you'll pass the Vermilion Cliffs and Marble Canyon, which are sure to blow your mind a bit.  After Lee's Ferry, you can continue on towards page and then take 89 west back to Kanab.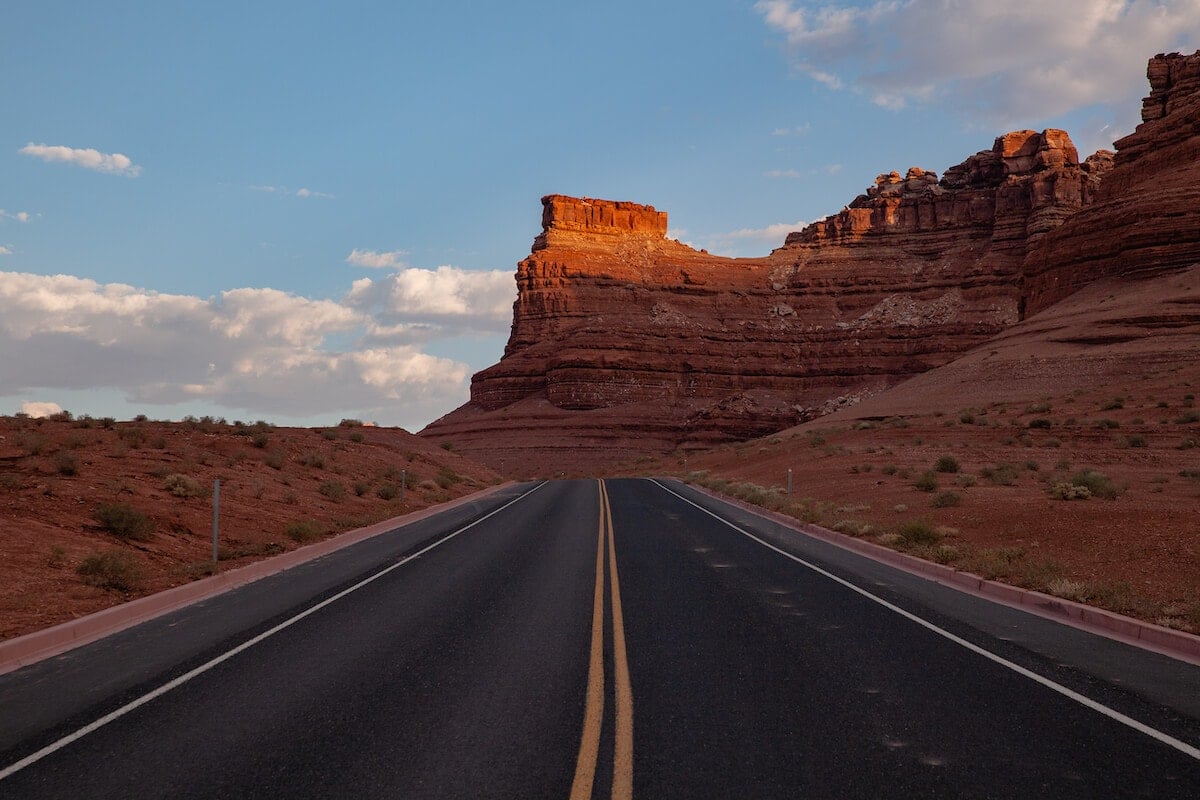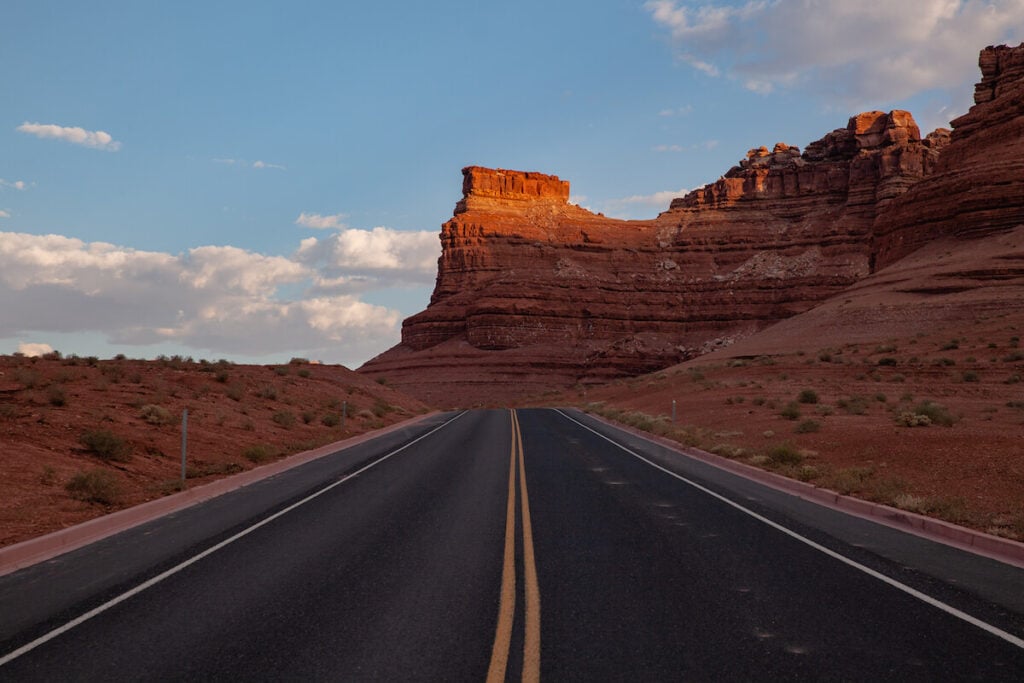 Grab a Bite to Eat
I love food… maybe a bit too much.  After a long day of hiking around the desert, few things are as satisfying as a great meal that you didn't have to cook for yourself.  While many small desert towns have a great eatery or two, we have quite a few great options for any palette which is why eating out is one of the best things to do in Kanab.
Willow Canyon 
Willow Canyon is my favorite place in town to get coffee. Equal parts cafe, bookstore, and gear shop, Willow has a great selection of books about the area, all of the gear you might need for adventuring, and a constantly evolving menu of delicious lattes.
Rocking V
Rocking V is where I go if I want a burger and a beer.  Simple and casual, the menu has plenty of options for any preference.
Peekaboo Canyon Wood Fired Kitchen
Peekaboo is owned and operated by Best Friends Animal Society, which is why they have an entirely vegetarian menu.  Sometimes the only thing your body wants is pizza and in those moments I head to Peekaboo.  That being said, they also have a great selection of entrees for those that are not pizza people.
Kanab Creek Bakery
Kanab Creek Bakery is the place to go if you want fresh bread or have a sweet tooth.  They offer an early breakfast menu when many places in town don't.  Definitely don't miss this one.
Escobar's
Escobars is a Kanab classic, something that's obvious if you pass by on Sunday and notice the line out the door.  A classic local Mexican joint, the menu is perfect for the weary hiker that needs a hefty meal.  What do I get?  Tacos.. Obviously.
Vermillion 45
Vermillion 45 is a French bistro with plenty of options for any palette.  I personally love any and all of their pasta dishes… The gnocchi gets me every time.  Be sure to grab a reservation if you're planning on eating here, tables can go quick.
Sego
When I'm doing guide work, I consistently have clients that rave about Sego.  Rated as one of the best restaurants in Utah, Sego offers a unique culinary experience that rivals that of many bigger city restaurants.  A unique combination of flavors and fresh ingredients, the menu has influences from all around the world.  Grab a reservation for this one as well.
Wild Thyme
Wild Thyme is where I send folks who appreciate vegetarian options that aren't pizza-related.  The restaurant has a casual vibe and grows its own produce in several organic gardens that it runs.  I'm a big fan of their bowls.
Big Al's
Every town needs a burger joint and in Kanab, it's Big Al's.  A classic drive-thru spot, Al's offers simple and delicious burgers at fast food prices but with much better food.  I'm a sucker for a good french fry and have been known to eat a few too many thanks to Al's fry sauce.  Sorry, not sorry.
Kanab Travel Tips
Have Too Much Water, Always.
I don't know if you know this but the desert is a harsh place. It's really easy to underestimate the desert which is why my biggest tip is to always carry extra water. You never know what's gonna happen, you can get turned around in the canyon or get your car stuck on some nameless dirt road. You can survive for quite a while without food but if you find yourself stranded in the summer heat without water your Health will diminish very quickly. Have an emergency stash of at least 2 gallons per person and do not crack into it unless it's an emergency. Kristen also likes carrying these soft water bottles that can easily stored when not in use. Check out our blog post on desert backpacking tips, which is also relevant for desert day hikes and road trip safety.
Be Extra Vigilant When Going Off-Pavement
As I mentioned before, the desert around Kanab is very sandy and occasionally muddy after rain.  When I say muddy, I mean it's a little sloppy, I mean the clay roads turn to soup and you'll bury your car almost a foot deep.  Take your time when not driving on pavement and always get out to check on the road you are uncertain about, especially if you don't have off-road experience.
Ask a Local
Kanab residents are a very kind and friendly bunch and are usually more than happy to chat about the home that they love so much.  If you're looking for recommendations, whether it be for a meal or a day hike, don't be afraid to ask a local what they would do. Chances are they can give you some information about something that you wouldn't find otherwise, and those are always the best experiences to have.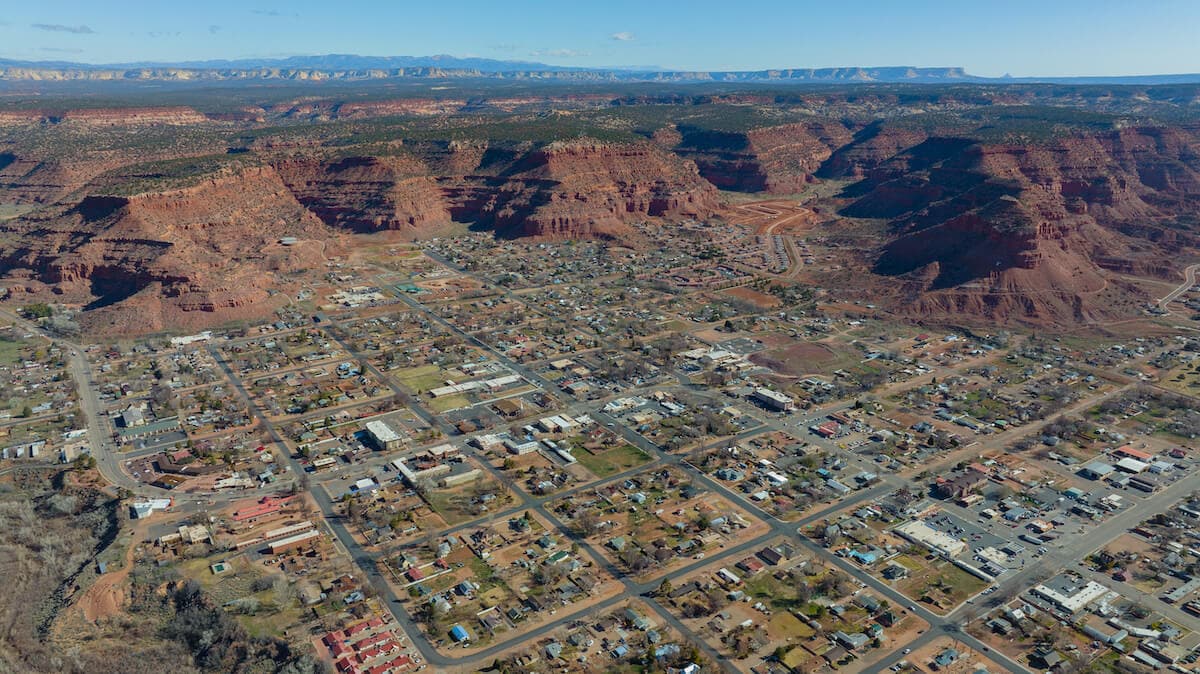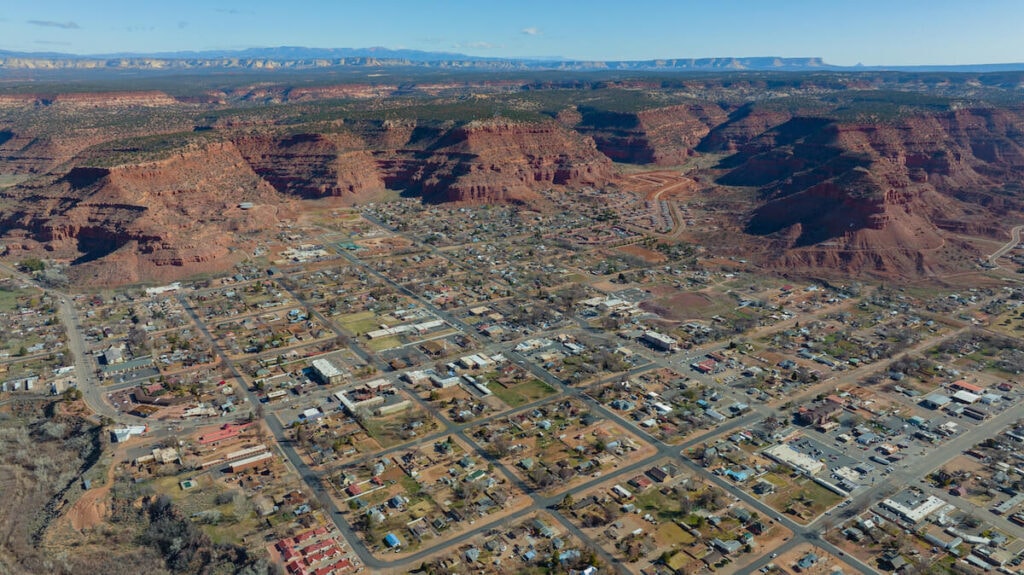 Do Your Research
The area around Kanab is a tapestry of public lands managed by several different land management organizations.  The rules and regulations for the places that you visit can change very quickly in a short distance so it's good to know what they are. The National Park Service, Forest Service, and Bureau of Land Management are all very friendly folks whose job is to make sure the public can enjoy themselves while respecting the desert.  They are all more than happy to give you the rundown about the area and give you feedback on your itinerary.  Also, as I mentioned earlier, many of the attractions around Kanab require permits. Having an idea of what those are, how hard it is to get a permit, and when you would need to get one, will save you a lot of headaches when you arrive.
Wear the Appropriate Clothes
The desert can be a harsh place, so in addition to bringing extra water, be sure to wear desert-appropriate clothes, like a sun hat and UPF clothing, and have adequate sun protection.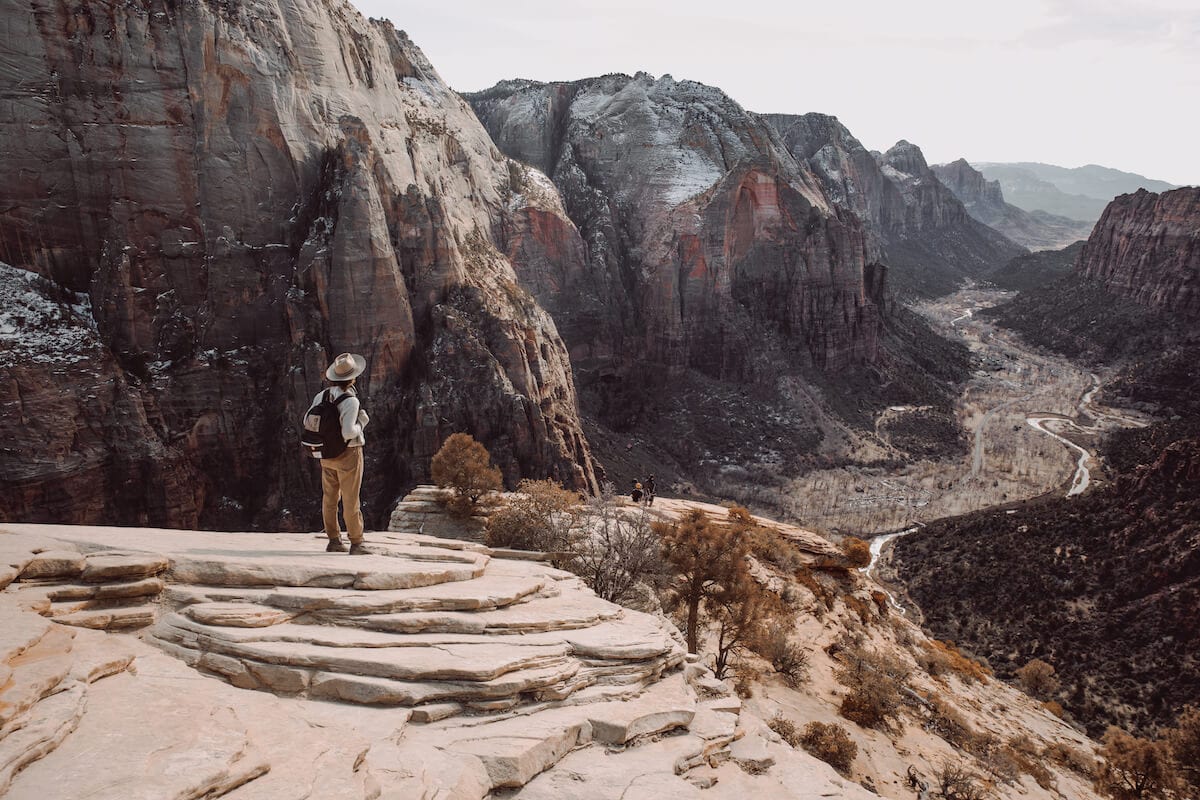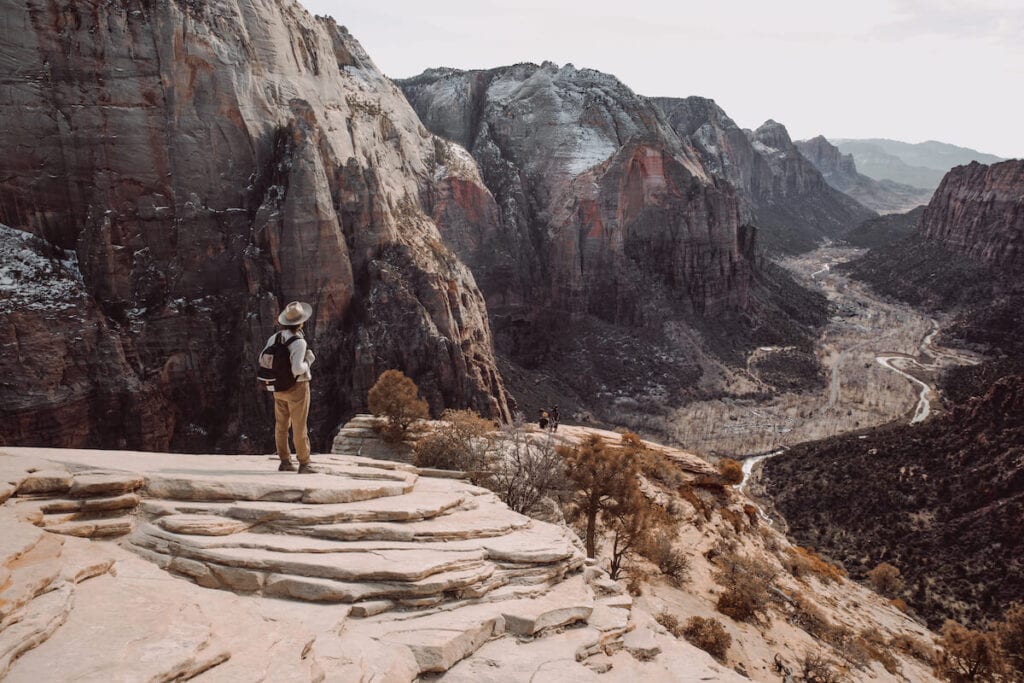 Have Fun
Otherwise, what's the point?
Have you been to Kanab, Utah or are you planning a trip? Let us know in the comments!