Over the years I've done my share of hiking in the rain. Apart from the 5 years I lived in the Pacific Northwest, on the 2017 Bearfoot Theory group
Over the years I've done my share of hiking in the rain. Apart from the 5 years I lived in the Pacific Northwest, on the 2017 Bearfoot Theory group trip to Alaska, we spent 8 solid days backpacking in the rain. Hiking in the rain and staying comfortable is a bit of an art, but it all starts with having the right gear.
To help you stay dry in whatever conditions you may face, we put together this list of the best rain jackets for women that have withstood the test of the trail by the Bearfoot Theory team. At the very bottom, we talk about the materials and technical features of hiking rain jackets to help you determine exactly what you need. We hope the information here helps you get the most for your money while ensuring you stay dry while you hike.
Here are the best women's rain jackets to keep you dry no matter what adventure you're on.
Best Women's Rain Jackets At A Glance
Arc'teryx Beta AR Women's Rain Jacket
Best Rain Jacket for Downpours
Key Features:
Weight: 13.2 ounces
Highly waterproof and windproof with 3-layer Gortex protection
Pit-zips to keep the air flowing
Weatherproof zippers
Adjustable hem cord to keep chilly air out on cold, windy days
MSRP: $599
Check Price: REI | Backcountry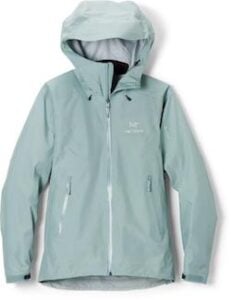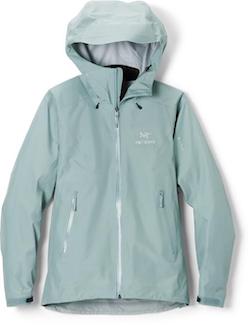 Great for: hiking in downpours, people living in rainy climates
Pros: most waterproof jacket on the list, "Lifetime of product" warranty, very durable
Cons: expensive investment, heavier and bulkier than other jackets
Arc'teryx is one of the more expensive outdoor brands, and for years I wondered if they were worth the price. Then right before my Alaska backpacking trip where I needed to be prepared for the elements, I found the Arc'teryx Beta AR rain jacket for 30% off at REI and decided to try it out. After hiking through downpours 8 of 10 days on that backpacking trip, I am so happy I made the investment. I never felt clammy, damp, or cold wearing the Beta rain jacket and the waterproof zippers prevented water from seeping in. It kept me completely dry, the jacket itself dried quickly, and the pit zips were essential for avoiding feeling sweaty and clammy. This jacket also holds up against the wind really well.
If you live in the PNW or another wet, cold climate or have a backpacking trip where the weather is a major concern and need something that will hold up against lots of rain and wind, this jacket is an awesome choice. For drier climates, lugging this jacket around might be a bit overkill, depending on the season. I took it on a backpacking trip in the Sierras last summer and it was definitely more than I needed for the occasional sprinkle since the Beta jacket is stiffer and doesn't pack down as well as more lightweight options.
Overall, I'm so happy to have made the investment in this rain jacket and it's my go-to for hiking in the PNW and other rainy climates, but it's not the rain jacket I pack for every outdoor adventure.
---
Outdoor Research Women's Helium Rain Jacket
Best Ultralight Rain Jacket for Backpacking
Key Features:
Weight: 5.5 ounces
No-frills elastic cuffs
Built with some of the highest technology with Pertex Shield+ 2.5-layer nylon.
Water-repellent front zipper
Adjustable hood
MSRP: $159
Check Price: Outdoor Research | REI | Backcountry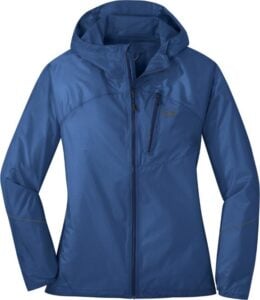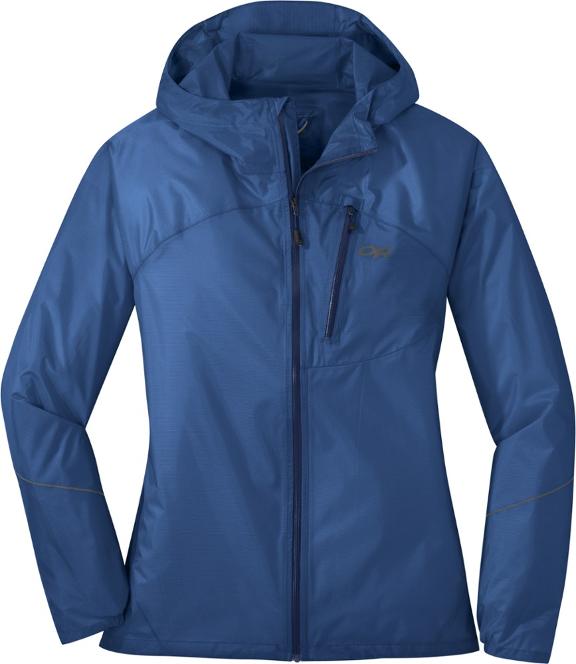 Great for: ultralight backpacking, tossing in your daypack or car for emergencies
Pros: packs down to pocket-size, one of the most lightweight jackets on our list, breathable
Cons: no hand pockets, not a ton of extra features
This Outdoor Research Helium Rain Jacket is great for backpackers and hikers who want to shed weight from their pack. Bearfoot Theory's former community manager, Kim, packed this rain jacket on her Pacific Crest Trail thru-hike and loved how it packed down super small and held up against the elements. Weighing less than 6 ounces, it is the most lightweight rain jacket on the market! This is also a perfect rain jacket option to toss in your hiking daypack for emergencies since it weighs next to nothing.
However, the biggest downside of this jacket is there are no side pockets, so if you are someone who likes to hold your keys, phone, or wallet in your pocket while you're hiking or taking a walk in the rain, this may not be the jacket for you.
---
REI Rainier Women's Rain Jacket
Best Budget-Friendly Rain Jacket
Key Features:
Weight: 11.4 ounces
Packs into its own zipper
Bluesign® approved fabric, meaning its production has the lowest possible impact on people and the environment
Windproof to 60 mph
Pit zips
Adjustable hood
Sealed seams to prevent leakage
MSRP: $89.95
Check Price: REI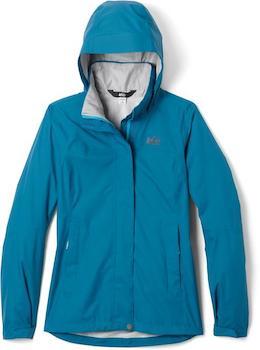 Great for: budget buys, summer trips, lightweight backpacking, hiking, and camping
Pros: versatile for many outdoor adventures, holds up in windy conditions
Cons: doesn't hold up in heavy rain, not well vented
The REI Rainier Women's Rain Jacket offers fantastic value at a budget price! At less than $90, it's one of the best rain jackets for women on a budget and is the rain jacket that Linda, Bearfoot Theory's Director of Operations, currently sports on rainy day adventures. She's been using it on all her hiking, camping, and backpacking trips since getting it last year and absolutely loves it.
The Rainier Rain Jacket is lightweight and does a great job at repelling rain and blocking out wind. It has all the features we look for in a rain jacket, like pit zips, an adjustable hood, and pockets in all the right places, plus it also comes at a great price point. She loves this rain jacket so much that she also bought one for her husband for Christmas. You can find the men's version here.
---
Patagonia Torrentshell Women's Rain Jacket
Eco-friendly Rain Jacket Option
Key Features:
Weight: 12.5 ounces
3-layer waterproof jacket that offers long-term performance
Jacket stuffs into pocket and clips to your pack with a caribeaner
Durable water repellent zippers
Two-way adjustable hood
MSRP: $149
Check Price: Patagonia | REI | Backcountry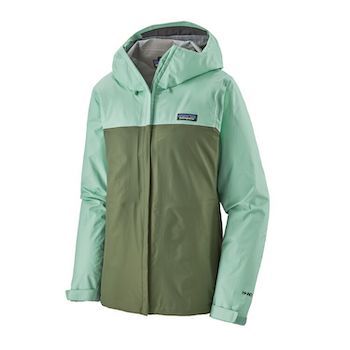 Great for: people looking to buy eco-friendly gear, windy conditions, hiking in downpours
Pros: deep pockets, Bluesign approved fabric – made from recycled nylon waste, good wind resistance
Cons: stiff material, runs small (recommended to order a size up)
We're huge fans of Patagonia at Bearfoot Theory, thanks to their sustainable business practices and high-quality gear. So it's no surprise that the Patagonia Torrentshell made the list of the best women's rain jackets. This lightweight rain jacket is made with sustainable, eco-friendly materials, has an adjustable hood, and comes in a variety of colors. This jacket holds up extremely well in the wind, keeping you not only dry but warm.
---
Eddie Bauer Women's Cloud Cap Rain Jacket
Best Lightweight Rain Jacket for Travel
Key Features:
Weight: 8 ounces
StormRepel Super DWR
2.5-layer WeatherEdge® seam-sealed
Waterproof coated front zipper
Pit zips
MSRP: $99
Check Price: Eddie Bauer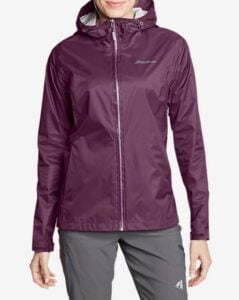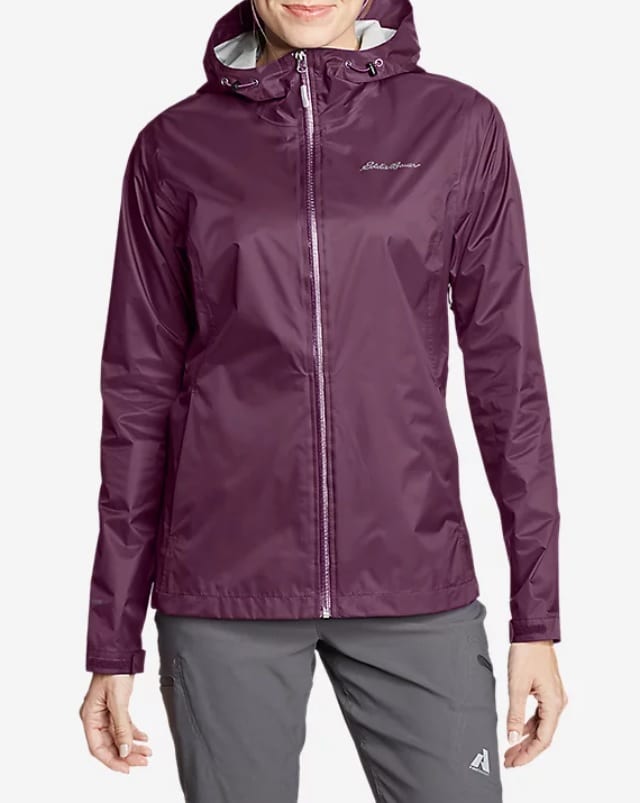 Great for: travel, summer use, lightweight backpacking
Pros: one of the most lightweight jacket options, adjustable hood
Cons: fabric makes a crinkly noise when wearing
Linda, BFT's Director, wore the Eddie Bauer Women's Cloud Cap Rain Jacket on a trip to Yosemite National Park and had a chance to test it out on the Mist Trail and in a summer thunderstorm. The verdict? It's the perfect ultralightweight rain shell, especially in warm weather and on backpacking trips where you don't want to carry any extra weight. She also wore this rain jacket in Hawaii and loves that it is chic enough to wear around town as well as on the hiking trails.
Since it packs down so small and is so light, it's easy to throw in your daypack or travel bag so you're prepared in case you get caught in an afternoon downpour. It has pit-zips for ventilation and an adjustable hood – two features we consider essential for any rain jacket, and it folds up small into the right-hand pocket making it easy to bring along on any adventure.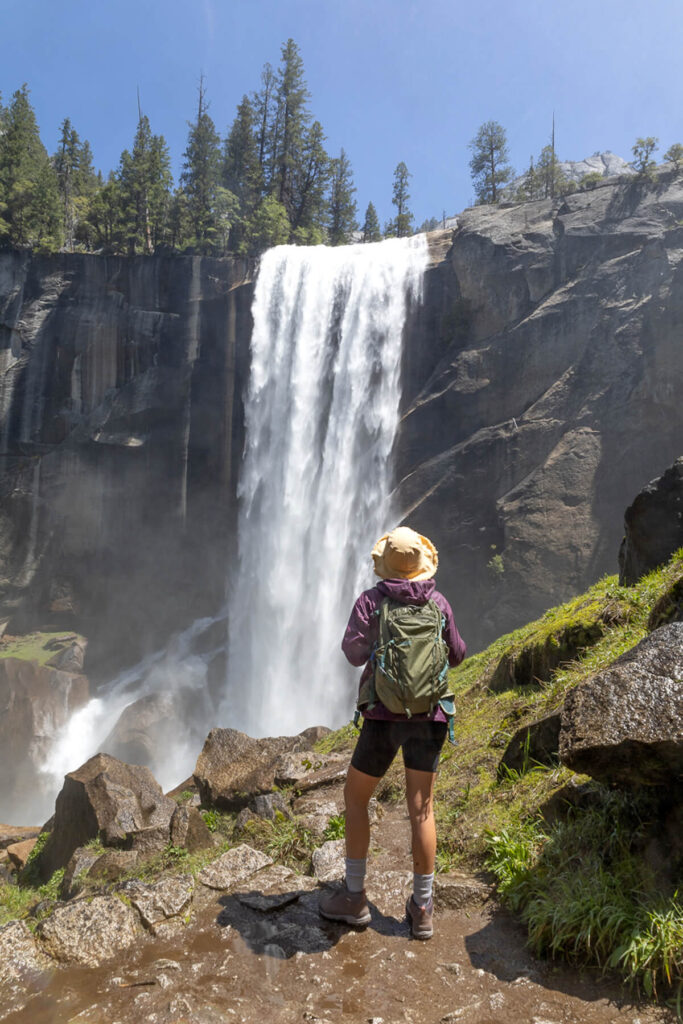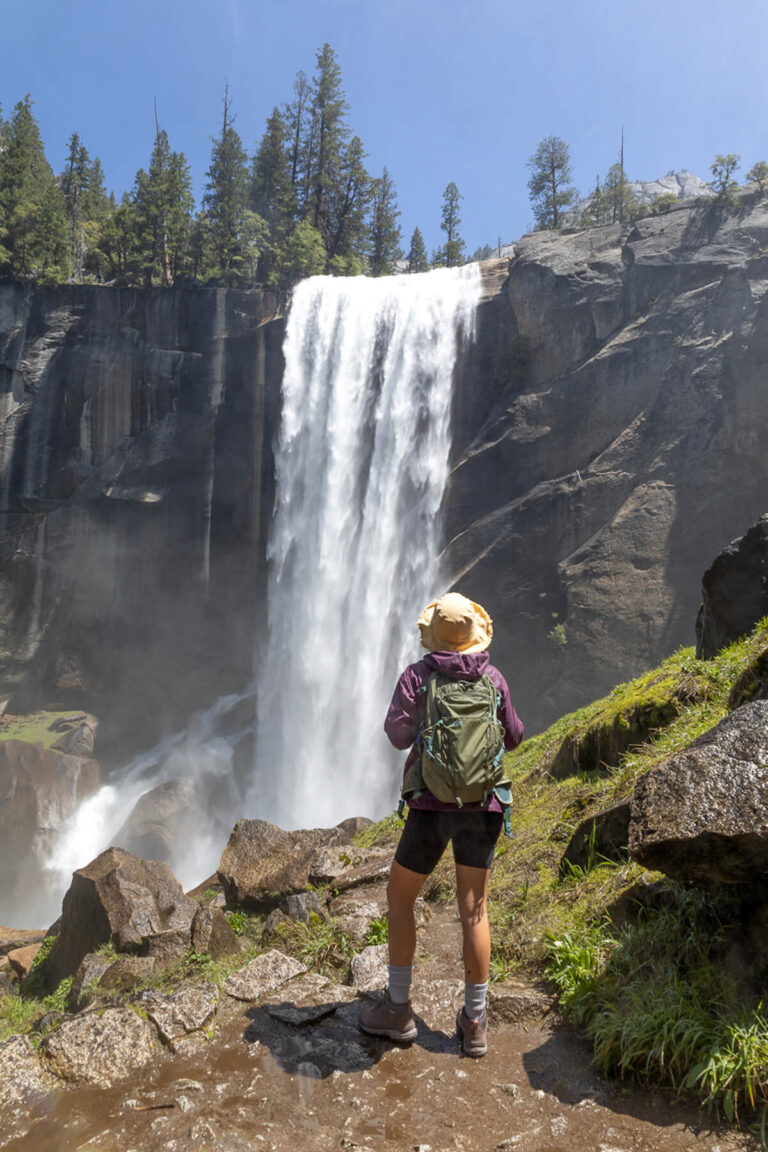 Black Diamond Stormline Stretch Women's Rain Shell
Most Durable Rain Jacket
Key Features:
Weight: 8.7 ounces
Made from Black Diamond's proprietary BD.Dry 2.5 layer fabric
Pit zips
Adjustable hood
Waterproof coated front zipper
Packs into hand pocket
MSRP: $159
Check Price: REI | Black Diamond | Backcountry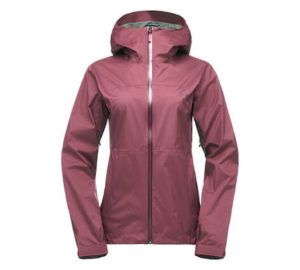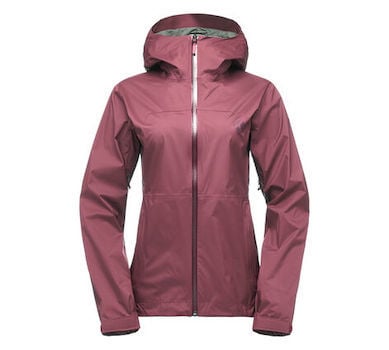 Great for: outdoor sports like cycling and climbing, heavy rain, lightweight backpacking
Pros: extremely durable fabric, breathable, one of the most lightweight jacket options
Cons: oversized hood (if you're not using it for cycling), stiff fabric
You might know Black Diamond from their climbing or backcountry ski gear, but they also make fantastic women's outdoor apparel. This Black Diamond Stormline Stretch Women's Rain Shell will stand up to whatever nature throws at it.
This rain jacket has similar features to many of the other jackets on this list and comes in a variety of colors. What sets the Stormline apart from the other rain jackets on our list is that this jacket is tailored for outdoor sports like climbing and cycling with ultra-stretchy fabric for added mobility and a climbing-helmet-compatible hood. If you want a women's rain jacket that can keep up with all your outdoor sports, this is the one.
---
North Face Venture 2 Women's Rain Jacket
Best Value Rain Jacket
Key Features:
Weight: 10.6 ounces
2.5 layer waterproof and windproof fabric
Pit zips
Packs into hand pocket
Fully taped seams
Price: $98.95
Check price: REI | Backcountry | Moosejaw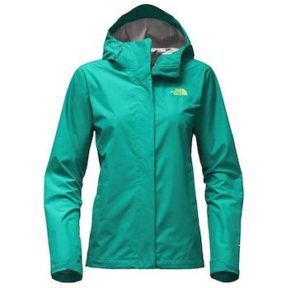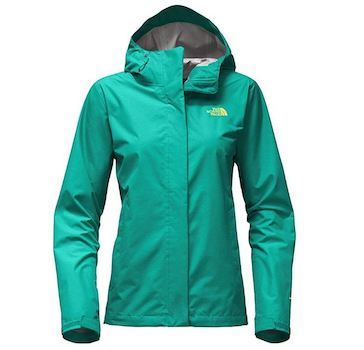 Great for: short hikes, dry climates
Pros: a tried and tested model that has been around for over a decade, great value for price
Cons: can feel sticky if hiking for extended periods of time in it
Another budget-friendly shell on this list of the best rain jackets for women is the North Face Venture 2. This was my rain jacket before I upgraded to the Arc'teryx, and I found it to be effective, comfortable, and durable. It's a great rain jacket choice for shorter outings where you might encounter scattered showers or backpacking trips in drier climates where weather isn't a huge concern. It packs down super small, is lightweight, and has a stretchier texture that I find pretty comfortable compared to other rain jackets.
This jacket doesn't provide much wind protection or warmth and I wouldn't rely on it for extended downpours or super wet climates. If I hike for long periods of time in this jacket, I can start to feel sticky, but it does have pit zips which helps regulate temperature. Be warned, this jacket does tend to run small so I recommend sizing up to ensure a roomy fit in case you want to layer with base layers underneath.
---
Factors to Considering When Buying a New Rain Jacket
Is an expensive rain jacket worth it?
The price of a rain jacket does make a difference because you'll get higher quality products that have gone through more testing, research, and development to ensure they work well. While a lower or mid-priced hiking raincoat will still get the job done, it often comes at the cost of some comfort, whether that's a durable Gore-tex outer layer or breathability and ventilation on the inside that will minimize sweating.
Although it's tough to spend a larger chunk of change on a piece of gear, it's often worth the money and can save you from having to replace that item multiple times in the future. Think of it as an investment that will last you for many years, rather than an overpriced piece of gear. In this case, it's worth it.
If you're on a budget, choose a quality mid-priced raincoat – the REI Rainier Rain Jacket is a great option – that has the features you need and use most often. Consider the activities you do most often and choose a lightweight rain jacket that suits your hiking style. Chances are you can resell it if it's still in good condition and when you need to upgrade you'll know exactly what to buy.
Another great option to save money is to buy gently used outdoor gear.
Should a hiking rain jacket be waterproof or water-resistant?
If you are investing in a durable and effective rain jacket that will stand up to the wind and rain, you'll want something that is waterproof. While water-resistant raincoats are good for light wind and rain, they don't have as many technical elements and the fabric won't do you much good in a storm. A light windbreaker is a good example of a water-resistant jacket and you can imagine how that would fare if you get caught in an unexpected thunderstorm on the trail (spoiler: not well).
How should a rain jacket for hiking fit?
A hiking rain jacket should fit loose enough that you can add extra layers underneath and have a good range of motion that allows you to move your arms around comfortably. It should also fit snug enough so you don't have too much extra fabric getting in the way as you are hiking.
What materials are best for a hiking raincoat?
If you've ever been for a hike in the rain, then you might know how uncomfortable and distracting it is to feel wet from the rain while also suffering through that sticky feeling of your jacket clinging to your skin from your sweat. A good raincoat will help keep you dry by keeping moisture out from the outside while also allowing sweat or other water vapors from the inside to evaporate.
Here are the most common waterproof fabrics you'll find when choosing a hiking raincoat.
Gor-Tex: We often mention Gore-Tex here at Bearfoot Theory because it's a popular technical fabric that's commonly used in waterproof outdoor gear. Gore-Tex is a synthetic, waterproof fabric that keeps you dry in the rain or snow. Its lightweight construction makes products with Gore-Tex great for breathability and ventilation so you won't get overheated when you're hot on a rainy hike. A raincoat with Gore-Tex is a durable, waterproof option that helps keep you cool and dry.
Durable Water Repellent (DWR): DWR is an extra coating that gear companies add to hiking raincoats that allow them to literally repel water from the jacket. As water hits the surface of the fabric it beads up and rolls right off rather than getting absorbed or evaporating. DWR definitely keeps you dry, however, it can make a raincoat slightly less breathable. It also requires a bit of upkeep because the finish can wear off over time, so you may need to reapply a new DWR coating every so often. Either way, DWR is a great option for staying dry and often comes at a lower price than Gore-Tex.
There are a few other materials that major outdoor brands are using, such as DryVent, eVent, etc, often with proprietary technology, but Gore-Tex and DWR are the most commonly used in the best rain jackets for women.
Why do hiking raincoats have multiple layers?
Most raincoats have a 2, 2.5, or 3 layer construction to them that sandwiches the several different layers or membranes of fabric together to create a waterproof jacket. Here's a quick breakdown of the 3 kinds that will help you navigate the product description and the price when you are choosing a hiking raincoat.
Midweight 2 Layer Rain Jacket: The midweight 2 layer raincoat is a more budget-friendly option that usually costs under $100. It's the least technical version and has a mesh liner, so they tend to be breathable, but don't have as solid of waterproofing. It's good for wearing around town and shorter hikes where it might rain. (Example: North Face Venture Rain Jacket)
Midweight 2.5 Layer Rain Jacket: The mid-range 2.5 layer raincoat is a better waterproof option and slightly less breathable than a 2 layer. However, it's a good choice for longer rainy hikes and backpacking trips. These rain jackets are lightweight and compact with more technical features like pit zips and DWR. 2.5 layer rain jackets can cost over $100. (Example: Outdoor Research Helium Rain Jacket)
3 Layer Rain Jacket: The most durable and technical option is the 3 layer raincoat, also known as a hardshell, which offers ultimate protection, often in a lightweight package. This is a great option for backcountry and harsh climates and can cost $150-$300+. (Example: Patagonia Torrentshell)
What are the important features of women's rain jackets?
Adjustable Hood: Having a good hood to protect your face and eyes from the elements is an important feature of a hiking rain jacket. Look for one that is adjustable and has a brim to shield your eyes from wind and rain.
Armpit Vents: This is a MUST for me with any rain jacket I buy. When there is too much humidity in the air for just your hiking raincoat to do the trick, strategically placed vents, especially around the armpits, will be your new best friends. Pit vents release warm air, and some even have vents in the hood or the pocket linings.
Adjustability drawcords: If you find yourself out in gale force wind and rain, or even something a little less intense, adjustable drawcords in the hem or waist of your raincoat will cinch in the fabric to help keep the elements out.
Sealed Zippers: Zippers are places where moisture can seep into the inside of your rain jacket. Bonded seams on the zippers will help keep the rain out, and things like laminated zippers and a zipper garage (a small flap of fabric to cover the zipper when zipped) will keep you dry.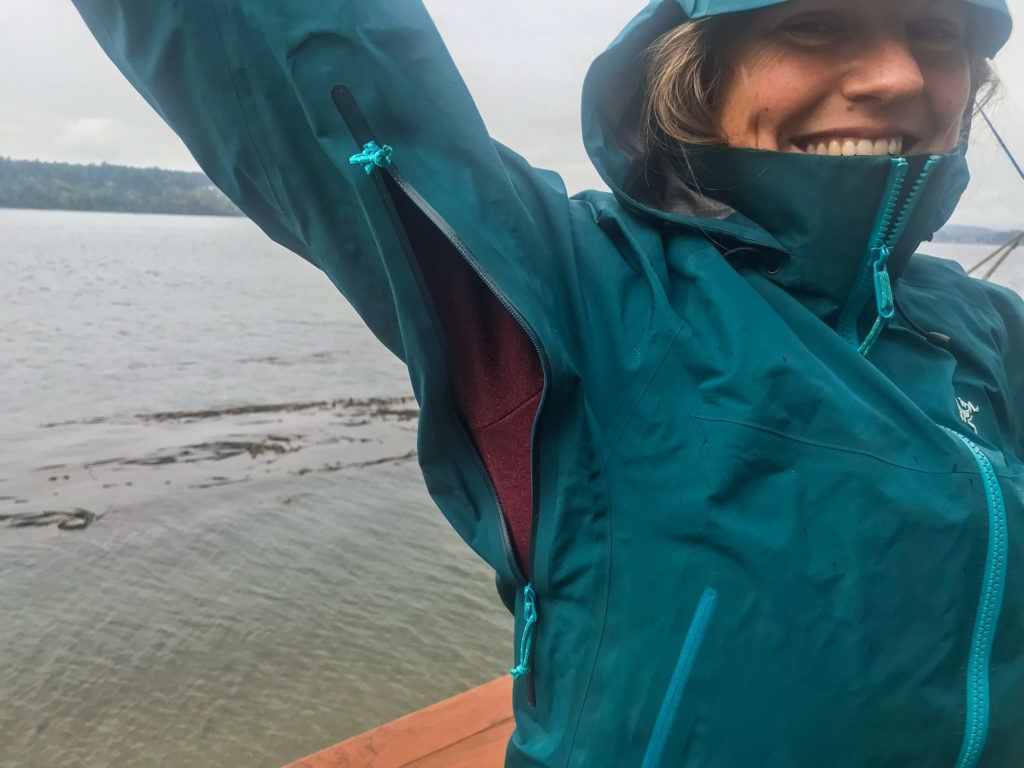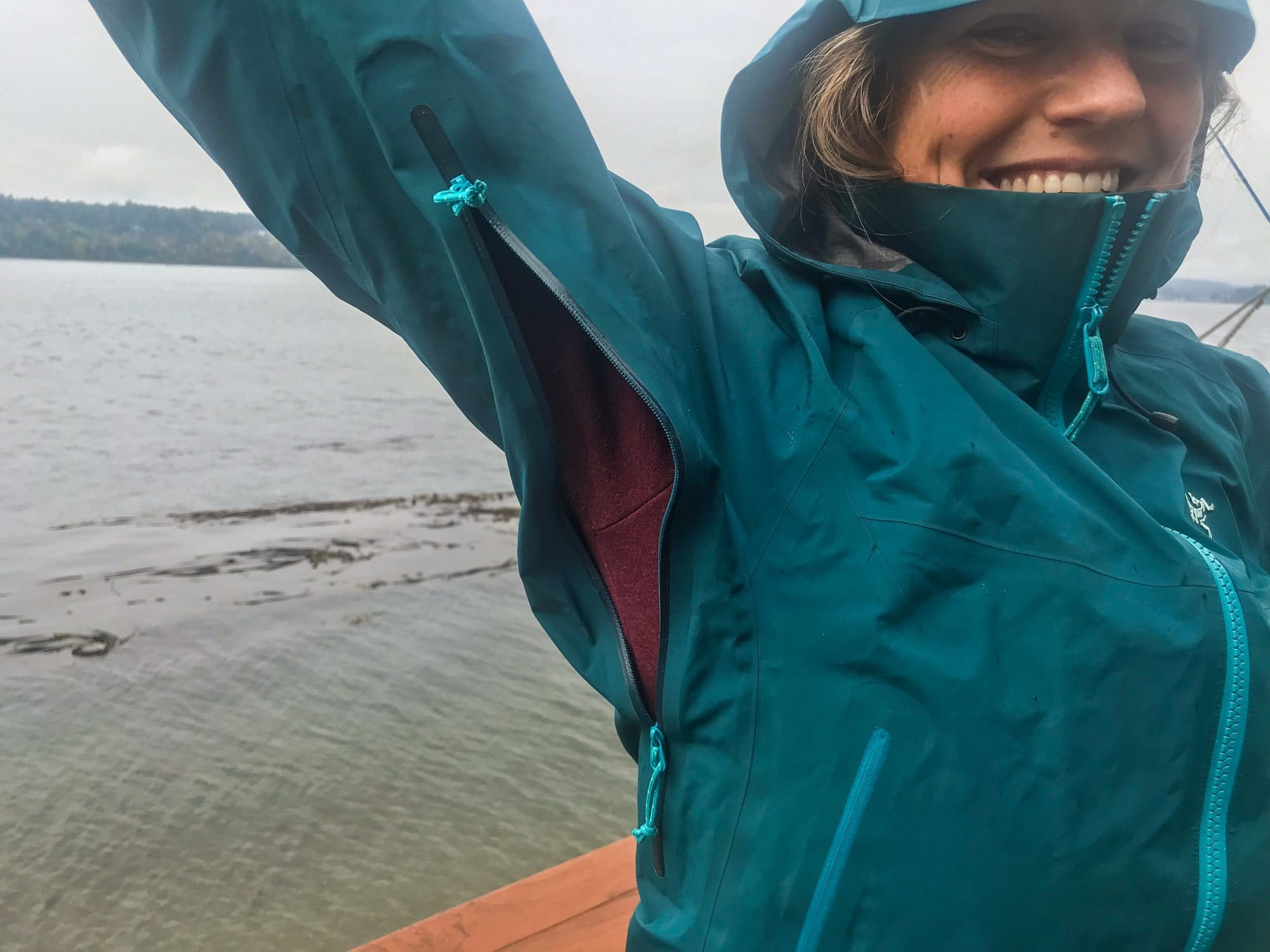 ---
What is your favorite lightweight rain jacket for hiking? Tell us in the comments below!