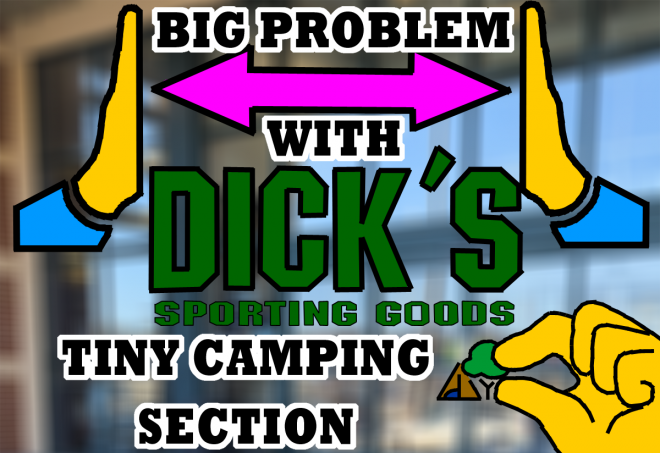 Dick's Sporting Goods is one of the largest, if not the largest, sporting goods stores in America. Unfortunately, not all of us are looking for athleisure wear, bolt-action rifles, or Yeti coolers when going to their stores. For a business that focuses a decent amount of their website toward camping gear (rentals, outdoor products – camping, Dick's Pro Tips [not a dick joke, I swear]), their stores tend to be poorly stocked and managed.
---
Welcome to our recurring series of "The Path Less Traveled." In this series, we want to take you along for our exploits in the wilderness while hiking, camping, exploring, and general adventuring. This will include our small daily victories, foibles, tips, tricks, and reviews of gear we authentically appreciate and frequently utilize. While a well-worn trail can often be the pathway to a leisurely day, the paths less traveled can often spur on some of the greatest memories, misadventures, and fun we could imagine. Join us in the Comments as we share our travels and hopefully, we can all come together for a greater appreciation of the outdoors.
---
Dick's Sporting Goods News from the Past!
@alloutdoorcom Trying to find a #variety of #lightweight #camping #gear Don't go to #DSG #dickssportinggoods Lots of #space used up by few #SKUs #wastedapace @dickssportinggoods @decathlon @walmart @pathfinderww ♬ original sound – ALLOUTDOOR
Good Dick's, Bad Dick's
Dicks Sporting Goods does some good, despite the whole ceasing to carry semi-auto firearms. They donate millions of dollars a year to children's sporting events including over 6,000 youth leagues since starting their Sports Matter nonprofit.
Unfortunately, every time I go into the stores in Pittsburg, Charleston, and Clarksburg, I get in and out quicker than two minutes. Why? Their stores dedicate anywhere from 32 linear feet to camping gear, but take up ridiculous amounts of space with the same product. For example, in Charleston, WV, they had 15 pegs on their display for eno hammocks and straps. Am I complaining because they're carrying these hammocks? No! I'm complaining because they waste space and carry so few items when they could be one of the leading backpacking / camping / hiking locations. As one of our Discord members noted, with limited selection, the highly desired items are often out of stock.

On March 09, 2022, I was at the Charleston store looking for mini butane tanks, and left empty handed. Going to Dick's nearly always makes me feel blue from going there expecting something, and leaving without completing the mission.
Poor Camping Selection
At the three stores I visit, none have a decent selection of tents.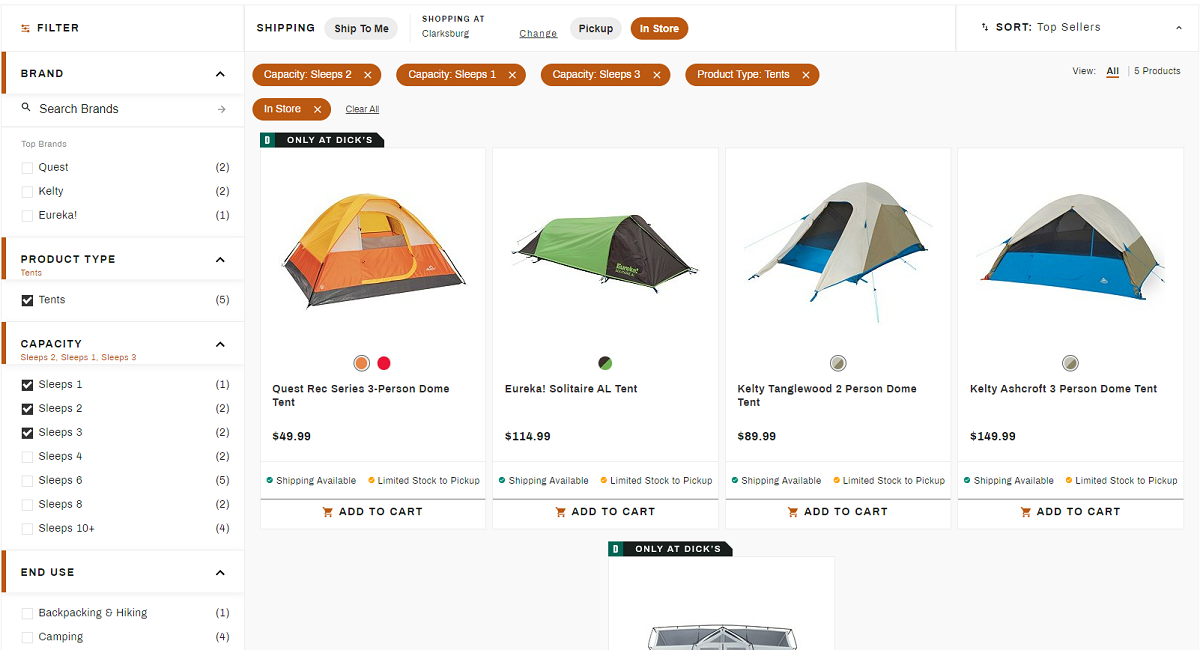 From this screenshot, we can look at four tents in the 1-3 person capacity.
The first one is a badge engineered dome tent that can be found anywhere, and weighs nearly 2,700g (6 pounds).
The Eureka! tent is a bivy you can't sit up in, and weighs 1,450g (3.2 pounds). This doesn't mean it is a bad tent, but there are better tents for price and weight that deliver more than this.
The Kelty Tanglewood 2 is no longer supported by Kelty. I found the weight specs on Cabela's site, and it claims the tent weighs 2,900g (6 pounds, 11 ounces).
We all know you're not going to traipse into the woods with the Ashcroft 3 person, not even going to comment… It's a car-camping tent.
Other sections of their camping area were similar. My local store had two options:
That's it. No folding camp mat, no traditional foam ones. It's like their industry buyers have never gone to an outdoor expo and seen what is out there to buy.
That's an idea! Ed Stack, Hire me as your hiking and camping advisor!
Low Quality Gear / No Selection
According the Dick's Q1 2021 quarterly report, stock prices have continued to go up in value due to gross margin rate expansion. This can mean many things, but to simplify it like you're all in fifth grade… They've reduced the cost of selling the product, and/or have raised the cost of the product as compared to the price they bought it at.
This is my artist's interpretation of the Quest 3-legged chair for $10 at DSG. This is a steel legged 20″ height chair that weighs two and some pounds. There's not a helinox-style camp chair in sight. For double the price, you could even get a decent camp chair at Walmart. The Ozark Trail Himont Compact Camp Lite Chair is claimed to be under two pounds… and is a full chair! I remember buying a similar chair in 2014 for nearly $50 when they were the hot new thing in camping.
The Dorcy 4pk of LED flashlights are items you can find at any store's checkout area, but in a 4pk. You know, the kind you give your kid so they feel secure when afraid of the dark. Pretty sure I've seen better things at the Dollar Tree lately… That's sad to say since Dollar Tree is now $1.25 an item. ?
There's just ONE water filtration/purifying option available at the Charleston store as of the making of this post.  I don't know about you, but I'm not fond of water purification tabs and would rather go with a Sawyer or Lifestraw option. Now, Potable Aqua tabs aren't the worst decision you can make… but it shouldn't be the only thing you sell or have available.
You know it's a bad day when…
You know it's a bad day when Walmart beats you at something other than prices. Walmart, despite half the store being groceries, places for carts and registers, the amount of space dedicated to camping gear is astounding compared to DSG. I measured (with a tape measure, in store) 140 linear feet of camping supplies at Walmart, and 40 linear feet at Walmart. Despite Walmart's property area being 2.2 times larger (subtracting grocery area), they still have roughly 38% more of their dedicated space attributed to camping gear. (Walmart's entire sporting good's section was roughly 400 linear feet of product displays, not including bicycles)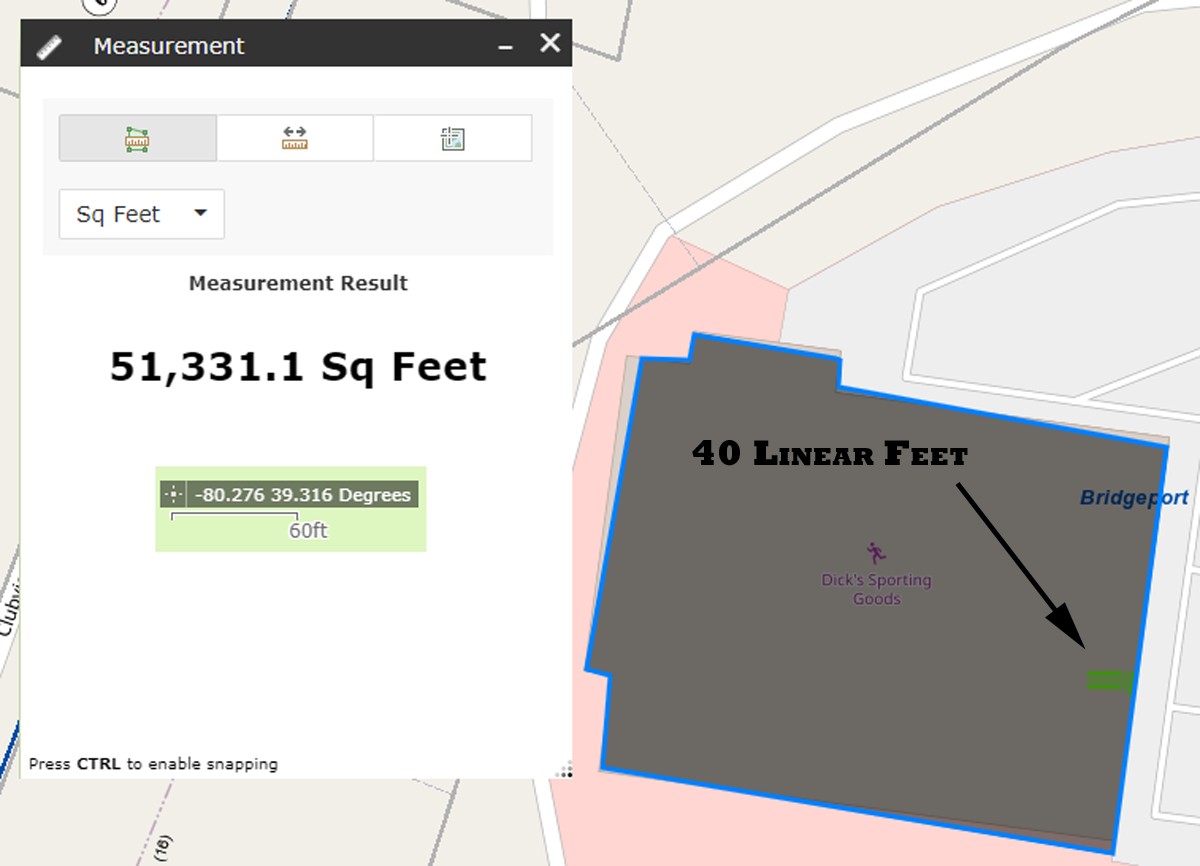 A New Challenger?
Dick's Sporting Goods, Inc. (DKS) started a proof of concept store in September 2021, named Public Lands. This location has more interactive and premium materials, and seems to be a bit more upscale like the Galyan's brand DKS acquired in 2004; rock climbing walls and all.
On the Public Lands site, there are quality products that you would expect to see at Moosejaw or REI, in addition to premium golf, climbing and biking gear. It's almost like the Sam's Club version of Dick's Sporting Goods, but you don't have to buy a dozen 9-irons in bulk.
It would be interesting to see whether the knowledge and experienced buyers in-house at PL are able to influence Dick's stores to at least up their game and stop wasting shelf space.
In Summary
Dick's Sporting Goods is as profitable as it has been in the past five years. My observation of three stores is a small sample of their 847 stores. Once again, Edward Stack, Donald Germano Toni Roeller, and Todd Spaletto – let me help your company in any way possible.
I would like to hear your opinions in the comments whether Dick's Sporting Goods has satisfactory quality / quantity / variety at stores near you. What could lead them to improve their stores (other than sell semi-autos ?)?
---
Come join Alloutdoor's Discord server and chat about Archery, Firearms, Fishing and other topics with others! Sneak peaks, early notifications, and perks await. We have a Tiktok account, too!
P.S. Also found at Dick's in Charleston: