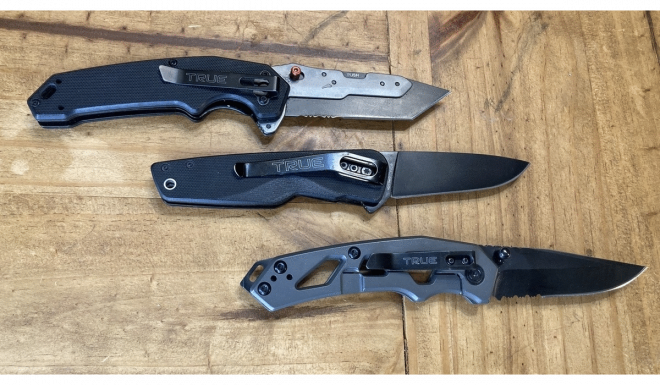 Recently I've been carrying folding blades from emerging brand True Knives. There are three with different sizes and missions. The smallest – the Ball Bearing Flipper – is in True's EDC lineup. The largest is called Swift Edge and has interchangeable blades for doing big field dressing or other jobs. In between is the Tactical EDC, the boldest-looking of the three with a skeletonized frame.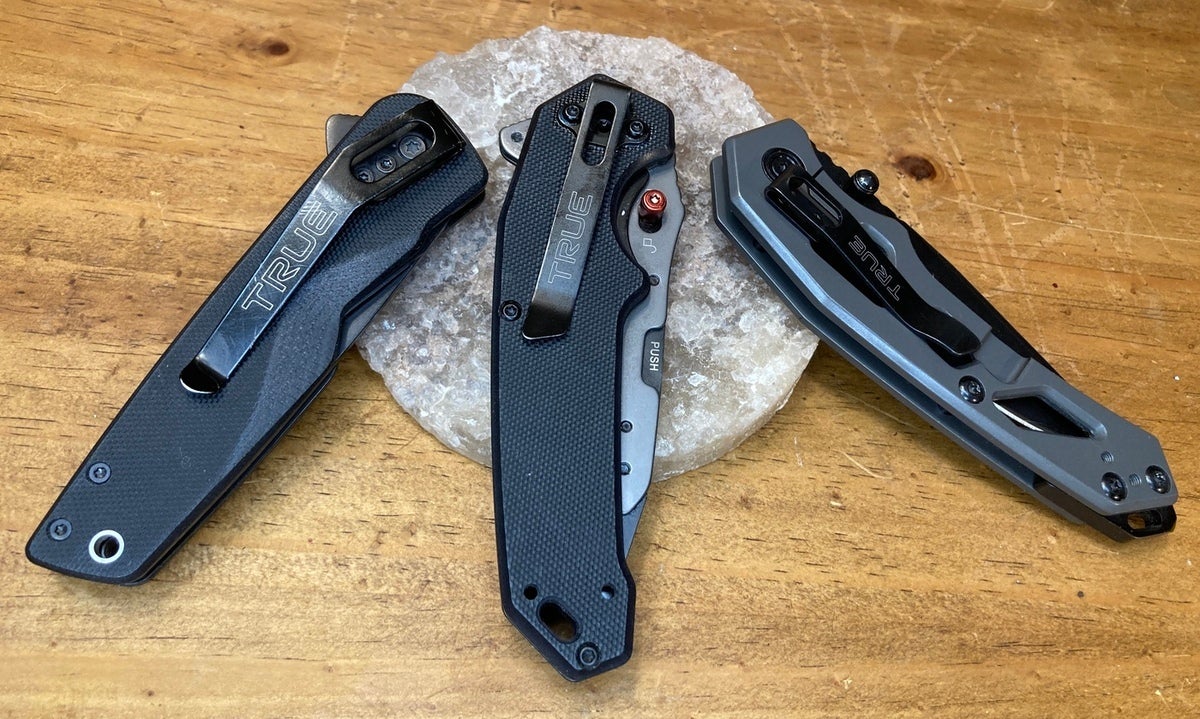 I carried each blade for at least a week, subjecting them to about the same amount of light chores, like cutting twine on hay bales, before testing each one on a ripe tomato to see which, if any, would yield a paper-thin, transparent slice. Here are the results.
True Knives – Ball Bearing Flipper
As for daily use, I personally rate this one at the top of the trio. This little knife has a black G10 handle that's molded with a decent block on the bottom to prevent fingers slipping onto the blade. The blade itself is a non-serrated three-inch, drop point blade made of economical, but good-performing 8Cr13MoV stainless. When open, the overall length is 8-3/8 inches. Closed, it's 4.38 inches long and 0.75 inches thick. The blade is treated with black oxide, making for an overall discreet look. A thumb knob helps, along with a flipping motion on the draw to deploy this knife in a way that nears the efficiency of a spring-assisted blade, but without the bulk and weight. A passive, frame block keeps it securely open until the job is done. I find the block easy to disengage and close with one hand, a convenience I prefer in a daily carry knife. If a person wanted to attach a lanyard, the Flipper has a hole for it.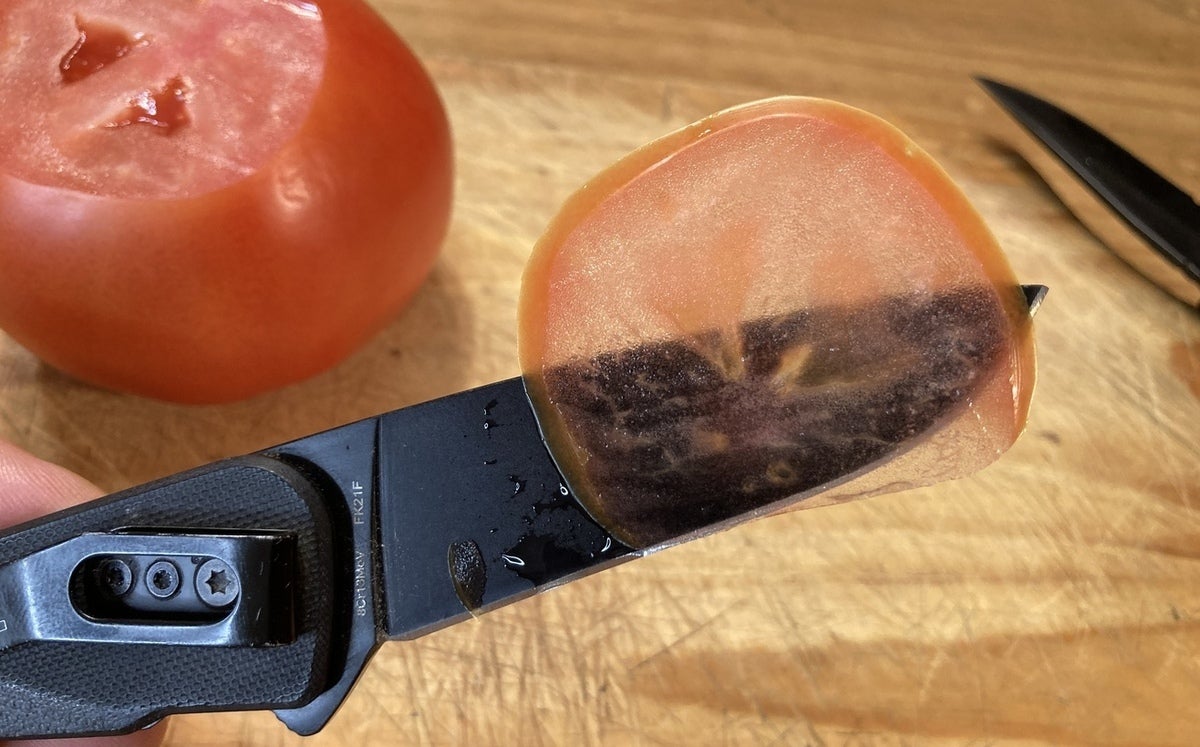 What I love most about this blade is its deep-set, black clip that keeps it secure even in shallow pockets. That same feature keeps it from knocking on narrow passages and makes it very discreet for EDC. However, the drop point blade is enough to do most any day-to-day blade task. So far, the black oxide finish hasn't shown any dulling despite this knife riding around in my pocket for a month in dusty spring conditions. As the name suggests, the opening process is smooth. This lightweight knife carries easy!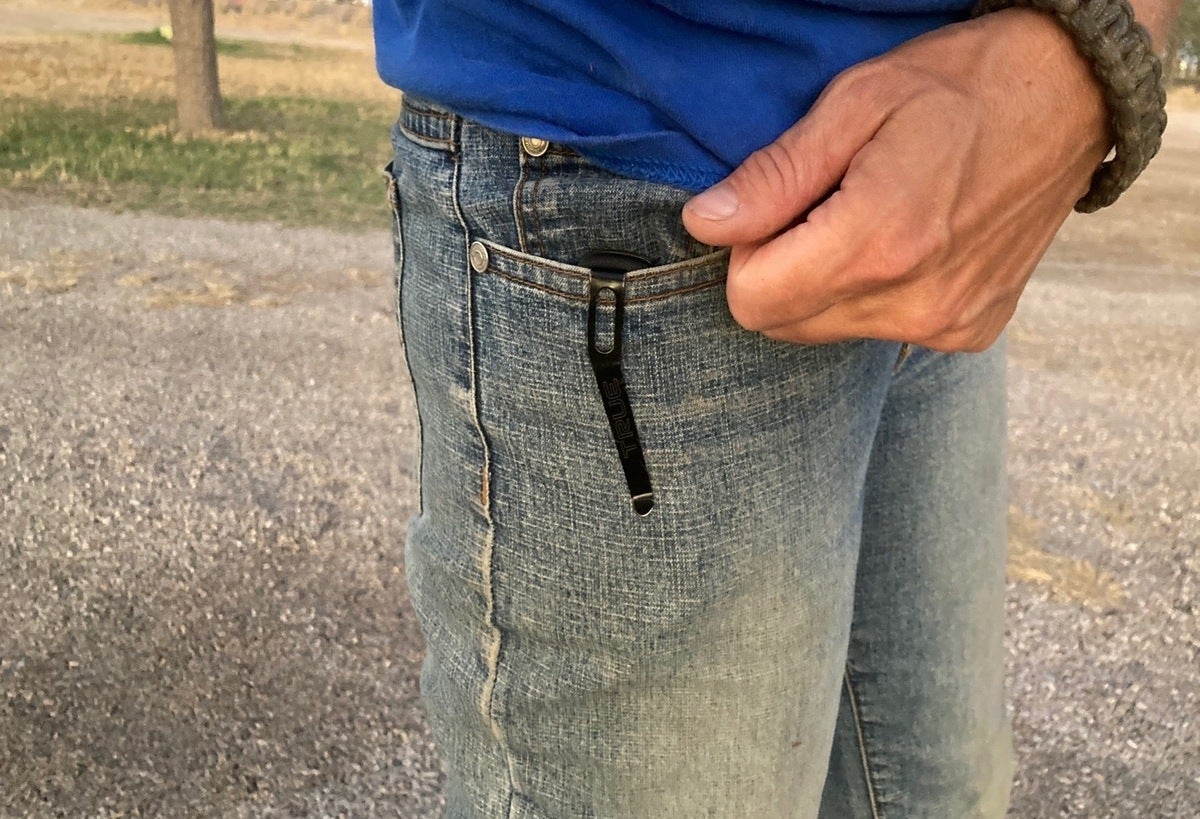 Out of the box, this blade is sharp! When slicing twine on a bale of hay, no sawing motion is required, just a bit of pressure and the blade breaks right through. On the tomato-slice test, it glided right through and made a transparent cut, though the relatively short blade length required a little finesse on my part to produce a full-size slice. For $29.99, I expect to do frequent re-sharpenings, but that's a small price to pay, in my book, to have a very concealable yet useful EDC blade.
True Knives – Tactical EDC Knife
The version of this knife I have is branded "TRUE" on the clip, but the True website also indicates it might be co-branded under the Nebo name. Obviously still on the EDC spectrum, this is a heavier, bigger, and overall beefier piece than the Ball Bearing Flipper. I've been carrying it as part of my armed security uniform for about a month.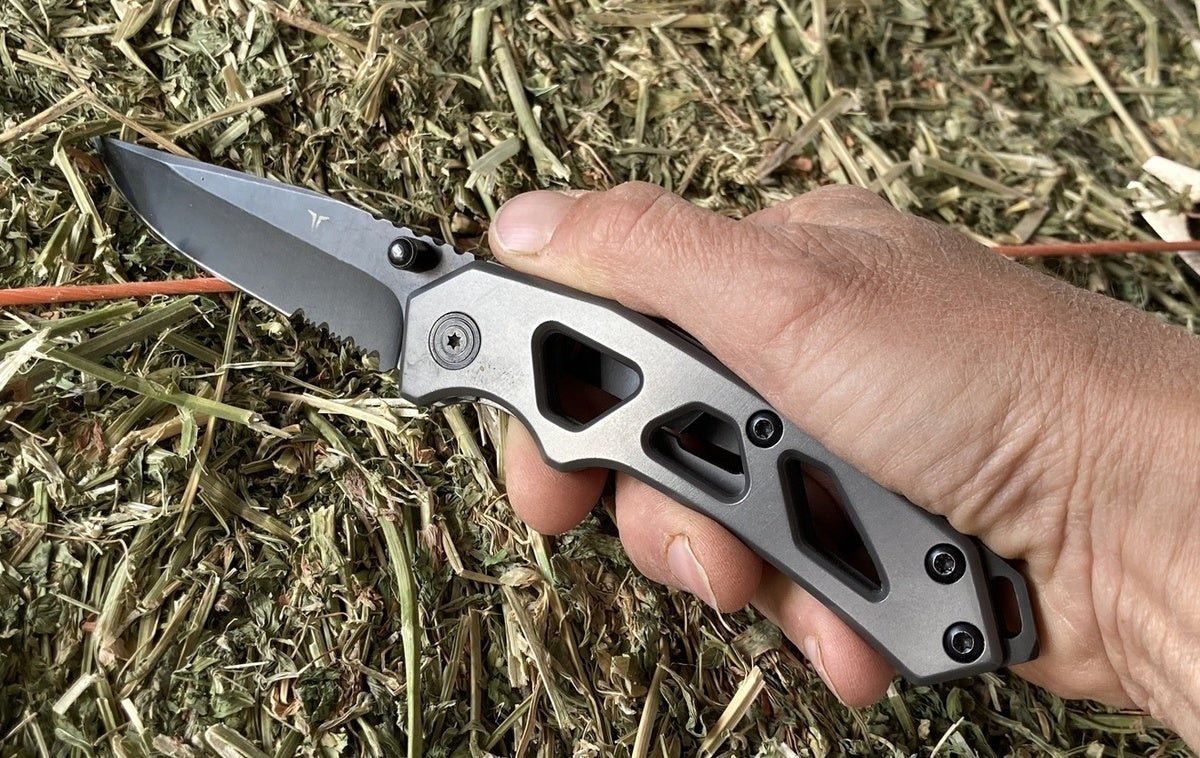 While True describes the Tactical EDC Knife as lightweight, it's substantially heavier and thicker compared to the Flipper. Some weight is saved with a skeletonized handle which is stainless with gray titanium coating—and adds major cool factor. That handle is big enough to deliver more leverage compared to the Flipper.  As a small/medium-handed person, the handle feels a bit big, and I get the feeling of having to reach to keep my index finger in the optimum position. While there is a gentle groove to hold the index finger but not the thumb in place, I hope I never have to use this blade defensively, as I feel it'd be easy for my hand to slip up onto the blade. A larger-handed person would likely feel more comfortable wielding the Tactical EDC for defense.
This blade was the standout in the tomato test. It yielded a lovely paper-thin slice with ease. Its sharpness is on par with the Flipper, but its longer blade made a smooth, whole-tomato cut easier.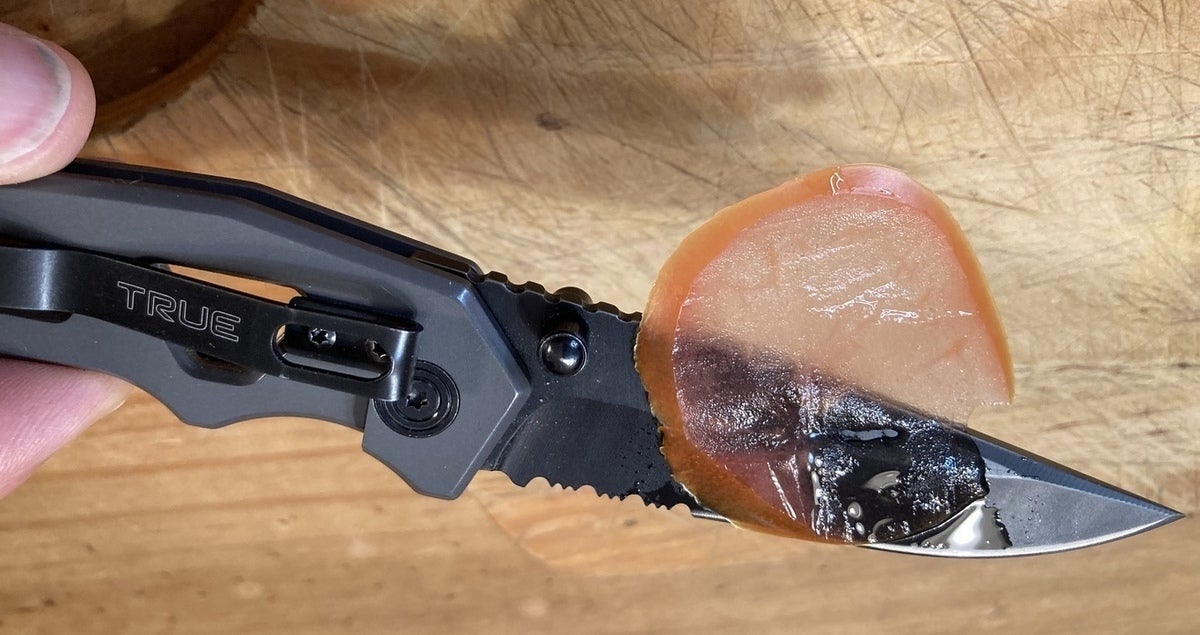 Other features of this blade include a 3.25-inch 8Cr13MoV, black oxide-coated, rear-serrated blade, a glass breaker end with lanyard hole, and reversible pocket clip. Like the Flipper, it has a frame lock to ensure it stays open when in use. It's 5-7/8 inches long and just shy of half an inch thick when closed, not counting the clip.  It's 8-1/16 inches long when open. It rides higher above the hem than the flipper, and is probably not the blade to carry if you want to be discreet. This is a sizable folder that's ready for work, and is the most eye-catching of the three. Regular price:  $34.99.
True Knives – Swift Edge Replaceable Blade Knife
New in the True lineup is the Swift Edge, the largest of the three discussed here. It comes with four 3.5-inch fast-flip to open blades. Three of those blades are black oxide-coated 5cR13 steel, a common type for hunting and kitchen purposes. The designs are a partially serrated tanto and two drop points. Then there's a saw blade for cutting small firewood or medium game bones. It's made of hard, carbon-rich 65Mn steel, tough but requiring attention to prevent and control rust.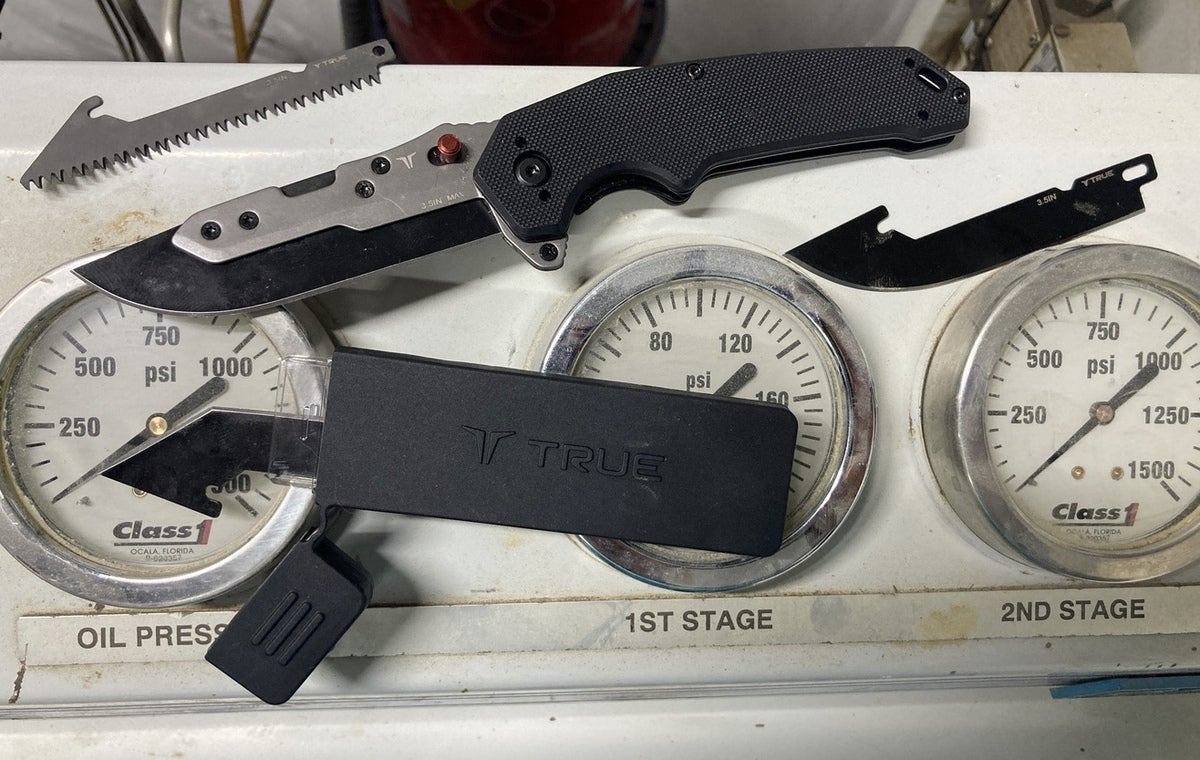 As a test, I performed three trade-outs of each blade, or 24 successive changes. It's an easy, two-step process. After each insertion, I pressed sideways, up, and down on the blades. At no time was there any wobble or loose feeling. As iffy-sounding as changeable blades were to me at the beginning of this test, I'm convinced they'll stay reasonably solid in the field, enough to work one's way through a slew of game in one day.
Tanto blades are quicker to produce and optimized for stabbing first, then slicing. While that doesn't matter under most circumstances, it's not the best setup for testing sharpness on a tomato. A bit of squishing took place to get the blade inserted far enough into the veggie before slicing could commence. Once there, it went well. It's plenty sharp; the problem in this test is related to blade type. I didn't do the saw test on the tomato since that wouldn't make sense for a sawtooth blade.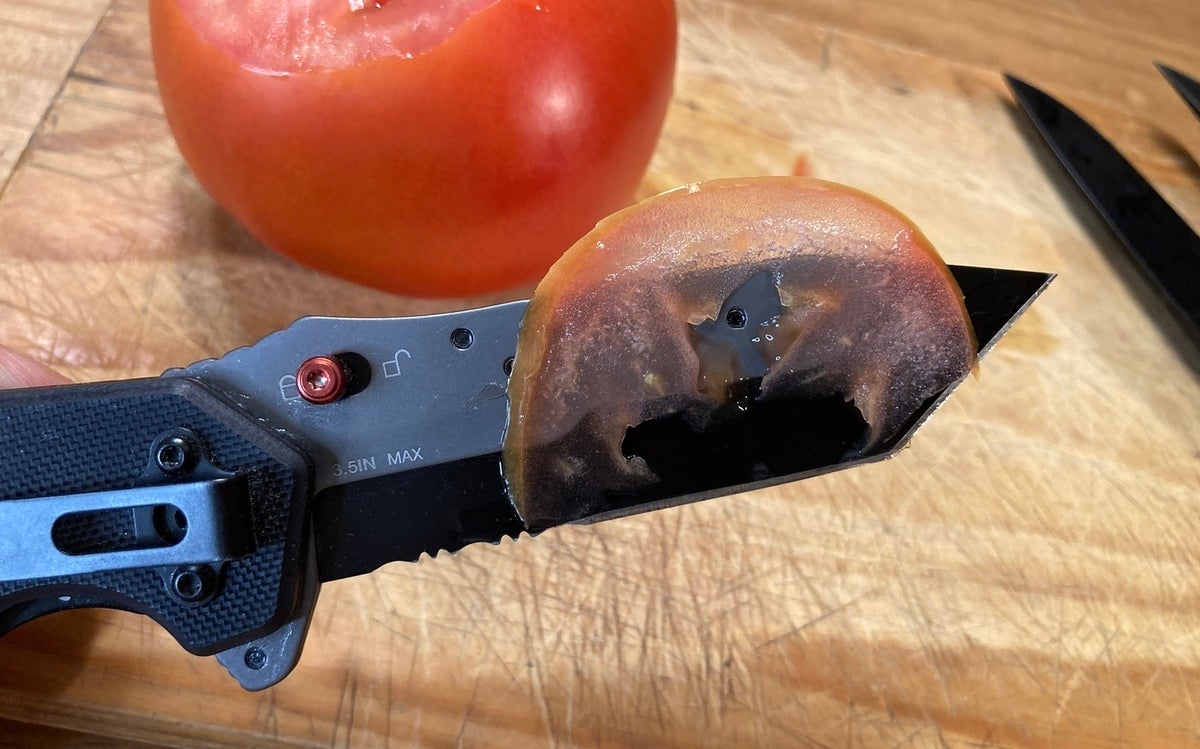 The G10 handle is comfortable, but do some real work with this knife and you might be wishing for gloves. Its angles are great for preventing hand-slip, a great feature for a knife that's made for field work. It measures 4.61 inches long and 0.73 inches thick, not counting the clip, when closed, and 8 and 1/16 inches long when open.
To store the spare blades, True provides a flip-top rubberized container that's compact enough to slip into some MOLLE or a small pocket of a pack. $49.99
Summary
True blades may be budget knives, but they're built to dive into whatever task is at hand. The folding mechanisms, lock-outs, and blade attachment points appear to be solid. With a bit of a flourish from the thumb or wrist, all three deploy impressively fast. Their styles span a range of appearance and function to fit in at the office, on property patrol, or in the hunt field.
The oxide-coated drop point blade is a theme repeated often in True's products, but that's not a bad thing. It's a practical point for both boring and dangerous tasks, and the subtle color exudes class.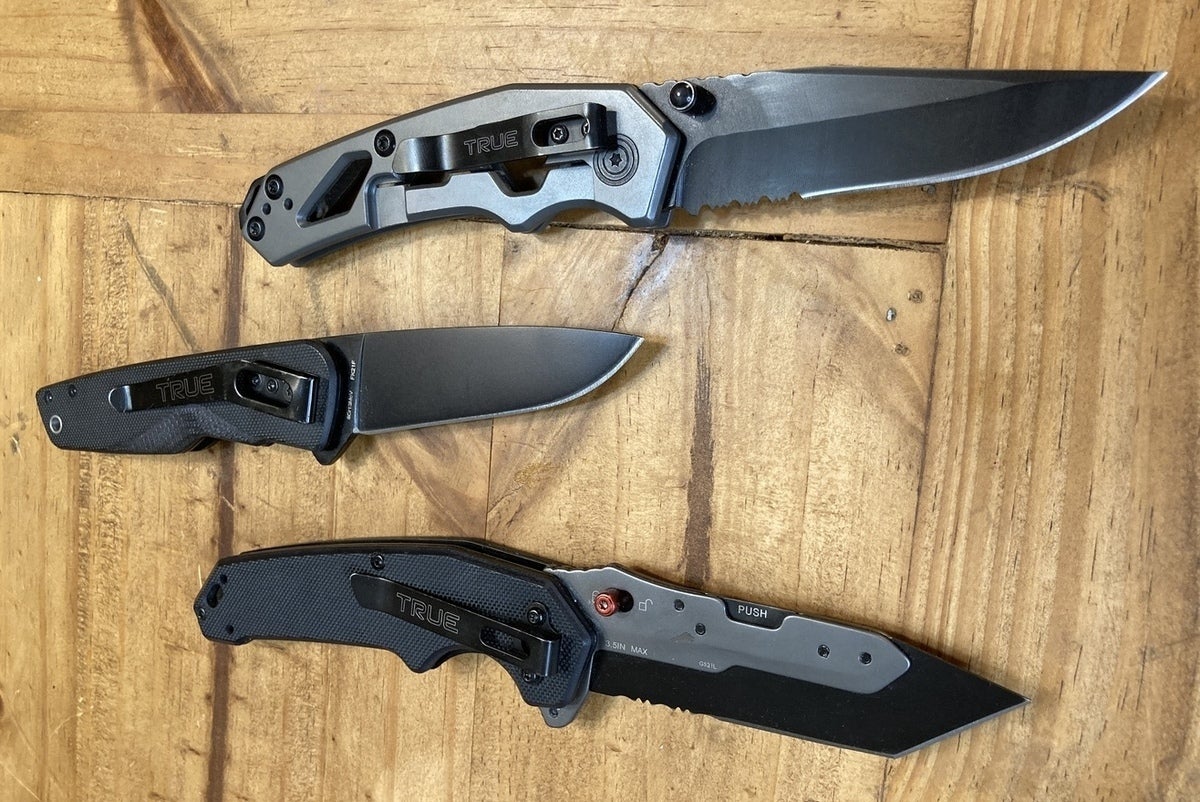 Are they made in China? Yes. But not everyone can afford a quality American-made knife every time they need a new one, and besides, if you take a look around most any room in the average home or office, a lot of other things probably hail from there. Consumer choice is a plus, eh?
A discount is offered for email opt-ins as of this writing. There's no time like now to add one or more True blades to your knife collection.  Each is boxed tastefully in a package suitable for gifting.