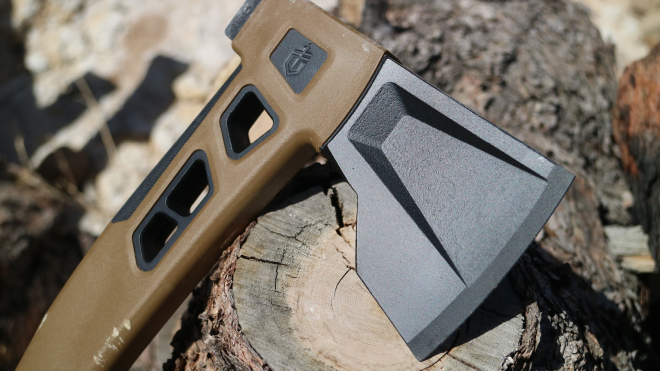 It never fails. Every time I go camping, I bring firewood, but it's never enough. I don't think there has been a single trip where I haven't had to forage for wood. I learned the hard way that your choices are extremely limited if you don't have a way to chop up larger pieces or create more kindling. Now, I never camp without an axe. Traditional axes can tend to be large and heavy. That's great for work around your property, but I like to be quick and light in the wilderness. Gerber has recently released their Bushcraft line, which includes a hatchet and an axe. Today, I'll be reviewing the Bushcraft Axe.
The Gerber Bushcraft Axe: Specifications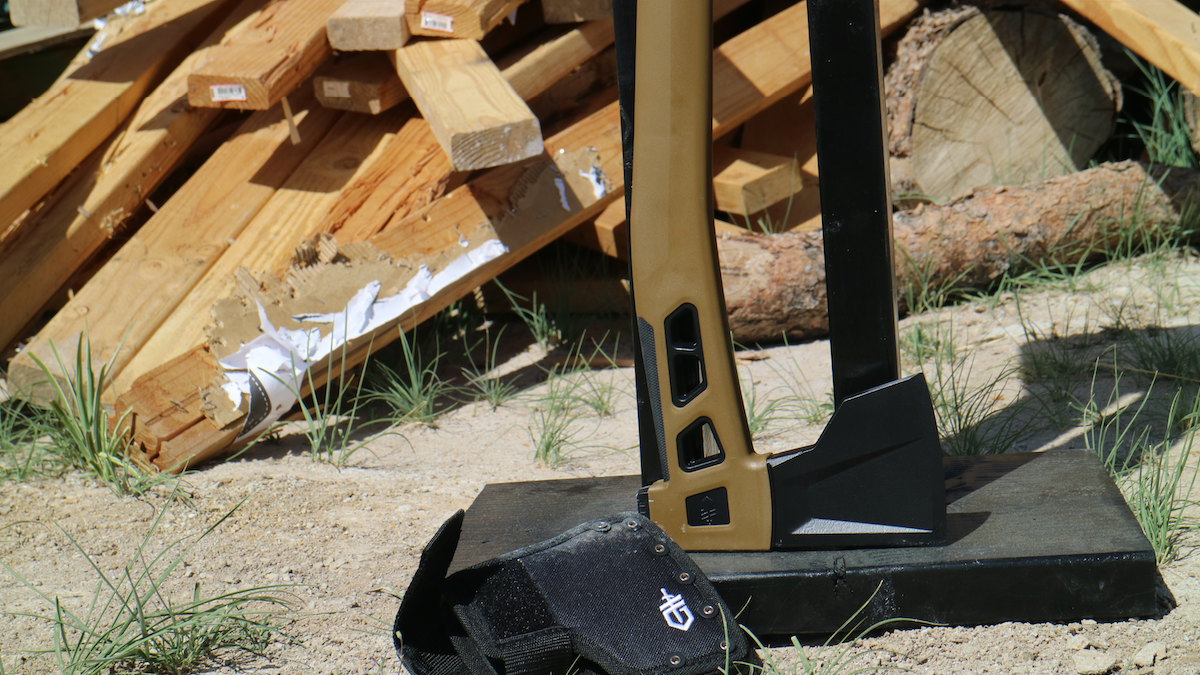 Length:

26.25"

Blade length:

6.87"

Color:

Coyote Brown

Weight:

4.5 lbs.

MSRP:

$90.00
First Impressions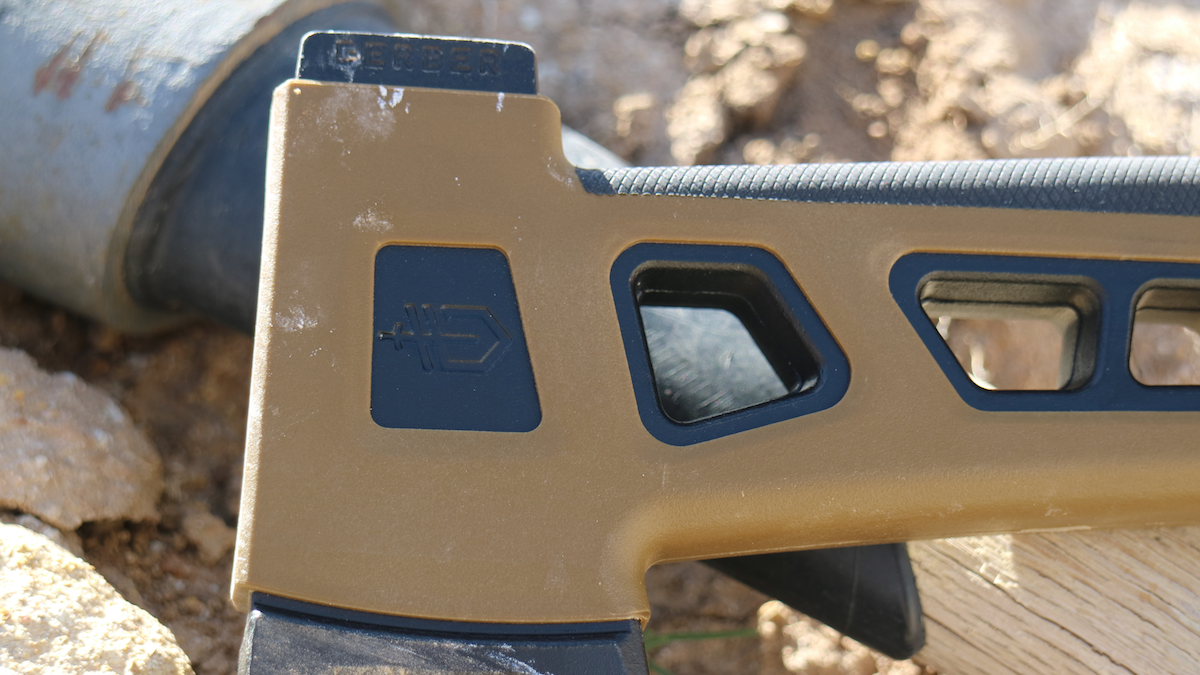 The weight savings that result from modern materials are immediately apparent. The axe feels sturdy and rigid, but I'd be lying if I said I wasn't concerned with the integrity of the lighter parts. I don't know why. I've seen it proven over and over that these modern polymers and rubbers are very strong. I think we all tend to associate things that are heavy with being durable. The texture on the rubberized grip is subtle, but grabby. The blade has sections cut out of it to help the blade plummet deeper into the wood. I'm not a scientist, so I don't know if that actually works, but I do know that the shape saves weight, as well.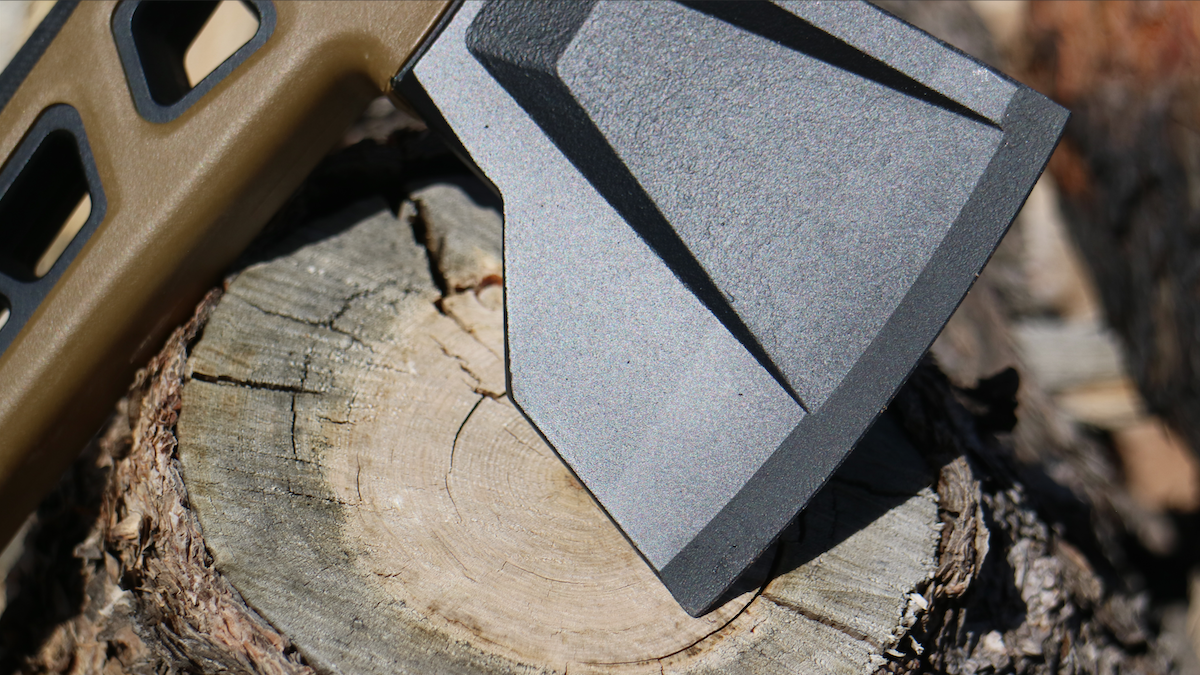 The two-tone look is cool. This is the Coyote Brown version, but there is a Grey version available, too. Pressing the triangle buckle at the end of the grip reveals a cleverly hidden compartment. The compartment is for the storage of useful tools or equipment. It can store paracord, a lighter, mini hot dogs, or whatever else brings you comfort.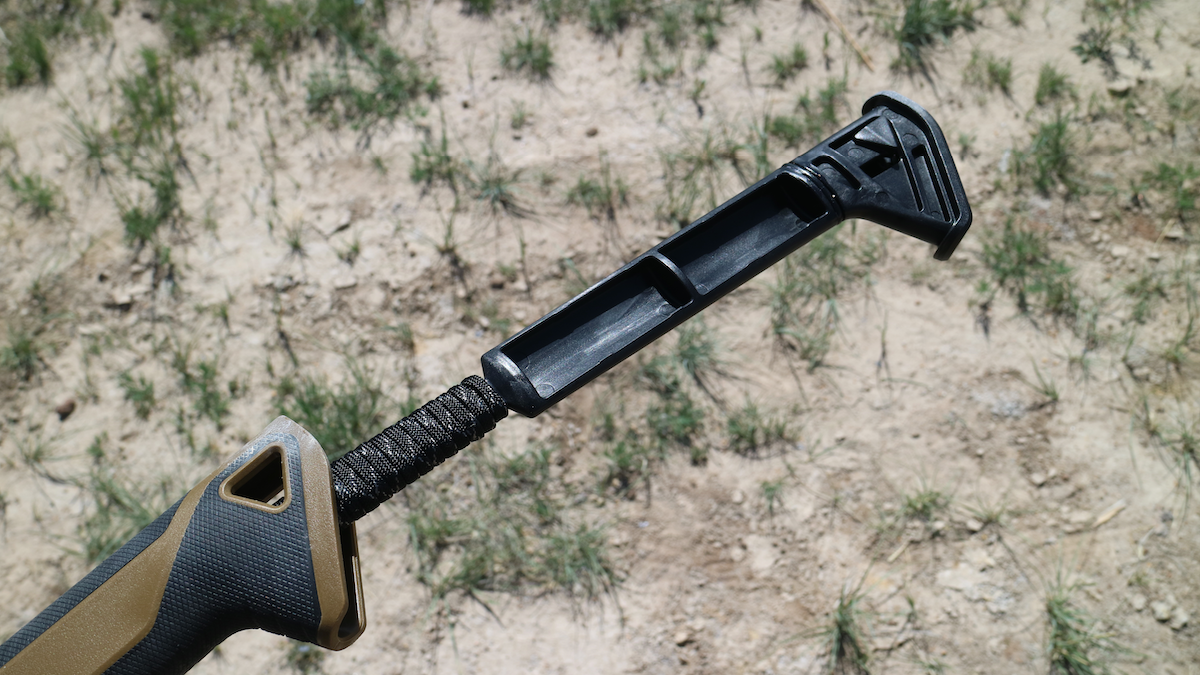 Chopping Up the Great Outdoors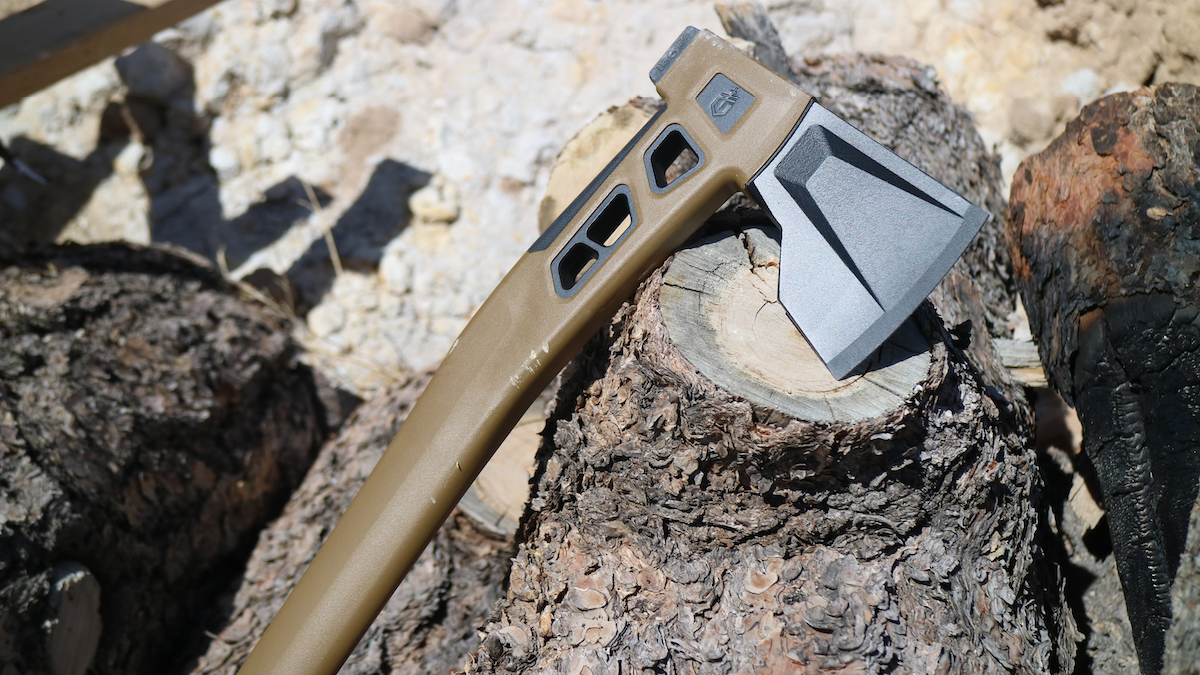 First on the list of tests is its ability to chop wood. While traditional wood-splitting axes are heavy, that weight helps get through the toughest of logs. I was curious to see if the light weight takes away from the Bushcraft Axe's chopping abilities. So, I grabbed some random wooden objects, as well as some logs, and got to hacking. The Gerber Bushcraft Axe was great. As expected, some of the tougher pieces of wood, like the logs, took a bit more effort. They still gave in to my city-boy might eventually, and the axe never caved. It sailed through the lighter stuff, like the 2x4s.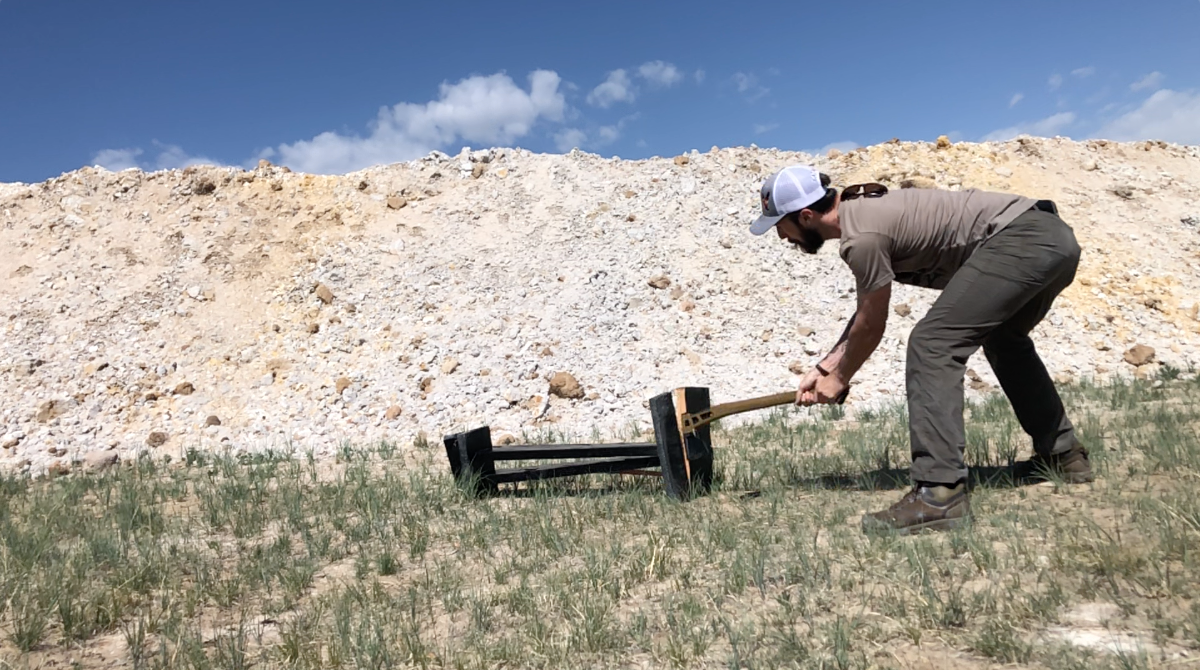 You can chop through wood with a bowling ball if you swing it hard enough. I wanted to look at the axe's ability to be a precision tool, so I took the split logs and attempted to make kindling. I was able to split off smaller pieces of wood with no problem. Even the tougher wood, once split, was easy. The added rubber grip near the head of the axe really helped me keep a firm grip, leading to very precise cuts.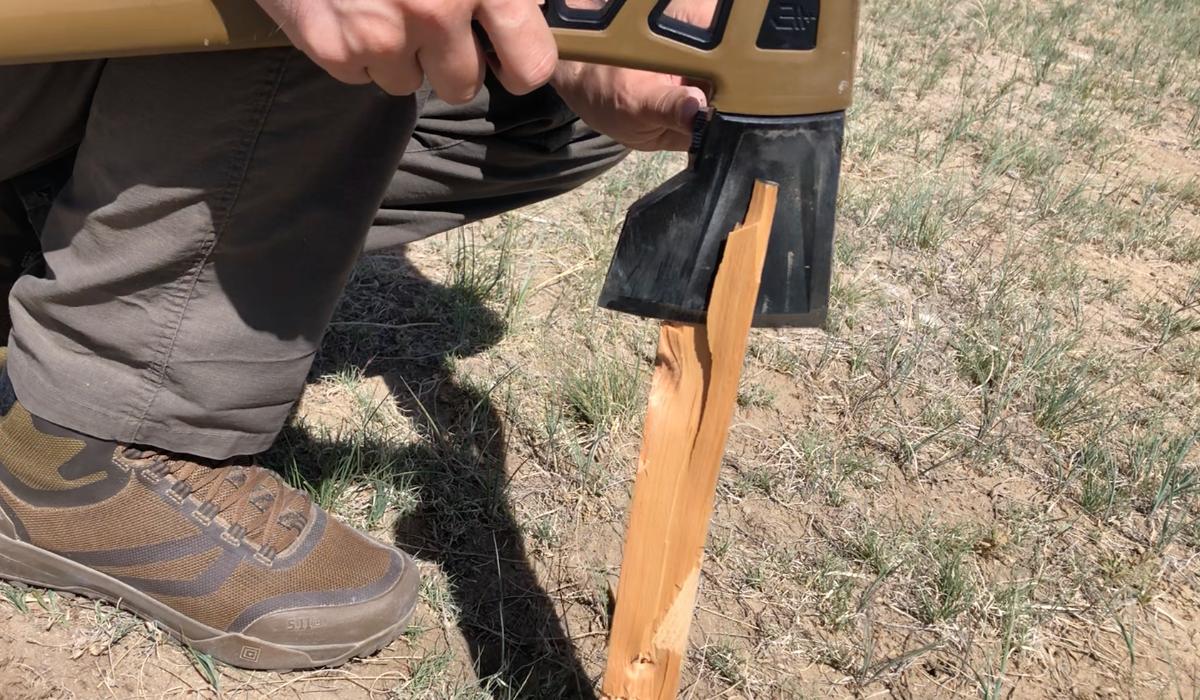 The back of the blade is made intentionally flat so it can be used as a hammer. The range where I do my firearm reviews was doing some renovations, so I used the hammer to drive in some stakes. This is, of course, to simulate the infuriating inevitability of having to hammer in tent stakes. The portion of the grip that I was holding was too far down for the rubberized part to help, but the thickness of the grip was good enough to keep my grip strong.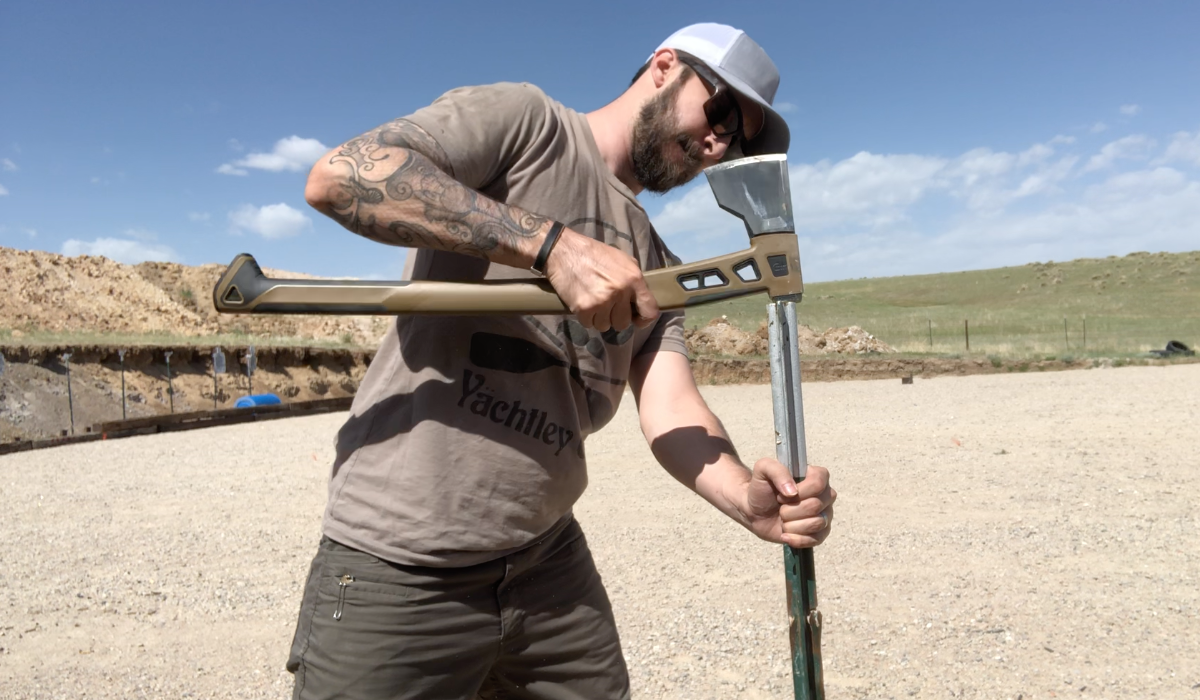 Success or Splinters?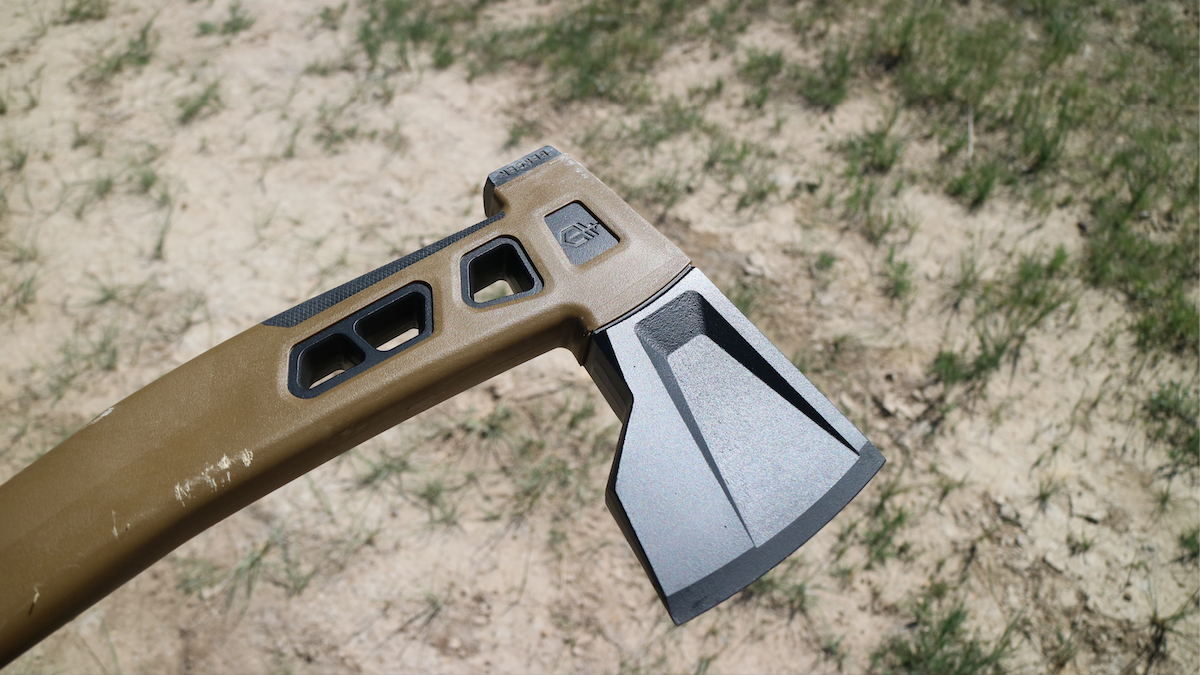 As you can see above, the Bushcraft Axe passed all of its tests. My favorite part of the axe was the hammer. There are two kinds of campers. There are those who have bent tent stakes with their feet, and there are those who are liars. There has never been a trip where hammering in the stakes for my tent didn't require beer and words with the same number of letters as the calming beverage. I always remember my axe, but I always forget my hammer. Now, I can't forget it because it's attached to my axe.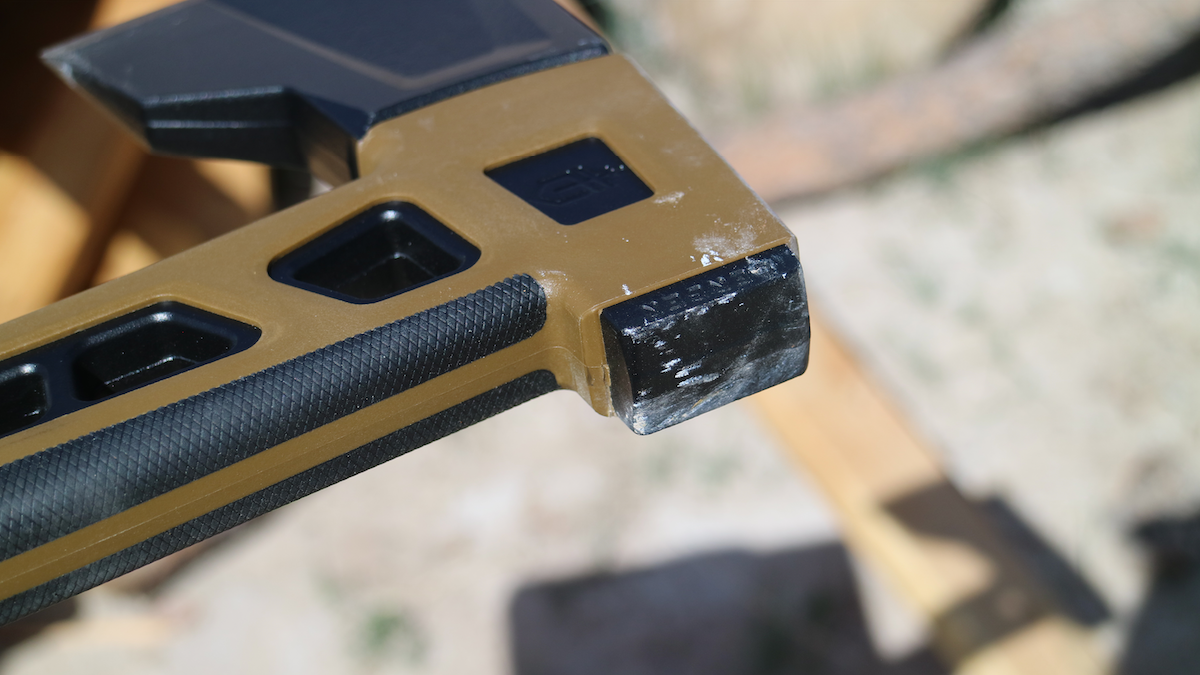 The color scheme is very attractive. I do wish there was another color option that was more high-vis. Brown can easily blend in with the outdoors, especially for the colorblind among us. A bright orange or yellow would be the version that I would buy.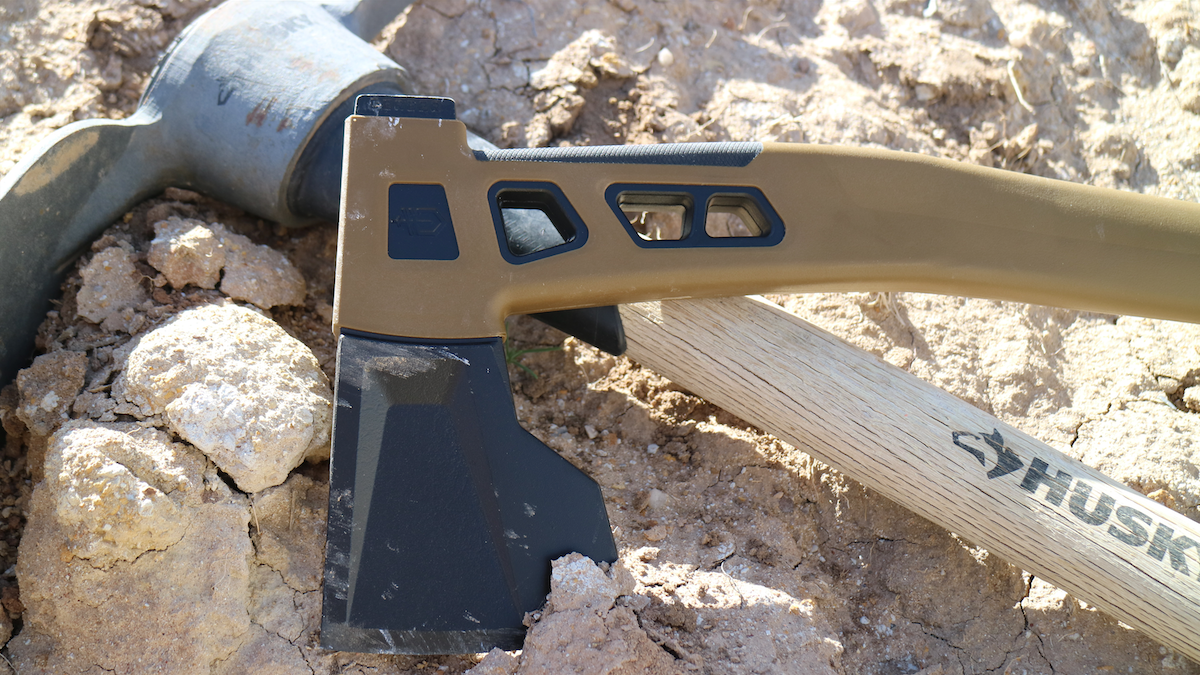 Aside from the loss of comfort that cannot be avoided, due to the length of the axe, the Gerber Bushcraft Axe has a clean sheet. It delivered everything it promised: low weight, an effective blade, and some bonus storage. I'll definitely look to Gerber first the next time I need to replace a heavy camp tool.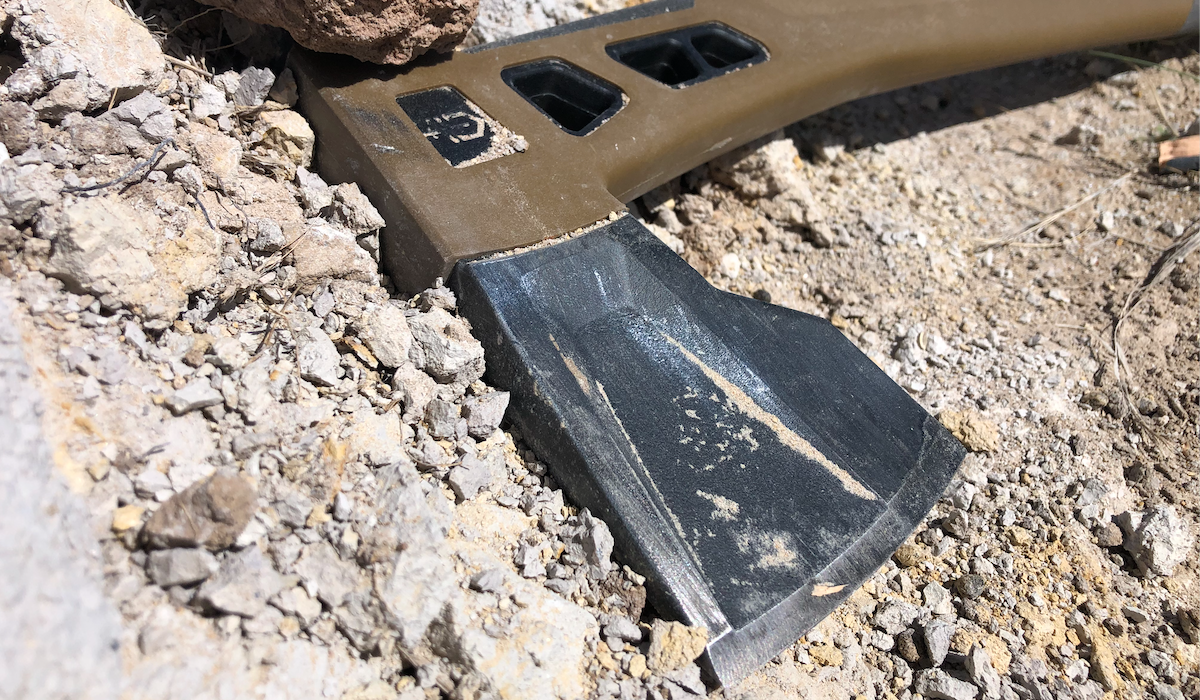 If you'd like to add the Gerber Bushcraft Axe to your camping gear list, you can find more details on Gerber's website. For more content and product announcements, make sure you also follow them on social media. Gerber can be found on Facebook, Instagram, Twitter, and YouTube. Good luck out there and stay safe!
Shop top of the line gear at great prices in the Everest Marketplace and get outside!