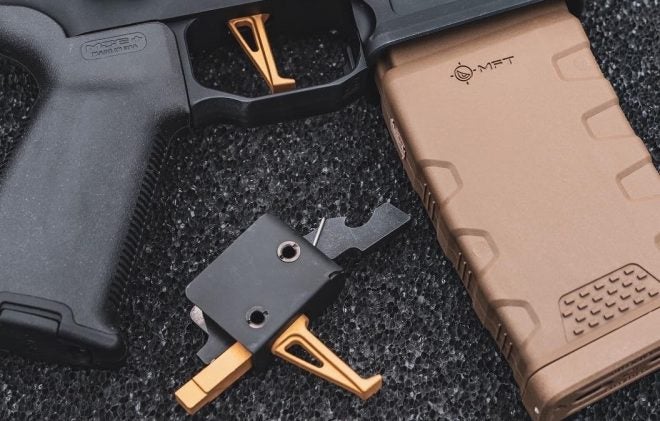 CMC Trigger Corp of Fort Worth, Texas just announced the release of a new trigger with a little James Bond appeal. It is being called Goldfinger. The company will be taking advantage of the NRA Annual Meetings in Houston for the official rollout of the new trigger which is designed to fit AR15 and AR10 platform guns. Its design is a combination of simplicity, performance, and flash.
Drop-in convenience is built in with this self-contained assembly. It features small-pin design and a flat-face trigger Cerakoted in a shiny gold color. It has a single-stage operation and a factory preset 3.5-pound pull. Its construction is 8620 alloy steel and S7 steel machined to tolerances of plus or minus 0.001 inches. CMC's press release indicates the Golfinger has no palpable creep or gritty feeling before the break. It also has a short and clear reset for efficient follow-up shots. Reliable performance with military or match grade ammunition is built in. The trigger boasts minimal lock time insured by its internal controlled hammer weight and balance which is activated by a rocket wire hammer spring.
This trigger is hand-assembled in Texas at CMC's own facility. CMC Triggers are best known for their original drop-in AR15 trigger assembly. Since their founding in 2003, the company has expanded into and remained a household name in the crowded, AR parts aftermarket. The company remains family-owned, Texas-based, and committed to stateside production. All CMC products are extensively tested for performance and quality before being presented on the market for civilian, military, or police customers. All are backed with a lifetime manufacturing warranty and customer satisfaction guarantee. The Goldfinger trigger is ready now and available via direct order from CMC's website at a price of $235. Shipping lead times are up to 15 days because of the demand for all of CMC's triggers.
Shop top of the line gear at great prices in the Everest Marketplace and get outside!