Temperatures are dropping, and big game season is coming right up or already underway, depending on the jurisdiction. Outdoor work and recreation in frigid weather requires great footwear if that time is to be enjoyed, and enjoyed safely, maybe for hours on end. One company north of the US border is making high-quality winter boots for women and men. This fall, I've had the chance to test one of their flagship products, a handsome winter lace-up boot by Baffin. It's called the Swift.
This design is winter boot classic, but the features are nicely updated. Instead of a removable liner, the insulation layers in the Swift are integral, and substantial. The moment my foot slipped into the boot, I knew there'd be no cold getting in. It's insulated enough to make my feet feel like they each have their own little world! The cozy lining is anti-microbial to prevent stink over time. That lining also has wicking features, to pull sweat away from skin and into the hollow-fiber lining where it will dry and not be felt so much by the wearer.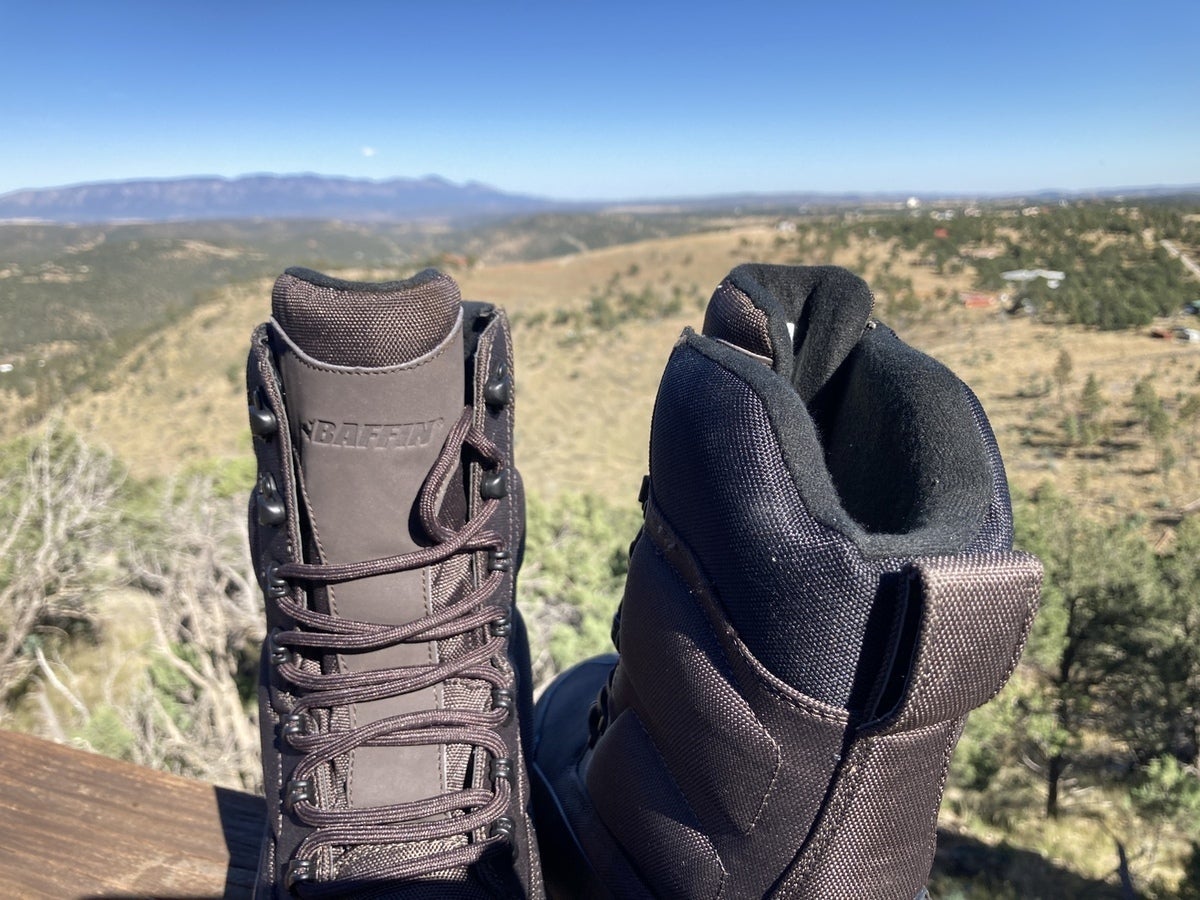 Lacing runs through seven lugs, the top two of which are hooks instead of loops. It's easy enough to get these on or off in a hurry, relative to the conditions they're made for. Once the top hooks are unlaced, the rest easily loosens to slide the boot on or off. The thick padding goes all the way to the top of the eight-inch upper, and with the boots secured well, I can't feel where the knot is – an essential for long hours sitting or walking. The laces gave no indication of being the slippery kind that don't stay tied.
The Swift boot is offered in two types of camo upper, one with green and the other with brown as the primary color. It's also available with a plain brown upper. All have a contrasting black lower. For those concerned with being stealthy in the afield, I must comment that the upper on the brown test model is somewhat glossy. It's nothing a little field dirt won't fix.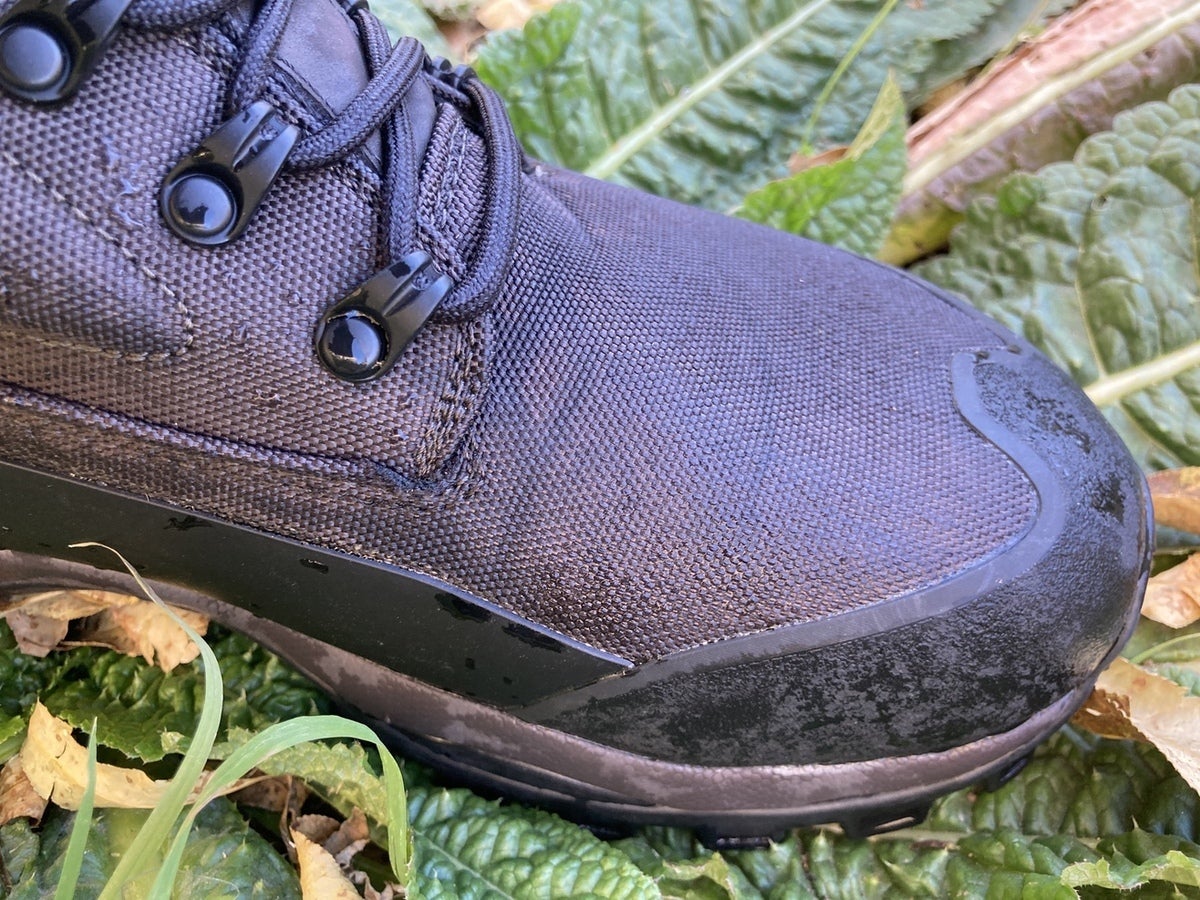 Testing included walking in the cold autumn waters of New Mexico's Rio Bonito. Sure, that water was cold, but I actually had to stick my hand in it to tell because the Swift boots offered no clue. They are remarkably waterproof. I didn't feel even a hint of dampness until I stepped into a deep spot that was over the top of a boot – obviously not the boots' fault.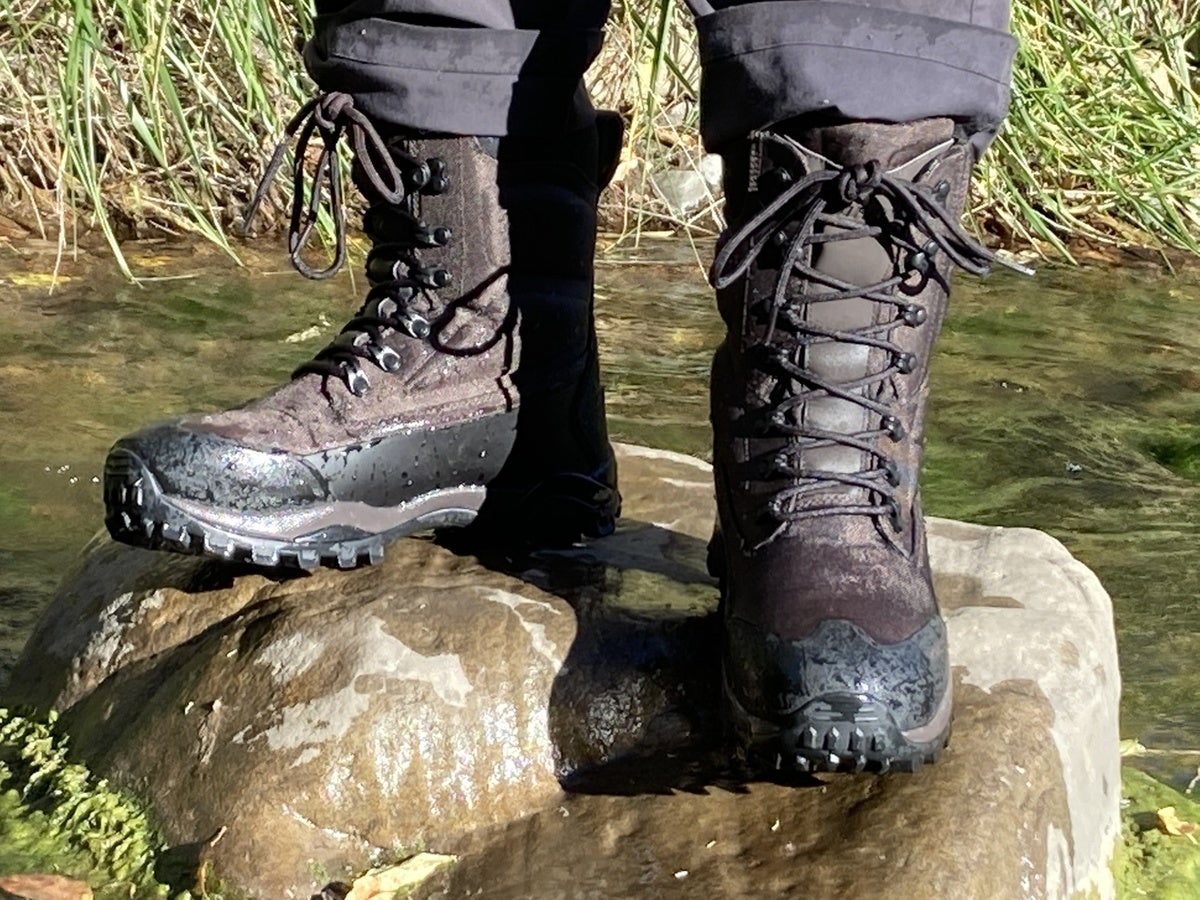 The soles have aggressive tread that makes my feet feel like a tank rolling through rocky backcountry. There is a defined arch on the outside, but my feet, which are adjusted to minimalist footwear, could only subtly detect the shape of what Baffin calls an anti-fatigue midsole. These boots are tapered in front more than my bunion feet prefer, but I was still able to spend a couple hours alternating hiking and sightseeing in them without discomfort. The thermoplastic shank is stiff, as is to be expected with snow boots. These are not the boots to wear for developing plantar proprioception. They are, however, ideal for long hours in nasty winter weather. In the time I spent wearing them with medium-weight high socks from Farm To Feet, there was no heel-rubbing nor bunching of the socks inside the boots. The experience of a great boot can be missed when using poorly-made socks. Farm To Feet socks stay put, are made in the USA, and have become my go-to for 14-hour security shifts when I'm either on my feet or in a freezing vehicle for hours. Unfortunately, Baffin doesn't make duty boots.
I am confident in saying the Swift boot is ideal for mild to sedate activity during long days of cold exposure. Cold days spent in a blind, on a treestand, or traversing land on an ATV or snowmobile would be made cozier by these boots. While the aggressive tread will track mud inside, I am looking forward to making them my long-term partner for farm chores in snowy, cold weather thanks to the ease of slipping them on/off even though they are lace-ups. Baffin calls the Swift boot "Tundra Rated: for experiences on snow-covered, frozen terrain." Good call, Baffin.
Baffin makes both men's and women's boots, all branded with a touch of Canadian pride in the form of the company's red and partial maple leaf logo. The price is $224 USD. Though there is nothing called the Swift in their men's line, their Surefire model is the male equivalent in appearance and price at $220. The company makes a wide array of winter footwear, from slippers to arctic boots, and the Swift's Tundra rating is only in the middle of Baffin's five-levels of weather suitability ratings. These Canadians obviously understand cold! A line of related winter gear like gloves, hats, socks, and such is also manufactured by Baffin.
Source Link