This March, Daiwa has announced the newest iteration of their Exist line of spinning reels. The Exist 22 LT is the pinnacle of 60 years of craftmanship and reel design from Daiwa. This flagship line of spinning reels has always been where Daiwa shows the best that they can do. The Exist 22 LT, uses Daiwa's brand new Airdrive Design to create the lightest and smoothest reel yet.
The new Airdrive Design consists of four different components: the Airdrive Rotor, Airdrive Bail, Airdrive Spool, and Airdrive Shaft. These parts have had every possible gram of unnecessary weight shaved off. All of that effort to create a system with the least amount of inertia and friction possible for the angler. This is all mated with their one-piece Monocoque aluminum body system.
While the Airdrive system is a new design. The MQ body is in use in several high-end Daiwa reels already. Such as the 2020 Saltiga and 2021 Saltist. Using the monocoque aluminum alloy Daiwa creates a strong and rigid single-piece body. That manages to use less material and stays more compact than previous reels. The MQ system allows for more space available inside the reel body. Daiwa utilizes this space to have larger and stronger gearing inside the more compact MQ reel bodies. This combination of Airdrive and MQ designs leads to an incredibly light and sensitive reel that does not compromise on strength and durability.
The reel is set to be released sometime in March 2022. Preorders are available now by tackle vendors online. You can check out other great Diawa products at daiwa.us
Daiwa Exist 22 LT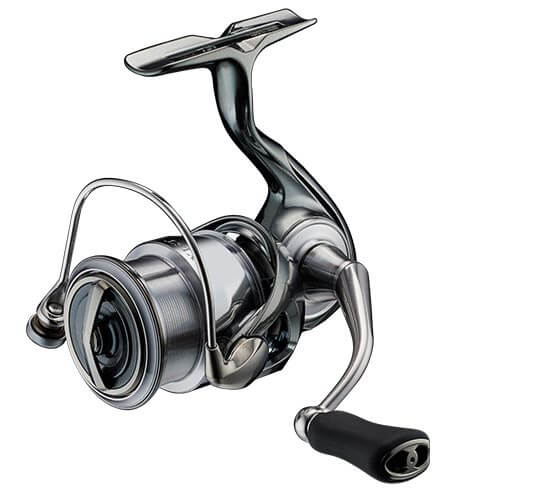 "To begin the creation of AIRDRIVE DESIGN, first DAIWA separated the spinning reel to two key components. The first was the 'rear unit' which consists of the body & key internal components like the drive gear. By introducing MQ technology along with the tough digigear which is now becoming standard of DAIWA's spinning reel, it has given the rear unit high strength and durability.

Following the development of the rear unit, DAIWA set out to redevelop the key components that make up what is called the 'front unit'. By redeveloping the rotor, spool & bail assembly DAIWA has managed to reduce the weight of front unit in 2022. Years in the making, AIRDRIVE DESIGN is the result of this new thinking. DAIWA has developed an innovative masterpiece allowing anglers to be in total control. Reduced weight, smooth rotation and high response allows the reel to spin freely. All of those combined elements come together to create AIRDRIVE DESIGN.

AIRDRIVE DESIGN can be broken into 4 key technologies.

The new AIRDRIVE ROTOR and the newly developed AIRDRIVE BAIL both combine to reduce weight at the top end of the reel. Reduced weight creates effortless and smooth rotation, with fast start up and low inertia. Unnecessary weight and thickness has been shaved off to innovate the new AIRDRIVE SPOOL, which perfectly matches the AIRDRIVE ROTOR & AIRDRIVE BAIL to complete the redesigned front unit.

Unlike the traditional internal reel structure, DAIWA has developed a low contact structure between the mainshaft and pinion gear called AIRDRIVE SHAFT. By adopting this method, friction is reduced and smoothness has improved. By combining these new technologies together allows the reel to be extremely lightweight and allows the angler to experience the low-inertia flowing rotation with greater control of the line and rod action."
AIRDRIVE DESIGN
AIRDRIVE ROTOR
AIRDRIVE BAIL
AIRDRIVE SPOOL
AIRDRIVE SHAFT
TWISTBUSTER 3
MQ Body (Mg)
Tough Digigear
MAGSEALED. Body, Line roller, Drive Gear
ATD Type-L
12BB (2MS, 10CRBB)
Made in Japan