For most people who fish for bass, a big topwater blowup is hard to beat. That sudden violent explosion of water, or even that subtle sip at the surface. Either way that visible strike is second to none when it comes to getting your blood flowing. Be it at Lake Okeechobee chasing giants in the grass or the farm pond down the street from your house, topwater action never gets old. This is why the Daiwa Evergreen is at it again, bringing out one of their tried and true offerings in a series of brand new eye-popping patterns. The popular and masterfully crafted OB-68 popper is being released in seven great new colors for even more appeal.
Daiwa and Evergreen is now offering the Evergreen OB-68 in the following new patterns. Flash Bream, Full Metal. Baby Bass, Flash Wakasagi, Bone, Flash Clear Shad, and Green Back Glitter. This is adding to the lures existing colors of Blue Back Herring and Magic Gill.


The Daiwa Evergreen OB-68 has a unique feature of its flipped-up tail, which increases cast-ability by reducing air resistance as the lure flies through the air. This lets anglers get those long casts into bass hot spots without disturbing them too much. Great for fishing highly pressured lakes. Along with a nice set of tail feathers on the rear treble, through body wiring, plus the new color patterns, and the odds are stacked in your favor every time you tie this lure on.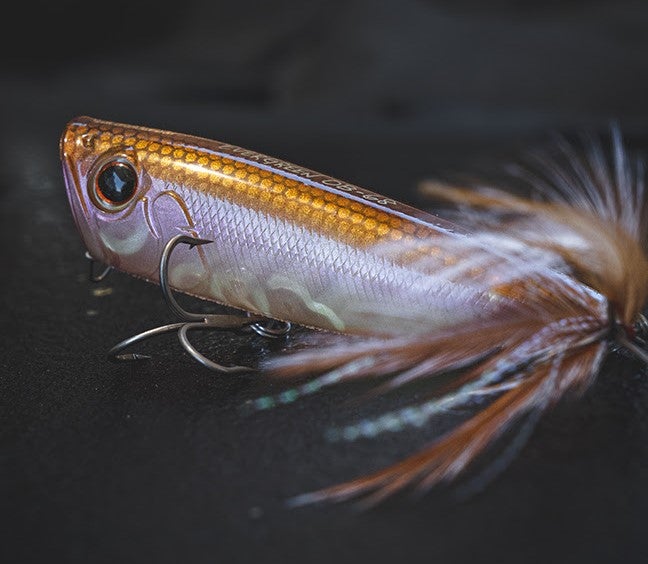 The Daiwa Evergreen OB-68 measures 2-2/3 inches, weighs 3/8 of an ounce, and carries super sharp size six treble hooks under the belly and at the tail.
Features:

Sharp-edged face cup for more spit, bubble and splash
Available in 9 colors, including 7 NEW patterns
Super-sharp size 6 treble hooks with feathered rear hook
Fish-provoking hybrid rattle sounds from Tungsten, brass, steel and glass rattle weights
Flipped-up tail for less wind resistance and better casting