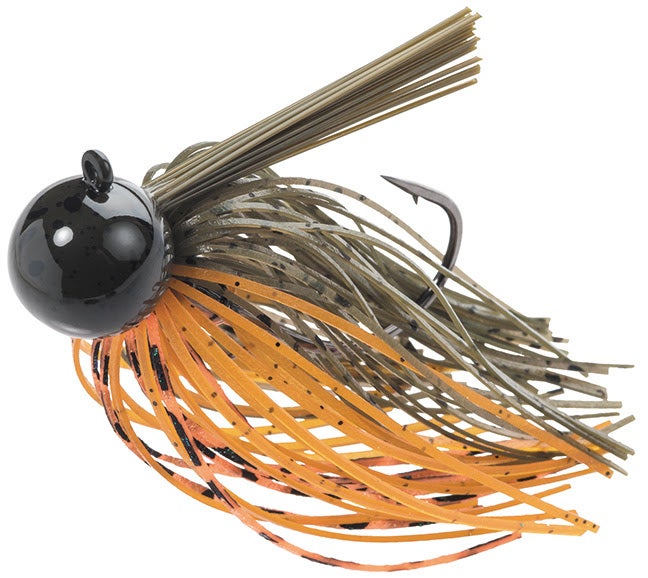 Love them or hate them, it's hard to beat a rubber-skirted jig when it comes to catching bass. Pitch'em, flip'em, drag'em, or hop'em, they will catch fish even on the coldest of days. Largemouth and smallmouth bass all eat prey that looks something like a jig. Crawfish, young bluegill, or even sculpin and gobies all are popular bass forage. That's where Evergreen's new IR Finesse Jig comes in, a rubber-skirted jig like no other on the shelves of your tackle shop. They are a new modern take on a tried and true design. These new Evergreen jigs are loaded with modern technology, putting them on the cutting edge of jig development. The new Evergreen IR Finesse Jig comes from the need to constantly have the next new advancement in highly pressured Japanese waters.
The new Finesse jig is a perfect cross between a football head, round head, grass jig, and swim jig to ply those waters that crawfish and bluegill live in. The head of the jig is perfectly rounded to drop straight, deflect off structure, and crawl in straight lines on bare gravel and sand bottoms. The line tie on the head is at a 45-degree angle, for a more direct line to your rod tip for better sensitivity and control. This line tie angle also assists in stronger and more successful hooksets. The hook is a custom long-shank hook that is razor sharp and won't bend out under pressure.
The IR Finesse Jig also features an impressive wire bait-keeper that makes sure whatever soft plastic you add stays in place.  There is also a single and double rattle holder on the base of the head adding an audible click to imitate crawfish.  Lastly, there is the weed-guard, which extends beyond the hook point, beating back snags, yet keeps the hook gap open for bass inhales and the subsequent hookset.
The IR Finesse Jig is available in three sizes – 5/16-, 3/8- and ½-ounce – and ten uber-bassy colors, to include: DARK GREEN PUMPKIN, BROWN PURPLE, GREEN PUMPKIN CRAW, BLACK BLUE TIP, SAPPHIRE CRAW, DK GRN PUMPKIN BRN CRAW, CLASSIC BROWN, CLEARWATER CRAW, ALABAMA CRAW, and HITE'S HOT CRAW.
Its design is simple—yet effective. Satoshi Ito, Ever Green Product Manager, comments, "Since Ever Green started designing and building baits, our first concern has been to create lures that look and act realistically. With the IR Finesse Jig, you've got a great option for largemouth, smallmouth, and spotted bass that looks and behaves like juvenile baitfish or crawdads skittering along the bottom. It can be fished like a football jig—and dragged on bottom without snags—but also excels as a flipping jig when you want a slightly smaller profile for neutral to negative fish. It also comes through the grass and junk easily for fishing all conditions. All around, it's just a great bass jig."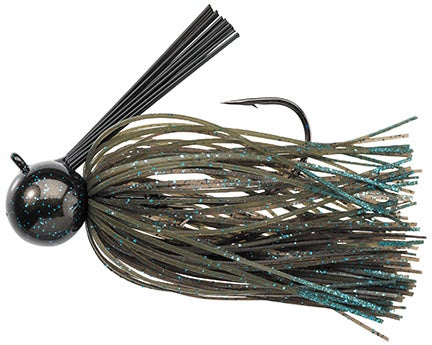 Daiwa Evergreen IR Finesse Jig – Features
Crossover rubber-skirted finesse design with a compact, round head
Ten initial crawfish/panfish colors in the bait family
Strong, unbending custom, long-shank design hook
Wire bait keeper that keeps plastic trailers buttoned and prevents sliding off
Single or double rattle holder
Plastic brush weed guard that extends beyond the hook point but keeps hook gap open
Three sizes: 5/16-, 3/8- and ½- ounce