Do-It Molds has entered the 2022 ICAST New Product Showcase/Custom Category with the most life-like crawfish action ever achieved with a custom soft plastic bait – the Katana Kraw. Following years of development, Do-It Molds is proud to introduce its newest and most innovative soft plastic mold. The new Katana Kraw is an incredibly detailed finesse craw soft plastic bait. It has an ultra-realistic action to imitate real crawfish. The mold is designed for the custom tackle hobbyist who demands high levels of realism without compromising on the action of a bait.
The bait's action comes from carefully designed ribbing on the claws of the bait. They trap air bubbles in the claws producing a life-like stand-up presentation. You can drag it, pop it, crack it, or hop it. It doesn't matter, the bait will slowly rise to a stand-up position. This position will trigger a bass's instinct to strike and devour it. The Katana Kraw's finesse ribbon tails provides it with a subtle secondary action no matter what you do with it.
"The finesse fishing segment has experienced a recent explosion but one aspect that routinely escapes innovation in this category is action, particularly in crawfish baits. Our team set out to refine a finesse craw presentation with drawing power that closely matches motions and mannerisms of real crawfish. Each unique action in this design was carefully crafted to sync with one another and we assure you, there is nothing on the finesse craw market that can compete with the Katana Kraw, and absolutely nothing in this design that we feel could be enhanced" – Brennan Chapman (Product Development)
The Katana Kraw mold is part of the Do-It Essential Series XL of Molds, made of high-quality sand-cast aluminum. The mold has 5 cavities and baits made can be customized in endless different ways. The Katana Kraw is designed to perfectly pair with the Do-It Midwest Finesse Weedless jig mold.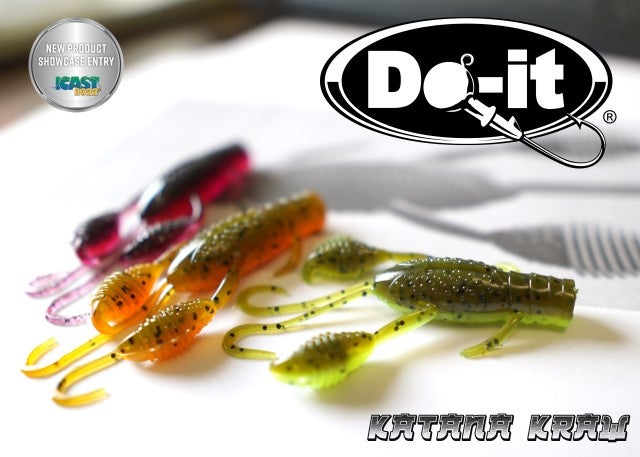 The Do-It Katana Kraw mold will be released at ICAST 2022 and will be featured in the ICAST New Product Showcase Custom Category. The molds will be immediately available for purchase in July at www.do-itmolds.com. Coming soon to custom tackle retailers everywhere afterwards at an MSRP of $89.50.