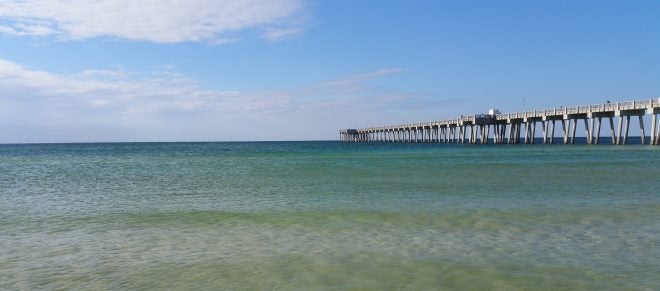 Dotted along the Emerald Coast there are several large fishing piers that grant access to the Gulf of Mexico. In Panama City Beach there are two piers: the M.B. Miller County Pier and the Russel Fields City Pier. West of there is the Okaloosa Island Pier (OIP) in Fort Walton Beach. Past there is the Navarre Pier in Navarre. Then, the Pensacola Pier in you guessed it, Pensacola. The final one is the Gulf State Park Pier in Gulf Shores, Alabama. For a small daily fee, these six spots give you access to deeper waters that are normally only accessible by boat.
On average they tend to be about a quarter-mile long from the sand to the end "T." The end of these piers expands out into a "T" that sits in about 25ft-30ft of water past the second sand bar. The deck of the piers averages around 25ft off the surface of the water depending on the tide. This is to mitigate potential hurricane damage, but also helps fishermen spot and cast at fish. So, this is a forewarning, if you have a fear of heights pier fishing might not be for you. Though just because there is deep water off the end of the pier. Don't go rushing off to the end "T" thinking deep water is the ticket. You can catch fish from the first trough all the way to the end T of the pier.

Species
The piers have a wide variety of species available to catch. Up close in the first trough to the second trough of the beach. You usually run into whiting, pompano, redfish, seatrout, sheepshead, sea catfish, flounder, bluefish, and many other species. Starting from the second trough you start running into species that like deeper waters. Fish like the Spanish mackerel, jack crevalle, and bonito. At the end is when you start running into pelagic species, king mackerel, large Spanish mackerel, tarpon, cobia, and blackfin tuna on rare occasions. During the hot months of summer if the current and wind line up just right.  You can run into Mahi Mahi and Sailfish that have come in from offshore. Just like the blackfin tuna though they are not commonly seen or caught. Though when they do show up it's an exciting time.
This information about where you can find certain species is not set in stone though. Just more a set of guidelines for where to go to target specific species.  This isn't a comprehensive list either, just a cursory list of the most common target species. There are many more species that you can catch out there.
Gear
The basic setups for the pier would be three different sized fishing rods. One bait rod, a small light power rig that you'll keep a sabiki rig on to catch live bait. A 7ft medium power rod, good pitching jigs, lures, and smaller set rigs. It is a jack of all trades rod good for stuff like Spanish mackerel, pompano, and sheepshead. The final rod is an 8ft to 9ft medium-heavy power rod, meant for targeting larger fish like king mackerel, bull reds, jack crevalle, and tarpon. This rod will be the one for throwing out live baits, dead baits, and large lures.
The tackle you should bring would be terminal tackle of monofilament and wire leaders, swivels, hooks, and lead weights. Also, it's a good idea to have a few extra prepackaged sabiki rigs, in case the Spanish mackerel or blue runners tear up your rigs. An assortment of pompano jigs, casting spoons, and gotchas will cover your bases for artificial lures.  Needlenose pliers are a must as most saltwater fish have teeth and it is not recommended to stick your hands in their mouths. The exact rigging, terminal tackle, and lures will be explained in the future.
If you are planning to keep fish a cooler with ice is a must. It can be very hot out there and no need to precook your fish on the hot concrete. You don't technically need a pier cart, it's just highly recommended that you have one. It's usually a quarter-mile walk to the end of the pier from the parking lot. A cart gives you a place to set your rods, tackle box, landing gear, and cooler. There are purpose-made aluminum carts you can buy. Or, the DIY route and make your own cart from a wagon with some rod holders attached. The cart doesn't have to be pretty, just carry your gear and roll easily.
The last bits of gear that you will need out there are often the most overlooked. Pack some copper lensed polarized glasses and a good hat. Being able to see the fish will help a lot. And don't forget to pack some water and sunblock as well, there is no shade out there besides the toilets. The sun is harsh and will easily burn you out there on the water.