Sponsored by: KnivesShipFree
---
Bladesmith, instructor, and former Forged in Fire judge Jason Knight is bringing out a KnivesShipFree-exclusive version of the Knight Elements V2 Kukri folder. Compared to the 2017 original, V2 comes with a refined pocket clip setup and a key tweak to the ergonomics for a different overall hand feel.
The first version of the Kukri folder stepped onto the world stage at Blade Show 2017. It was a collaboration between Knight, fellow Forged in Fire judge Doug Marcaida, and Fox Knives. Back then it was called the MK Ultra Kukri, but the bones of the imposingly spec'd folder were established: the 4-inch blade, commensurately scaled handle, ball bearing flipper action, and beefy titanium frame lock. The series caught our attention, but also that of the judges at Blade '17, taking home the Best New Collaboration award.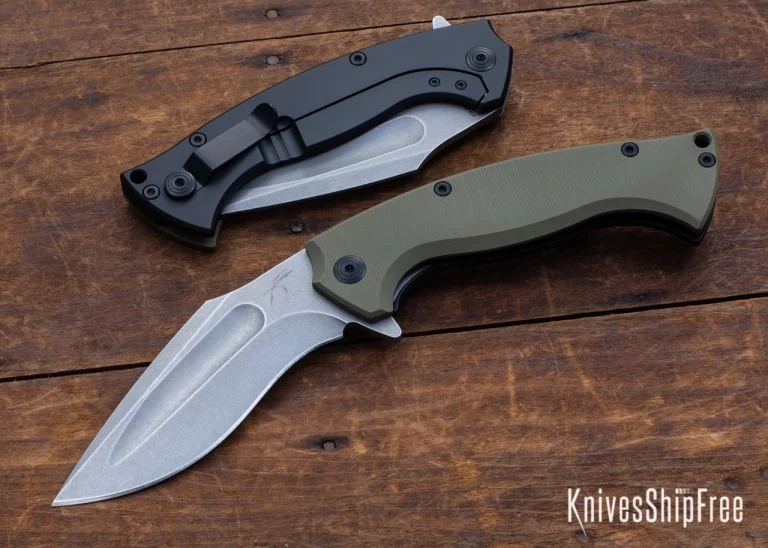 Knight chose not to mess with success for V2, refining rather than completely renovating. The changes are small, but important. He redrew the clip, giving it a simpler shape and reducing the necessary hardware to a single, larger screw. The lock bar relief was rejiggered for easier access, and the handle thickness reduced overall.
These changes fleshed out the intangible but important "feel" of the knife, making carry and ergonomics work that key bit better. And this is a knife that can do a lot of work. Made from N690Co steel, the V2's blade leverages its length and recurve to cut viciously when needed; but compared to its fixed blade inspiration, the recurve is milder, bringing the performance in line with other hard working folders and making maintenance more straightforward. And of course, with its aesthetic bullet-shaped fuller (a common sight on Knight's custom pieces) and general attitude, the V2 makes a great show piece as well. It's also a fairly knife given its size, weighing 6 oz. even.
These particular V2s are clad in a finish exclusive to KnivesShipFree, with black titanium lock side, black hardware, green G-10 front scale, and an acid stonewash blade finish. "I'm just excited to work with one of my good friends in the industry, and pumped that we got to put out a special edition of something that he came up with," KSF owner J Rouch told us about the exclusive.
The KSF-exclusive V2s are available now.
Knife in Featured Image: KnivesShipFree Exclusive Knight Elements V2 Kukri
Shop top of the line gear at great prices in the Everest Marketplace and get outside!