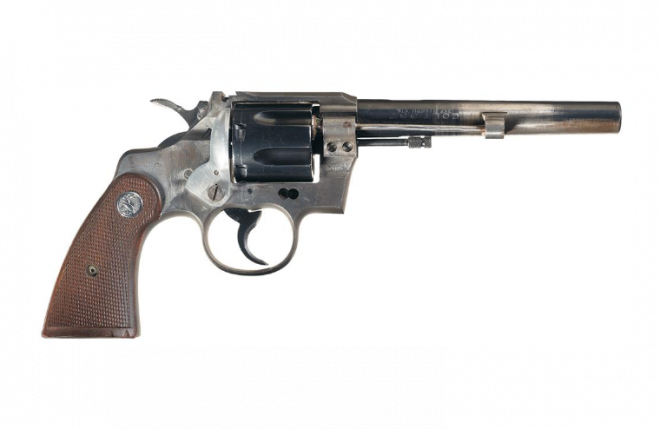 Welcome to today's Photo of the Day! Here, we have an experimental Colt revolver fitted with an auto-eject feature. This idea is an age-old answer to the autoloading competition. Unfortunately, there really is no good way of making a revolver auto-eject without manual effort. This experimental Colt auto-eject recovery is fitted with a gas tube on the side. The gas tube holds a spring-loaded piston that launches into the cylinder to eject the shell by siphoning off-gas from the barrel.
"This interesting firearm is an unfinished experimental double action revolver designed to automatically eject the spent casing made by Rob Roy. It has a modified ejector and a specially machined, spring loading gate. It was made using a stripped down .357 magnum Colt revolver and has no sights. The modified barrel is essentially upside down and is marked "COLT 357/357 MAGNUM CTG" on the right side and has the one-line address on the left. The frame is only marked with the Rampant Colt on the left side towards the rear. It is fitted with checked walnut grips with silver Colt medallions. The underside of the grip panels is marked "0646". The rear grip strap is serrated. The barrel, cylinder, and trigger are blued, and the remaining components are bare stainless steel. The blued cylinder release is loose but included."
Lot 3755: Experimental Colt Double Action Revolver. (n.d.). Rock Island Auction Company. photograph. Retrieved January 3, 2022, from https://www.rockislandauction.com/detail/65/3755/experimental-colt-double-action-revolver.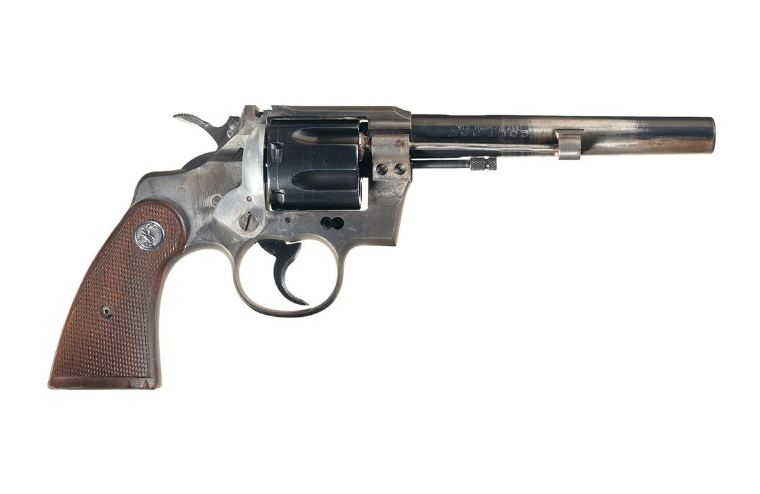 Source Link