The wacky rig was the biggest deal for bass fishing in the early 2000s. It was a highly effective way of rigging a soft plastic worm to get a unique action. After some time finesse anglers in Japan reconfigured the presentation some years down the line. They had created an even deadlier approach to getting inactive and pressured fish to strike: Neko Rigs. Since then, the soft plastics market has been flooded with custom Neko baits, weights, and hooks. Now, Daiwa is offering a new Neko bait, something that's been worked on and further developed by their designers. Welcome the new Daiwa Yamamoto Neko Crawler.
The new 5" Neko Crawler is a hybridization of Daiwa's Neko Fat worm and their Neko Straight worm. It takes key elements of each of the baits to create the alpha of the Daiwa Neko baits. When looking at the Neko Crawler initially it has a very simple profile, but this is infused with technology and intelligent features. The Neko crawler is masterminded with legendary Yamamoto know-how for more wiggle and action. It also features a wide diameter nose for added surface for inserting neko weights. Lastly, the special soft plastic allows the bait to stand straight up while on the bottom.
The Daiwa Yamamoto Neko Baits gives anglers unmatched performance. Combining Daiwa's precision detailing with Yamamoto's legendary soft plastic, the Neko Worm features a thin body which provides a unique, quivering action.

The Neko Rig is always a great option for finesse fishing. While most anglers use a weightless worm, the nail weight in the Neko Rig gives anglers the ability to use heavier gear and reach fish in deeper water, where weightless worms just aren't practical to fish.  Available in a range of famous Yamamoto colors, the Daiwa Yamamoto Neko is another legendary bait in the making.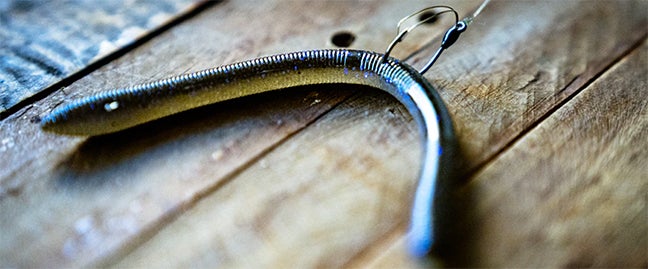 These lures are available now
Made in the USA.
The 5" Neko Crawler comes in packs of 8 baits per pack
MSRP of $8.99 per pack
The Neko Crawler Comes in 10 Colors