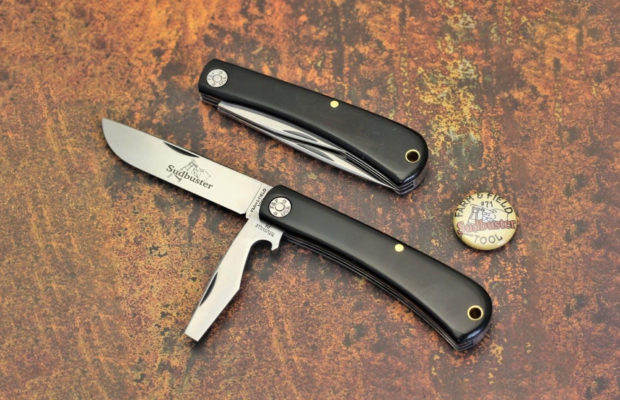 Great Eastern Cutlery is once again treating beer drinkers to something special, with the imminent release of the #71 Sudbuster. As the wordplayful name would imply, this is a new knife built on GEC's Bullnose pattern, with a cap lifter arm in addition to the main blade.
If you follow GEC at all, you know the 71 Bullnose. Even if you don't, you'll probably recognize that it is GEC's version of the Sodbuster, one of the classic traditional knife patterns. GEC dubbed it the Bullnose due to the 2.75-inch snub nose blade, which is robust enough for long workdays. They paired it with a chunky, ergonomic handle that has been rolled out in all sorts of different materials over the years.
The Sudbuster starts with the 71 design and adds a second folding implement, in the form of a cap lifter. If you've seen the lifters on previous GEC releases like the Beer Scout, it's the same story here: you put the upturned tooth under the edge of the cap, twist up, and off that cap comes. We haven't seen the final specifications, but we're willing to go out on a limb and say the Sudbuster's cap lifter is capable of lifting both soda and beer caps. Both the lifter arm and the main blade are made from 1095 as you'd expect, and GEC has emblazoned the blade face with a custom Sudbuster logo, depicting proper cap lifting technique if you happen to forget while you're at the club.
Other than the added thickness required by the lifter arm, the Sudbuster's handle doesn't deviate from the profile established on its predecessor. The thick handle readily accommodates all the standard grips without any fuss. In terms of cover materials, GEC is sending this new pattern out into the wild with classic black linen Micarta, although it's probably a safe bet we'll see variations someday down the line.
Whether because GEC made more of it, or because its work-first design didn't appeal as immediately to collectors, back in the day the 71 was a GEC pattern you could actually buy on the primary market days after the batch dropped. That being said, we expect the Sudbuster batches to go very quickly indeed, not only because all GEC knives do these days, but also because this is a brand new model that collectors will surely want to get their hands on posthaste.
The Sudbusters are arriving with dealers now. Some have came and went, some are going up later this week, so you still have a crack at them. Good luck!
Knife in Featured Image: Great Eastern Cutlery #71 Sudbuster