When I've been out camping, I always start dreaming about the long-awaited hot shower, rinsing away the sweat and grime of the weekend. Baby wipes can only go so far in keeping the stink at bay, and there's truly nothing that beats a hot shower after a long day of exploring. I live full-time on the road in a Ford Econoline camper van – I don't have an indoor shower and only store 5-7 gallons of water in my van, so many of the other camping shower options (i.e 5-gallon solar shower) don't make sense to use regularly.
I was really excited to test out the Geyser Systems Shower because it requires less than 1 gallon of water, is easy to store, and has an internal hot water heater (because truthfully I'd rather skip a shower than rinse off with cold water). I think this is a great portable shower solution for car campers, van lifers, and other outdoor enthusiasts, and below I outline how the shower system works and my experience using it.
Geyser Systems Portable Shower With Heater Specs
Key Features:
Weight: 8 lbs (empty)
Dimensions: 6 x 9 x 16 in.
Max water volume: .8 gallons (3L)
Max water temperature: 100F (device will shut off above 100F)
Washing time: Open – 1 minute / High – 4 minutes / Medium – 7 minutes / Low – 15 minutes
Power: 12V (via running car battery, portable power station, etc.)
Pumping current requirements: 2.5-3.1 Amps
Heating current requirements: 9.8 Amps
Heating time: 15-40 minutes
Check Price: Geyser Systems | REI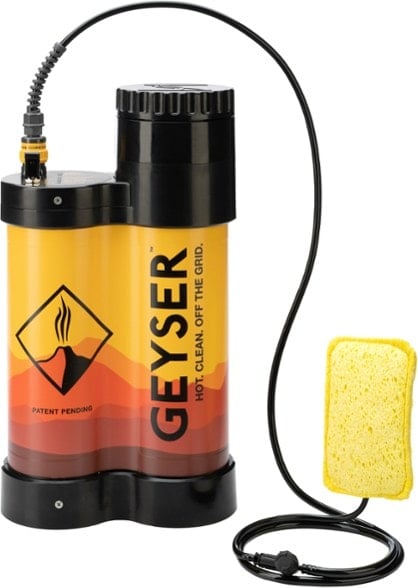 Pros:
Easy to set up
Requires very little water & efficiently uses the water
Straightforward to use
Multi-purpose (rinse off, clean gear, dishes)
Takes up little room in your vehicle
Doesn't require propane
Cons:
A bit of an investment (look to see if you can buy on sale)
Takes 30+ minutes to heat water with the internal system
Requires a running car or portable power station
More like a nice sponge bath than a proper shower
Best uses: Rinsing dirt, sand, bug spray, and sunscreen off your body, doing camp dishes, hosing off gear, washing pet's dirty paws, trips where you have limited access to water and need to conserve
How to Use the Geyser Systems Shower
I found the Geyser Portable Shower pretty simple to set up – the unit comes with detailed instructions and I watched their instructional YouTube video as I was setting mine up the first time. Once I used the shower system once, it was really easy to set up the following times.
1. First, you'll want to attach the sponge scrub (if you plan to use it – I recommend it) to the hose line by inserting and twisting it to lock.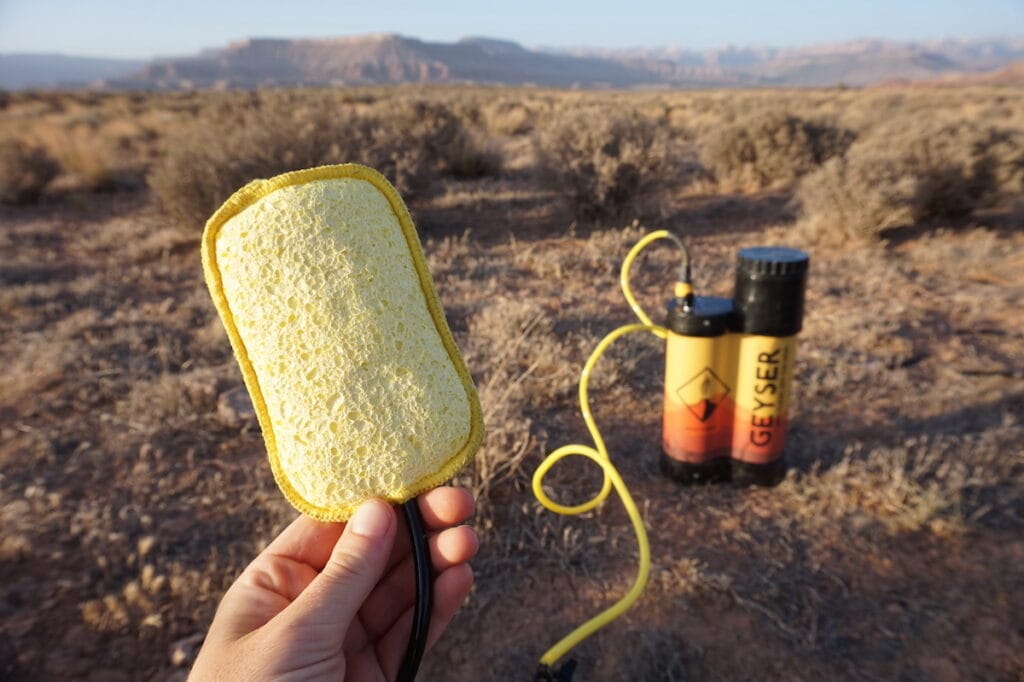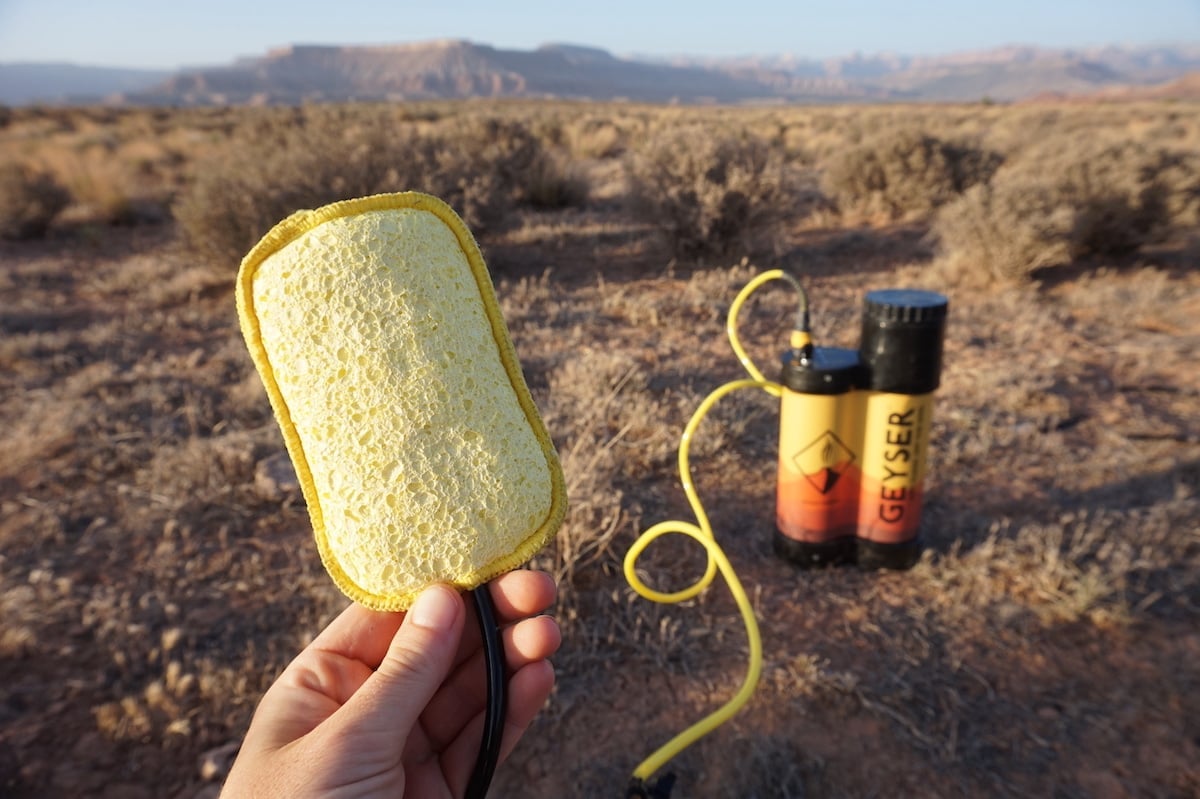 2. Make sure the black switch on the Geyser is flipped to "off" and connect the 12V power cable to your power source – either a running car or a portable power station. The 16ft cord means you can shower far away from your vehicle, keeping the area clean and dry. One thing to note is that the Geyser must be plugged into a running vehicle or 12V power source, both to heat and to pump water.
3. Insert the Geyser's yellow hose line into the gray hose connector until you hear an audible click and confirm the green "power on" button is lit up.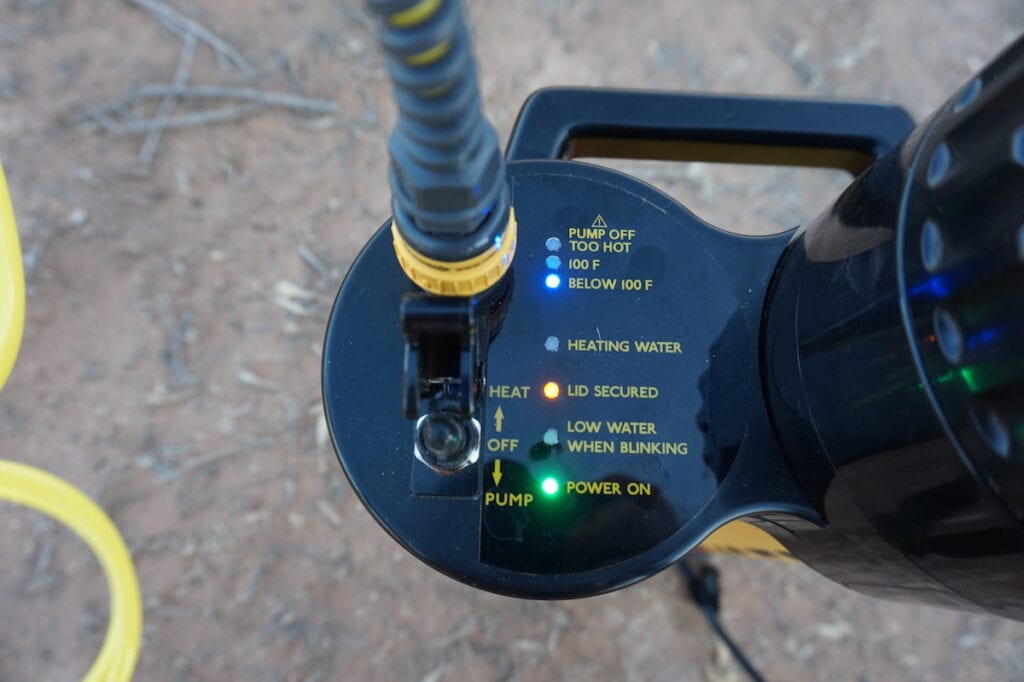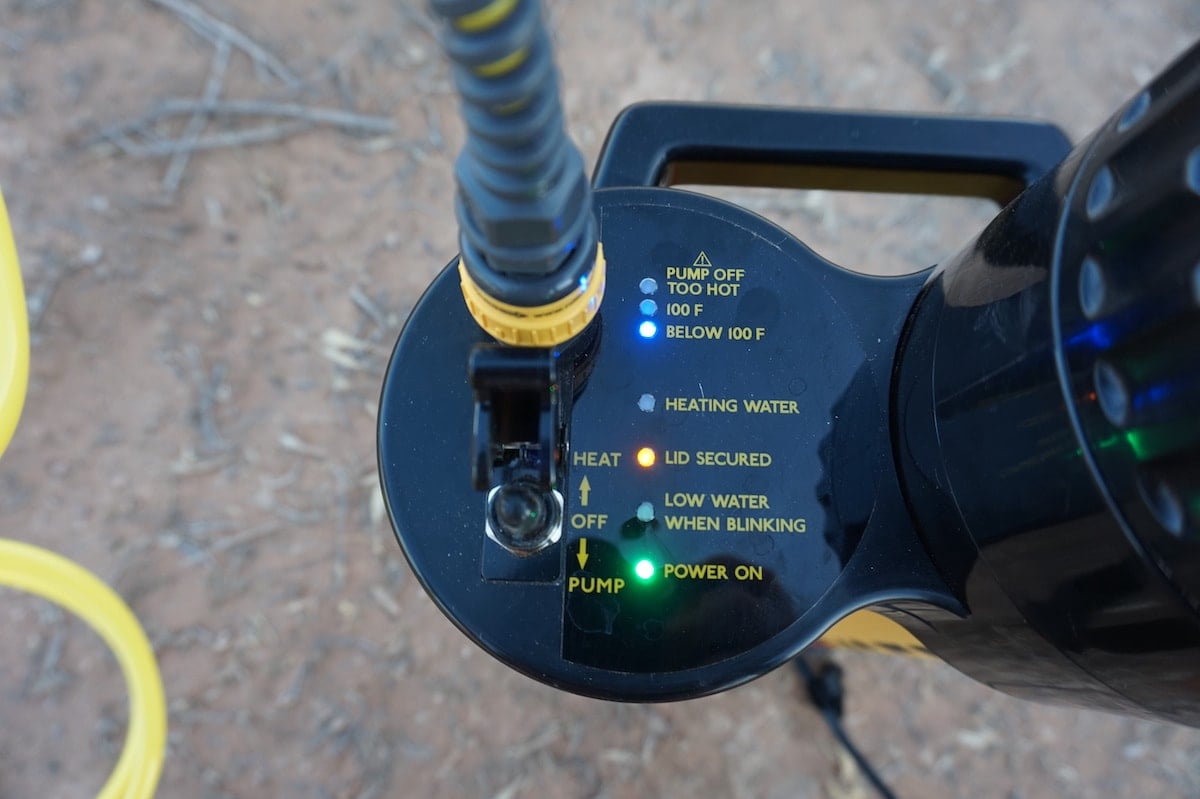 4. Unscrew the lid to the water chamber and add up to 3L of water into the chamber. Don't fill it from a stream or other unfiltered water source as sediments can ruin the electric pump. There are two ways to get a hot shower using the Geyser Systems Portable Shower:
Using the built-in heating system, you simply pour up to 3L of water into it and switch the heater on. It takes between 15 minutes to 40 minutes to heat to 100F, but in my experience, it's usually on the longer end of the spectrum for the full amount of water. I tested heating room temperature water with an outside temperature of 75F and it took 35 minutes to heat up.
If you are short on time, you can also boil 1L of water (using a Jetboil or camp stove) and add it to 2L of non-heated water in the Geyser (add the boiling water second), and then plug the Geyser into your power source to pump the hot water. When testing this method, it took about 20 minutes to get water boiling in my JetBoil and set up in the Geyser, saving about 15 minutes of time.
Note: If you don't care about an internal water heater or want something a little more budget-friendly, Geyser offers a version without the internal heater. You will still need access to power with this version, as the water pump requires power. If you still wish to have hot showers, you can boil water to mix into the chamber with cold water as described above.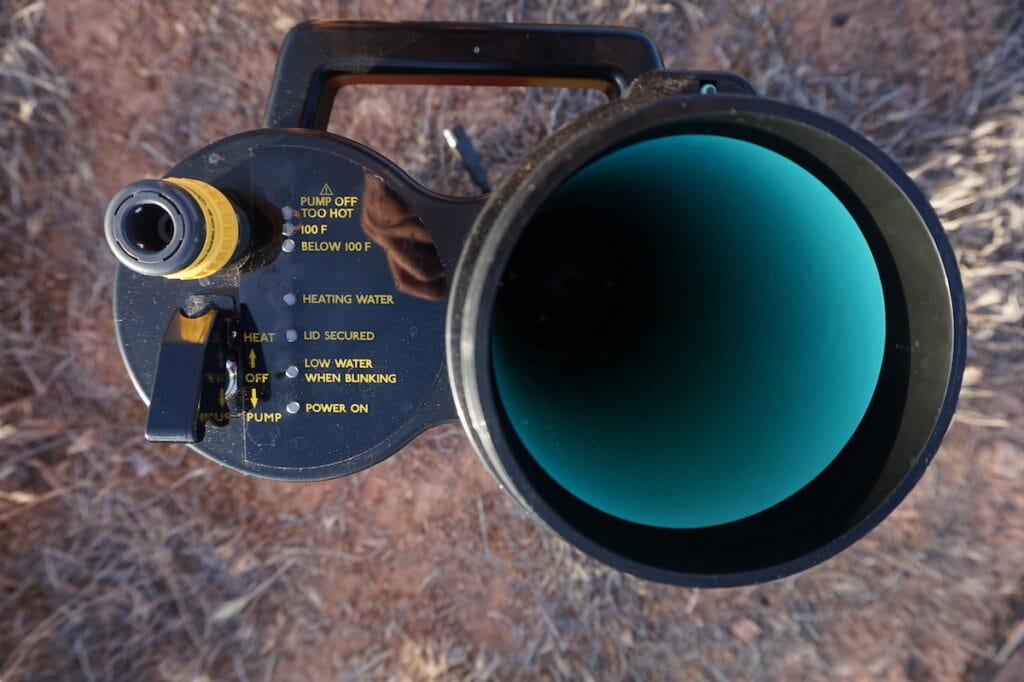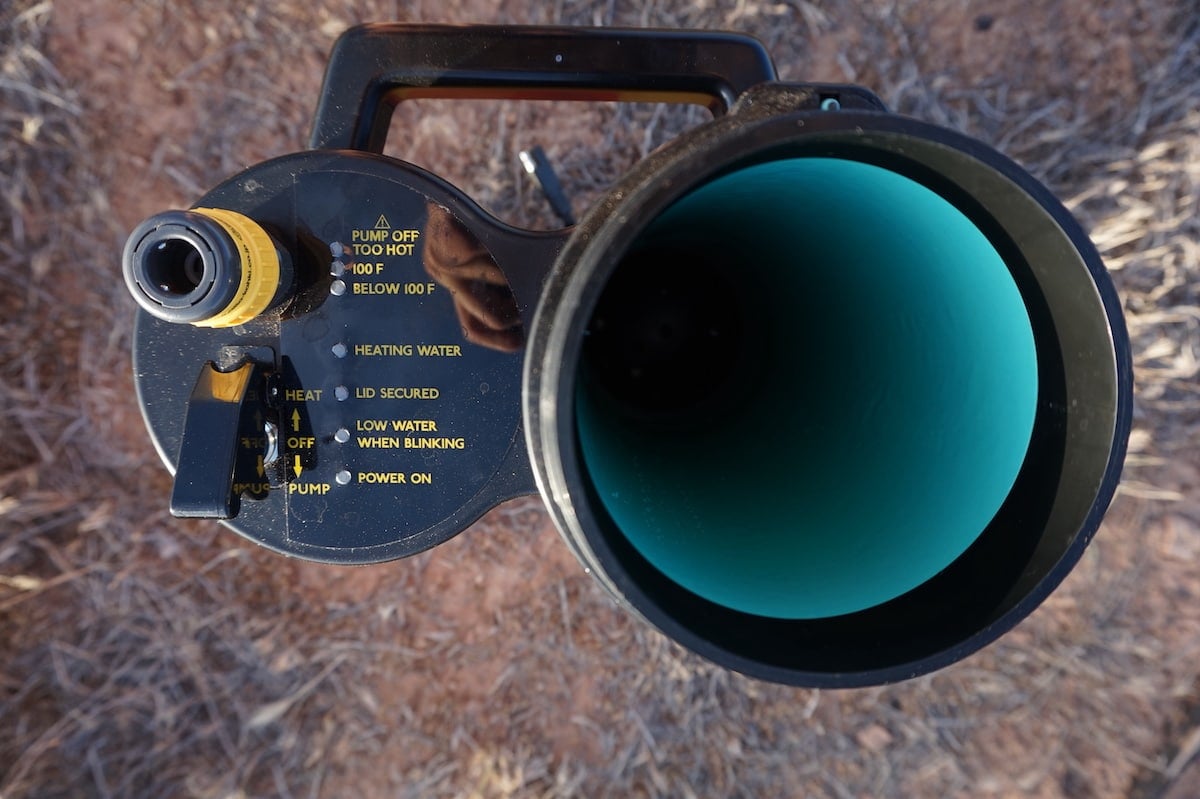 5. Wait for the red "95F" light to turn on and you're ready to go! Flip the switch to "pump mode" and slowly twist the valve on the hose until you hear a click. Once you hear the click, water will start pumping out at low flow. To increase the flow, continue to twist the valve. Here's how long your water will last depending on the flow you choose: 
1 click – 15 minutes 
2 clicks – 7 minutes 
3 clicks – 4 minutes 
Fully open – 1 minute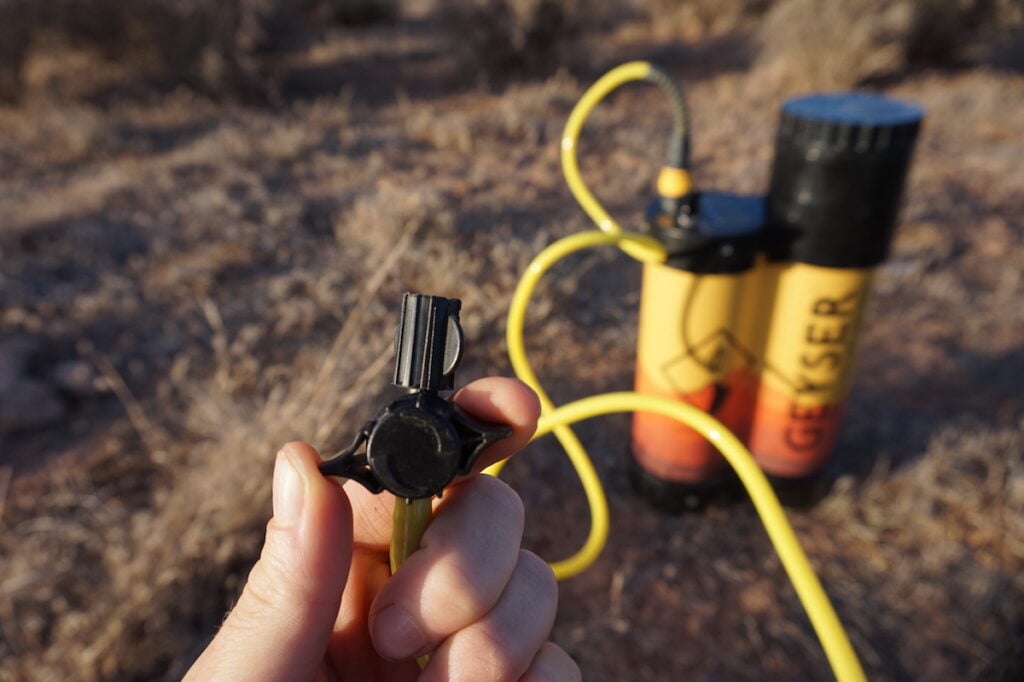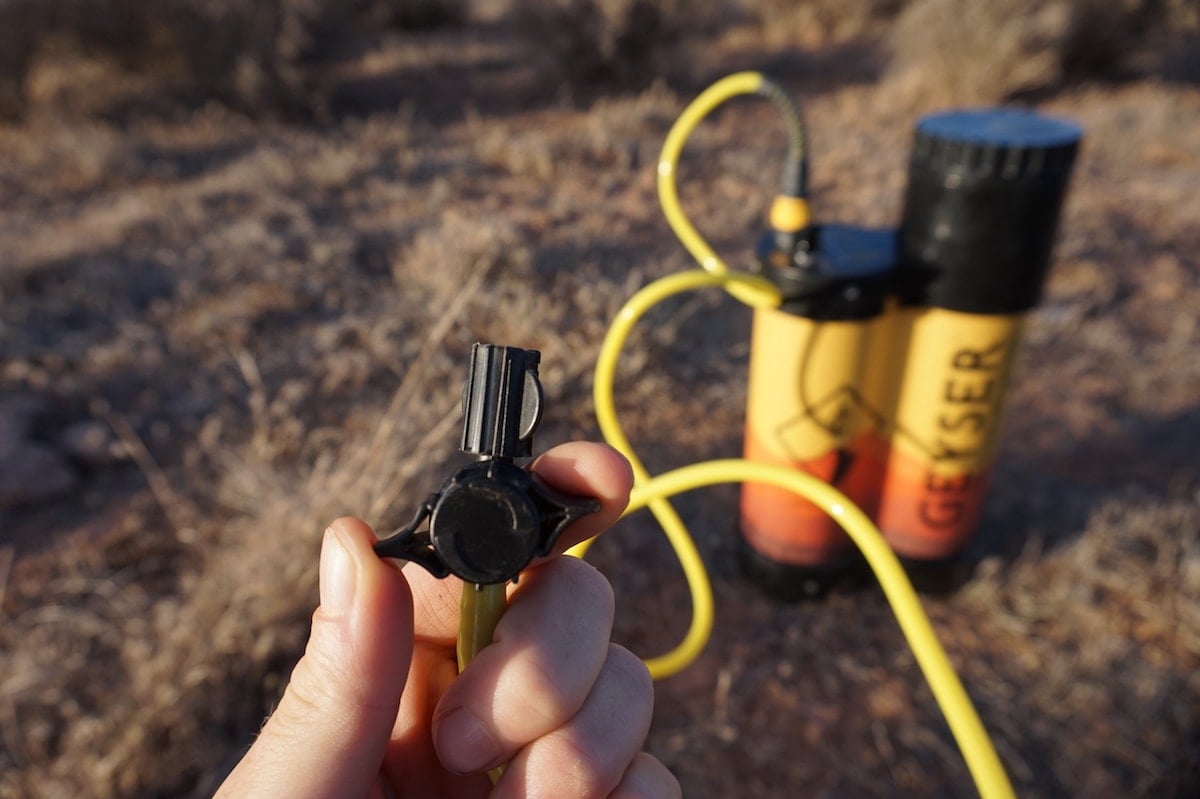 6. The blue "low water when blinking" button will flash toward the end of your shower, but it's important to keep running the Geyser for 15 seconds after the water starts flowing to ensure you get all the water out of the chamber. Once it's totally empty, you can turn off the device, unplug everything, let it dry out, and store it away. The power cord, hose, and sponge all fit nicely in the water chamber for easy storage.
Geyser Systems Portable Shower Power Requirements
You need to plug in the Geyser System in order to heat the water and run the pump. Heating water requires 9.8 amps while pumping only requires 2.5-3.1 amps.
You can plug the Geyser System into either a 12V car port or a portable power station. It's important to have your car running if you're plugging it in there so you don't drain your car battery.
I plugged the Geyser into my EcoFlow River Pro portable power station, and it pulled 130 watts of power and took a little over 30 minutes to heat to 95F. When in pump mode, the Geyser pulled 50-70 watts. For reference, my phone normally pulls 10 watts and my laptop pulls between 40-60 watts, but I don't mind the power pull from heating the Geyser since it only takes 30 minutes. If you want to conserve your portable power bank, use a running car.
If you don't care about hot water, you can immediately start using the device. Also if you're concerned about running your car that long or consuming too much power, you can heat up a liter of water on your stove to bring it to temperature more quickly.
Geyser Portable Shower System Functionality
The Geyser Systems Portable Shower with the heater is great for car campers, weekend warriors, and van-lifers who want easy, portable access to hot water for showers, dishes, and cleaning outdoor gear without carrying a ton of extra water or taking up a lot of space. I also love that the makers are a small team out of Colorado. I luckily haven't run into any issues with the Geyser yet, but I've heard their customer service is stellar.
The Geyser has a variety of uses and below I share my experience using it in different applications.
Showering
The Geyser comes with 1 sponge attachment which can be used for your body, gear, dishes, pet's paws, etc. I was skeptical about using the provided sponge at first, but I actually love using it when I'm showering because it soaks up the water slowly and really extends the time of your shower without wasting any water. Plus it's a whole lot nicer than using a baby wipe – I feel much cleaner and fresher after using the Geyser.
You can buy additional sponges if you want to keep things separate or if they start to get grimy. There are three sponge colors – yellow, pink, and green – to easily color code for yourself, your partner, dishes, etc. I recommend keeping the sponge in a Ziploc bag when it's not being used to ensure it stays clean.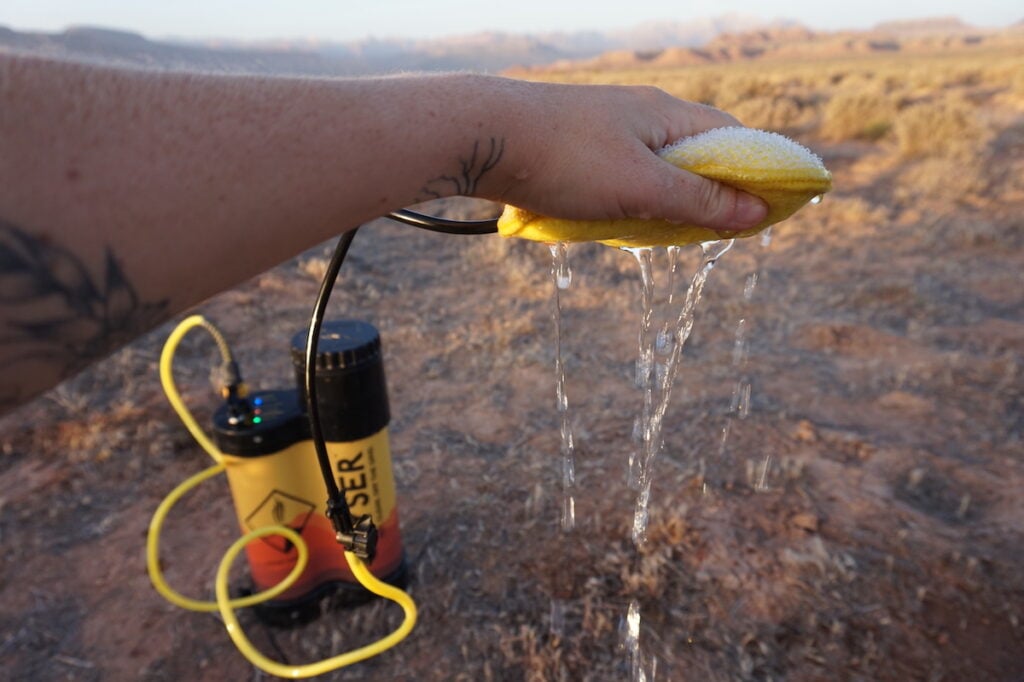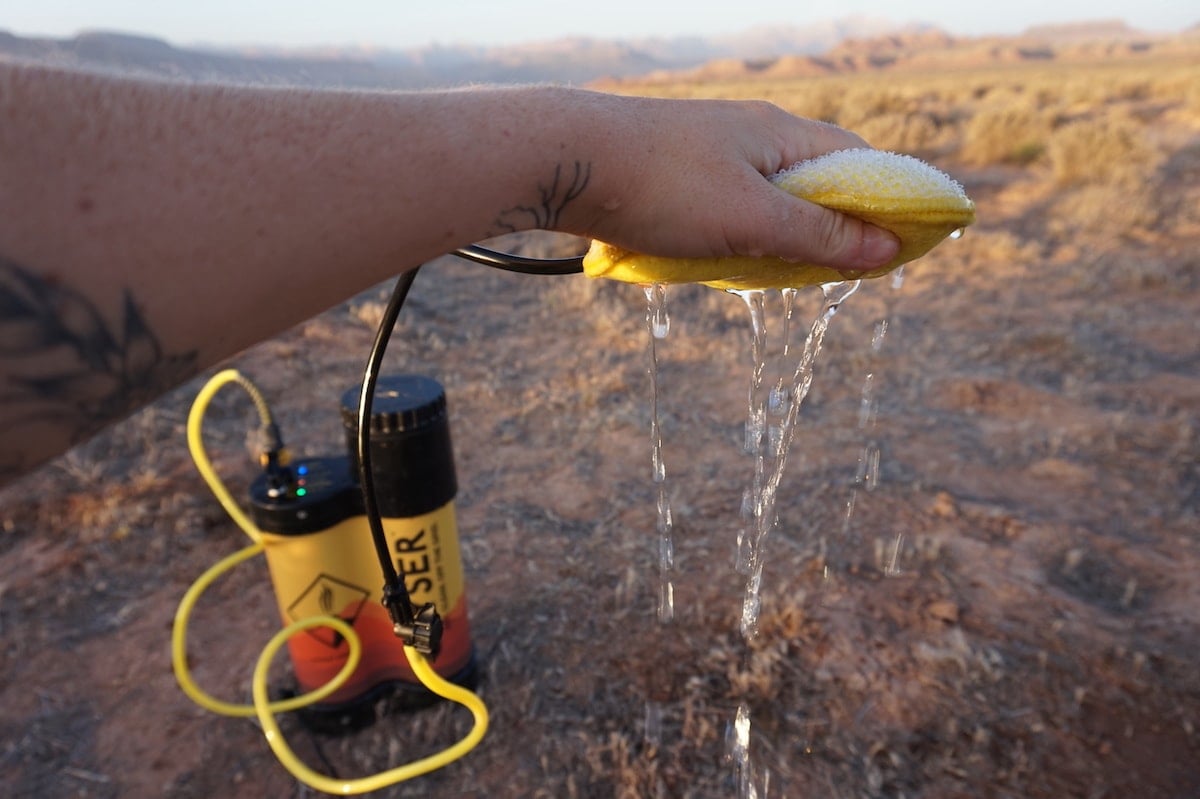 While the Geyser has 4 pressure settings, when showering I preferred keeping the Geyser pump on "low" to preserve water as long as possible – with 1 click of the pressure knob, I had about 15 minutes to rinse off my body with Dr. Bronner's and water. Toward the end of my shower, I bumped up the pressure to "medium" to rinse off more quickly. I found it a little difficult to turn the pressure knob when I wanted to change water pressures while showering, but it's doable. There's also a blue "low water pressure" light that will come on when you're running out of water, and you'll know it's getting low when you hear the water pump gurgle with lack of water.
Note: Always use a biodegradable, eco-friendly soap with the Geyser and make sure you follow Leave No Trace guidelines, like using the device at least 200ft. away from water sources.
I have long, thick, curly hair and need pretty strong water pressure to wash and rinse it, so using the Geyser to wash my hair isn't really an option, but I don't think there's a portable shower on the market that could handle that task. If you have short or straight hair, I think it's definitely possible to use the Geyser, but you'll need to be quick to turn off the pump to conserve water when lathering your hair. I also recommend detaching the sponge and letting the water flow out freely if you're washing your hair so there's better water pressure.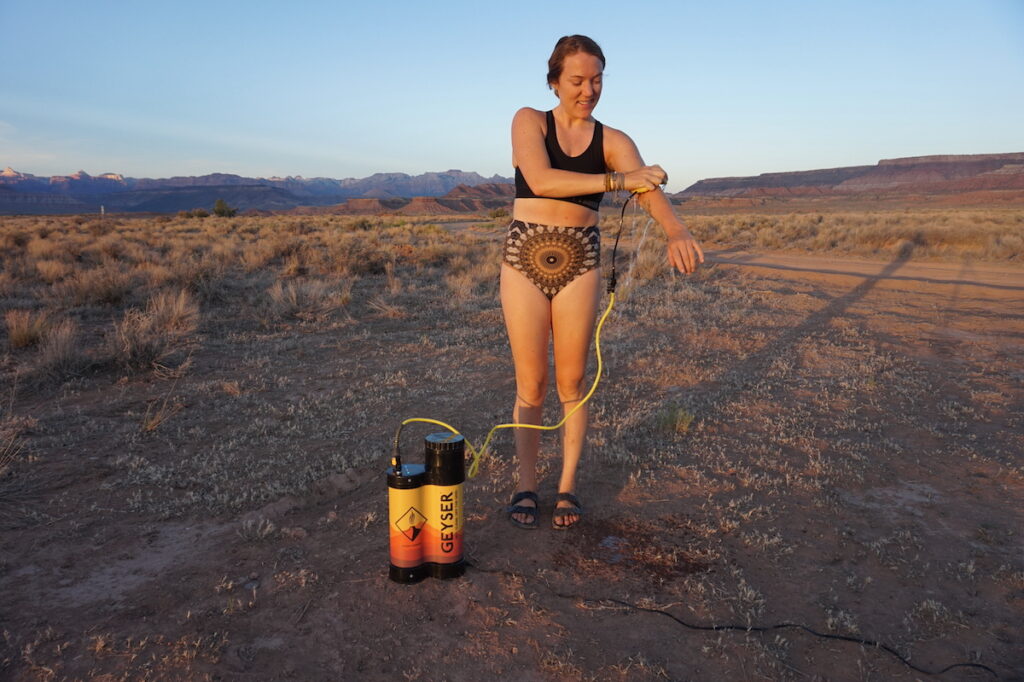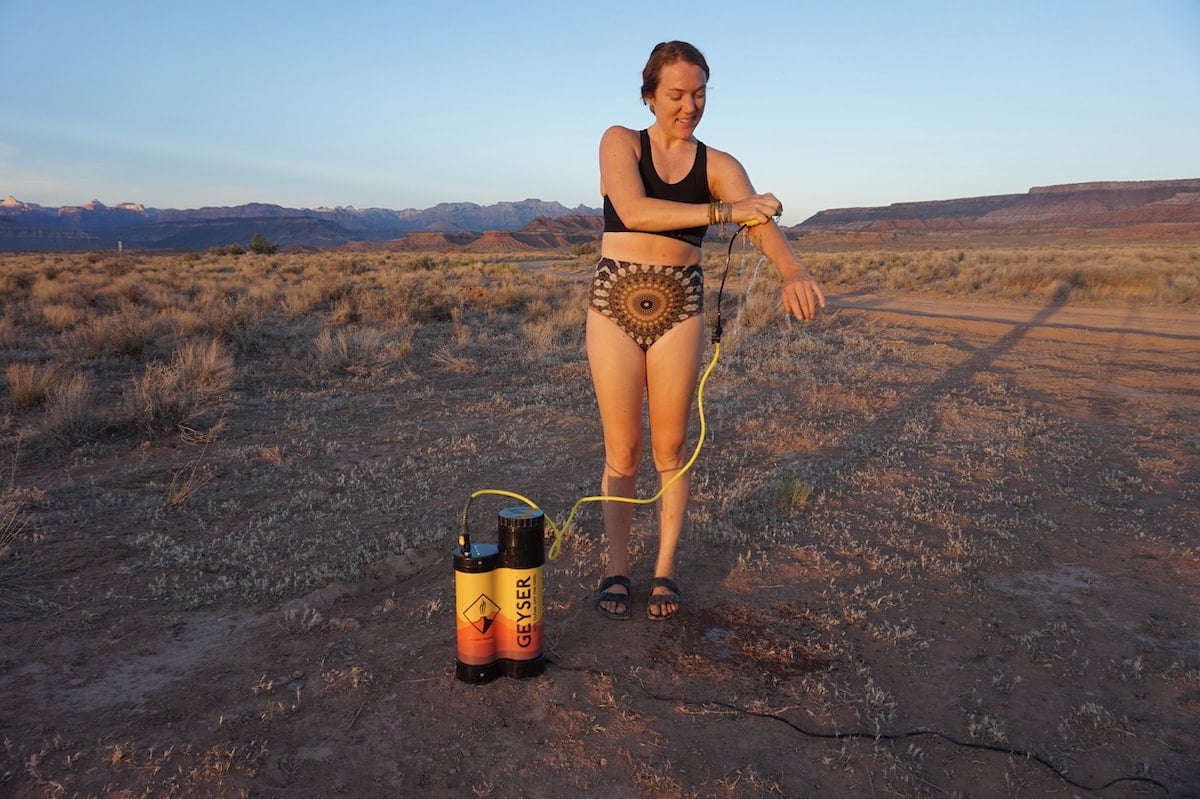 Cleaning Gear
From deep cleaning your camp stove after a long weekend to rinsing off your inflatable paddleboard to prevent the spread of aquatic diseases from one body of water to another, the Geyser Systems shower is a great way to clean off your outdoor gear before storing it away or putting it in your car. I can also see this being useful for cleaning mountain bikes and other outdoor equipment, although if you have dirt or mud caked onto gear, the water pressure might not be strong enough. You can buy a separate sponge attachment if you want to be able to easily scrub your gear using the Geyser.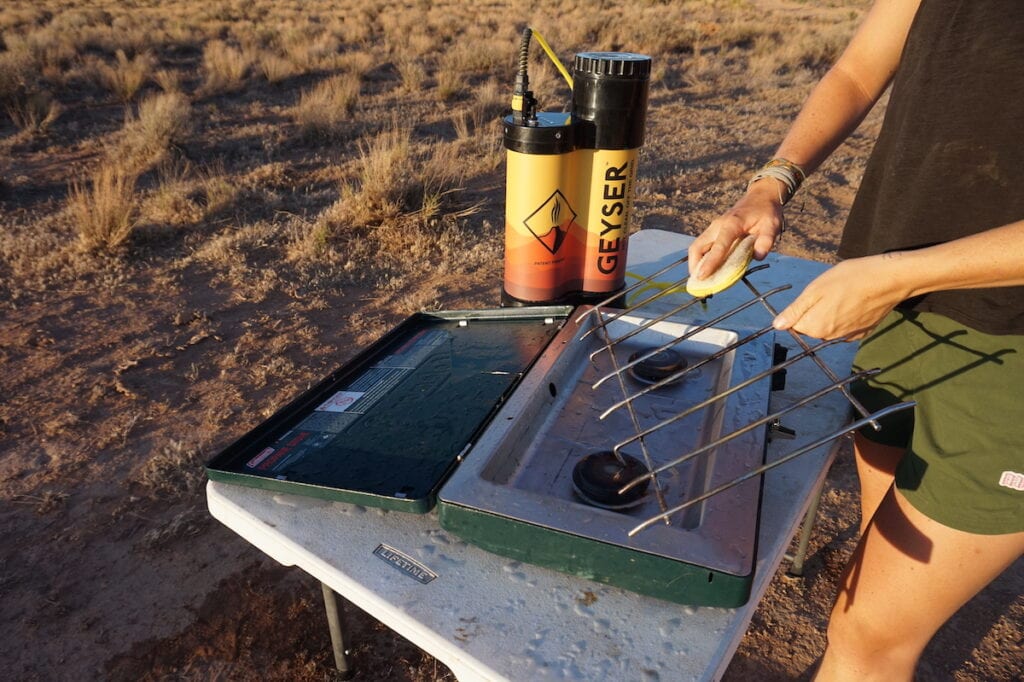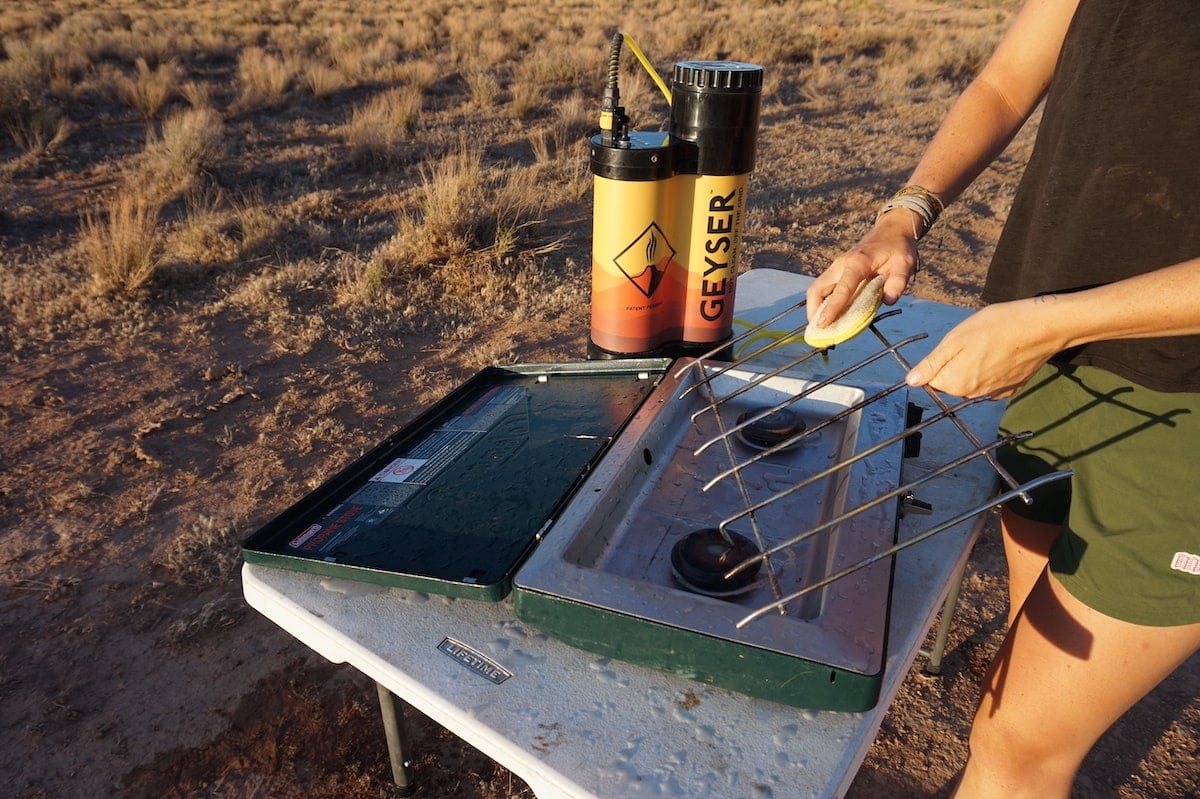 Washing Dishes
Using the Geyser is an easy way to do camp dishes when you don't have access to a sink or running water. I'd start by wiping your dishes out with a paper towel or dish rag first so you can keep your sponge attachment as clean as possible. If your dishes are extra dirty or it's cold out, you can heat up the water in the Geyser first, but that's not always necessary.
Next, soap up your designated dishwashing sponge attachment, keeping the water pump on low. To conserve water, you can flip the black switch from "pump" to "off" when you are rotating through your dishes. Once everything is soaped up and set aside, remove the sponge attachment and let the spray nozzle rinse everything clean with your remaining fresh water.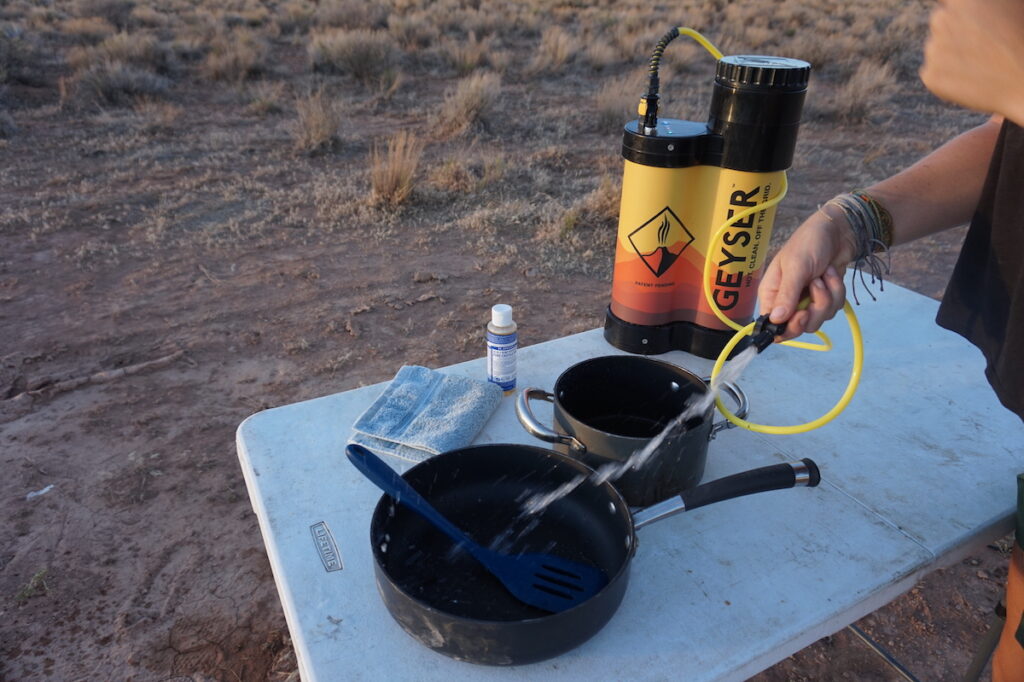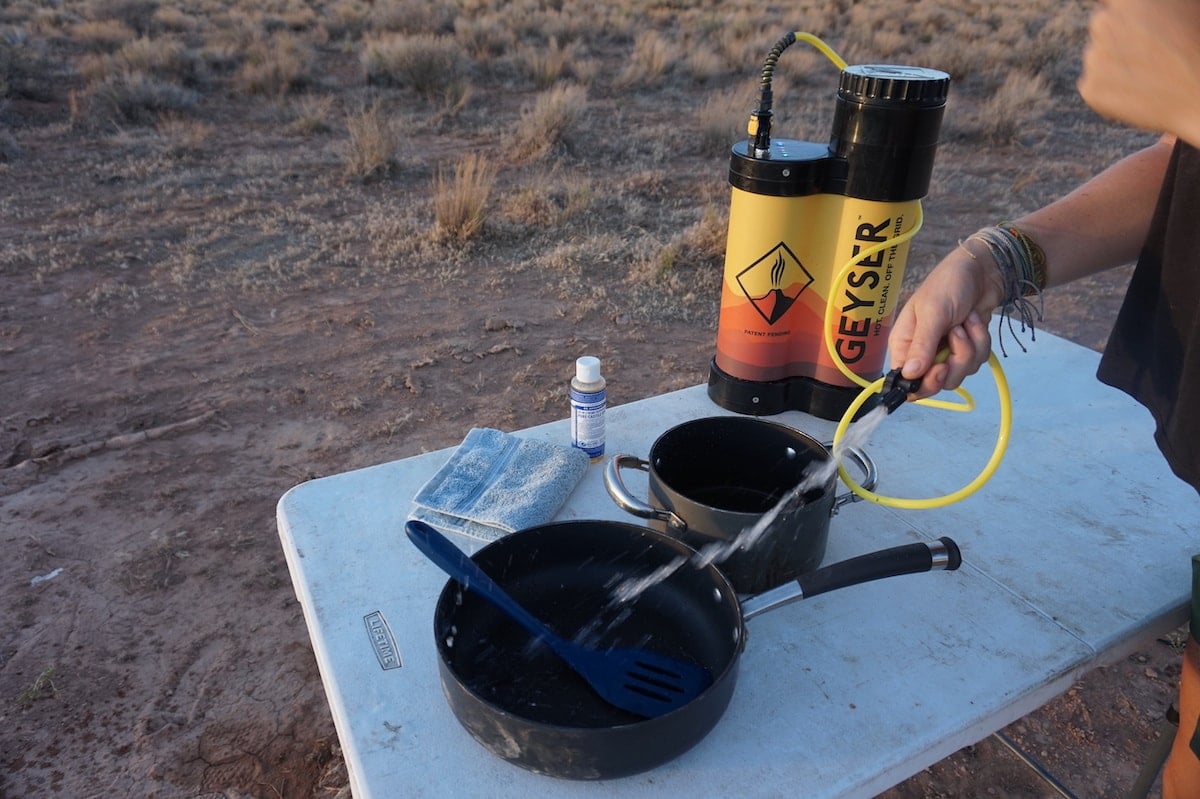 Rinsing off Your Pets
I personally don't have any pets, but the Geyser could be a great solution for rinsing off your pet's muddy paws after adventures so you don't get your car dirty. The water pressure is fairly strong if you wanted a freeflow spray, or you could dedicate a sponge attachment to your pet. I imagine you wouldn't need to fill up the Geyser all the way, preserving water for dishes, gear, etc. later on.
Where To Buy The Geyser Systems Portable Shower
Right now you can buy Geyser Shower Systems at a few retailers, but we recommend buying directly from the brand or REI. There are two versions available – one with the internal heater and one without. I like having the heater version because it's simple access to hot water for rinsing off.
Thanks for reading our Geyser Systems Portable Shower with Heater review! Have questions about the Geyser shower system? Leave us a comment below!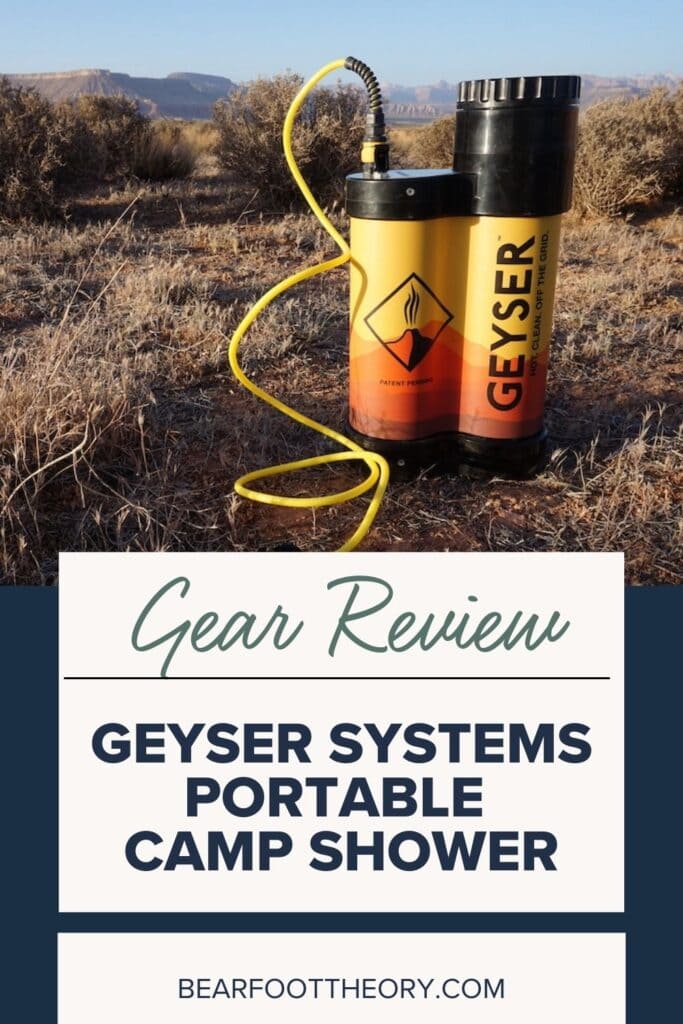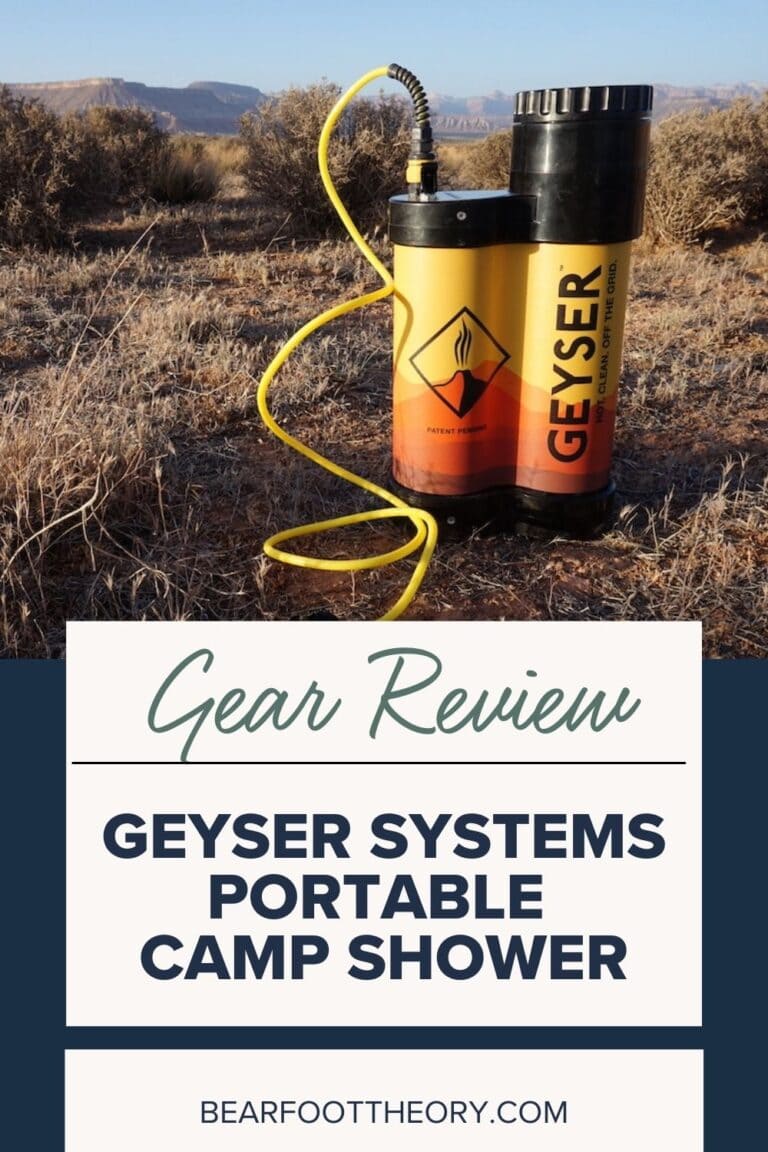 Shop top of the line gear at great prices in the Everest Marketplace and get outside!