Have you dreamed of road tripping around Southern Utah? Or waking up on the beach on the Olympic Peninsula? Do you want to beat the crowds and catch the views solo at sunrise?
Although I might be biased, one of the best ways to do that is on four wheels — specifically, in a van. If you've been wondering what it'd be like to make the switch to a home on wheels, we are now giving you the chance to try van life firsthand.
We are partnering with Escape Campervans to give away a 4-day/3-night Escape Campervans rental to ONE lucky Bearfoot Theory reader who wants to plan their dream road trip. This is an awesome opportunity to try out van life with the road trip buddies of your choice without making any huge commitments.
Scroll to the bottom of the post to enter to win a 4-day Escape Campervans Rental for your dream roadtrip!
All photos courtesy of Escape Campervans
Why Travel with an Escape Campervan?
For me, van life has been an incredible learning experience that has taught me more about myself, my values, and what kind of lifestyle works best for me. It's helped me grow and given me the freedom to travel more than I would have been able to do if I lived in a house or apartment year-round.
Spending time in a campervan means you've got a lot less space and forces you to cut back on unnecessary material things. And for me, less stuff means less clutter, fewer errands, and less time spent on things I don't want to be doing. Not only has this allowed me to live more simply, it has also helped me budget for more important things like travel, adventure, and exploring new places.
Over the last few years of living part-time on the road, I can confidently say that being a #vanlifer is pretty awesome and is one of the best decisions I've ever made.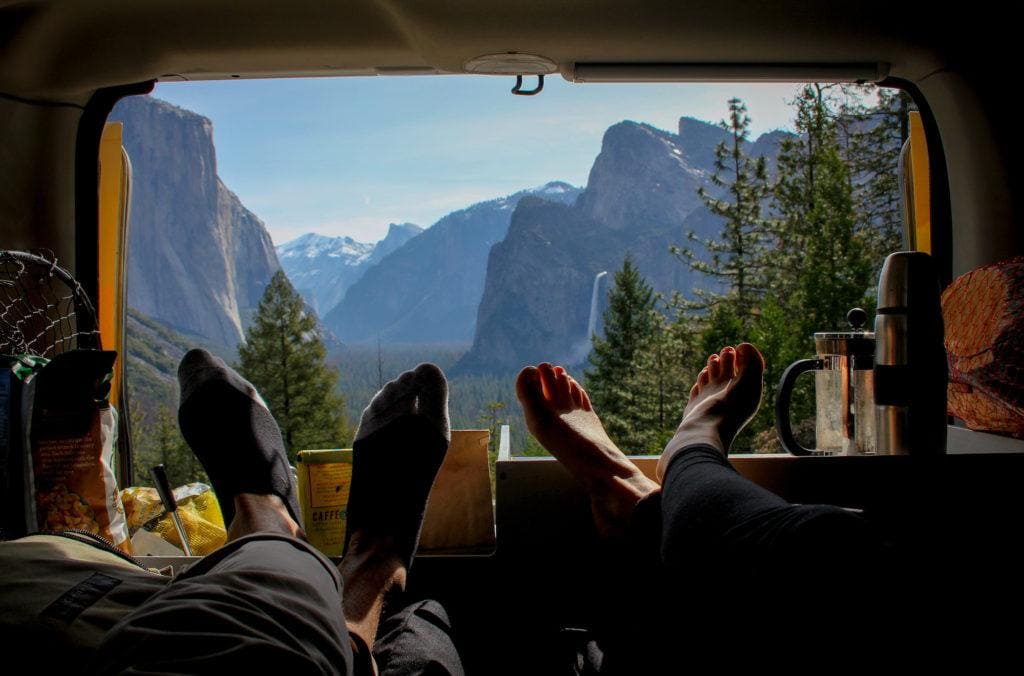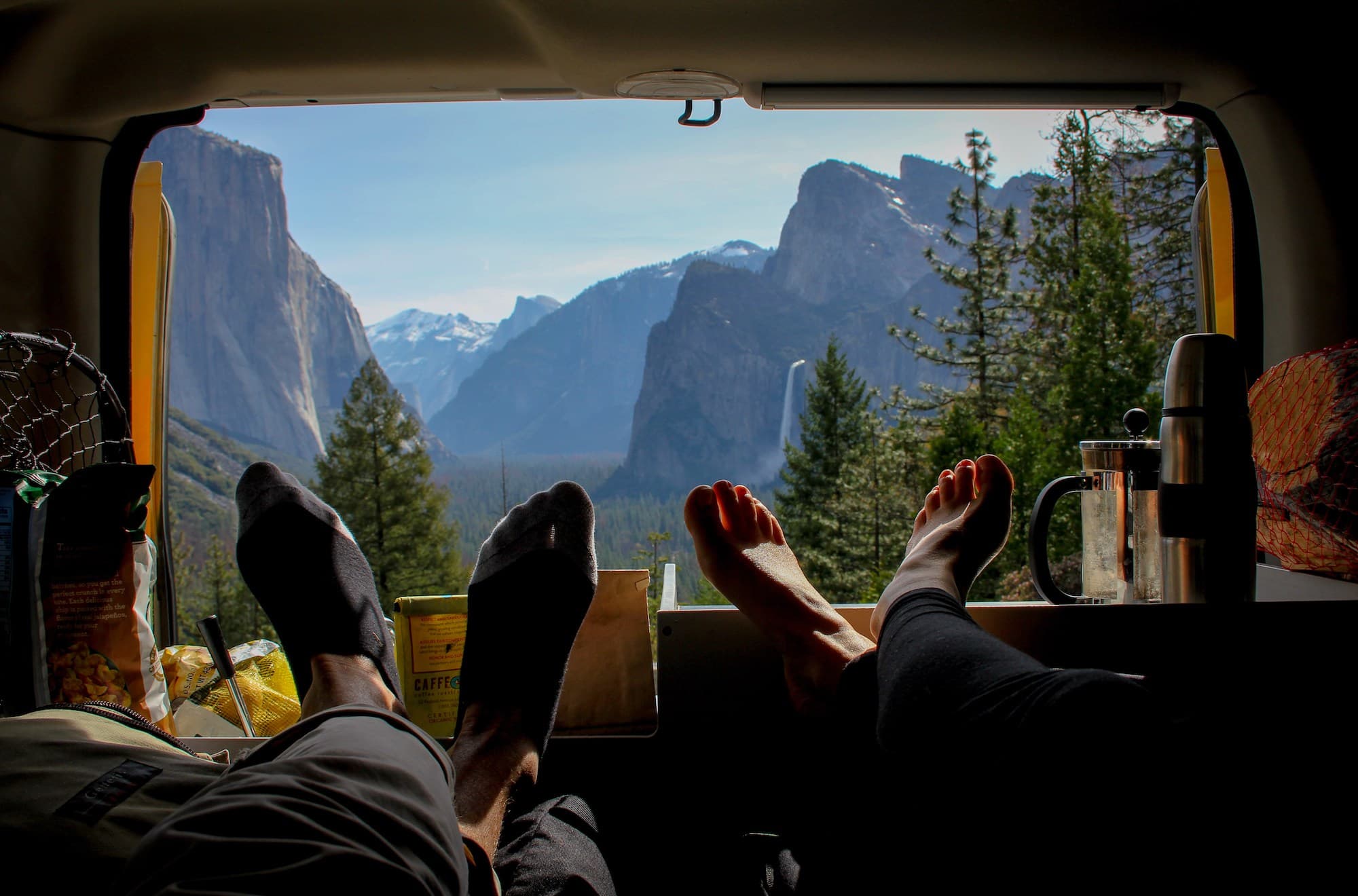 Even more than teaching lessons about living with less, van life makes road tripping and camping incredibly convenient. It makes being spontaneous during your road trips a hell of a lot easier too. You don't have to book hotels in advance, figure out what restaurants to eat at, or pay for coffee out. You have everything you need at your fingertips to have a good time from a comfy bed to a stocked kitchen.
A Little Bit About Escape Campervans
With locations in both the US and Canada, Escape Campervans rents out colorful, hand-painted, one-of-a-kind campervans. They are fully tricked out with everything you need for a seriously good road trip. Their rentals seat and sleep anywhere from 2-5 people depending on the model and every rental includes a bed, dining area, stove, sink, refrigerator, and a dual battery system with a solar panel.
You can rent an Escape Campervan from 13 major cities across the US and even 2 locations in Canada for a long weekend, an epic bucket list road trip, and anything in between.
We also love that the founder of Escape Campervans is an avid surfer and traveler from New Zealand who started Escape as a campervan rental company there back in 2003 and brought it over to the US in 2009. That same spirit of adventure is still with the company today even though they've grown to become one of the largest campervan rental companies in the US which is pretty cool.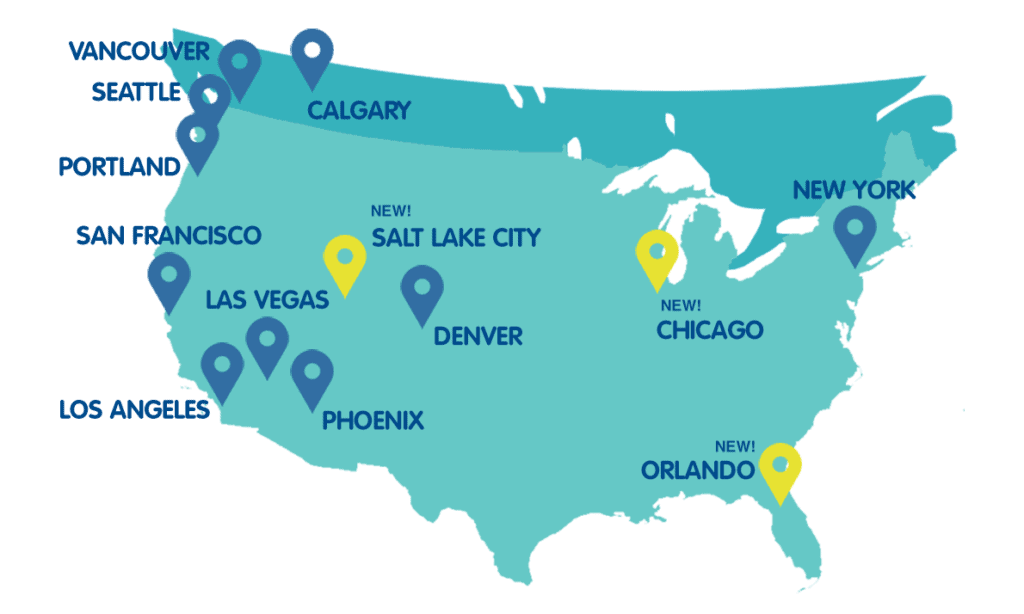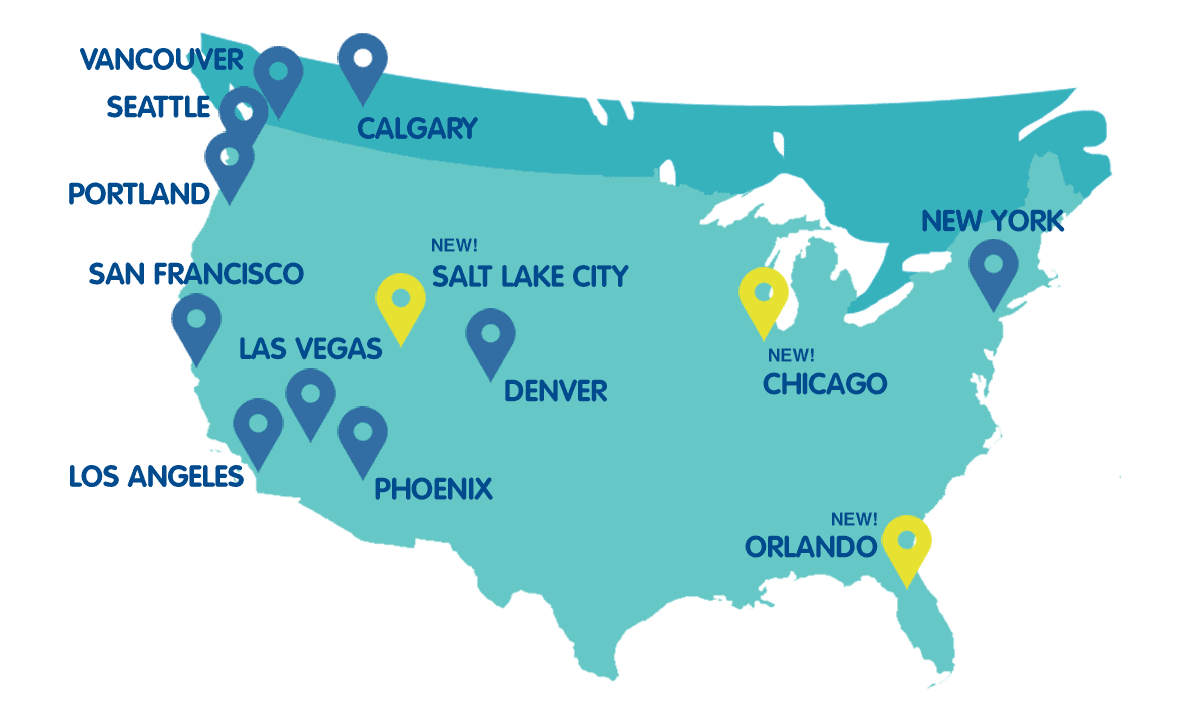 Besides being seriously inspiring, the folks at Escape Campervans are adventure lovers and fun hogs themselves. To plan your best trip, check out their Road Trip Itineraries or connect with one of their local experts for tips on the best places to visit, eat, drink, and explore in the area you're visiting. Each of their rentals comes with their very own "Escape Plan" guidebook which is full of helpful tips and advice as well.
The Escape Campervans Fleet
There are currently 3 models of campervans in the Escape Campervans rental fleet, all converted in-house, as well as a Jeep camper with a rooftop tent for those looking to travel off the beaten path.
The Santa Cruz
The smallest of the flock, the Santa Cruz is perfect for a solo traveler or couple looking for an easy escape. It's a converted Ford Transit Connect that sits and sleeps 2 and being the smallest, it's also the most fuel-efficient of the bunch. It has a double bed, sliding doors with storage space on both sides, and a kitchen out back complete with a single burner stove, small fridge, water tank, and sink.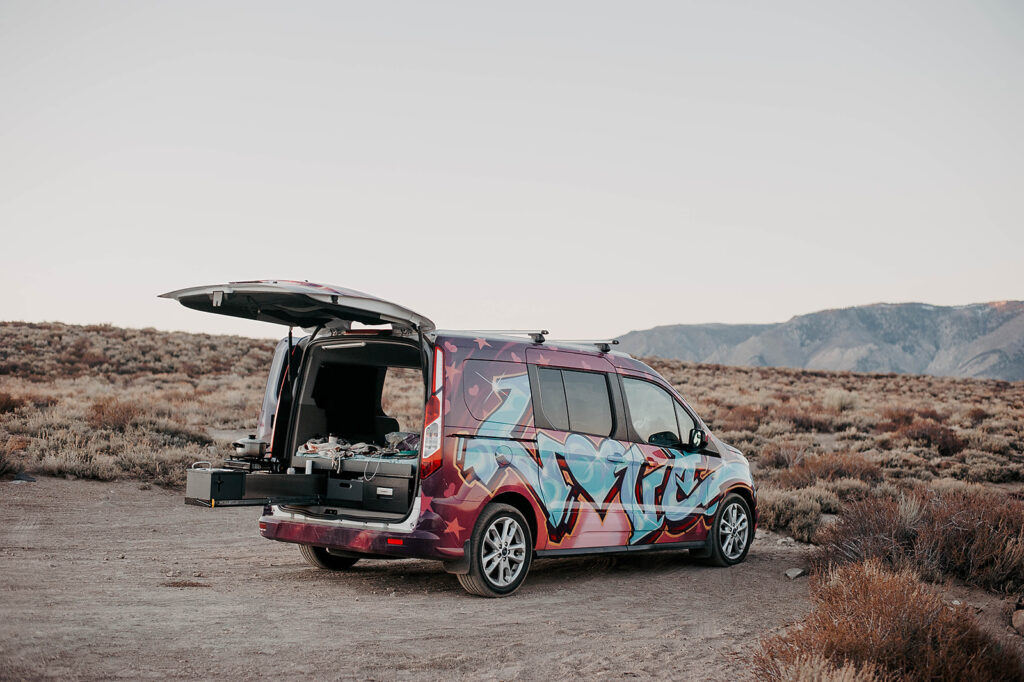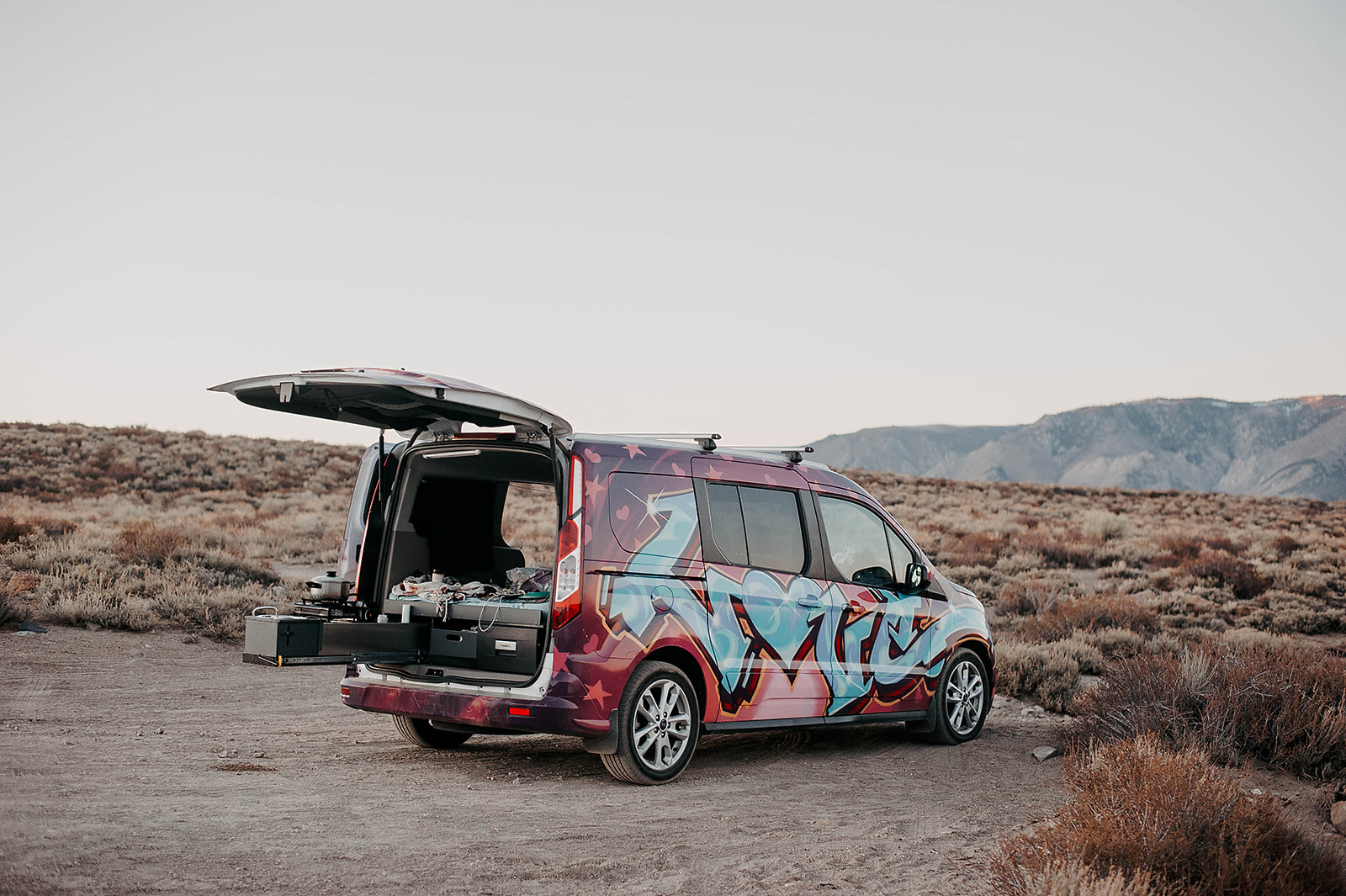 The Mavericks
The Mavericks is a converted Ford E-150 campervan that sits and sleeps up to 5 with an optional rooftop tent. It has an indoor dining space that converts into a queen size bed at night. There's plenty of storage space and a full kitchen out back with a sink, pull-out two burner stove, refrigerator, and water tank.
The Big Sur
The Big Sur is a converted Ford T-350 campervan that's about 2 feet longer than the Mavericks and sits and sleeps up to 5 with an optional rooftop tent. It's Escape Campervans' largest option and the backseats stay in place even when the bed is out providing extra seating and making this a great option for families with car seats. Like the Mavericks, the interior dinette converts into a queen-size bed, and there's a full kitchen out back with a sink, pull-out two burner stove, refrigerator, and water tank.
The Jeep Camper
Escape Campervans' 4×4 Jeep Camper is a great option for those who want to hit the dirt roads and get a little rugged. It seats 5 and sleeps 2 in a rooftop tent, and the custom kitchenette out the back makes cooking a breeze. It's got a sink, a single burner stove, a fold-down table, fridge, and water tank.
The Escape Campervans Giveaway!
One very lucky winner will win a 4-day/3-night Escape Campervan rental ($750 value)! Enter below!
Giveaway terms and conditions: 
Winner will receive a 4-day/3-night campervan rental ($750 value)
Additional days may be added and trip can be customized at winner's own additional expense
Select from Mavericks and Big Sur models
Does not include airfare, gas, or other trip expenses
Trip must be taken within 1 year
Subject to availability
Must be at least 21 years of age (at the time of pickup) with a valid driver's license and credit card to rent an Escape Campervan
Thanks for entering! Make sure to check out all our road trippin' and van life guides for some trip inspo.
Check out all our Road Trip Destination Guides & Itineraries
See all our Van Life content