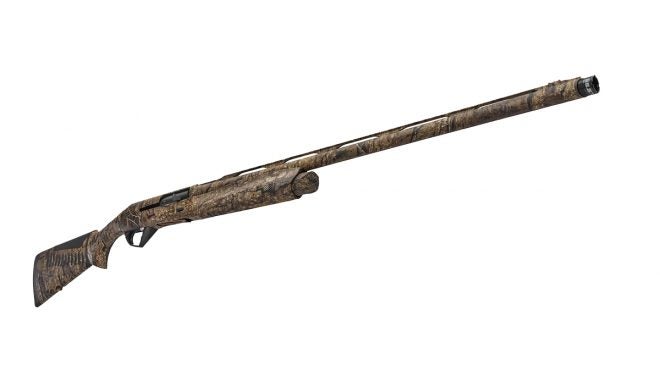 Today, Green Top unveils the new "Virginian," a limited edition Benelli Super Black Eagle 3, commemorating 75 years of retail business. Benelli USA is an iconic firearms manufacturer known for creating one of the world's largest selections of semi-automatic shotguns.
More from Benelli USA on OutdoorHub.com: 
Green Top and Benelli USA Unveil Special Edition Super Black Eagle 3
This new shotgun will be sold exclusively by Green Top and will be sold for a price of $1,999.99 as configured above. The Super Black Eagle 3 is often used by waterfowl hunters and shooters and is perfectly suited for nearly every type of upland hunting you've got in mind. Each "Virginian" Super Black Eagle 3 will have an exclusive serial number retained for this specific run of shotguns which will begin with "75GT" to commemorate 75 years of a successful business for Green Top. For more information or to order this special edition shotgun, you can visit https://www.greentophuntfish.com/.

The "Virginian" is a 12-gauge version of the popular Super Black Eagle 3 model. It features a 26-inch barrel chambered for 3-1⁄2 inch shells. The "Virginian" boasts a Realtree Timber® finish and is furnished with five premium BE.S.T. choke tubes. The BE.S.T finish is guaranteed not to rust or corrode for 25 years. Other features include a braided paracord sling, a hard storage case, a sticker of the "Virginian" logo, and a certificate of authenticity. The "Virginian" is available for purchase in-store at Green Top today. A limited amount will be available online at Green Top, and a reserve amount will be featured at the upcoming Green Top Outdoor Expo on Oct. 1-2, 2022.
"We are proud to have such a loyal customer base here in Virginia and beyond. This is a once-in-a-lifetime opportunity to own such a unique, high-quality part of our legacy. As part of this limited product rollout and special event, in-store displays will showcase the "Virginian"