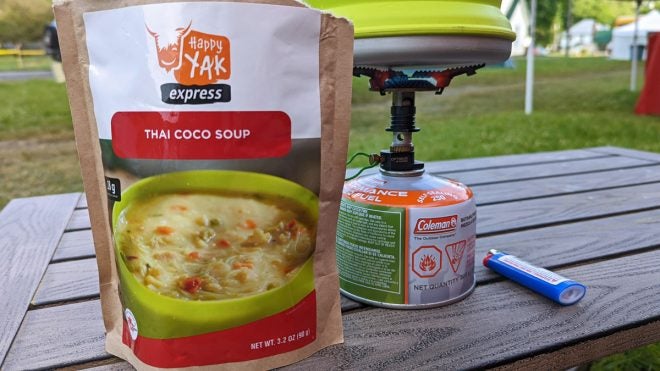 Happy Yak sent me two of their product to try as they have recently began selling/shipping to the US. Two meals were sent for review: Thai Coco Soup and Moroccan Feast.
I like eating nearly as well as most people enjoy breathing. There are few ingredients I believe are inherently terrible, and that the preparation and process of using the ingredients is what can make or break it. I feel Happy Yak takes their focus on ingredients to heart when developing their outdoor meals.
---
Welcome to our recurring series of "The Path Less Traveled." In this series, we want to take you along for our exploits out in the wilderness while hiking, camping, exploring, and general adventuring. This will include our small daily victories, foibles, tips, tricks, and reviews of gear we authentically appreciate and frequently utilize. While a well-worn trail can often be the pathway to a leisurely day, the paths less traveled can often spur on some of the greatest memories, misadventures, and fun we could imagine. Join us in the Comments as we share our travels and hopefully, we can all come together for a greater appreciation of the outdoors.
---
Hungry for more AllOutdoor food related material? Check out these posts:
In 1996, Christine Chénard, President of Happy Yak was requested to make packable meals for several friends who were making an expeditionary trek to the South Pole. Christine's passion for the outdoors as well as her graduate knowledge of nutrition led her to dabbling into outdoor meals further after this request, cofounding Happy Yak with Guy DuBuc. Guy's business acumen and love for travel and outdoors led to them joining forces and starting Happy Yak in 2013.
The company is based in Cowansville, Quebec, Canada.
Since 2013, the company has established itself online, in outdoor recreation stores, and have sold in America since June 2020.
Happy Yak states the five biggest focuses for their meals are:
Generous portions
Ingredients that you recognize and appreciate
Low in sodium
High protein content
A variety of succulent, delicious
Nutritionally balanced dishes
If you have been reading my content for any amount of time, you know that I am a stickler sodium levels in freeze dried meals, and focus on nutrients due to my Type-1 diabetes. I appreciate their committed effort to making meals that are "outside the box" compared to many brands that make a chili, mac & cheese, and some kind of fruit porridge. Happy Yak has meals inspired by a variety of cultures and food favorites. They even make a Beef Stew that would be fantastic on a cool October evening at camp!
Happy Yak is also proud to donate 1% of its annual sales to Leave No Trace, Scouts Canada and many others.
You can find more out about Happy Yak on their following sites: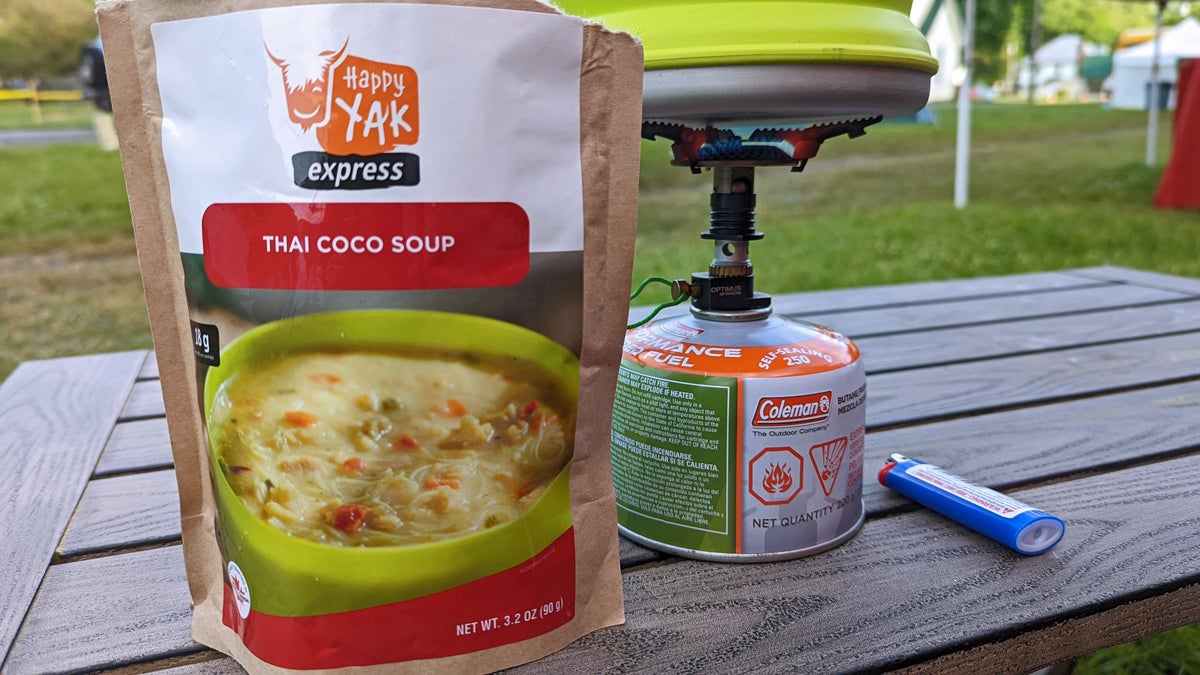 The Happy Yak Thai Coco Soup is a brothy soup, less akin to a stew than photos may allude to.
You will find a taste of Thailand with its exotic aromas, generous portion of noodles and rich coconut milk broth. This soup is a real feast! Not surprising that Happy Yak's Coconut Thai Soup is one of our most sought-after meals.
When reading the ingredients, you find it is a vegan chicken broth and coconut milk based soup rice noodles, textured soy protien, almonds, vegetables and spices. It also contains nonfat dry milk to help increase protein levels and give the soup a creamier taste.
Instructions indicate add two cups of boiling water, and let sit for 15-18 minutes, stirring a few times. There are also stovetop instructions that indicate to put ingredients and water into a pot, boil 10 to 12 minutes, then let sit until able to be eaten.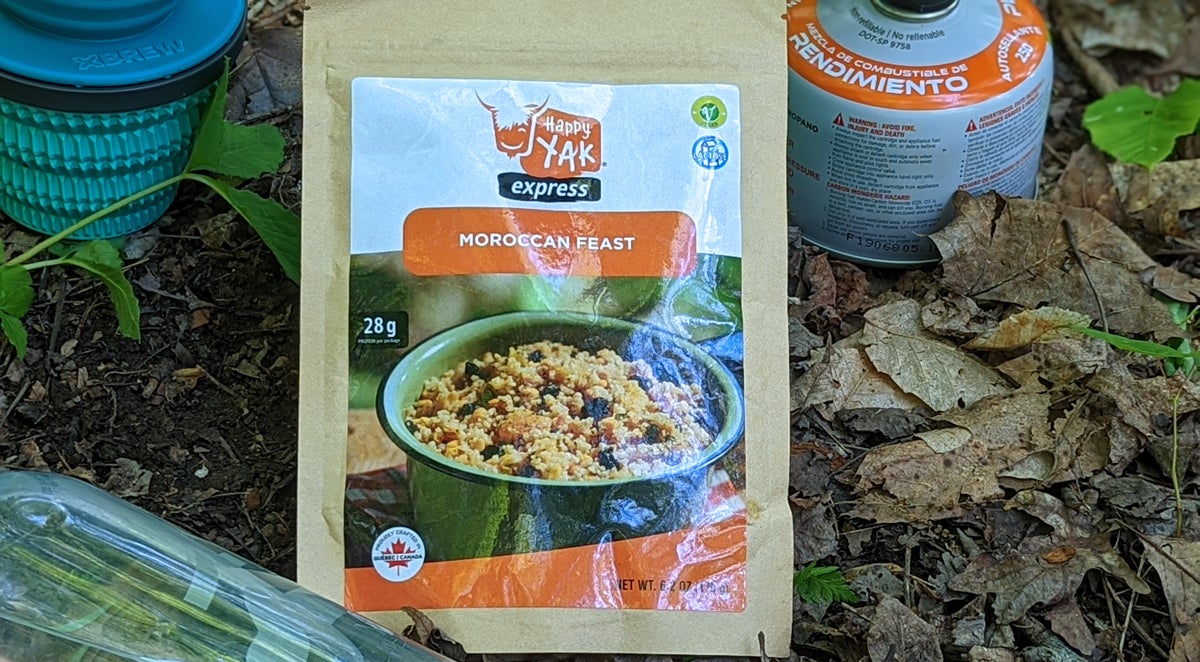 The Happy Yak Moroccan Feast is a savory couscous and lentil dish that will fill your stomach after putting down miles. The seasonings are plentiful, and remain savory with the addition of raisins, dried apricots and slivered almonds.
A tasty blend of red lentils and couscous. Generously garnished with raisins, dried apricots and roasted almonds, the Moroccan feast is a dish rich in colour and flavour! For those who love exotic flavours with and a taste of sweet and salty, this is the meal for you.
Think of this meal as the middle eastern beans and rice. Every culture has a dish similar to this, no? With 28g protein, you won't have to worry much about atrophy or midnight snack cravings.
Instructions for the express method of cooking (only method recommended) is to add 1 3/4 cup of boiling water, wait 12-15 minutes, stirring once.
Observations
I don't know about you, but when out in the woods and hungry, I often find the quickest ways to cook my foods. With both of these meals, I did add the food to the 2 cups water as I boiled it to expedite the cooking and rehydrating process. While this is not the recommended way of cooking these meals, It did help reconstitute the dryer ingredients faster.
Happy Yak – Thai Coco Soup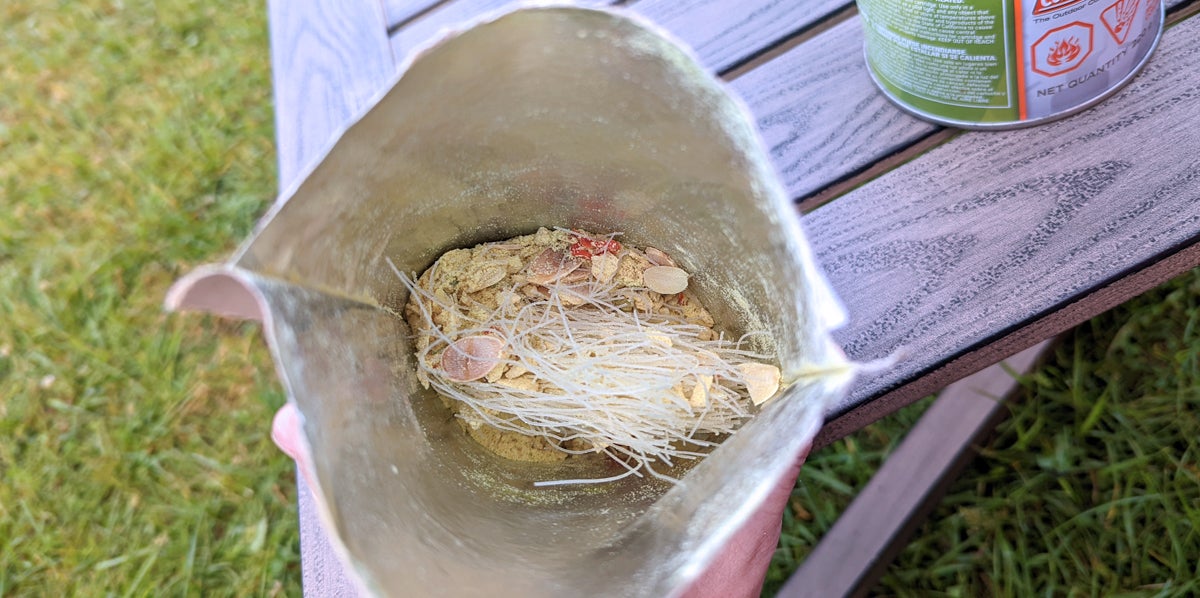 The Thai Coco Soup had a great taste of lemony and chicken soup base, even being a vegan broth. Despite the dehydrated coconut milk being the fourth ingredient, it was not anywhere near as pronounced in flavor as I expected. Noodles rehydrated well, vegetables were present and did their job of filling up the meal. This wasn't an overwhelming meal I would talk about with strangers on the street, but I would definitely eat it again if I brought some of my own coconut milk powder to supplement what is already in the pack.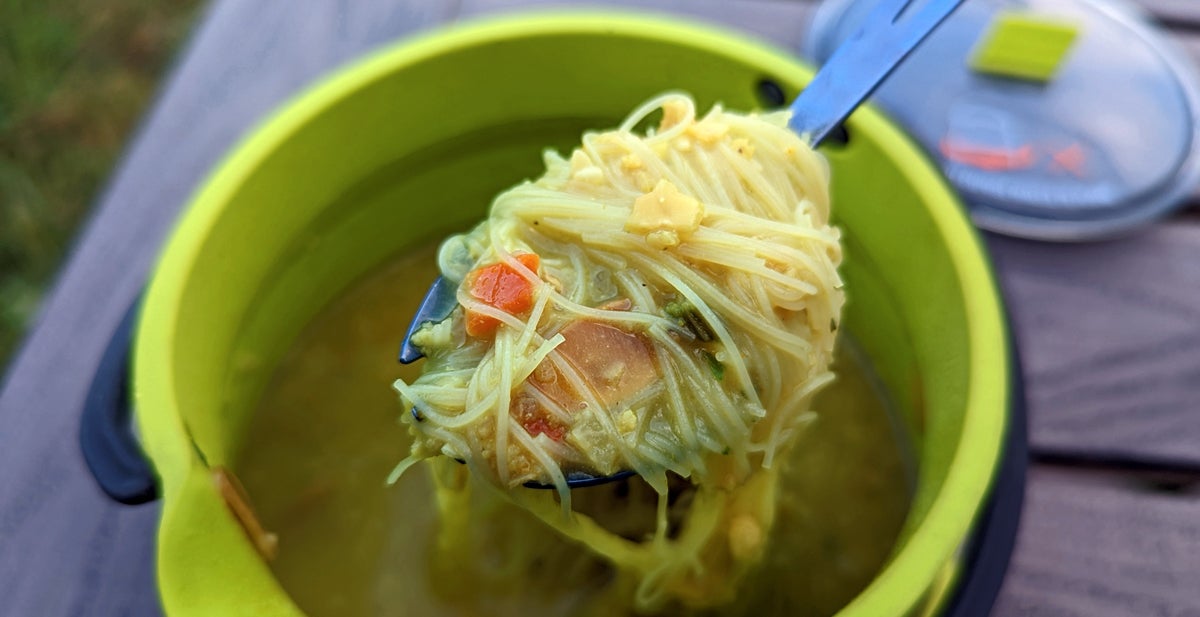 Overall 2.5 out of 4 stars. (With more coconut flavor, easily a 3.5)
(Note: Purchased some recently to attempt to recreate this meal.)
Happy Yak – Moroccan Feast
This dehydrated meal hit it out of the park after a long day of kayaking. Couscous can become mundane if you're just getting the $1.00 box ones from your local grocery store. Happy Yak's Moroccan Feast meal has flavor, texture, and did I talk about flavor for days?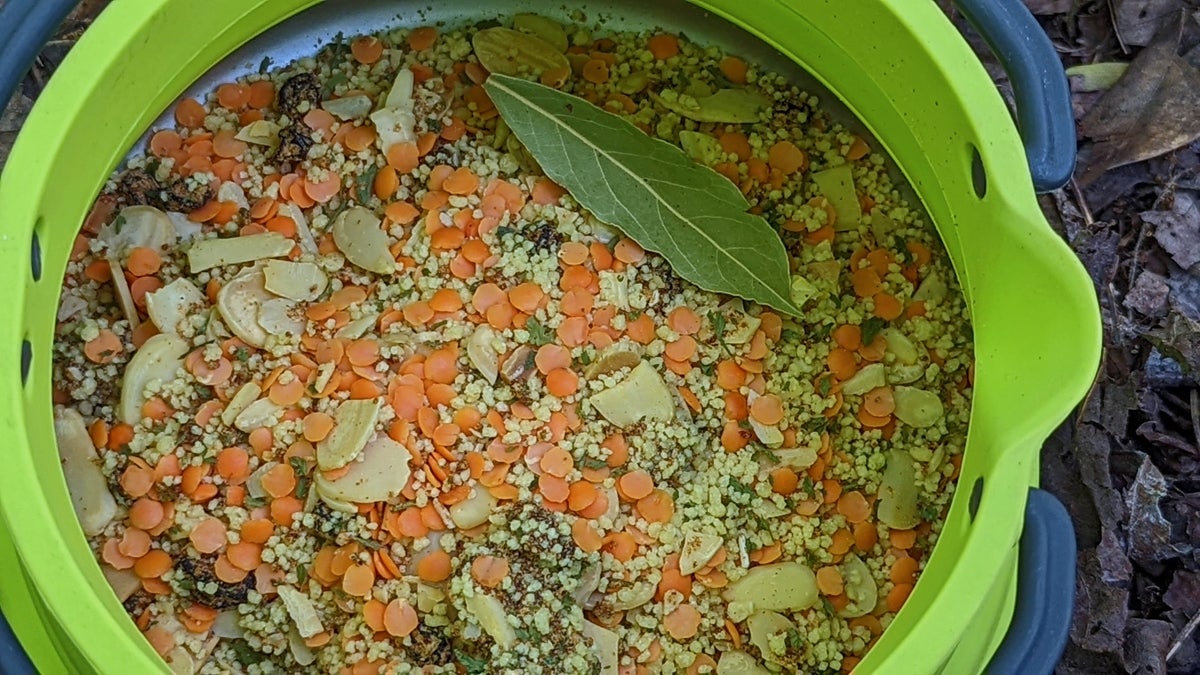 There was even an entire bay leaf stuck in there!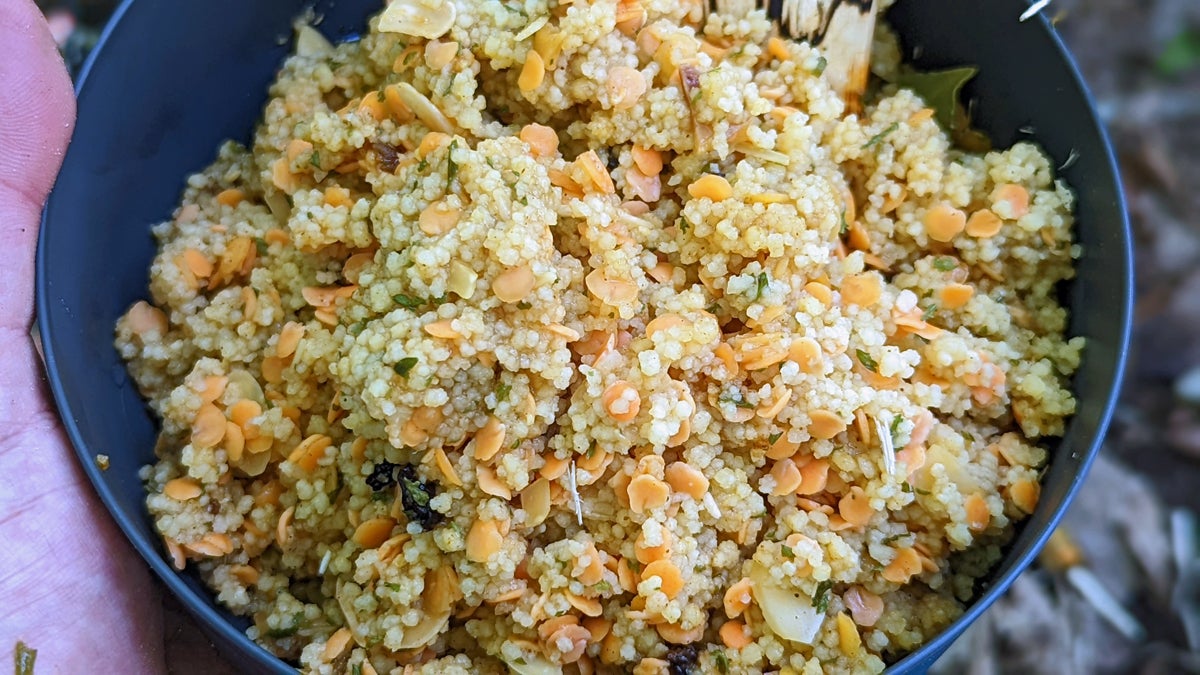 The addition of apricots and raisins to a savory meal truly had me feeling like I should have had some lamb or goat with this meal. The Moroccan/Middle Eastern flavors were spot on and something I craved to have more of, even after finishing! Since I cheated and heated the food with my 1 3/4 cups water when boiling, lentils were ready to eat after about 10 minutes after starting the stove. This was the perfect amount of time to check my blood sugar, take insulin and inflate my sleeping pad. I tried the lentils moments after taking the pot off the stove; while they are pre-cooked, they do take some time to rehydrate.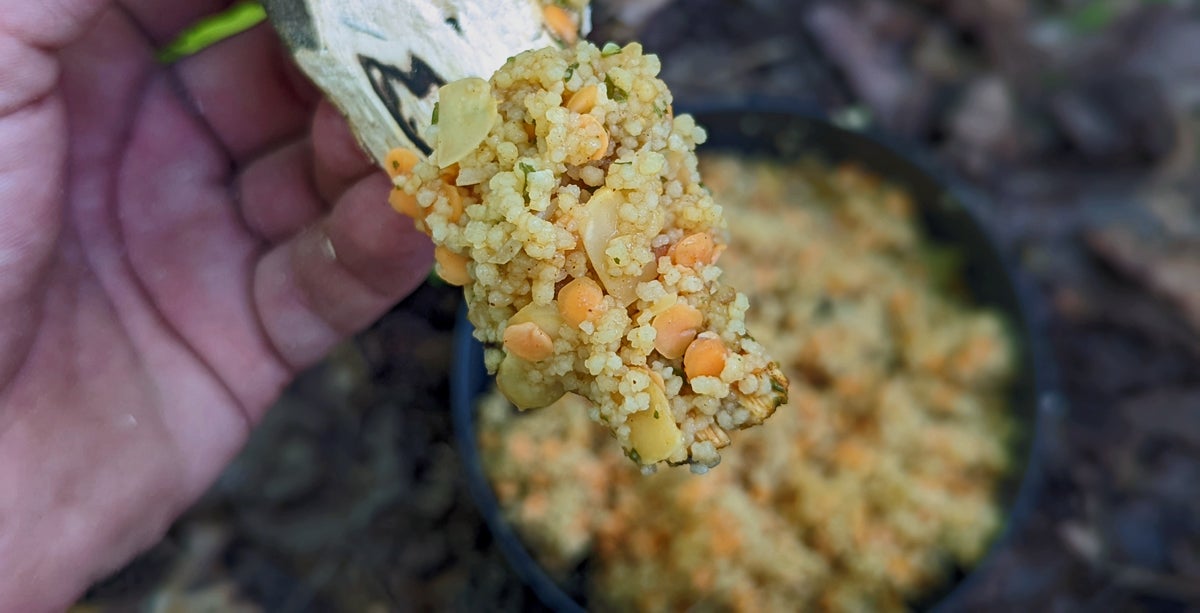 I thoroughly enjoyed this meal and am tempted to (attempt to) make it on my own as the bulk content of the meal being couscous and lentils hurts thinking about paying $13.49, although the ingredients were all gourmet in quality and flavor.
Overall 3 out of 4 stars. 
Specifications
Happy Yak – Thai Coco Soup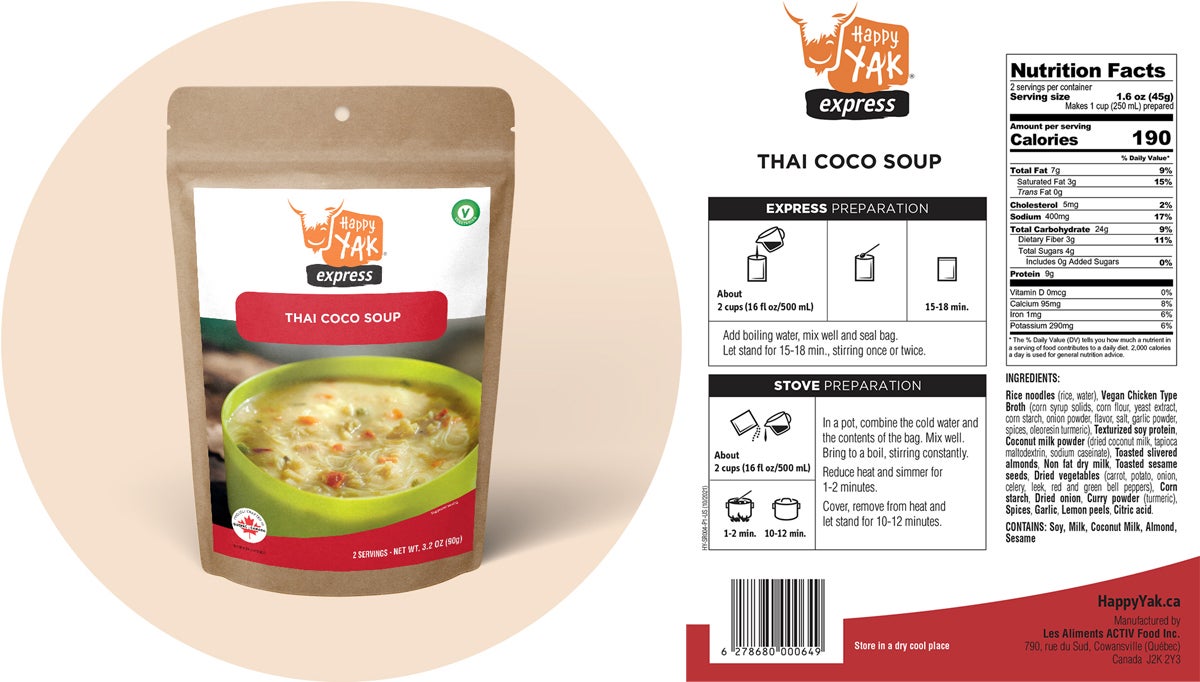 Weight: 90 g / 3.2 oz food weight. (21 g package weight)
Servings: Two
Required Water: 2 cups / 500ml
Wait Time: (Officially) 15-18 minutes
UPC: 6278680000649
There are two servings in the pack, with the following macros for the entire thing:
380 Calories
14 g Fat
800 mg Sodium
6 g Fiber
8 g Sugar (none added)
18 g Protein
If you have any major allergies, this is indicated to be wary of:
Soy
Milk
Coconut Milk
Almond
Sesame
Happy Yak – Moroccan Feast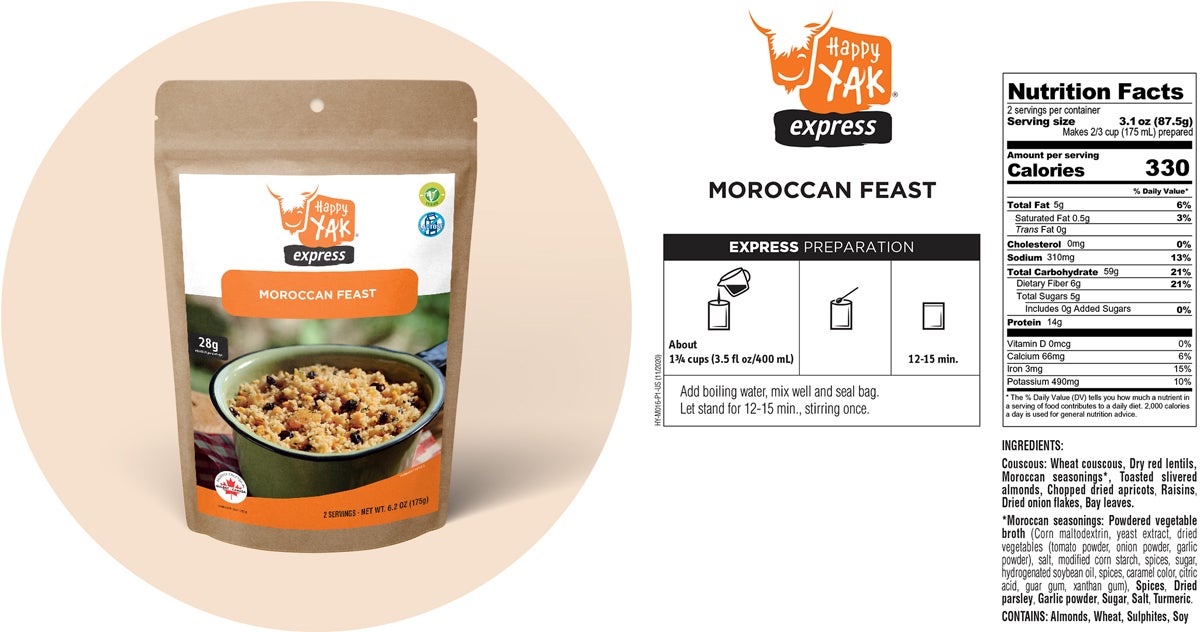 Weight: 175 g / 6.2 oz food weight. (21 g package weight)
Servings: Two
Required Water: 1 3/4 cups / 400 ml
Wait Time: (Officially) 12-15 minutes
UPC: 6278680000205
There are two servings in the pack, with the following macros for the entire thing:
660 Calories
10 g Fat
620 mg Sodium
12 g Fiber
10 g Sugar (none added)
28 g Protein
If you have any major allergies, this is indicated to be wary of:
Almonds
Wheat
Sulphites (apricot preservative?)
Soy
---
Come join Alloutdoor's Discord server and chat about Archery, Firearms, Fishing, etc. with others! Sneak peaks, early notifications, and perks await.
We have a Tiktok account, too!
---