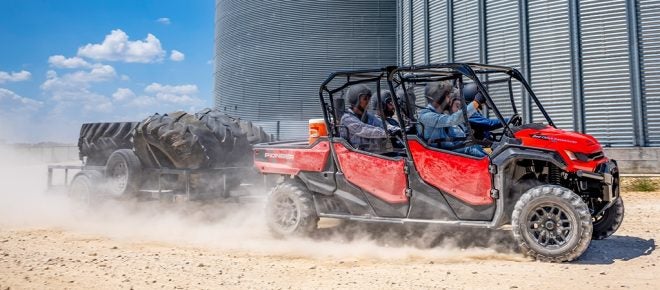 Honda announced the new Pioneer 1000 in March of this year, now they are expanding the Pioneer lineup with a newly designed Pioneer 1000-6 Deluxe Crew. Sporting the same 999cc Unicam engine and dual clutch automatic transmission of the other models of Pioneer 1000, the new 1000-6 adds a true second row of seats. The Pioneer 1000-5 has been available for several years, offering a front bench seat and two rear seats that can be folded out of the way when you need to use the cargo area. The new 1000-6 instead is an overall longer machine with an extended wheelbase giving a permanent second row of seats that do not consume your cargo space.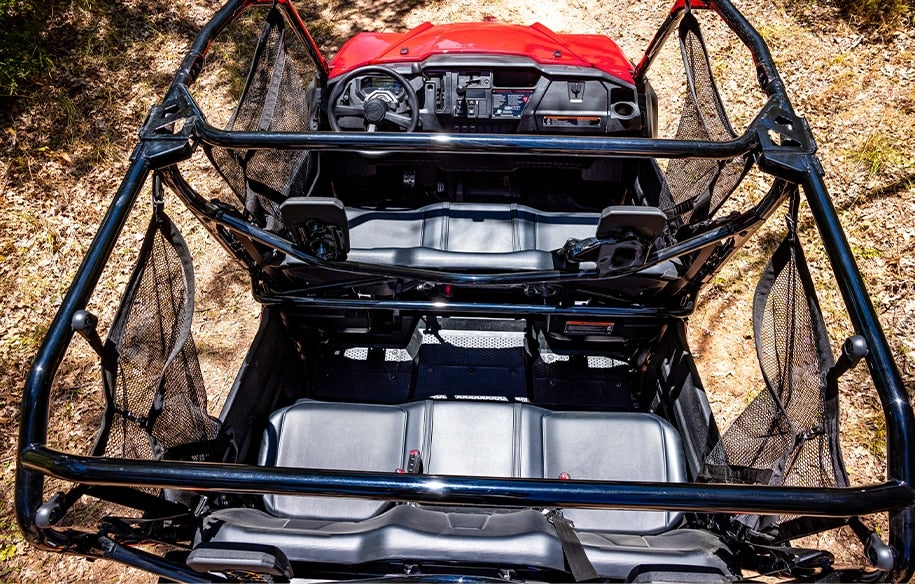 2023 Honda Pioneer 1000-6 Deluxe Crew – Specifications
999cc longitudinally mounted liquid-cooled twin-cylinder four-stroke
Fully automatic Dual Clutch Transmission (DCT) with six forward gears, reverse, high/low subtransmission and paddle shifters; four drive modes (2WD, 4WD, Turf and Differential Lock); three shift modes (Standard, Sport, and Manual)
Direct front and rear driveshafts
Independent double-wishbone; 10.5-inch travel (front)
Independent double-wishbone; 10.0-inch travel (rear)
152.2 inches Length
63 inches Width
76.1 inches Height
115.2 inches wheelbase
1000 lb bed capacity
2500 lb towing capacity
12.6 inches ground clearance
1936 lb curb weight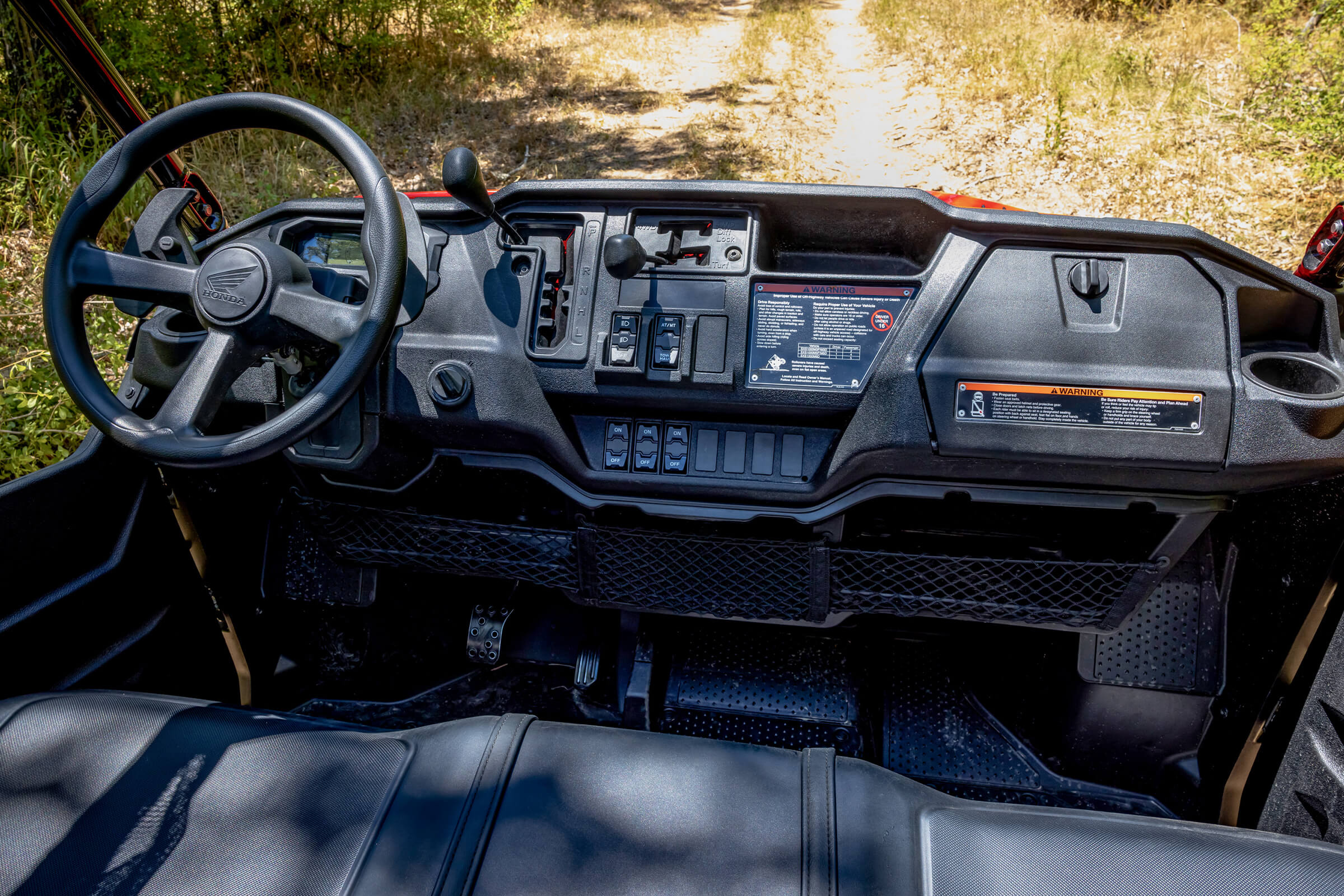 "Welcome to the side-by-side everybody's been waiting for: the new 2023 Honda Pioneer 1000-6 Deluxe Crew. It's the side-by-side built for the biggest jobs, because it lets you carry the biggest payloads: Six passengers along with a full-size tilt bed, 2500 pounds of towing capacity, tons of underseat storage, and much more. And while the second row of seats is the first thing you'll see, you won't appreciate them until you actually sit back there. There's a huge amount of shoulder room—that's because we moved the center-rear seat just a little forward. All that room—along with a tilting steering wheel —makes it super easy to get in and out, even while wearing heavy work gear. And the Pioneer 1000-6 Deluxe Crew is loaded with plenty of other Honda features too: Our automatic Dual-Clutch Transmission (DCT) with 2WD, 4WD and Differential Lock, a high/low subtransmission, self-leveling rear suspension, standard doors, and a pre-wiring package that makes it easy to add accessories like a winch. And of course, nobody can match our reputation for reliability and build quality. Available in three colors, including Honda Phantom Camo®. So go ahead—bring the whole crew, and all their gear. It's easy with a new 2023 Honda Pioneer 1000-6 Deluxe Crew."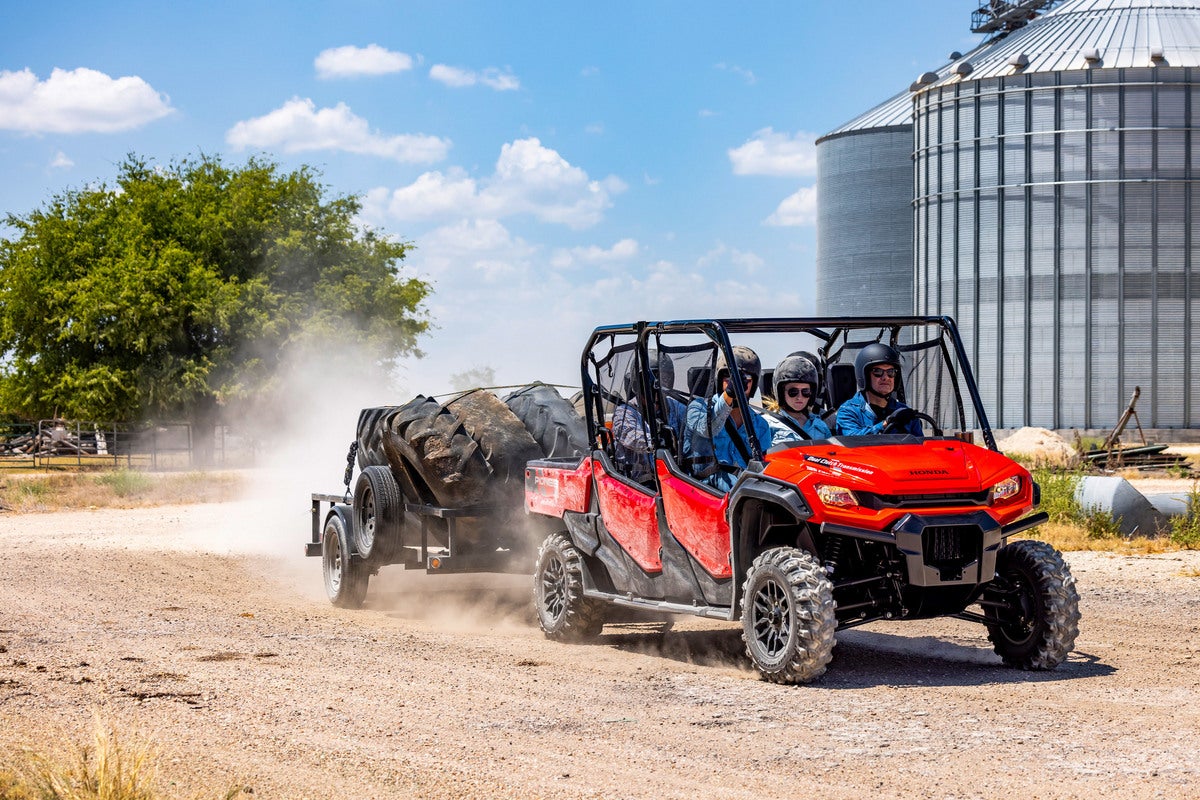 Starting at an MSRP of $21,899 and a projected availability in September, this is a welcome addition to the Pioneer lineup that Honda owners have been asking for. For additional information and to find a local dealership to look at one yourself, see Honda Powersports Website.