Getting mail on the road can be tricky – Where can you ship packages? How do you handle bills? Where can you pick up prescriptions? If you're planning on giving up your home base, how do you set up a new home address? These are some of the top questions we're asked by van lifers preparing to hit the road.
In the blog post below, you'll learn how to get mail on the road, plus tips for establishing residency as a full-time van lifer.
How To Get Packages On The Road
Getting packages on the road is arguably harder than receiving paper mail, however, there are tons of options that make this easier. Here are the most common ways to receive packages on the road:
Ask Friends or Family
The easiest way to pick up packages or mail on the road is to send it to a friend or family member along your route. C/o stands for "care of" and ensures the package isn't delayed or returned to sender. Here is how to address your packages sent to a friend or relative's address:
[Your Name]
c/o [Their Name]
Street Address
City, State, Zip
USPS General Delivery
The US Postal Service offers a free "General Delivery" option for those needing a temporary address to receive mail and packages on the road. Even small towns usually have a Post Office, so this is a great solution when you're not in an area with other shipping options. Plus, picking up General Delivery mail is free, unlike other pickup locations we mention below. It's important to note that only USPS packages can be sent through General Delivery – UPS, FedEx, and other non-USPS shippers will likely be returned to the sender.
Not all Post Office locations accept General Delivery mail, so use this USPS store locator to find the location closest to you and check if General Delivery is under "services at this location". In addition, we'd recommend calling the location to confirm that general delivery is accepted because sometimes workers aren't familiar with the service. General Delivery mail is held for up to 30 days, but it varies by location, so we'd recommend calling for the most accurate information. When shipping something via USPS General Delivery, use the address below and bring a photo ID for pickup:
[Your Name]
General Delivery
City, State, Zip
Note: You don't write the address of the Post Office for General Delivery mail because USPS will send your mail to the main post office in town.
While we've used USPS General Delivery several times without any issues, we've heard stories of missing packages, stores refusing General Delivery even though it's listed on the website, etc. so keep that in mind if you are shipping something time-sensitive or expensive.
Amazon Lockers
Amazon lockers are one of the quickest and most reliable options for receiving packages on the road. With thousands of locations across the US in convenient locations – such as grocery stores, convenience stores, and gas stations – you simply select the closest Amazon locker location at checkout. After Amazon drops your package off in the locker, they'll email you and you'll have 3 days to go pick up your package using a scannable barcode or pin # that automatically opens the locker. It's super easy and you don't need Amazon Prime to use their lockers, but the downsides are it's only available for items purchased from Amazon, there is a size limit on packages, and it's not common in smaller towns.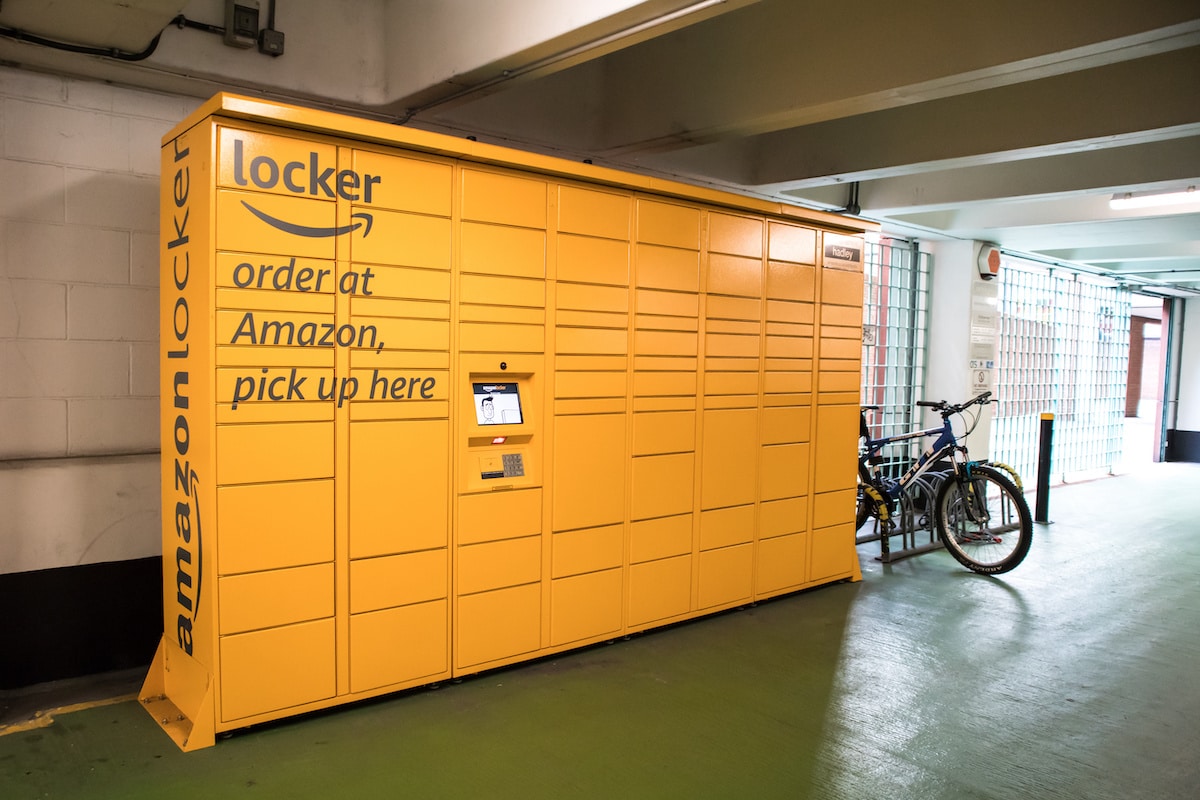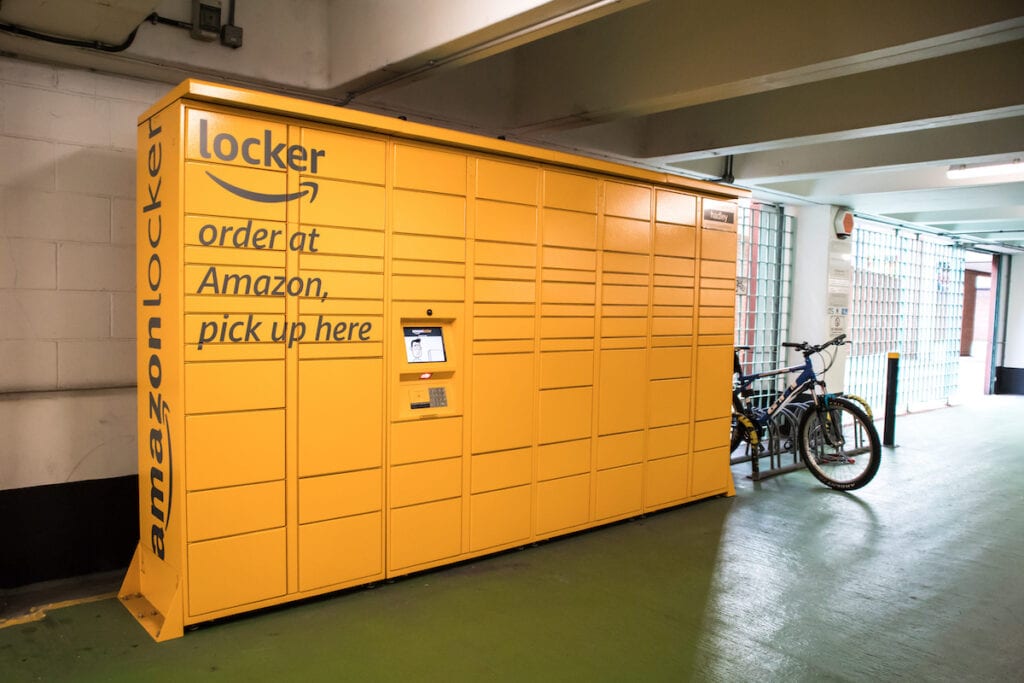 UPS or FedEx Stores
If you are a receiving a UPS or FedEx shipped package, some of their retail locations will receive packages for you for a small fee (typically $5-$15 per package). Not all locations offer this service, so definitely call ahead to confirm you can pick up a package there, how much they charge for pick up, and how long they'll hold a package for. You can also ship to a UPS Access Point, which are authorized package pickup points like lockers, small retailers, and convenience stores.
When shipping yourself packages to stores like this, the address format is usually very important, so make sure whoever is shipping it addresses the package properly.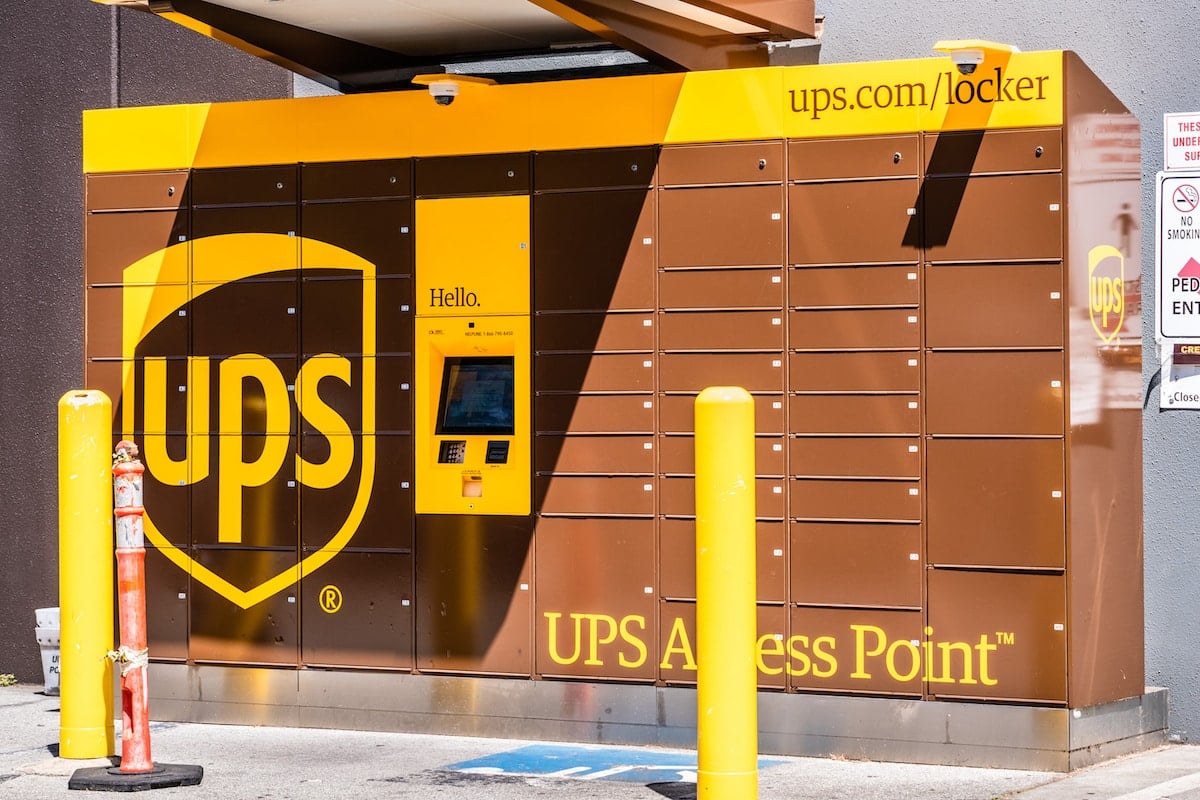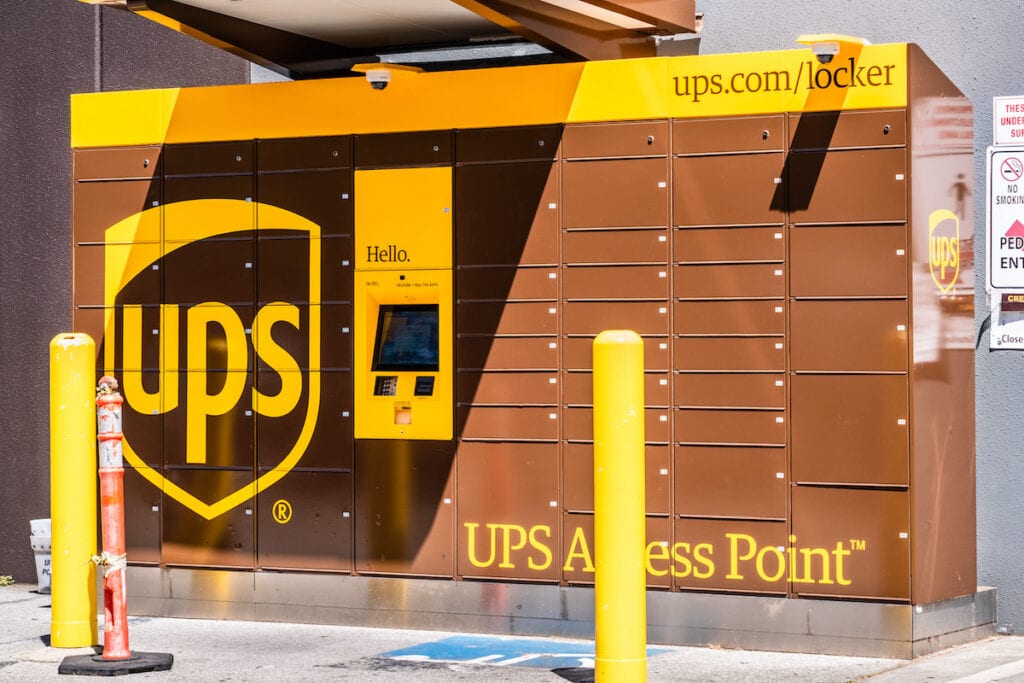 In-Store Pickup
If you're buying from a major retailer and don't want to deal with shipping fees or picking up a package at another location, see if the retailer offers in-store pickup. Many major retailers, such as Walmart, Target, REI, and Home Depot, offer free in-store pickup for online purchases. This is also a huge time-saver if you know exactly what you need!
Campgrounds/RV Parks/Hotels
This is a last resort option simply because we don't stay at campgrounds or hotels often and it's hit or miss which businesses will accept mail on behalf of their guests. If you want to ship something to a business, be sure to call and ask to get the proper instructions and shipping address. Some businesses have a different mailing address for guest mail.
Some cities will also have mail service businesses that accept packages (often authorized retailers of UPS, FedEx, etc). I typically just Google "shipping store in …." and then call them to confirm they'll accept packages and get instructions.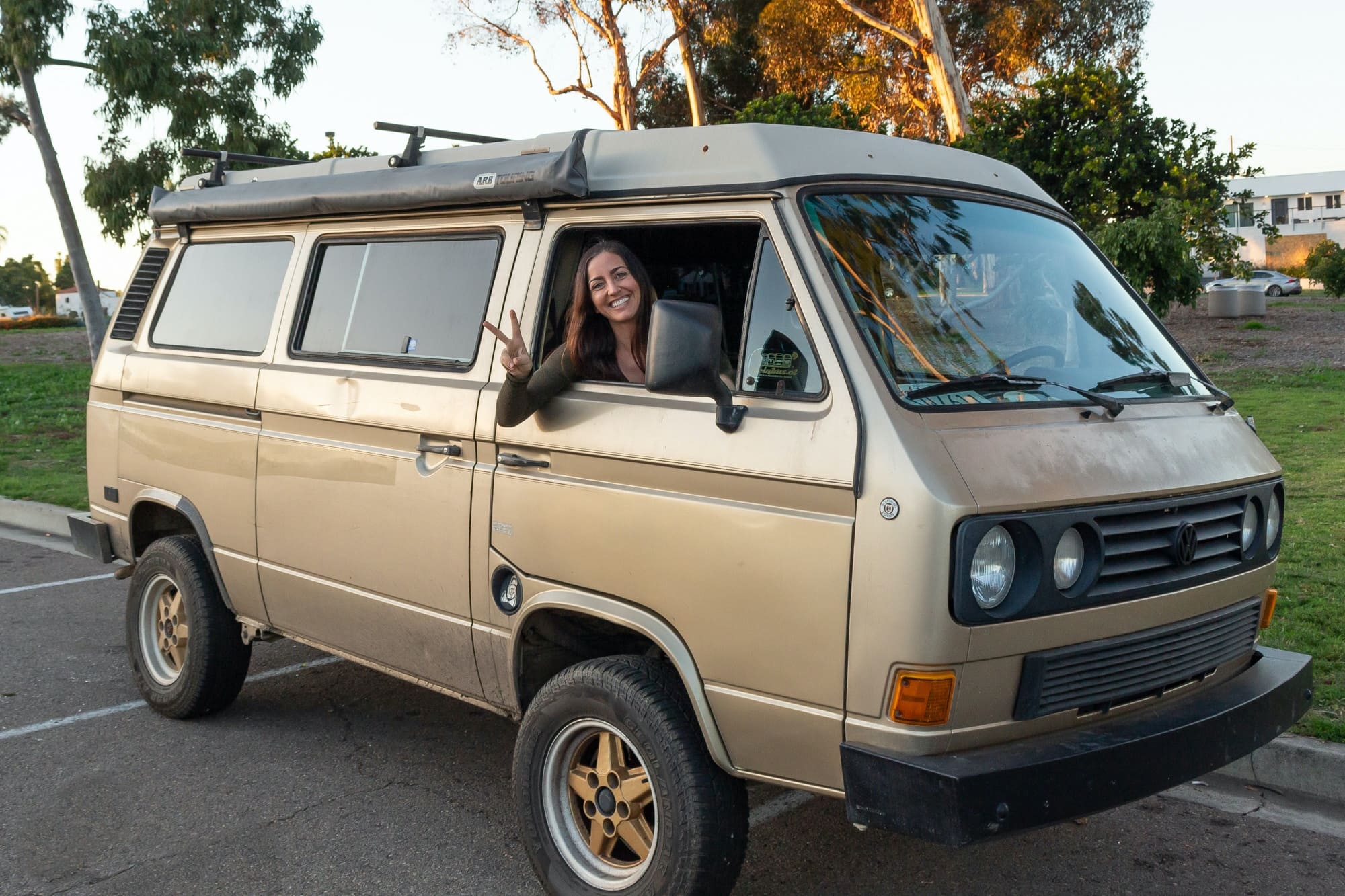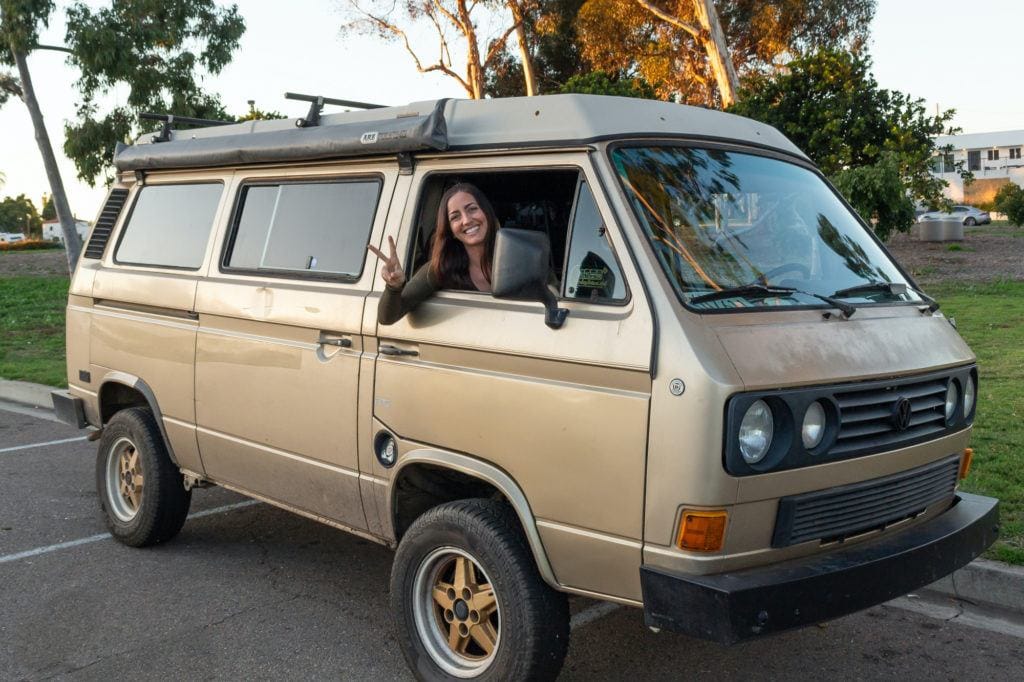 How to Get Mail On the Road Through Mail Forwarding
While receiving packages can be challenging, getting paper mail like letters, bills, and checks on the road is actually pretty simple. Mail forwarding services allow you to have a permanent mailing address while on the road without needing a friend or family member to manage your mail for you.
Setting up a mail forwarding address is similar to a PO Box in that it gives you your own address where mail can be sent, but unlike a PO Box where you need to physically pick up your mail, your mail is handled by a real person, so you can talk to them directly and access your mail nearly any day of the week. When you receive mail to your personal mailbox (PMB), the mail forwarding service will scan the outside envelope and send you an email/notification letting you know you've received new mail. You can then choose to have it opened and scanned, forwarded to an address of your choosing, held for a later time, recycled, or shredded. While mail forwarding services are great for paper mail, we wouldn't choose this option for getting packages since you'd need to pay to have them forwarded.
BFT Team Member (& full-time van lifer) Courtney has a mail forwarding address managed by Anytime Mailbox and it has made receiving paper mail on the road much easier and more streamlined.
Anytime Mailbox differs from other mail forwarding services in that it also has an app (vs. email-only) that can send a push notification when you receive a new mail item. From the app, you can decide what you want to be done with your mail – opened & scanned, recycled, shredded, or forwarded. Anytime Mailbox is super simple to use and they are quick on scan requests (typically less than 3 hours during business hours).
Anytime Mailbox has PMB locations all across the country – Courtney chose a mailing address in South Dakota so she could also establish residency with this address (more info on that below). Anytime Mailbox plans start at $4.98/month and there are different tiers based on the amount of mail you want to be able to receive. For an address in Spearfish, South Dakota, Courtney pays roughly $11.25/month for the smallest plan available which includes:
Incoming mail: 30 pieces (each additional $0.35)
Open & Scan: 5 pages (each additional page $0.50)
Forwarding bundle: $6
Recycling: unlimited
Shredding: $.15/page
Recipients (names on mail): 2
Other popular mail forwarding services include Postal Connections, MyRVMail, and Escapees.
Important Note: Due to the US Patriot Act, banks will not accept PMBs as a "real" physical address. Your account(s) could be frozen if you use your mail forwarding address for banking, so we recommend using your PMB as your banking mailing address and a relative or close friend's address as your banking physical address.
How To Establish Residency and a Home Address
If you are completely moving out of your home and have no plans to go back to your old town, figuring out what to have listed as your home address might be tricky. Not only does this impact your mail, but it also affects your health insurance, your RV or vehicle insurance, and your taxes. It's also important if you plan to vote, which I obviously encourage you to do. Here are a few options:
Option 1: Use the address of a close friend or family member
The easiest way to deal with establishing a home residence is to list your address as one belonging to a close and willing friend or a family member living in the same state as you that way you aren't changing your official residency. While this is an easy option, it does require that person to be your main point of contact for mail, so you'll want to ensure that person is willing and able to keep up with your mail.
Option 2: Establish residency somewhere new
If you don't have the option or don't want to use the address of someone you know, you can also establish residency in a new state using a mail forwarding service. Whether or not it's worth moving your residency really depends on how long you plan to be traveling and the amount of money you'll save by setting a new residency up.
States with no income tax are popular among van lifers and RVers, including South Dakota, Texas, and Florida. Each of these states has mail forwarding services that will set you up with a physical address that you can use to establish residency and then they will forward you your mail. South Dakota charges the lowest vehicle registration fees and doesn't require an annual inspection. You can even register your vehicle in South Dakota without even driving your van to the state.
BFT Team Member Courtney recently went through the process to change her residency to South Dakota, using the team at ChooseSD (which partners with Anytime Mailbox for mail). The process was incredibly simple requiring the following documents to receive a South Dakota driver's license:
Receipt for a 1-night stay at a South Dakota campground or hotel
Paperwork from your mail forwarding company verifying your new address
Current Driver's license
Passport
Social Security card
The thing to keep in mind is that if you establish residency in a new state, not only will you pay taxes in that state, but you'll also acquire your van insurance and health insurance in that new state. Be sure to do your research on the best options for taxes and insurance before switching your domicile state.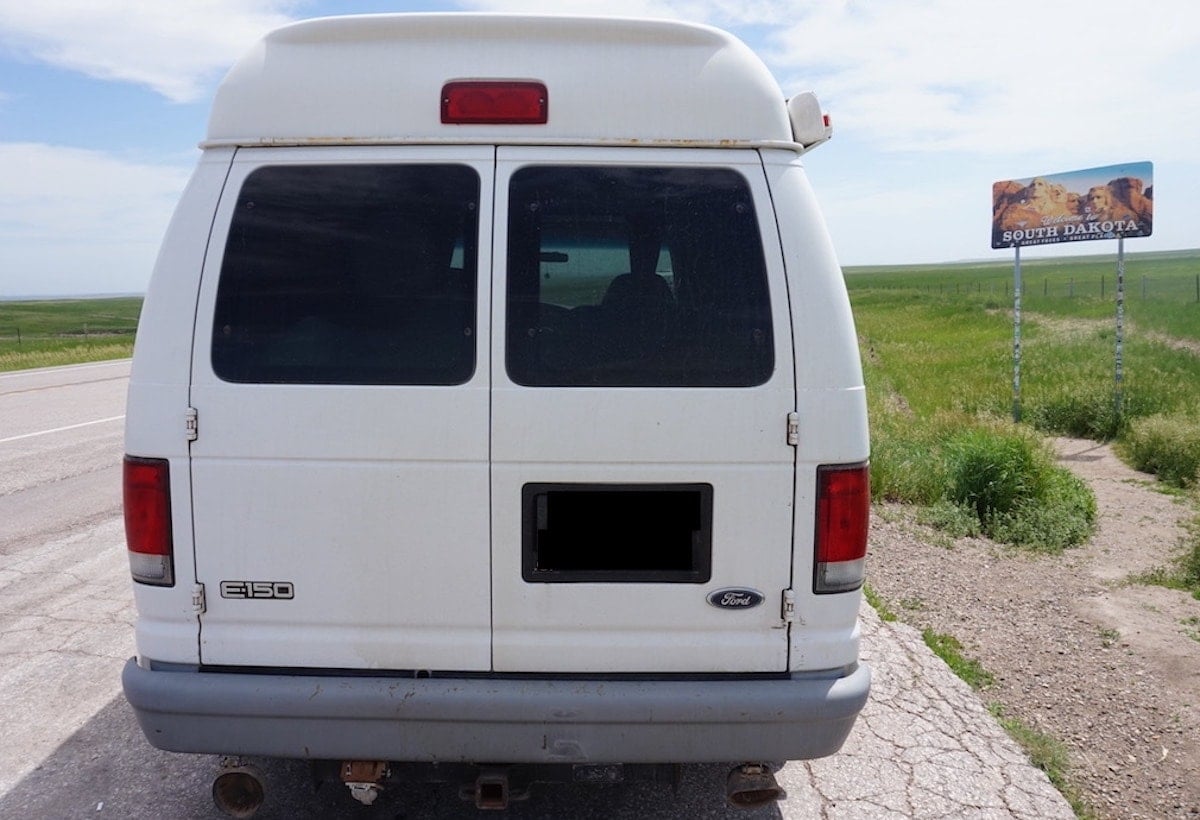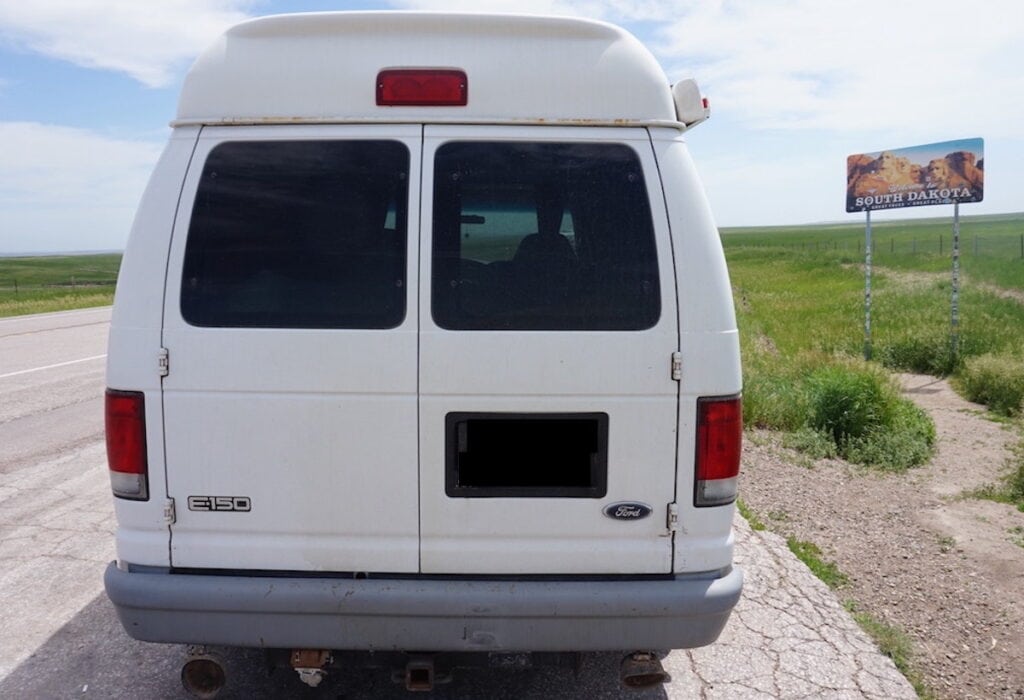 How to Pick Up Prescriptions On The Road
Getting prescription medication on the road can pose challenges, but here are a few tips for refilling on the road:
Ask your doctor for 90-day supplies so you don't have to worry about getting refills as often
Contact your insurance company to see if you can pick up prescriptions outside your residency state. Some insurance companies may not cover the cost of prescriptions picked up in other states, so be sure to call to confirm where you can pick up prescriptions.
Fill your prescription from nationwide chains such as CVS or Walgreens so you can easily transfer your prescription to another location as you travel
Use an online prescription company like GoodRX and mail your prescriptions using General Delivery, UPS, FedEx, etc.
How to Pay Bills On The Road
Fortunately today, most bills can be sent electronically and paid online. Before you head out in the van, contact your bank(s) or login online to opt-out of paper mail and request e-statements instead.
If you have issues, inform them that you'll be traveling for x-amount of time and need an option to pay online or mail a check. It shouldn't be an issue, but to avoid hang-ups or late fees the first month, it's best to take care of this ahead of time.
If you aren't worried about overdrawing, set up all of your bills for autopay. That way you'll be guaranteed to never miss a payment.
Also, notify your bank(s) that you'll be traveling regularly and do not want a hold placed on your cards from frequent irregular locations. Sometimes a hold is placed on your card automatically if your bank notices you're withdrawing money in Texas and then 3 hours later you're gassing up in New Mexico for example. Just let them know ahead of time and it shouldn't be an issue.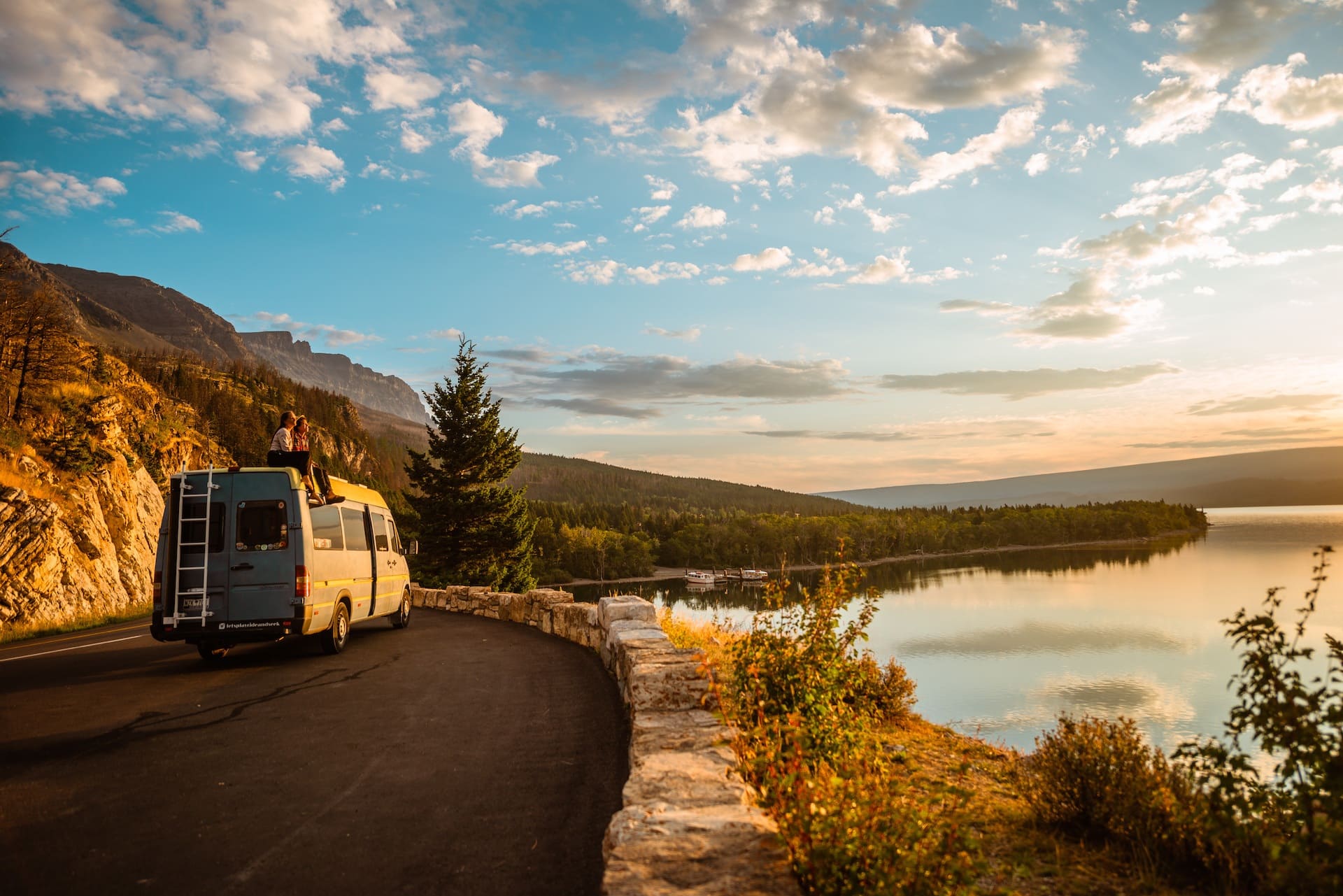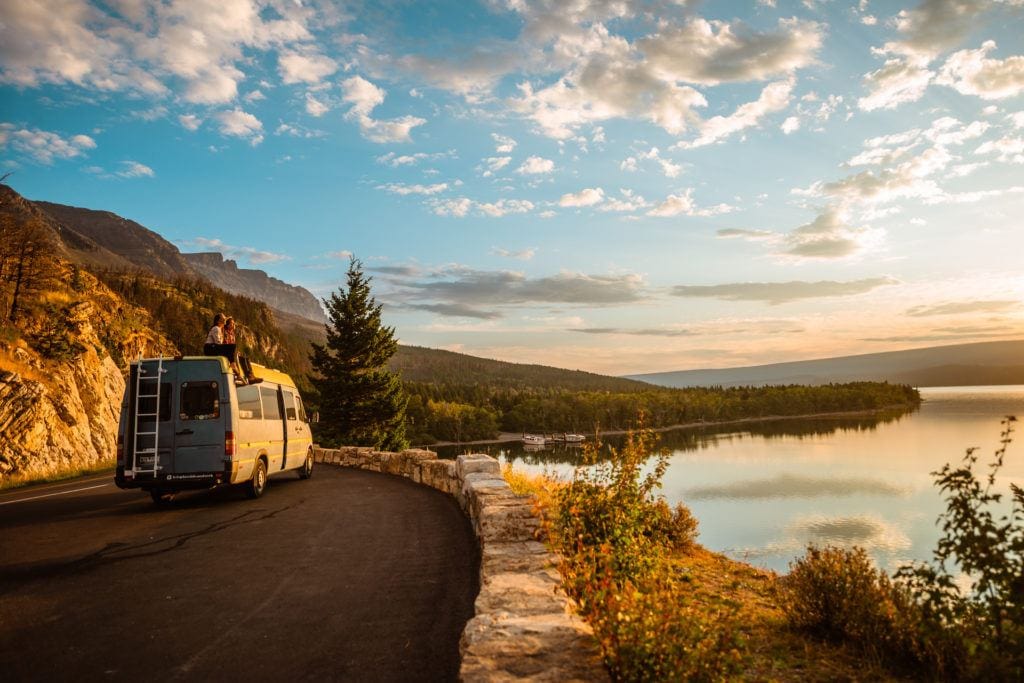 What questions do you have about how to get mail on the road? Share your questions, tips, and experiences down in the comments, and make sure to sign up for our van life newsletter here.