Adam Scepaniak   11.17.21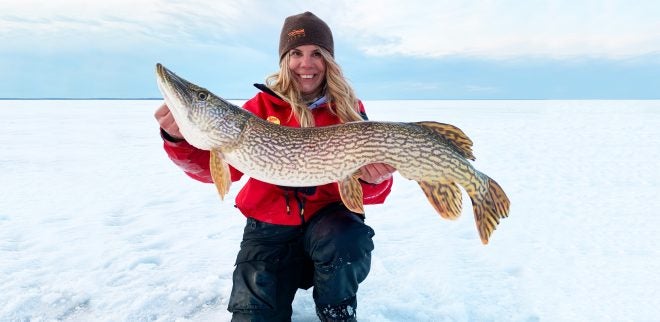 Winter affords numerous unique, seasonal opportunities to get outside to enjoy the outdoors as much the other seasons of spring, summer, and autumn. Our world becomes covered in a generous dusting of snow and the forests and lakes around us become enchanting. While some fair-weather types will retreat to their homes, the more inquisitive among us know that the true adventure lies outside beyond our routines of the familiar and mundane. Explore what Saskatchewan has to offer in the winter months and try a new hobby or skill. Try ice fishing among the plethora of lakes available to us!
A great starting place would be the trio of interconnected, tributary lakes in Churchill, Frobisher, and Peter Pond Lake along Highway 155 in the northwest corner of Saskatchewan. The Kisis Channel connects both Churchill and Peter Pond Lake while Frobisher feeds in from the north. All 3 lakes have an ample population of Northern Pike which is one of the largest fish that can be caught in Saskatchewan, and not surprisingly, are a fisherman's and fisherwoman's crowned jewel for the sporting fight they put on before being landed above an ice hole.
One of the easiest yet most effective ways to catch Northern Pike is by using tip-ups. They are simple to learn and can be tremendous fun. Tip-ups offer an affordable and exciting way to catch Northern Pike because once a flag springs into the air signaling a fish has taken your bait the excitement as you sprint to the tip-up is undeniable. You will wonder why you haven't tried ice fishing before.
Being out in nature has other rewards in the winter as well. The aurora borealis – or northern lights – reflected off of an ocean of snow on an unceasing landscape such as a frozen lake is something everyone should behold in their lifetime. This serene and gorgeous sight can become commonplace for you, but will never be less breathtaking if you happen to fish at night for Northern Pike.
If you feel out of your element traveling a bit to try ice fishing don't allow that to hold you back. Utilizing a fishing guide or local resort can make for a more pleasurable experience, and they can contribute a lot (if not all) of the gear you may need for a day outing or even a full 24 hours of ice fishing. This niche wisdom and experience can ensure you are closer to filling your limit while expanding your photo reel for the adventures you share with your family and friends.
Ice fishing is a winter pastime that can be enjoyed by all. Not only are Northern Pike a species of fish that are prized for their challenging fight, but they also are marvelous with a side of chips as a personally and proudly sourced meal. Don't get the winter blues. Instead, lace up your boots and travel to give ice fishing a try. You never know, it could be your new favorite hobby, and you can start that game-planning process easily on fishhuntsask.com.
Source Link