Adam Scepaniak   11.05.21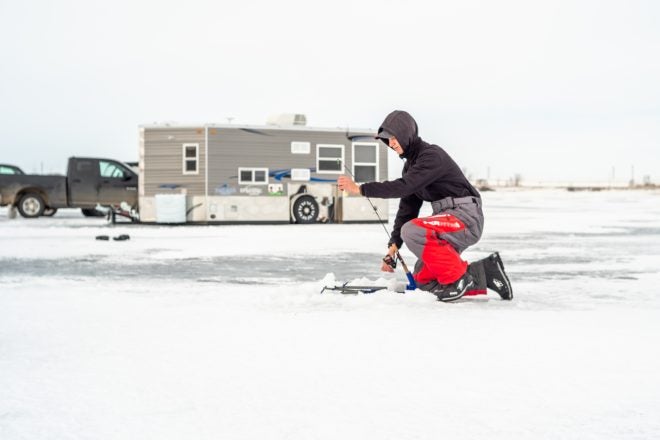 This time of year signifies the changing of seasons in more ways than one. For those of us who consider ourselves outdoorsmen and outdoorswomen, the leaves have turned and fallen with an extra crisp bite in the air signaling that camping and hiking will not be as enjoyable as it was weeks before. For the hunters among us, many seasons have started or will be soon wrapping up for big-game animals to pursue. So, for the adventurous lot in society like us, what is one to do in the winter, so we are not struck with cabin fever? One winter recreational activity that can get you to beat the doldrums of the cold is ice fishing.
Throughout the province of Saskatchewan there are abundant opportunities to go ice fishing in the winter with easy access, low cost of investment for beginners, and it stokes those adventurous fires we have to get outdoors when we otherwise might resign ourselves to staying indoors. Two incredible ice fishing locales are Montreal and Doré Lake in Saskatchewan which are ripe with walleye and northern pike. Both of which are great white fish for eating and are tremendous sport fish who will give you a robust fight when bringing them topside. In fact, Doré is so plentiful with walleye that its name is French for walleye.
Ice fishing for walleye in the winter on lakes such as Montreal and Doré can be easier than you think. With the advent of the smartphones we carry around with us, you can download topographical lake maps with ease to identify potential hot spots for fishing. Simply locate sharp drop off areas from shallow to deep waters and you can slip-bobber fish with Swedish Pimples or an even more basic Eagle Claw baitholder and a minnow. You don't need to invest hundreds of dollars in gear to give this winter sport a try for one season not knowing whether you will try again. Also, going it alone can be half the adventure of learning a new hobby and skills along the way. With only $100 or less in gear and a bit of ambition, you too can be out on the ice reeling in a walleye for a slab of dinner and a bit of glory amongst your friends.
If you don't want to go it alone, there are innumerable fishing resorts you can look to as well. Winter ice fishing resorts allow you to have a day's stay in a heated fish house so you can be fishing in your stocking feet as if it were from the comfort of your living room. These amenities extend to a plowed road to your rented fish house, the prerequisite bait you will need for the day, and locations are pre-scouted and chosen for potential success so often times you simply need to show up. Employing a resort to afford you those extra creature comforts can allow for you to solely focus on fishing if you are a first-timer. Understand the ebb and flow of when fish bite throughout the day, the delicate dance of jigging your bait so it is most appetizingly presented to them, and learning the best way to set the hook before the vigorous fight to the surface begins.
So, whether you forge ahead like a pioneer into a new sport alone or opt for a more relaxed setting, you are sure to have a memorable winter exploring ice fishing throughout Montreal, Doré, and other frozen lakes in Saskatchewan. Winter does not need to be a time of reclusion in your home for 4 – 5 months. Get out and enjoy what winter brings like any other season has to offer. For Saskatchewan, that is ice fishing, and its never been easier to plan a trip than on fishhuntsask.com.
Source Link