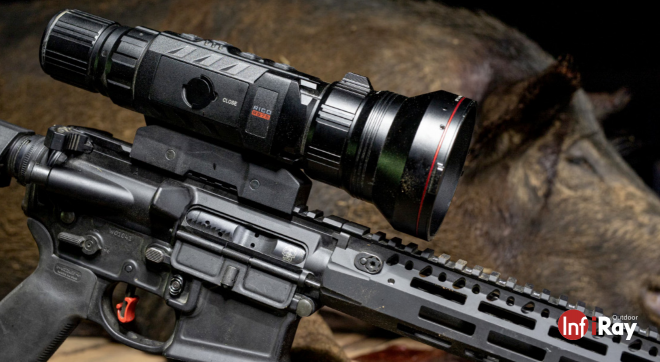 iRayUSA continues to push the envelope in the thermal world with the RS75, the first commercially available 1280×1024 resolution thermal weapon sight. With more states every year adding night time hunting, shooters demanding more capability, and advancements in imaging technology – the RS75 is entering the market at a great time. The new RS75 sports a new large senor that increases image resolution, sharpness, and field of view. The high resolution 2560×2560 AMOLED display will translate the new sensors image into a clear picture with no loss of detail.
The Rugged Infrared Compact Optic(RICO) HD RS75 is the first commercially available 1280×1024 resolution thermal weapon sight ever created. You read that right, the legendary thermal image quality produced by a High Definition(1280×1024) thermal sensor is finally commercially available to night hunters in the form of an advanced weapon sight. The RICO HD RS75 has an incredible 1,310,720 pixels processed by InfiRay's proprietary MATRIX III algorithm to create an image so clear, it is almost unbelievable.

It's been more than a decade since the leap from 320×240 resolution to 640×512 resolution thermal sensor technology, but the inexorable advancement to 1280×1024 resolution has been approaching quietly in the background. As night hunters we have always wanted more performance out of our optics, but the problem was we couldn't do that with existing technology which had reached its limits. Through years of research and development by an engineering team of over 500 devoted to sensor innovation, InfiRay Outdoor has unleashed the capabilities that night hunters have only dreamed of.

The RS75 maintains many familiar RICO Mk1 characteristics including a 4 button layout, similar software style and menu functions, and high speed germanium objective optics. In addition to the tried and true features of the MK1 line, InfiRay Outdoor added several highly requested features to the RS75 including 128gb of internal storage space, an upgraded 2560×2560 AMOLED display, an enhanced microphone, and a recoil mitigating mount for increased durability.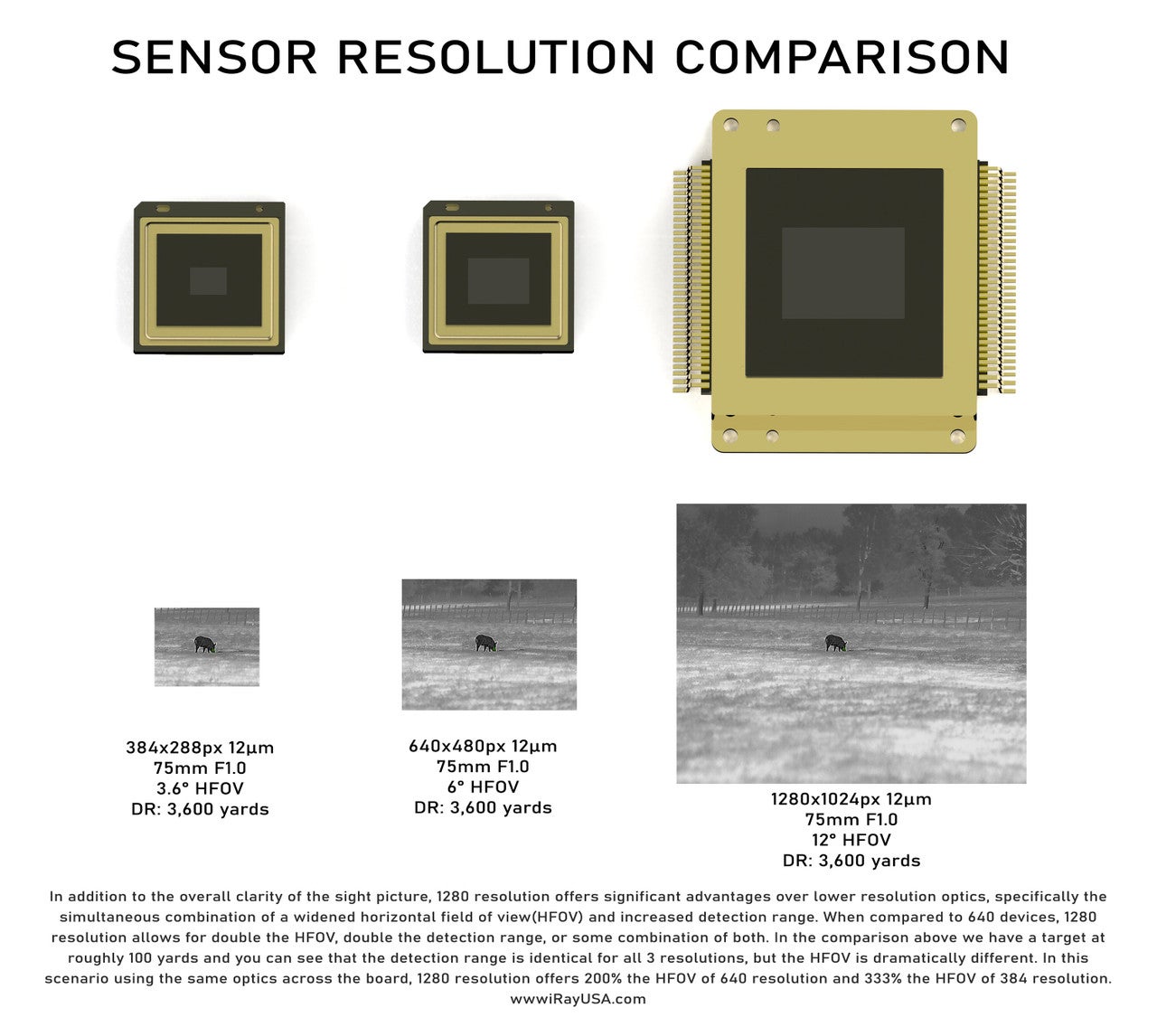 RICO HD RS75 Thermal Weapon Sight – Specifications
Sensor
1280×1024 Sensor Resolution
30hz Framerate

12 μm

Pixel Size
Optics
75mm f/1.0
2x Magnification
16x Digital zoom

11.7° × 9.4°

FOV
3,600 Yard Detection Range
AMOLED Display
2560×2560 Display Resolution
60mm Eye Relief
Physical and Warranty
12.55" × 3.93" × 3.34

" size
44.9 Oz Weight
T-6061 Aluminum Housing
IP67 Rated

1000 g/s² (300 Win./7mm Mag)

Maximum Recoil
5 Year Warranty
$17,999.00 MSRP
For full specifications and dealer locator, see iRayUSA.