Adam Scepaniak   03.21.22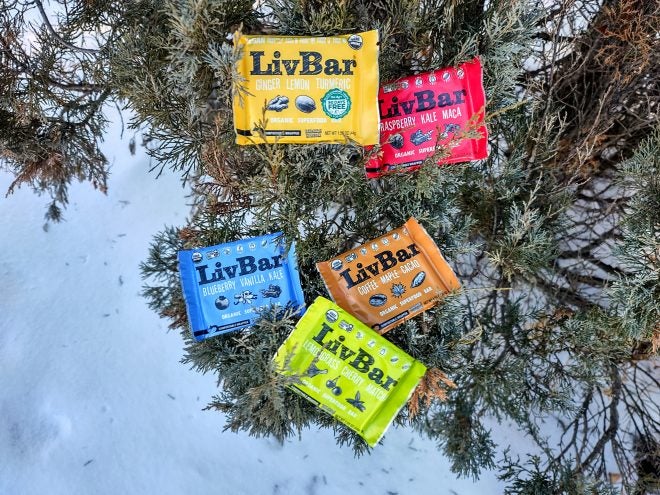 When it comes to all of our outdoor explorations we want to escape civilization for a weekend or sometimes even an hour. During these raucous adventures hunger may strike so we need to pack a snack (who doesn't love snacks?). The dilemma is packing something that is nutritious, energy-inducing, and delicious. No one wants memorable exploits out in nature to only bite into an uninspiring food bar. That is why we are examining a new energy bar today in LivBar. They tout organic, vegan superfood energy bars that look to fuel you for all of your adventures. We will see how they stack up today in our review of LivBar. Let's dive in!
Food Coverage on AllOutdoor
About the Company – LivBar Organic, Vegan Superfood Energy Bars
When you hear a company is putting out products that are organic, vegan, and deemed superfoods you know there is going to be a strong "Why" as to how the company started. This holds true to LivBar. The owner and founder, Jan, explains how her personal story started from doing something for her family and blossomed into something much bigger:
"I originally created these bars for the ones I love, my husband Gabe and my family. Gabe has multiple food allergies and I wanted to make him an on-the-go snack that tasted good and was made with real food. Then it grew into a movement!

I'm a practicing nutritionist and my clients needed an organic, nutritionally balanced, low allergen bar as well. I take my clients grocery shopping and they were always asking for an alternative to the options in the energy bar aisle.

I'm so thankful to be able to now offer an organic, baked, superfood energy bar in all 50 states. Not only can you taste the LivBar difference, you can feel good about it – we pack every bar in a home compostable wrapper, and LivBars are baked in our own solar powered facility. We hope you enjoy LivBars as much as our friends and family!"

Nutritional Data – LivBar Organic, Vegan Superfood Energy Bars
What may draw a lot of consumers to LivBar is their approach of being sensitive to certain dietary restrictions people might have. If you can't eat peanuts or abide by a vegan diet, then a LivBar might be perfect for you. This makes them one of the most versatile on-the-go, nutrition bars on the market. The rest of the highlights from LivBar for most all of the flavors they offer can be read below:
Low Glycemic Index
USDA Certified Organic
No Genetically Engineered Ingredients
0g Trans Fat, Low Sodium
Gluten, Soy, Dairy, Corn, Peanut Free
Home Compostable Wrapper
Vegan, Plant Based
Nutritionally Balanced
Crunchy & Chewy
Real Food Ingredients
Won't Melt Or Freeze
Immunity Boosting Ingredients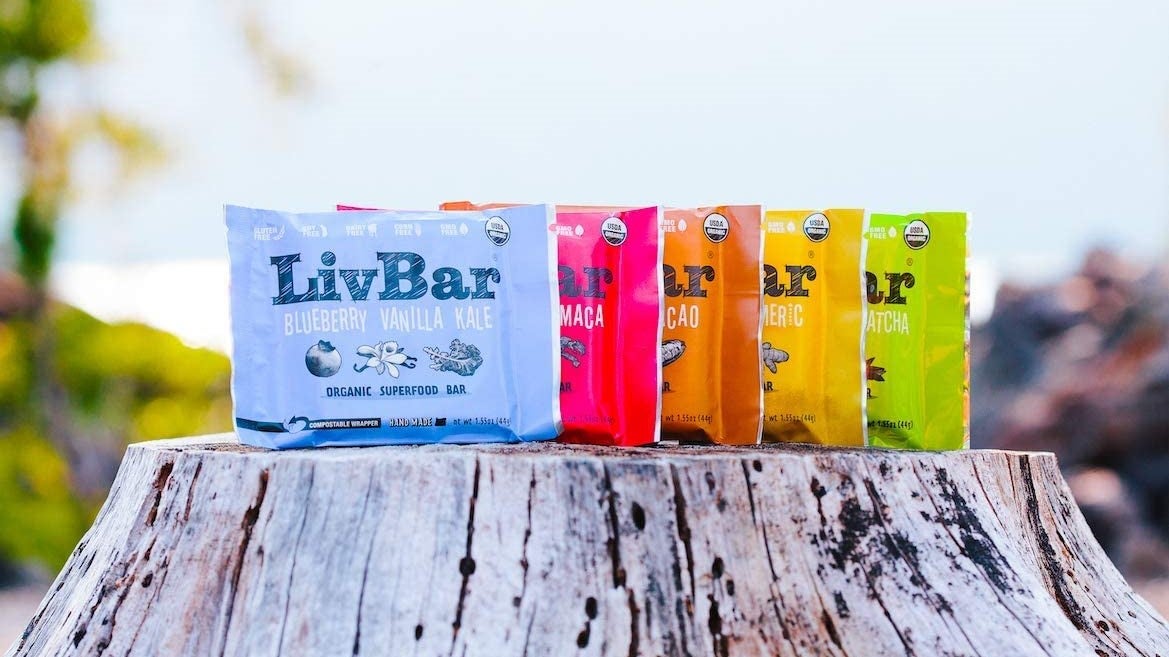 All of the LivBar products offer a 100% Satisfaction Guarantee and are 100% baked making them resistant to freezing or melting. They are perfect for camping, biking, running, yoga, or whatever other activities you might engage in that need a boost of fuel and energy. LivBar also offers recipes on their website for many of their bars to get your creative kitchen juices flowing. The variety pack of 12 bars we received for this review retail for $33 off of the LivBar website. Finally, a statement from LivBar can be read below further explaining their superfood energy bars:
"Vegan Superfood Energy Bars That Provide Balanced, Sustainable Energy With Healthy Fats, Carbs, Fiber, And Protein In Whole Food Form.

Can't choose a flavor? You don't have to! This pack all of our 5 flavors: 3 Raspberry Maca, 3 Blueberry Vanilla, 2 Coffee Maple Cacao, 2 Ginger Lemon Turmeric, 2 Lemongrass Cherry Matcha."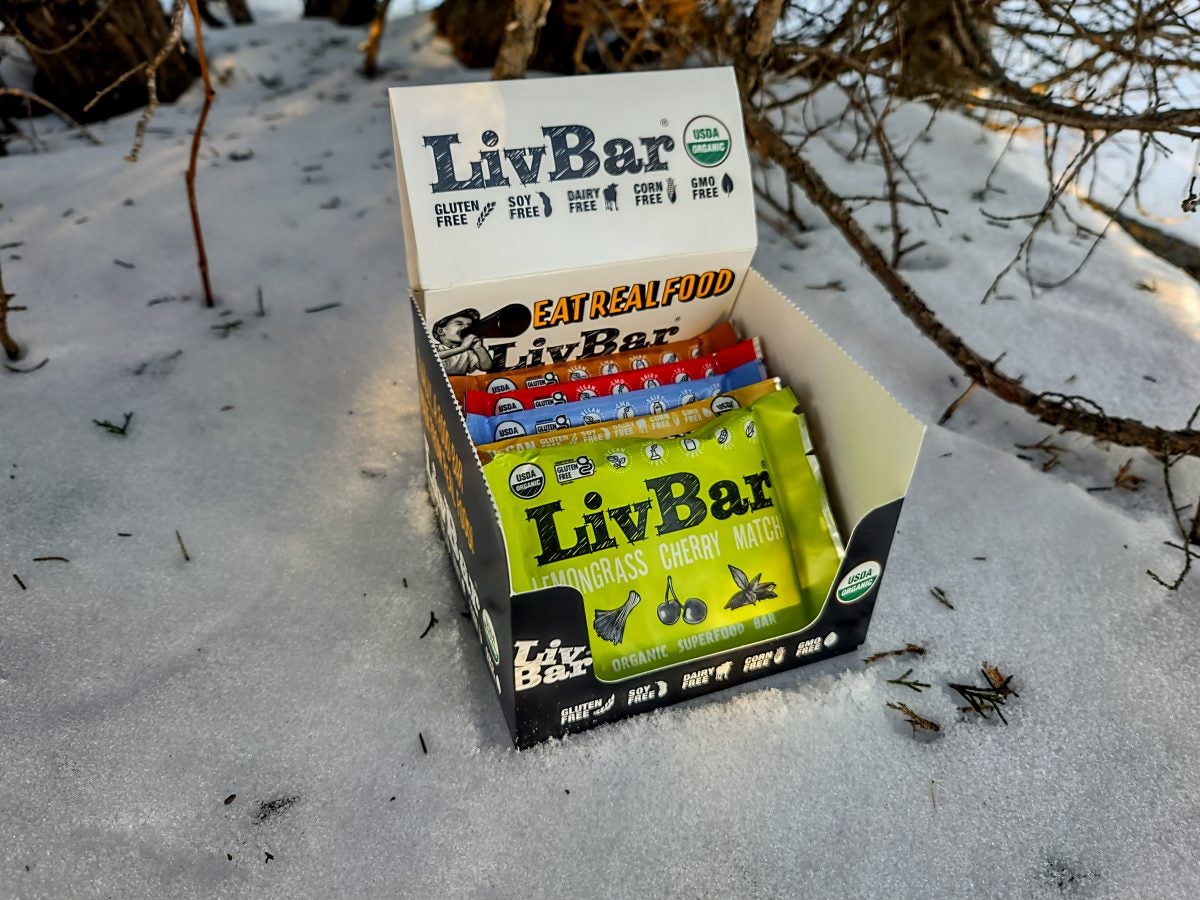 Field Use – LivBar Organic, Vegan Superfood Energy Bars
Now comes for the fun part of eating and enjoying the LivBar sent out to us. Throughout the winter months, I spend a lot of time outdoors tending to red angus cattle, mangalitsa pigs, and walking my two rambunctious corgis. When it comes to getting in snacks during winter activities I need them to be consumable quickly (because I typically want to put gloves back on to keep my hands warm). As a result, the LivBar was very conducive to that. I could peel open a LivBar, quickly eat the whole bar, and get back to work.
The variety pack sent to us was nearly all good flavors. I thoroughly enjoyed the taste of Blueberry Vanilla, Coffee Maple Cacao, and Raspberry Maca. All of them had a light taste of their flavor that wasn't overpowering along with the many nuts, kale, and other ingredients that hold the bar together. The only flavors I was indifferent about were Lemon Ginger Turmeric and Lemongrass Cherry Matcha. They did not taste bad, but for my personal palate and preferences they were more plain to me.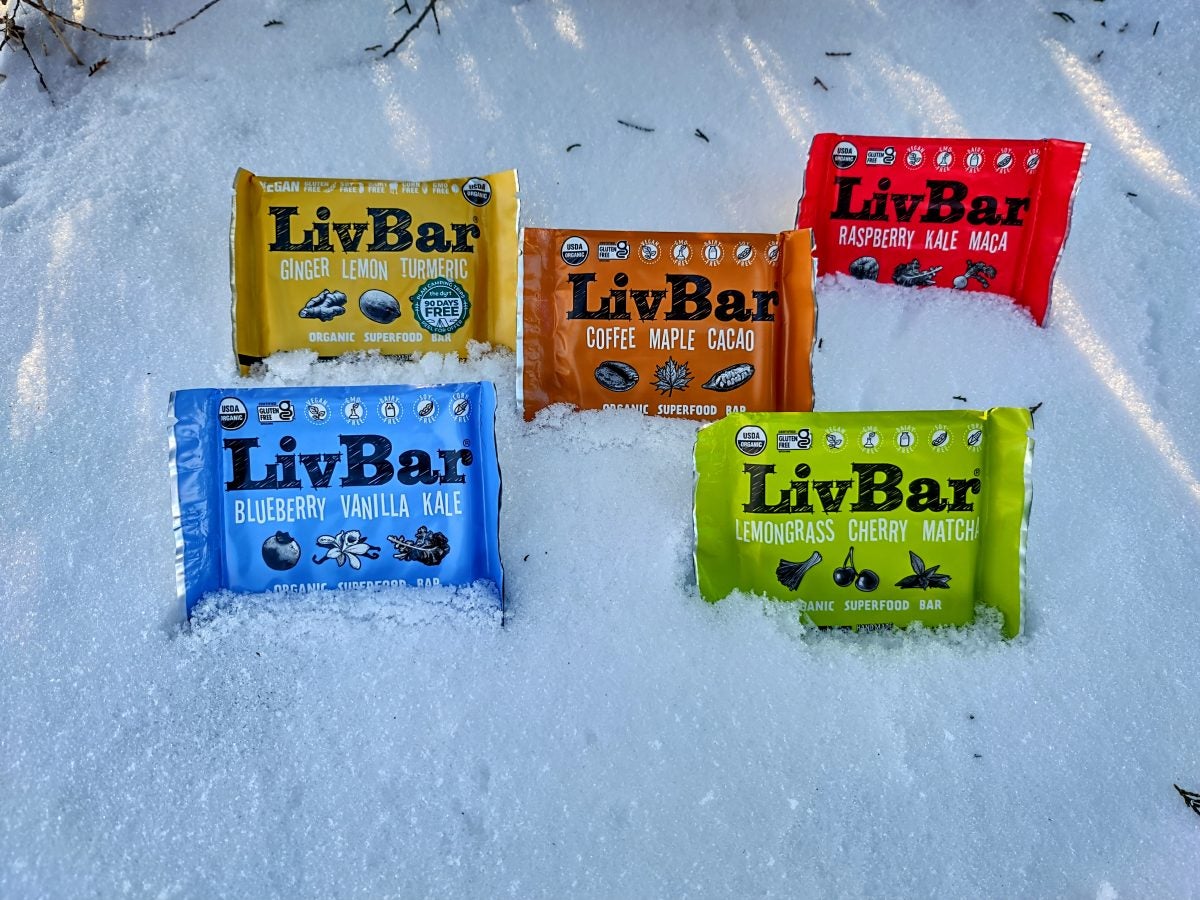 Overall, I appreciated that all of them are light in calories and are natural. They were easy to digest while being active and provided the small boost of energy I was typically looking for at the time. Many comparable bars will either have your stomach growling in odd ways (worse than my corgis) or they have so much sugar you inevitably crash at some point. This was not the case with LivBar.
Final Thoughts – LivBar Organic, Vegan Superfood Energy Bars
So, what are my final thoughts on LivBar and their Organic, Vegan Superfood Energy Bars?… Overall, I was impressed by their taste – although they are very "nutty" – and they were something you could easily digest whether you are going with a leisurely walk with some dogs, or more aggressive work like sorting red angus cattle. I also appreciate the fact that LivBar has a compostable wrapper for a smaller "carbon footprint" of their product. All in all, I would definitely recommend LivBar to my friends for an on-the-go bar that packs energy.
In closing, I want to say thank you to LivBar for allowing AllOutdoor and myself the opportunity to try out their LivBar Organic, Vegan Superfood Energy Bars. That is greatly appreciated. Also, we would like to know what all of you guys and gals think? Do you believe that the LivBar Organic, Vegan Superfood Energy Bars are something worth spending your money on? As always, let us know all of your thoughts in the Comments below! We always appreciate your feedback.