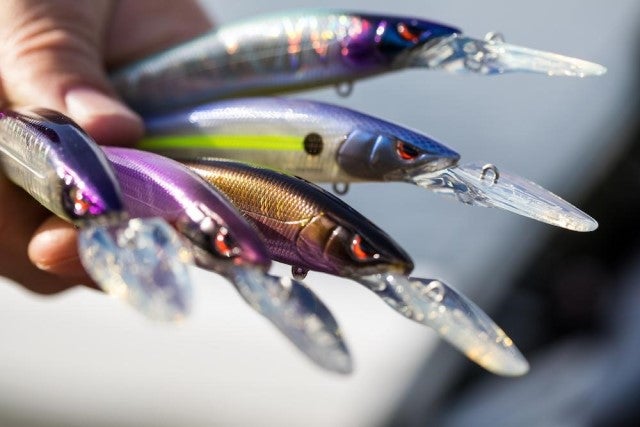 With the development and proliferation of forward-facing sonar, finding fish in deeper structure has become easier than ever. To match the advantage anglers have with forward-facing sonar, deeper diving jerkbaits have become a staple in every angler's tackle box. The ability to get the bait down and in front of the fish quickly is key. That way an angler can maximize their catch for the day on the water. This is where Spro's new McStick 110+1 comes into the picture.
Even though you can find the fish it doesn't mean you can catch them, various conditions determine what action is needed by the angler. The temperature, water level, O2 content, spawning stage, and the forage of the body of water all determine where the fish are and how you should fish them. Spro's highly effective McStick 110 jerkbait has been a popular choice for working fish suspending deep, but now Spro has now released the new McStick 110+1. This new jerkbait allows anglers to reach new depths thought the year. So even if conditions drive fish down from the bank into a deeper water suspending pattern the new McStick 110+1 can reach them.
This new model in the highly effective Spro McStick jerkbait lineup is designed to dive down to 9 to 12 feet of water. Once down at depth, its ripping and erratic action will help anglers to trigger strikes. The lure is perfect for targeting suspended walleye, large or small mouths holding in the water on deep structure, or any other predatory fish species staging near the 10 feet down in the water column. The design of the McStick 110 +1 allows anglers to fish closer to suspended bass by getting down to the depth of the fish quickly without the need for long casts. This dramatically increases hook-ups since the lure can be worked for long in the strike zone.
It is built using premium Gamakatsu razor-sharp hooks and offered in seven fish enticing colors, the McStick 110+1 is an excellent jerk bait at a very competitive price. Fill the niche roll that is needed for those tougher conditions with the new McStick 110+1.

SPRO McStick 110+1 Features:

Deeper Running Version of the McStick
Dives 9' – 12'
Ripping Action
Great for Forward Facing Sonar

SPRO McStick 110+1 Specs:

110mm
½ oz.
Gamakatsu #5 Trebles
MSRP $14.99
To be released in Summer 2022 at various retailers and online, to see more Spro products go check them out here