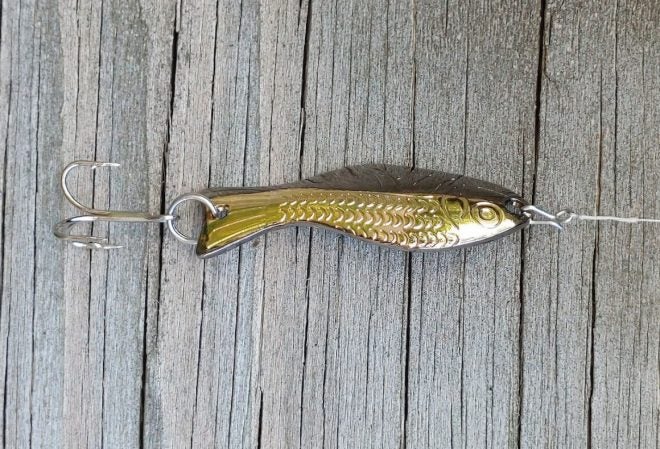 Most of us nowadays are always short on time, between work, family, and errands. Getting some free time for yourself to be on the water is hard to do. So when you do finally make it out there you want to keep your line in the water for as long as possible to catch as much as possible. But when trying to figure out a pattern there's a lot of cutting of lures and swapping, which eats into your precious water time. Now a very old name in the lure industry is introducing a NEW option for lightning-fast lure changes. Al's Goldfish Lure Company has now introduced the new Al's Kwik Klips for lure swapping with no cutting and retying.
The klip was originally designed for use when fly fishing for easy fly changes, even capable of floating with dry flies. Anglers like TJ Gramberg, Al's Goldfish Lure Company's Wisconsin Fishing Ambassador, use the klips in all sorts of fishing styles.
"I love using Al's Kwik Klips because they offer the ability to switch baits quicker, allowing me to cover more water in a short amount of time," Gramberg said. "They also provide me with confidence that I have a secure connection to any bait I use. The different sizes of Kwik Klips allow me to vary my bait sizes, and I like to put different-sized Kwik Klips on different rods, which lets me quickly change from using a 1/2 oz. Al's Goldfish lure on one rod, to using a 3/16 oz. Goldfish on a different rod. Best of all, Kwik Klips have the strength to pull in fish of all sizes without fail. I never head out without them."
TJ uses the smallest of the clips, small/medium, when vertical jigging on the ice, and the larger sizes, medium / large/ extra-large, when fishing open water. Chancing the size of klip she chooses depending on what lure she's fishing. She's used them to land everything from small panfish, medium-sized bass and walleye, and even large northern pikes.
The NEW Al's Kwik Klips design will never let you lure whip off the end of your line, and allows for all lures and flies to still have the intended natural action. Just tie one onto the end of your line and let it quickly and easily swap between lures and flies. No cutting and retying just klip on and be ready to fish. Available in four sizes:
(Size A) Small – up to 9 Lb
(Size B) Medium – up to 11 Lb
(Size C) Large – up to 21 Lb
(Size D) Extra Large – up to 40 Lb
The suggested retail price is $2.99 for a package of six klips. To see more info on this new product come visit https://www.alsgoldfish.com/, or give them a call at 413-543-1524.