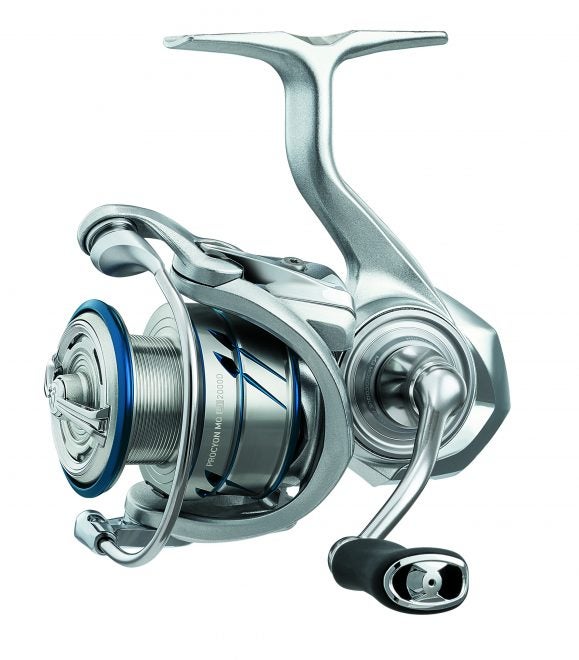 Newly redesigned for an even higher level of performance, the new Daiwa Procyon MQ LT spinning reel family is back and better than ever. Purpose-built for both freshwater and inshore applications, this reel can go from speckled trout, redfish, and snook to bass, pike, walleye, and trout. The Procyon MQ LT offers anglers the perfect reel for pursuing whatever fish they want.
In application, the Procyon MQ LT is available in five sizes ranging from the smallest PCNMQLT1000D model
for panfish, ice fishing, and trout all the way up to the PCNMQ4000D-CXH, which fits in nicely for targeting fish in the mangroves or larger freshwater fish.
The Procyon MQ LT is very rich in features, first off the reels are made with a one-piece monocoque Zaion V
body that allows flex in the frame and body. This provides better support for all the gears and bearings, leading to increased torque and power and increased longevity for the gearing. Besides this, the one-piece monocoque Zaion V body of the Procyon MQ LT is incredibly lightweight.
The reel line has these other unique Daiwa features, an Air Drive rotor. Designed to be rigid and capable of handling high drag pressures with little flex. A Tubular Air Bail, reduces weight and increases rigidity over a standard bail wire. Daiwa's Digigear technology, for considerably better gear meshing, increasing smoothness and reducing gear wear.  Daiwa's unique Advanced Tournament Drag (ATD™) is beneficial for setting the
hook and fighting fish. When you set the hook, the reel instantly adds drag resistance.  Then as the
fish starts taking drag, the ATD drag curve automatically returns to your original setting The Procyon MQ LT family also has a machined screw-in handle that connects directly to the main drive gear.
Daiwa Senior Marketing Manager, Marc Mills, comments: "The Procyon MQ LT is coming in at $179.99. This is the lowest price point that you can get the MQ body. At under $200, you get the MQ body, Air Rotor, Air Bail, Digigear, a direct-drive machined aluminum screw-in handle, and an all-new color and design with the vibrant island blue highlights and silver on top of silver. It's a nice-looking and performing reel for freshwater or inshore applications. And it is family priced all the way from a 1000 size to 4000 size reel."

Mills continues: "This reel is intended for the angler who wants to make the switch to Daiwa MQ technology-driven reels, more power, better durability with bigger gears, and smooth operation. The customer could be anyone from a trout angler to an inshore fisherman. The reel features 6+1 ball bearings. The 1000 also features 11 pounds of drag which is great for panfish, trout, ice fishing, and ultra-finesse presentations; then we bump up the 2000, 2500, and 3000 to 22 pounds of drag. And then the 4000—which is going to be great for inshore fishing—features 26.4 pounds of drag."
Features
One-piece Monocoque Zaion V Body
Air Rotor
Air Bail
Machined TOUGH DIGIGEAR
Machined Aluminum Screw-In Direct Drive Handle
ATD Drag System
For anglers who fish in fresh or inshore waters, they should look no further than these reels, engineered with care with them in mind. You can check out the Procyon MQ LT here
MSRP – $179.99