Do-It Molds, a leader in the DIY lure industry has announced its newest soft plastic molds: the new Do-It Molds Brush Bomb. This mold was developed for the custom tackle community and avid panfish anglers who are looking to bomb into thicker areas to get where fish are being held and are often difficult to be pulled out of.
"The panfishing segment in our industry is often overlooked and it was time for Do-It to focus on an exciting and effective new product for this community. This mold borrows elements from the bass world, to bring crappie bait builders a big fish profile, and an excellent hover or pitching bait when targeting fish above brush piles or in heavy cover." – Brennan Chapman, Product Development
The new Brush Bomb's 2″ profile produces a "bombing" action. This lets the lure punch down into the brush piles and structure that crappies and bluegill live and feed in. The Brush Bomb's tail is designed to be versatile, allowing the angler to tear the appendages apart to customize it on the fly. Either whole for a more hovering action or torn apart for more action to entice a bite. The small 2″ profile makes for the Brush Bomb to present itself as a tasty morsel for panfish. That size along with the ribbed body and loud profile should entice many strikes.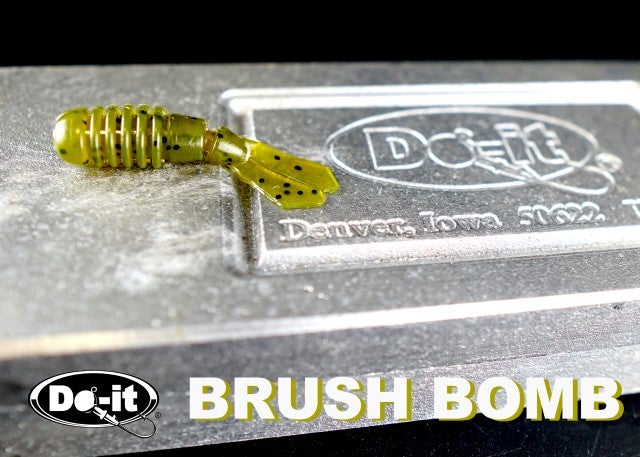 This new mold is part of the Do-it Essential Series of Molds line. It is made of a high-quality sand-cast aluminum frame that's been machined. The new Brush Bomb mold has 5 lure cavities and includes 2 separate tail cavities for the easy addition of different colors. This is great for the angler who wants to make a brush bomb that looks like nothing else out there.
The new Brush Bomb mold is slated for release at ICast 2022, July 19th – 22nd, 2022. It will be immediately available for purchase in July after the release at ICast 2022 at www.do-itmolds.com. After which, it'll be coming soon to custom tackle retailers everywhere at an MSRP of $45.