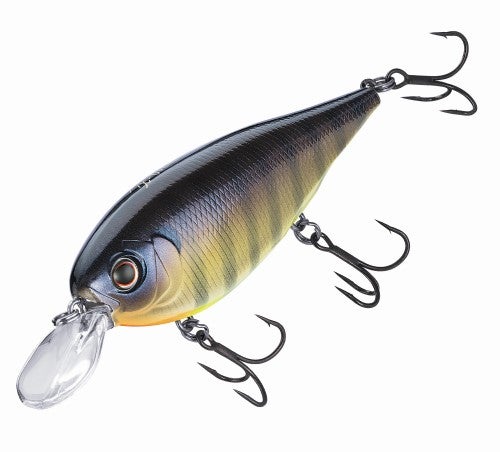 No matter what body of water you're fishing, be it in the US or elsewhere in the world. If there is a shad species or a shad-like species swimming around, there will be some sort of predator chasing and feeding on them. So making either a jerk bait or crankbait to match this profile is sure to catch fish.
This is where the Evergreen xv-5 crossover hard bait comes into the picture. It is a shad bait that is unlike anything on the market, a brand new take on shad profile crankbaits. The XV-5, much like other Evergreen lures, finds its roots in pressured Japanese waters where the cutting edge and new are of the utmost importance.
So with that in mind, Evergreen is proud to introduce their new take in shad-profile crankbait design at ICAST2022. This refined lure is sure to please even the most discerning anglers looking for the perfect middle ground between a crankbait and jerk bait.
The XV-5 was painstakingly designed and tested to catch fish on famed waters like Lake Biwa. This bait does not feature any knockers or rattles on purpose, to be subdued for when targeting pressured fish in clear waters. It has a tight wobbled action that produces all the vibration and sound necessary to subtly draw in predator species of fish.
Daiwa/Evergreen Senior Marketing Manager, Marc Mills, comments, "Ever since Evergreen started designing and building baits our first concern has been to create lures which look and act realistically. Now, in addition to that challenge, we've also explored more effective combination of colors and actions that provoke predatory fish."
The body design and shape of the XV-5's body is just like a shad. Having a tapered tail, a V-shaped concave belly design, and a slightly fatter midsection. This body is matched to the XV-5's signature action of its tight wiggle when swimming. This combined with the picture-perfect profile makes for a lure capable of summoning many bites on the water.
The XV-5 is available in six colors with possibly more coming out in the future; Cold Shad, the slightly-transparent Ghost Threadfin Shad, Flash Hasu, Secret Ghost Chart, and Bluegill Chart Belly.

Fish either up top or deep, expect to draw in bites even in tough conditions with the new Evergreen XV-5
FEATURES & SPECIFICATIONS

Crossover shad-crankbait design – part crank, part jerkbait
Five initial shad/panfish colors in the bait family
Unique placement of three hooks—versus two—for maximum hookup potential
Slow rises on the pause
Silent – no knocker – for pressured fish and clear water
Runs 3' top 7' deep
3 ½-inch length5/8 oz
The Evergreen XV-5 is supposed to be available this November 2022.  Check out other Evergreen lures here at evergreenbaits.com. Also, the expected MSRP is set at $18.99.