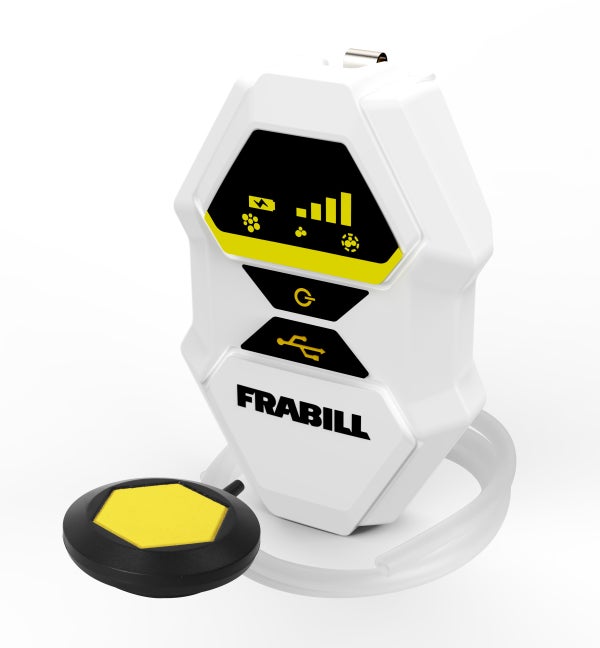 With 80 years under its belt, Frabill has been the market leader in the live bait management space. And now they are continuing their tradition of being market movers with their newest aerator. The new ReCharge Deluxe Aerator is their newest product for anglers. This new mobile livewell aeration system is built with a new induction motor system that provides reliable use trip after trip for keeping bait alive and frisky.
The ReCharge Deluxe Aerator comes equipped with a rechargeable lithium-ion battery, so say goodbye to clunky D-Cell batteries. No more dealing with cold-sapped batteries, the new lithium-ion battery can be conveniently recharged with the included 10V adaptor or through a USB charger.
The body of the aerator also has a water-resistant gasket designed with an anti-backflow check valve that keeps water out and your bait alive longer. The back of the aerator has a universal hang-on clip with stability posts. This allows anglers to bring an aerator on fly-in trips, shore fishing, or on any boat. The ReCharge Deluxe Aerator can turn any bucket or nearly any waterproof container can become a viable live well bucket.
With the lithium-ion batteries, and the ability to easily recharge, the new ReCharge Deluxe Aerator sets the bar high once again in the bait management market. The new power induction motor and long battery life should help you keep your baits fresh and frisky even for a long day out on the water.
Key Features

• Rechargeable lithium batteries
• USB Cable with 10V adapter
• Durable and quiet induction motor
• Water-resistant gasket with anti-back flow check valve
• Digital 3-position switch with two speeds and intermittent mode
• Deluxe air stone
MSRP – $69.99
Available at fishing retailers and online Late Fall of 2022
To see other Frabill products and learn more about them check them out here.