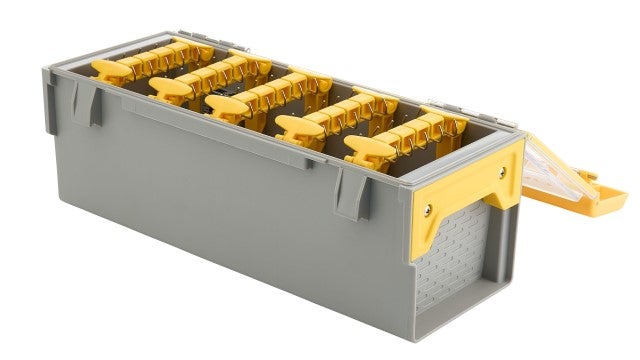 The Edge line of tackle and storage boxes is one of the most popular from Plano. They are proven favorites due to their intuitive designs that help store tackle in the most secure yet easily accessible ways possible. The Plano Edge line makes it much easier to use when the bite heats up and you're in a rush either retying or switching up your lures. Plano is now introducing the Plano EDGE Frog Box to their line of top-quality tackle boxes.
The Plano EDGE Frog Box has an innovative new design that allows up to 50 frog lures to be stored securely. Using the line tie of the frogs this makes for a box perfect for organization and protection of the lures. Along with this system the box has additional features to help you out. Such as the WaterWick divider, which is in all Edge boxes, that has a reusable moisture-absorbing pack. A Dri-Loc O-ring seal around the perimeter of the box for a watertight seal. As well as Rustrictor technology in the box material itself to reduce corrosion.
All these features in the Plano Edge Frog Box to protect the frog baits from rust and other moisture damage. Besides the protection features for your lures, the EZ label system lets you easily identify the lures inside along with the DuraView polycarbonate lid that lets you easily see inside to see what's there. This box will keep the days of having squishes and deformed frogs from happening again.
Often I have opened a tackle box of frog lures to see that I either put them away wet or had crammed them in too tight. Leaving me with rusty or deformed frogs – that while they may be fishable – definitely don't produce the exact action I was wanting. The new Plano Edge Frog box offers a long-term solution for storage and keeping your pricey lures in good condition all year round.
Plano EDGE Frog Box – Key Features
Holds up to 50 baits by the line-tie
Protects and maintains baits for longevity
WaterWick technology with reusable moisture-wicking packet
Dri-Loc O-ring seal
EZ Label system for quick identification of contents
DuraView crystal-clear polycarbonate lid
MSRP is $54.99
Available in September 2022
To see more of the Edge Line of Tackle Boxes click here
To see other Plano Products click here