Engel has released an all-new Lithium-Ion rechargeable live bait pump. Engel Coolers, a company known for its high-end rotomolded coolers and bait boxes, is releasing the next step for portable live bait aerator pumps. A new design that improves performance and reliability. This new Engel aerator uses a USB rechargeable lithium-Ion battery that helps us get away from those bulky D-Cell Batteries.
NEW Rechargeable, Live Bait Engel Aerator
The new internal design for the Engel aerator is packed with new features. Instead of a traditional motor that pumps a rubber diaphragm to push air. The Engel incorporates two state-of-the-art electromagnetic pumps with rubber bladders to generate airflow. This removes the traditional rotating parts of the motors. No cogs, gears, and other parts to seize up with salt and rust. To deal with water and salt intrusion into the unit. The bubbler features an internal gasket to protect all the internal electronics. All the hardware and screws are stainless steel to avoid rust issues as well.
The bubbler has 4 rubber feet on the back of the unit to absorb vibrations and sound to help make this the quietest aerator unit on the market. The high-capacity Lithium-ion rechargeable battery has a 36-hour life. The pump also has a battery-saving intermittent mode to extend the battery run-time. The intermittent mode runs in cycles of 10 seconds on and off for the bubbler, to save power. Besides the intermittent mode, the bubbler has 3 other settings for a total of four settings to match the bait you are using.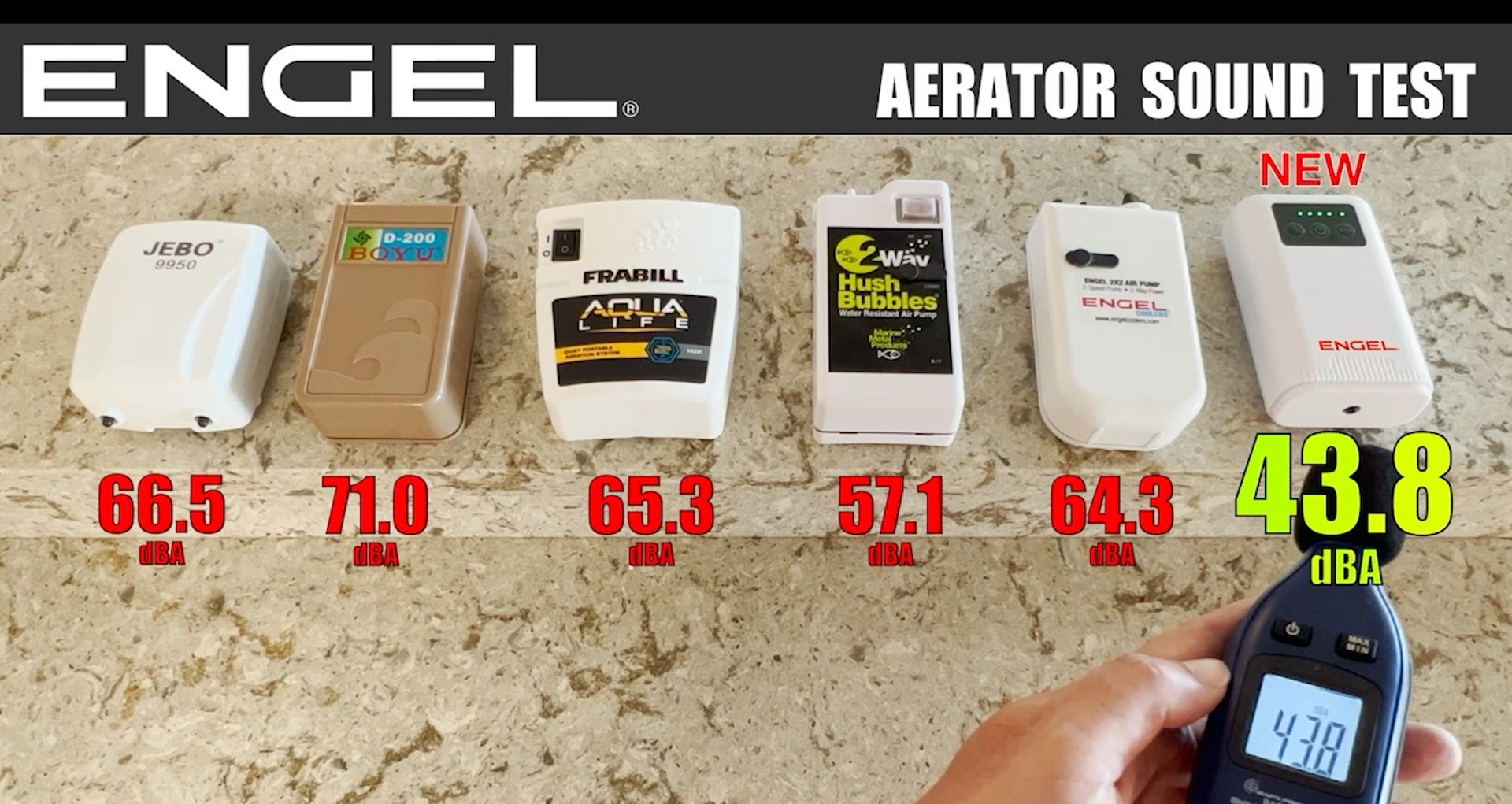 The large rear latch fits most bait buckets and live-bait coolers on the market, not just the Engel live bait coolers. The Engel Aerator is easy to charge using an included charger and cable. It has a standard USB-C port which is protected from the elements by a ribbed rubber seal to avoid any water intrusion.  Along with the charger, the Aerator comes with a 42″ silicone hose and a large weighted aerator stone.
Rechargeable Lithium-ion Battery
36-hour battery life
Standard USB-C charger and cable
Magnetic pump mechanism (no cogs or moving parts)
3 Speeds / Intermittent
Quietest pump on the market
Water-resistant and saltwater approved
2 Year Warranty
Patent Pending
You can check out the new Engel rechargeable aerator and other Engel products here