Two brand new turkey hunting loads have just been announced from the folks over at Remington. The new Premier TSS and Magnum Turkey loads are set to offer turkey hunters the best that Remington has to offer in terms of power and consistency with these new loads. The new Premier TSS is an ultra-lethal round available in the most popular shotgun bore sizes and the new Remington Magnum Turkey High-Velocity has just been tacked on to Remington's 20 Gauge lineup for hunters and sportsmen who field 20 Gauge shotguns.

New Remington Magnum Turkey and TSS Turkey Hunting Loads
The new Premier TSS is stated to be the deadliest turkey shotgun shell that Remington has made to date. Featuring ultra-dense Tungsten Super Shot payloads and was previously only available in a 12-gauge offering.  Available in 12 Gauge, 20 Gauge, and .410 Gauge, the exclusive new Remington R top-wad secures shot and buffering for consistent patterns.
"It's an exciting time at Remington and getting these loads into the hands of turkey hunters this spring is part of the fun," said Joel Hodgdon, Remington's Director of Marketing. "These loads are crafted to bring down gobblers at further ranges with more gauge options and higher velocities than Big Green has ever offered in the past."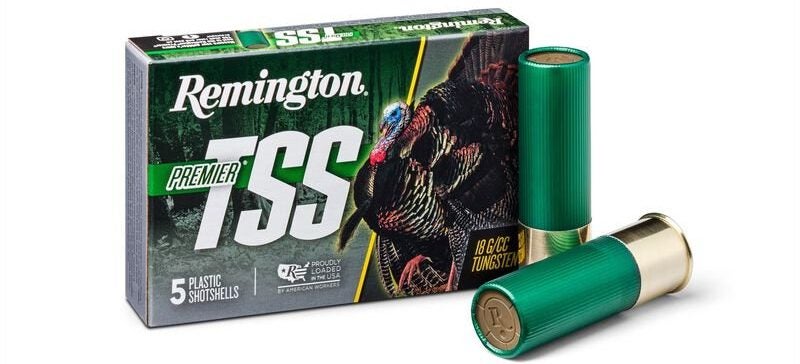 Remington is now also offering their popular Premier Magnum Turkey High-Velocity load in a 20 Gauge configuration for those who need or want a 20 Gauge option that still gives them great performance characteristics. Premier Magnum Turkey High-Velocity lead delivers hard hits and is loaded with Remington's Power Piston one-piece wad and magnum-grade lead shot.
For more information on these new turkey loads, you can visit http://remington.com. What are your thoughts on these two new offerings? Do you already have the perfect turkey hunting load or are you still on the hunt? I'm personally partial to most newer loadings of TSS due to the combination of increased density as well as pattern size consistency but those are just my preferences! What do you look for in a hunting shotgun round?