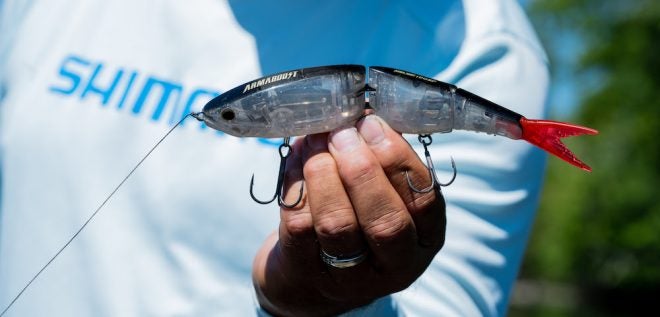 Shimano has been on a roll with releasing their World line of lures the; World Crank Flash Boost, World Pop Flash Boost, World Diver, and World Minnow. Now at ICAST2022, they have added a fifth lure to their World line. The NEW and very unique Armajoint 190Sf jointed swimbait. This new jointed swimbait from Shimano solves the challenges of casting a big jointed swimbait.
The lure engineers at Shimano used their new proprietary Arma Boost technology to increase significantly casting distance and accuracy. This is done by reducing as much unnecessary air resistance and the chances of the lure spinning midflight in the cast. When the Armajoint 190SF is cast by the angler, the Arma Boost technology facilitates the lure to disconnect from an internal magnet. This then forces the body of the lure to fold into a compact shape. Once the lure impacts the water, it unfolds and reengages with the magnet to create a smooth and natural swimming action.
As with all other lures of the World line of lures, the Armajoint also features Shimano's proprietary Flash Boost technology. This has the lure constantly flickering and flashing even when paused in the retrieve. There is a piece of reflective foil on micro springs suspended inside the body of the lure. This imitates the flashing behavior of an injured or dying baitfish. The Armajoint 190SF is a versatile lure that can be fished fast or slow with a natural S-pattern. Anglers can slow the retrieve and pause it to capitalize on the lure's natural slow-rising action. This large swimbait should excel in the early prespawn when trying to get those big girls to eat.
Weight: 1 ⅞ oz (73 g), is 7 ½-inches (190 mm) in length, and dives up to 1 foot on the retrieve
Available in 5 Colors: Ghost Trout, S Gizzard, ST BW Shad, N Hasu, and ST Purple
MSRP: $42.99
To check out the new Armajoint click here.