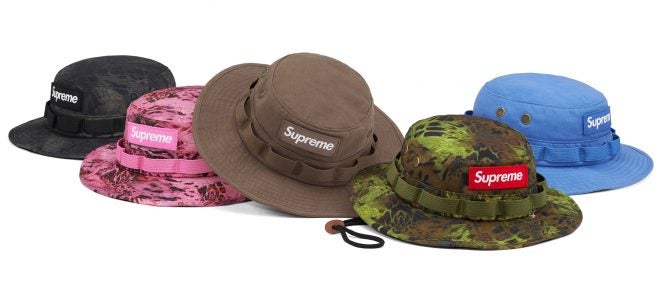 If you or someone you know is in the market for some fresh new hunting gear with a little added flair, then you'll be happy to hear that New York's fashion giant Supreme has teamed up with the well-regarded camouflage company Pyrm1 Camo to create a new Spring/Summer collection for outdoorsmen and those who just love outdoor apparel camo patterns. The new SC22 Collection will feature hats, pants, jackets, and more all using Prym1 Camo's unique licensed camouflage patterns which use a combination of organic shapes, shades, and increased depth of color to provide users with the best concealment in their chosen environment.

Supreme New York and Prym1 Camo Team up for SC22 Collection
This joint collaboration marks a monumental moment in Prym1 Camo's 7-year company history, broadening the horizons of their innovative camouflage patterns, propelling them into the high-end fashion world with an established brand. It also helps the brand break free from any stigma that their camouflage patterns are built just for hunting purposes, but rather can easily transition across into the lifestyle fashion markets, with multiple colorway options available.
The Supreme NYC x Prym1 Camo collection features GORE-TEX outerwear, from jackets to pants, as well as Boonie hats and caps in various camouflage patterns – Prym1 MP, Ambush, Pinkout, and Blackout patterns. For more information, you can visit the Supreme NYC website here to take a look at this new collaborative lineup for 2022. What are your thoughts on this collaboration? Does the chic fashion giant Supreme have a place within the hunting and outdoorsmen world? Furthermore, do Pyrm1's camouflage patterns have enough street cred to be appealing to today's trendy patrons?
"We're really excited to collaborate with Supreme New York and to see our Prym1® brand camo patterns successfully transition from the outdoor industry into the streetwear fashion world. We're in good company amongst other notable collabs in the collection such as B.B. Simon, Franklin Sports and the Airstream trailer." – Stacie Walker, Founder of Prym1 Camo®