Even if you don't consider yourself a "prepper," it's impossible to deny the value of certain basic emergency preparedness measures. A first aid kit, for example, is something every home should have. A vehicle emergency kit is another item we'd consider absolutely essential. Statistics show that driving a car is one of the most dangerous activities we do on a daily basis, so it's wise to keep some simple tools and supplies in the trunk or backseat. These might include jumper cables or a jump box, road flares, work gloves, a headlamp, a warm blanket, and so on. STEP 22 has released a new Tamarin Trunk bag that's designed to keep these items organized and accessible.
The STEP 22 Tamarin Trunk is an 18.5-liter zippered bag similar to a duffle design, but with a boxier shape and full-zip top for unrestricted access. It's made from double-layer of 500D nylon plus C.R.A.W.L. (Coated Rugged All-Weather Layer) finish and a padded base layer. There are grab handles on all four sides plus a carry handle on top, so you'll be able to pull it from your trunk easily even if there's other cargo around it.
The YKK zippers feature T-pull handles and reflective red cord for quick access. Removable compression/accessory straps keep the contents compact, or can be used to lash oversized items to the exterior. As for the interior, it consists of a single spacious compartment with a zippered mesh pocket on the inside of the lid. The main compartment can be used as-is for large items like power tools and recovery straps, or it can be sub-divided using STEP 22 Tenkile pouches or Quoll Packing Cubes.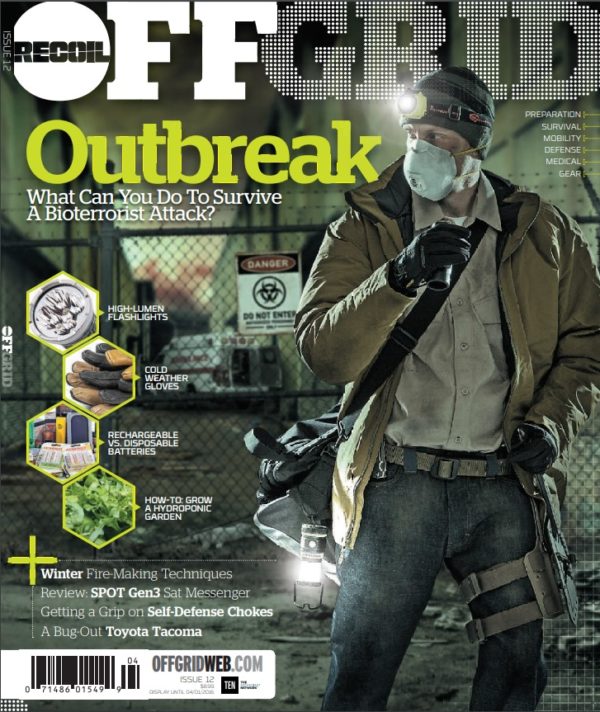 Subscribe Today and Save!
Above: Although the Tamarin Trunk seems best-suited to storing vehicle emergency gear, it can also be used as an organized compartment for camera gear and other small items.
The STEP 22 Tamarin Trunk is available at an MSRP of $90, with removable pouches and packing cubes sold separately. Additionally, a portion of every sale goes towards conservation of the Cotton Top Tamarin (one of the most endangered primates in the world) and the Rhino Recovery Fund. For more information on the Tamarin Trunk, go to STEP22Gear.com.
---
Prepare Now:
Disclosure: These links are affiliate links. Caribou Media Group earns a commission from qualifying purchases. Thank you!
---
STAY SAFE: Download a Free copy of the OFFGRID Outbreak Issue
In issue 12, Offgrid Magazine took a hard look at what you should be aware of in the event of a viral outbreak. We're now offering a free digital copy of the OffGrid Outbreak issue when you subscribe to the OffGrid email newsletter. Sign up and get your free digital copy Click to Download!
---