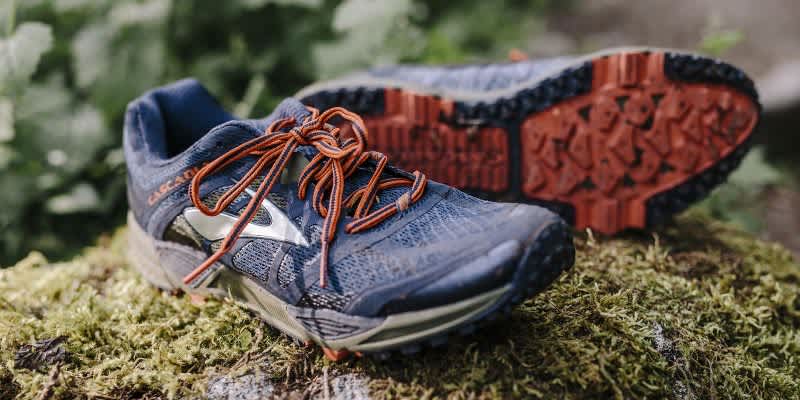 +
–
Table of Contents

1. Lowa Men's Innox Pro GTX Shoe
SALE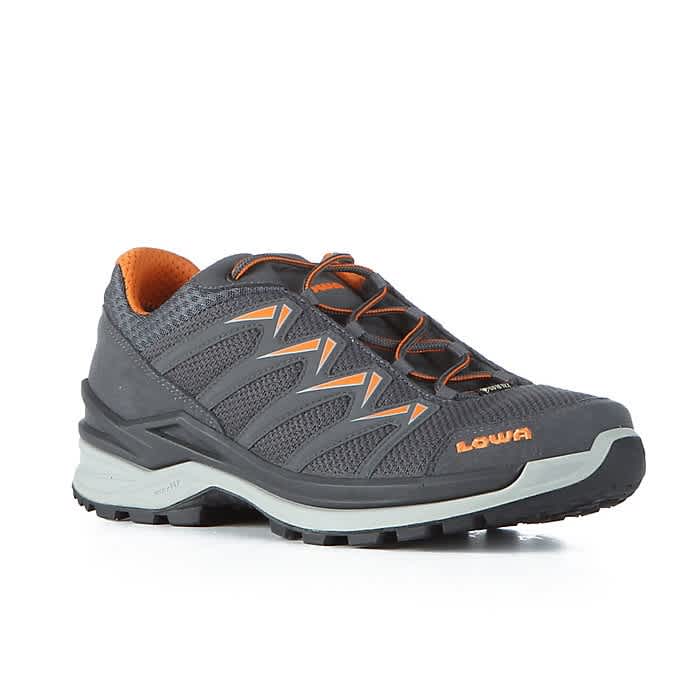 The Editor's Pick
This week's editor's pick is the Lowa Men's Innox Pro GTX shoe. The Innox Pro GTX provides you with some of the best ankle support on this list which is great for when you encounter sidehills you must run up and can also help with the odd rock or bump you might step on while running. The Innox Pro's are also waterproof and breathable and feature a standard lacing system so they aren't too far off from your normal shoes. In fact, many reviews state that users often wear these as normal casualwear shoes both on and off the trail. The Innox Pro's also come in a boot format too if you're looking for even more ankle support.
Pros/Great ankle and arch support with a waterproof design
Cons/Reviews say these shoes tend to run a little narrow – keep this in mind when ordering.
Bottom Line/A high-end trail running shoe for the frequent trail runner.
2. Salomon Sense Ride 4 GTX Invisible Fit Shoe
SALE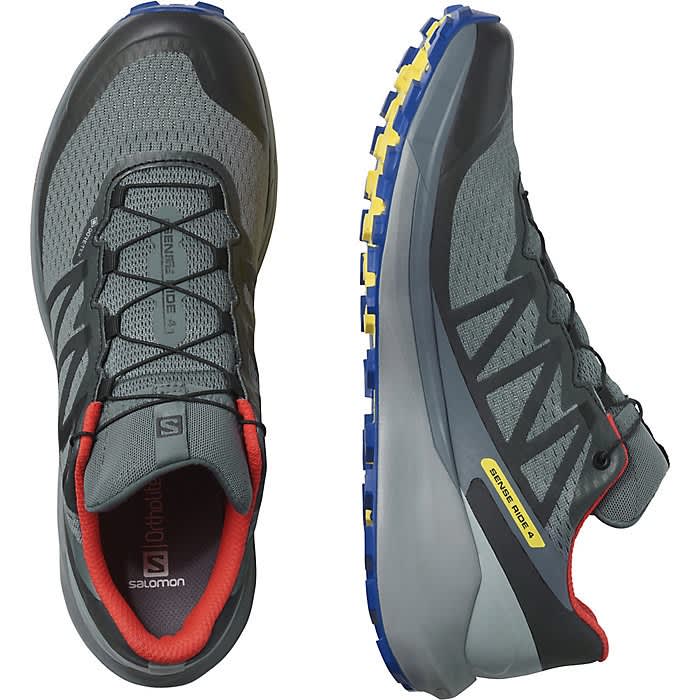 Author's Pick
Slightly more affordable than the hardcore Innox Pro's are the Salomon Sense Ride 4 GTX Invisible fit shoes. What drew me to these shoes initially was their thoughtful outsole design which features larger bits around the heel and outside of the sole and what this does is capture small loose gravel and force it into the interior of the sole for a solid grip on loose terrain. Other than that the shoes are also waterproof and weatherproof and feature just enough cushioning to make them comfortable but not so much as to make them not responsive enough for sudden changes in direction or minor slips.
Pros/Great traction on nearly any terrain including snow and ice
Cons/Ankle support is a bit lacking (not good for people with weak ankles)
Bottom Line/A durable, versatile shoe that won't break the bank.
3. Ecco Biom C Trail Runner Shoe
SALE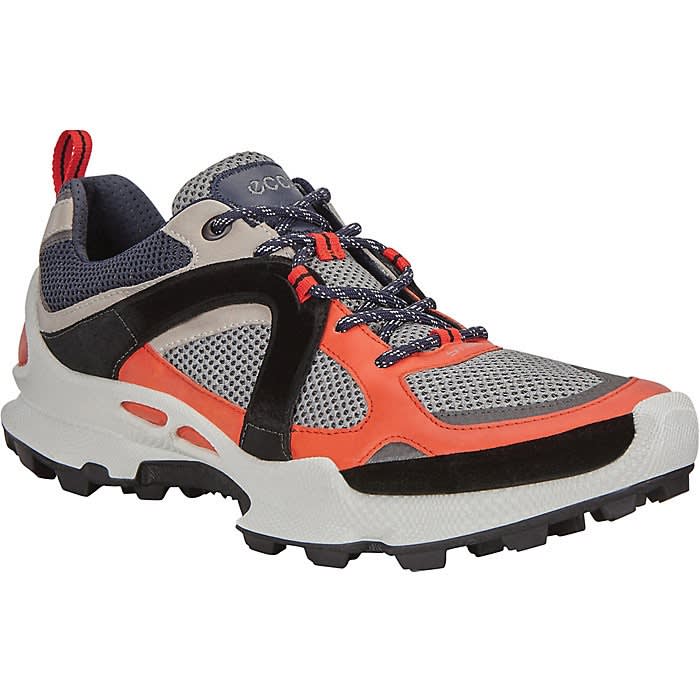 The Ecco Men's Biom C Trail Runner Shoe is a trail shoe for moving fast. Step into the woods and move through the trail, perhaps even up over the treeline and atop the mountain. Wherever the trail takes you, the rugged outsole helps provide surefooted traction on a variety of terrain. Breathable for keeping hot feet comfortable with BIOM X-TENSA Technology to keep the fit secure. The shoes are made from the soft and lightweight Ecco Phorene midsole which reduces overall weight and fatigue on the user while also giving you great responsiveness across a wide variety of terrain without being so harsh as to cause further shock to your probably already sore muscles and bones.
Pros/Comfortable, responsive and breatheable
Cons/Expensive and not waterproof of weatherproof
Bottom Line/Perfect for trail running where you won't be running into water or lots of mud or mositure
4. La Sportiva Men's Bushido II Shoe
SALE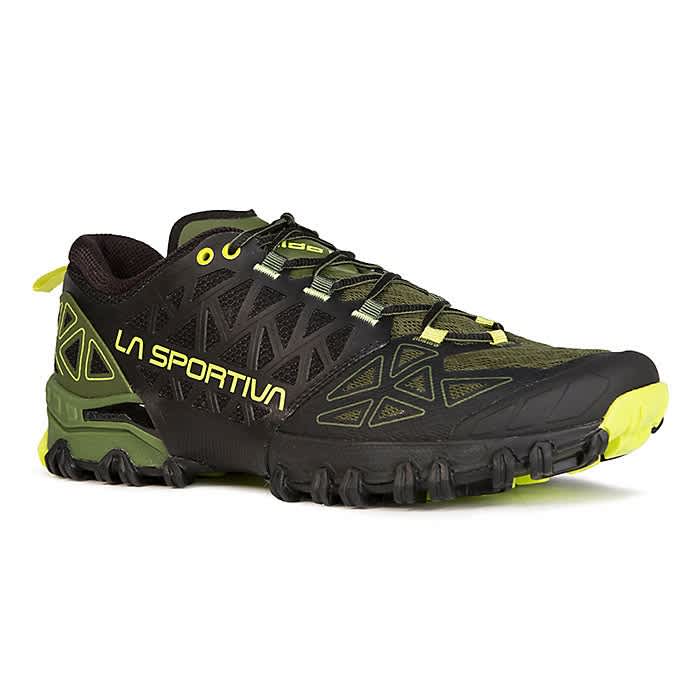 The La Sportiva Men's Bushido II Shoe is a stable shoe for mountain trail running. The sock-like fit is secured by traditional laces, with a padded tongue for comfort. The upper has AirMesh with thermal adhesive microfiber, high frequency welded ripstop and a TPU toe cap for breathability with abrasion resistance. A 4mm midsole stabilizes and cushions and the FriXion® XT 2.0 V-Groove2™ outsole is sticky for grip on wet and dry surfaces. These shoes are really great at absorbing impacts making them perfect for the mountains of Montana or when you know your trail will have sections of paved or decked surfaces to run across.
Pros/Lightweight, Durable, and Extremly tacky outsole
Cons/Sticky Outsole makes them difficult to wear anywhere else but on the trail
Bottom Line/The perfect combinnation of grip, durablity and shock abosrption for mountainous terrain
5. Brooks Divide 2
SALE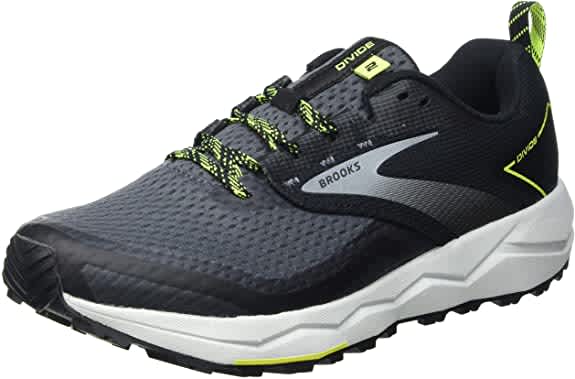 The Brooks Divide 2 trail running shoes offer the familiar comfort of a running shoe, with tight traction and a lightweight protective insert against uneven terrain that provides grip and protection. These shoes are insanely affordable and offer a reasonable amount of cushioning and good stability with moderate terrain.
Pros/Affordable (About $100 or less when on sale)
Cons/Not good for more technical and difficult trail running
Bottom Line/A good first shoe to buy for beginner trail runners who aren't attempting to mountain goat the toughest trails.
Why do most trail runners wear long socks?
It might look odd when paired with shorts and t-shirts but long socks are actually a boon to trail runners as they offer additional protection against scratches and scrapes and can even protect you from things like poison ivy and ticks. They aren't strictly necessary but if you're in an area where Lyme Disease is a concern then you can't ever be too careful or prepared – it's probably a good idea to coat the socks with bug repellent too.
Is trail running harder on my body and joints than normal running?
No! In fact, trail running is in many ways much healthier for your joints, especially your knees than running on a treadmill or on hard pavement. The uneven and softer ground you're running on absorbs some of the impacts that running normally entails and also trains your muscles, ligaments, and tendons to react better to uneven surfaces leading to more inherent stability and strength overall.
Can I wear my trail running shoes on pavement or harder surfaces?
Trail running shoes are much more durable than standard running shoes but that durability often comes at the cost of how light your shoes run. This being said, running on pavement, asphalt, or a track won't hurt your trail running shoes and in general trail running shoes will last much longer than traditional lightweight running or track shoes.
We are committed to finding, researching, and recommending the best products. We earn commissions from purchases you make using the retail links in our product reviews. Learn more about how this works.
Shop top of the line gear at great prices in the Everest Marketplace and get outside!