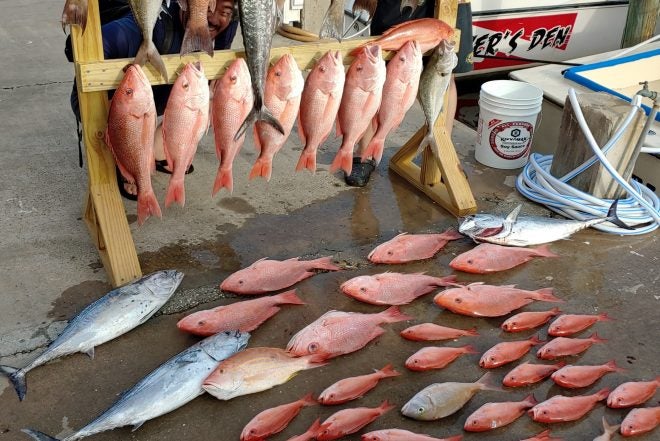 On May 20, NOAA Fisheries announced a 2 day season for Red Snapper in the South Atlantic Federal Waters. This means anglers from North Carolina to Florida will only have two days to fish in 2022. Friday, July 8th, and Saturday, July 9th. This applies to recreational anglers on both private vessels and for-hire vessels. The limit is one red snapper per person per day.
These short seasons are leading to a lot of frustration in anglers. Many consider the red snapper to be the easiest-caught fish in the Atlantic Ocean. Anglers say that the snappers are so thick in numbers that oftentimes you can't get a bait past them. This has baffled anglers for longer than a decade of NOAA fisheries' decision to drastically limit public access to red snapper. Recreational Anglers have been allowed a cumulative total of 44 days of fishing in South Atlantic Federal waters in the past 12 years. All the while anglers are encountering more red snappers than ever when they head out.
"The two-day South Atlantic recreational red snapper season is a prime example of the absolute failure by NOAA Fisheries to collect sound data on recreational fisheries and apply adaptive management to a stock that is rebuilding faster than anticipated. While the South Atlantic Council and Congress are working to obtain better data, we are years away from those efforts bearing fruit," said Jeff Angers, president of the Center for Sportfishing Policy. "Recreational anglers are doing their part to reduce discard mortality and participate in the management process. It's beyond time for the federal government to do its part to facilitate better data for more informed management decisions."
In 2020, recreation anglers successfully advocated the use of descending devices to reduce the mortality rate of reef fish such as snapper and grouper. These devices help negate the effect of barotrauma on these deepwater fish and increase their survivability after release. While Amendment 29 has been in place since July 2020. NOAA's South Atlantic Council is not putting it into consideration when allocating the federal snapper season. They say not enough data is yet validated for it to be considered.
NOAA Fisheries says 2 Day Red Snapper Season for 2022
To the frustration of anglers, despite all the other requirements to increase post-release survival, the seasons are shorter than ever. Many expected another 3-day season like 2021, but unfortunately, they aren't even getting a whole weekend this year. With such a short season all it takes is a bit of bad weather to ruin it for many anglers. There is hope for future seasons though.
In 2021, U.S. Representatives John Rutherford (R-Fla.) and Stephanie Murphy (D-Fla.) led a bipartisan effort to fund a $3.3 million study. This study on the South Atlantic red snapper fishery is a 30-month project.  Modeled after the Gulf of Mexico "Great Red Snapper Count", to get estimated numbers of red snapper in a wide area, in hopes of NOAA fisheries incorporating the results in future plans.
Shop top of the line gear at great prices in the Everest Marketplace and get outside!