I've been wearing Oboz Footwear hiking boots for the last 6 years, ever since my beloved Montrails got discontinued. One of my favorite pairs of Oboz is the Sawtooth II, a lighter-weight, yet sturdy hiking shoe that can tackle whatever terrain you encounter, from big boulders to loose scree. It's even a favorite of mine for walks around my neighborhood.
When Oboz announced they were revamping the Sawtooth II for the first time in a decade, I was excited but also a bit nervous to see if the new generation would actually be an improvement over what I thought was already a pretty perfect hiking shoe.
Named the Sawtooth X to celebrate their 10-year anniversary, the Bearfoot Theory team and I have been testing out the different models of Oboz's newest Sawtooth hiking boot for the last 6 weeks and we're happy to find that the Sawtooth X has all of the features of the Sawtooth II and more!
Be sure to enter our giveaway at the bottom to win a brand new pair of Oboz Sawtooth X hiking boots for yourself!
The New Oboz Sawtooth X
The Oboz Sawtooth X come in both men's and women's model and a low or mid version in both waterproof and non-waterproof in a variety of colors. The mid non-waterproof version will be available later this summer.
We've hiked in the waterproof low, the non-waterproof low, and the waterproof mid-ankle versions and share our full review below.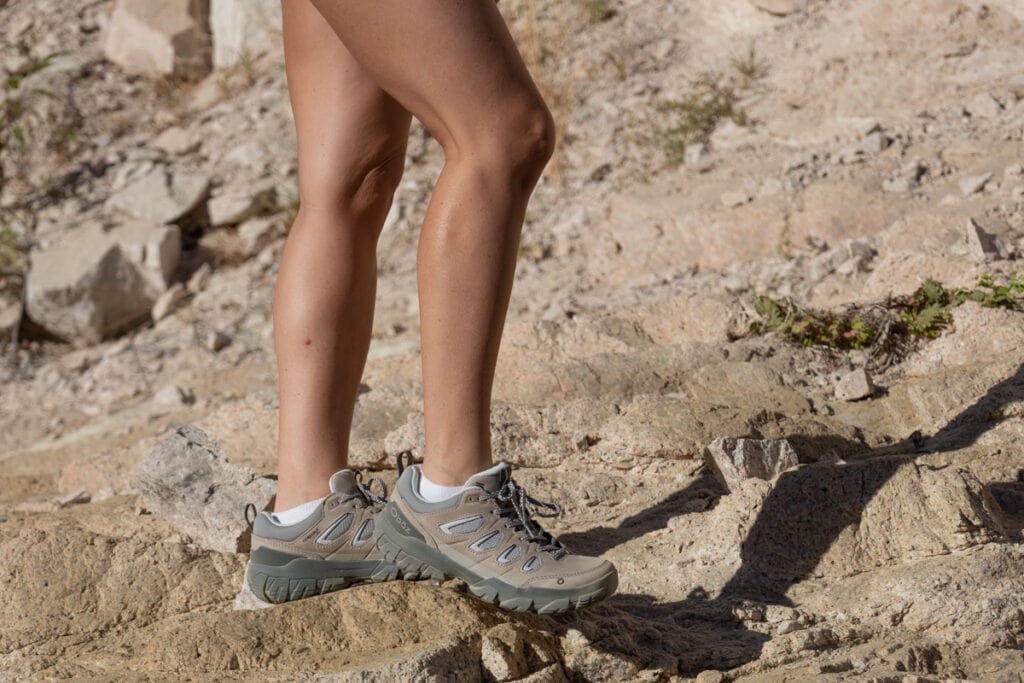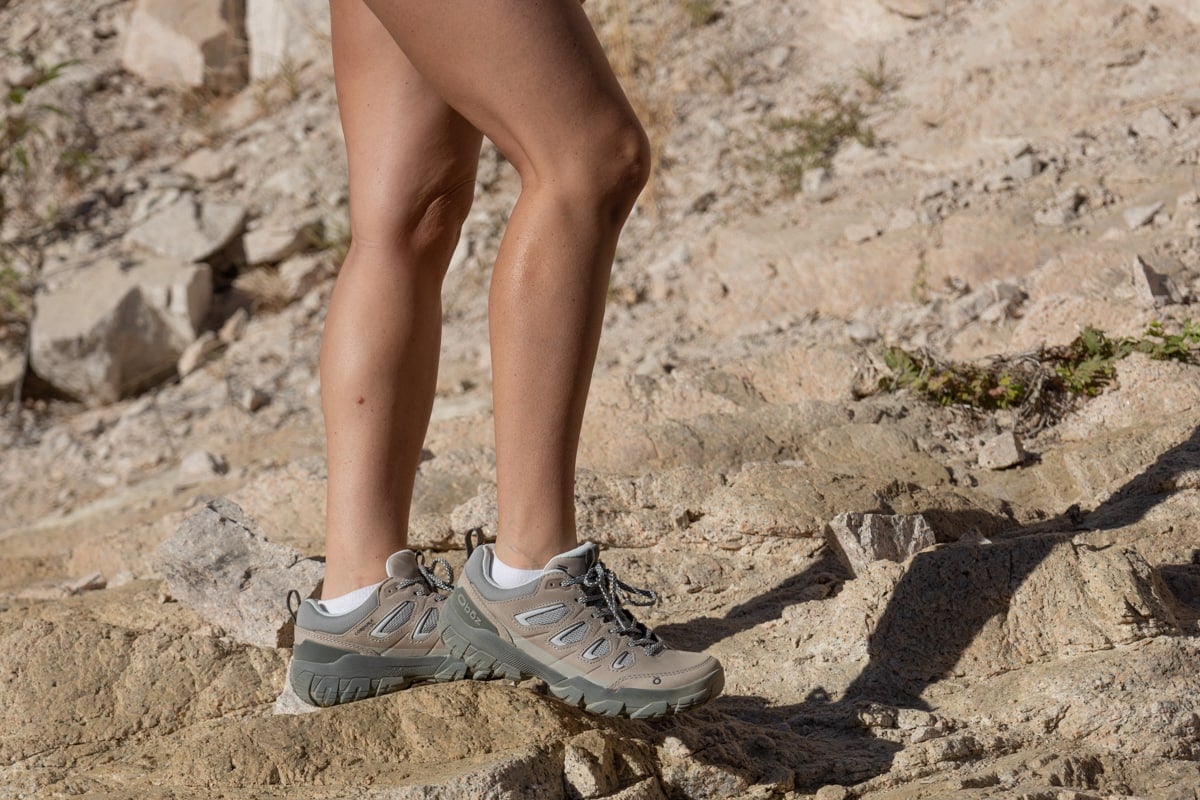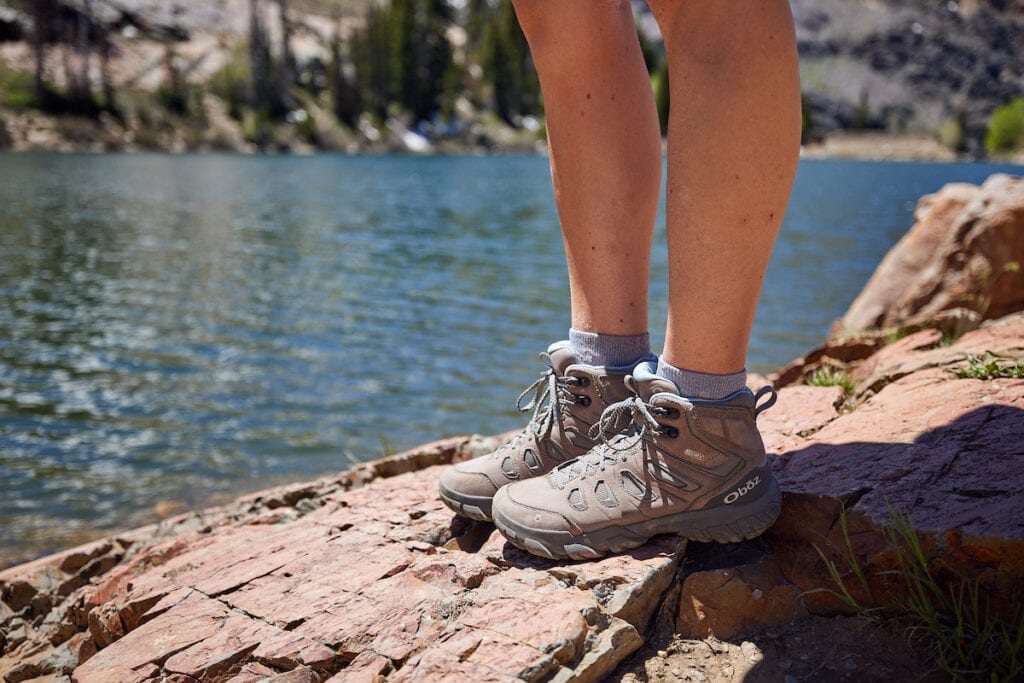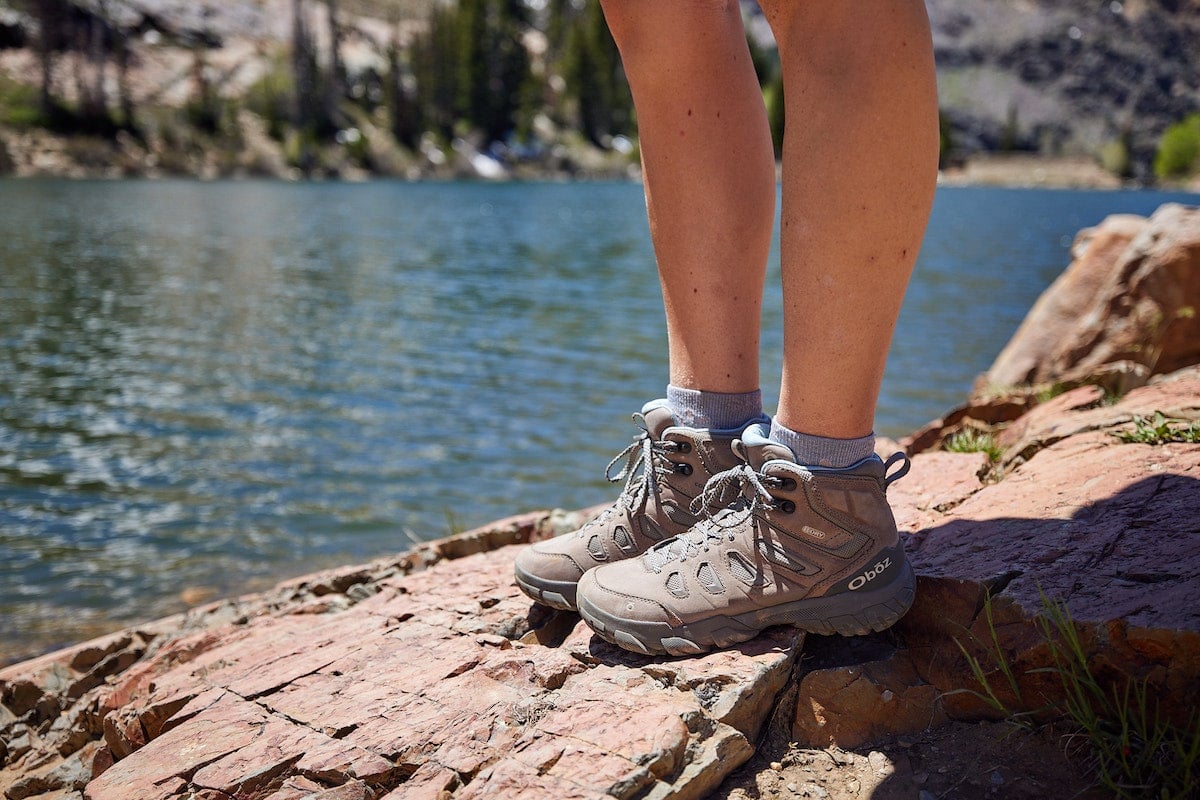 Sawtooth X Fit & Feel
The first thing we love about the Sawtooth X hiking boots is that they are comfortable right off the bat and don't require any break in period. Each of us was able to lace these up and head right out the door for a hike without any chafing, discomfort, or blisters. We immediately found them to be very sturdy feeling without being too stiff.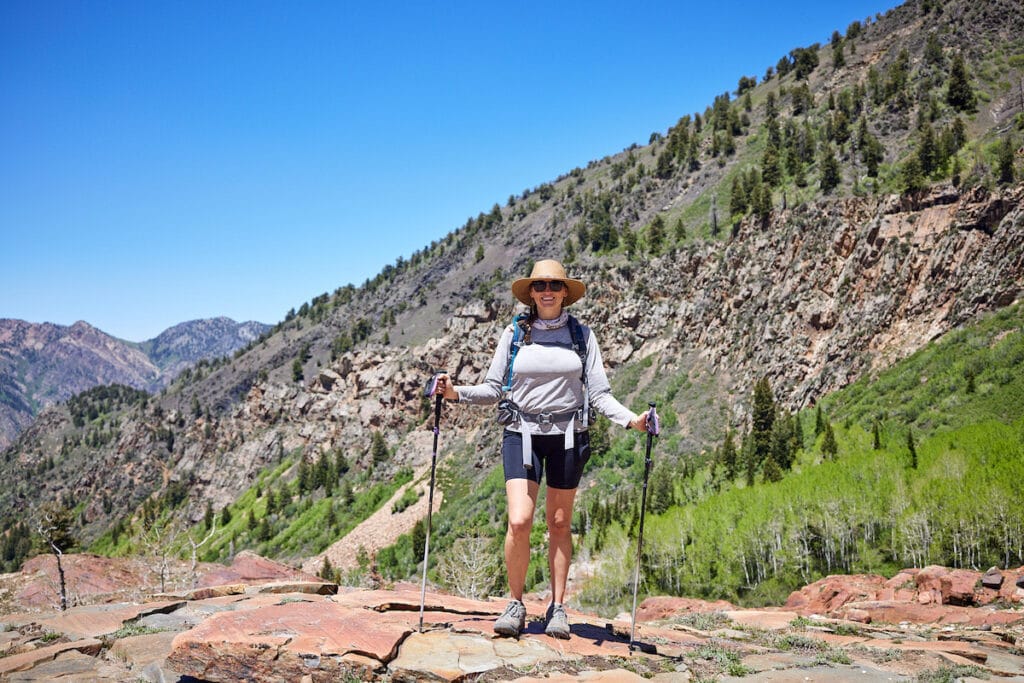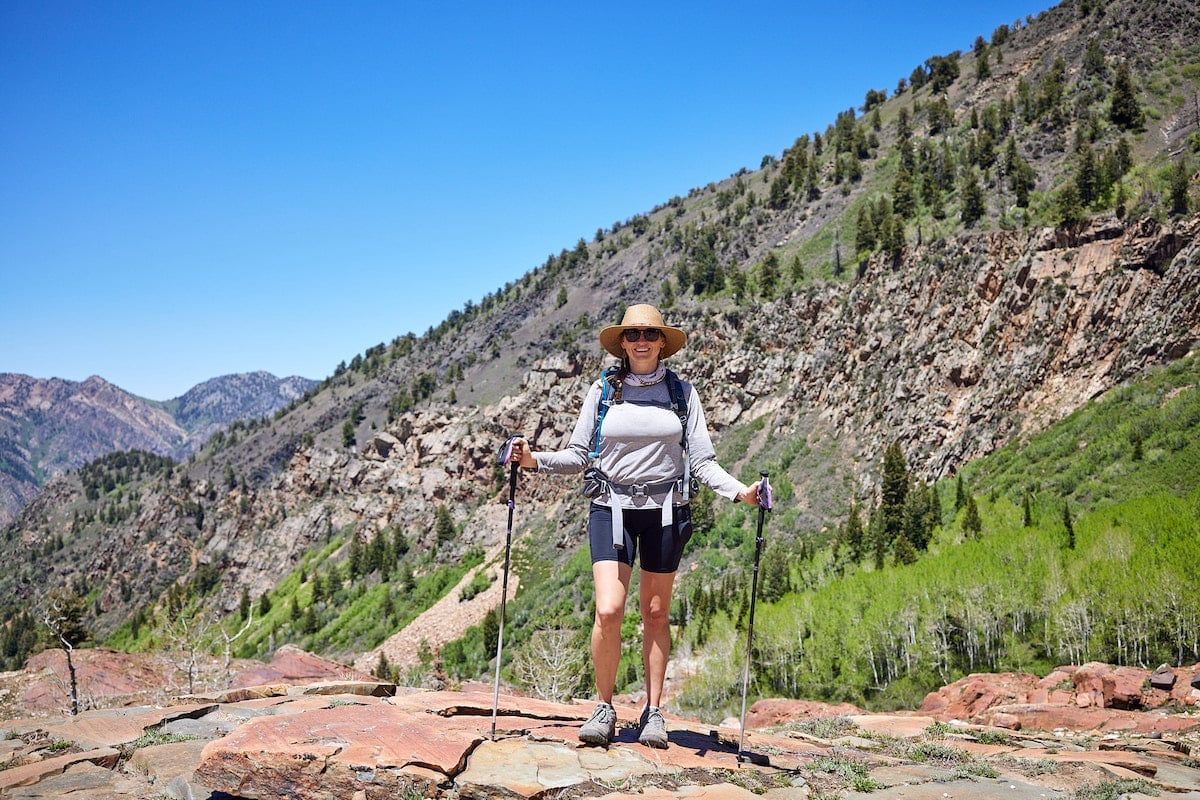 I personally tested the Waterproof Sawtooth X Low and noticed a difference right away from the Sawtooth II. I noticed there was nice cushioning around the ankle which I really appreciate – there is no weird rubbing regardless of how I move and flex my feet.
I have a narrow ankle and a wider forefoot, and my foot feels fairly snug and supported in place in these hiking shoes without being constricted. I also found that I have enough wiggle room in the toe area to accommodate swelling which is always important. My feet also feel supported by the insole which Oboz is known for – their proprietary O FIT insole is a big part of what makes these hiking shoes so comfortable.
The longest hike I've been on so far in the Sawtooth X hiking shoes is 9 miles. I haven't experienced any fatigue, discomfort, or blisters which is huge.
My only wish is that the top of the low version shoe hit just a millimeter or two higher on my ankle. Occasionally on steep uphills, I notice my heel slipping ever so slightly, likely due to my narrow ankles. I've addressed this issue by drawing the laces through the additional loop and making sure they are pulled tight.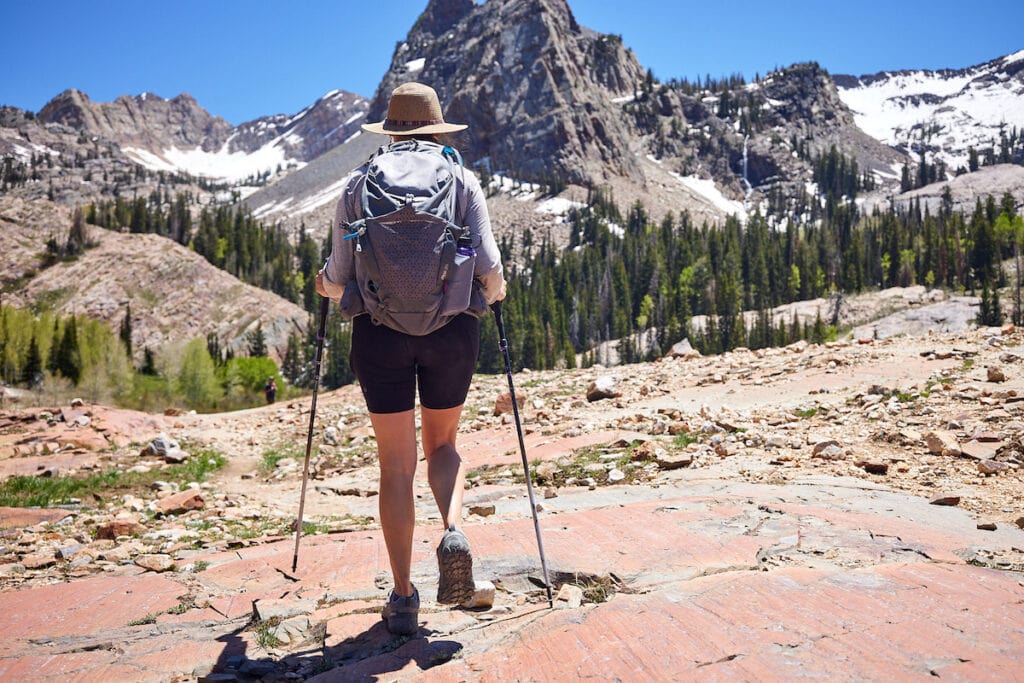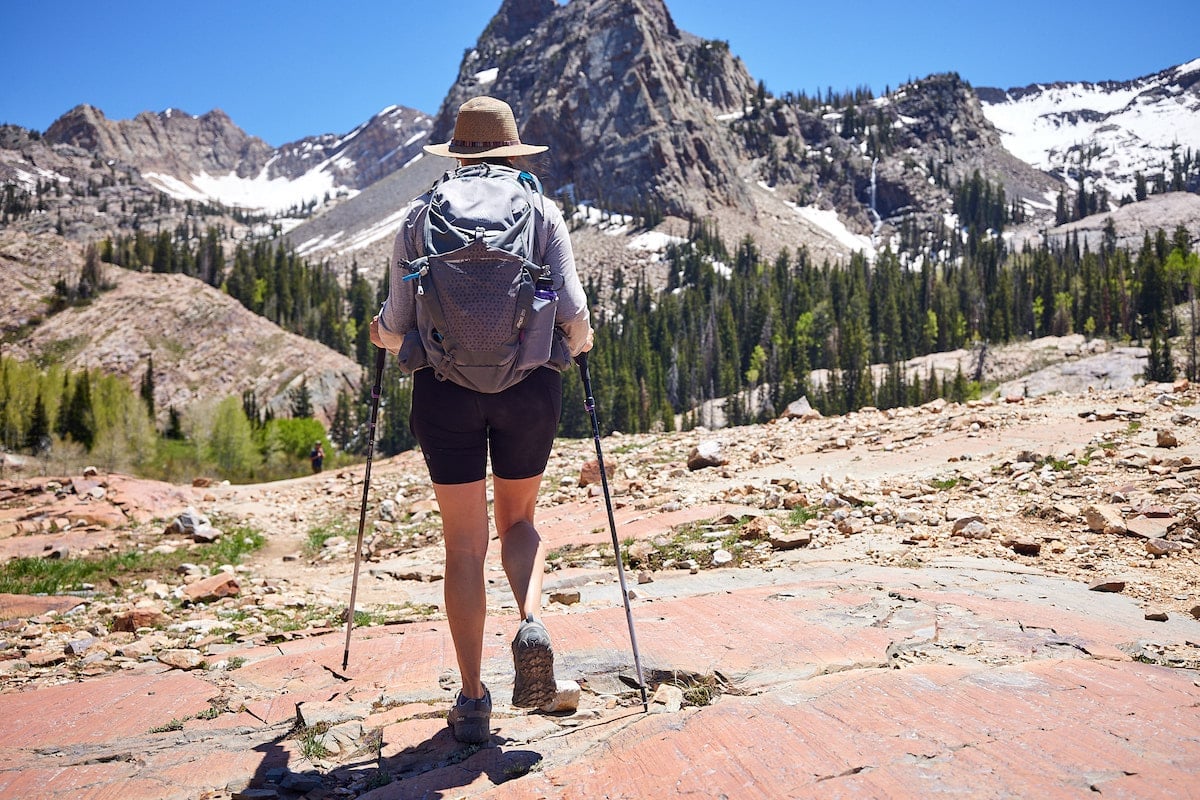 BFT team member Linda has been testing the non-waterproof Sawtooth X Low. She lives in Baja California and wanted something more breathable for hiking in hot climates. Linda has a flat, wide foot and while some hiking boots she's tried have been a little on the narrow side, the Sawtooth X were perfectly comfortable, striking just the right balance between spaciousness and the snugness needed to be supportive. She didn't notice the heel slippage that I experienced, likely due to differences in the width of our heels and ankles.
Courtney, another BFT team member, has been wearing the Waterproof Mid-Ankle Sawtooth X and loves the extra ankle support for an added layer of safety on the trail. As a full-time van lifer who often hikes in varied terrain from desert to mountains to forests, she prefers an "all-in-one" hiking boot that is versatile enough for day hikes, backpacking trips, wet weather, and all sorts of topography, and the waterproof mid-ankle Sawtooth X delivers.
The higher ankle provides firm ankle support without feeling constrictive or losing range of motion. Courtney likes the extra soft cushioning around the ankle, which means no rubbing or soreness after wearing these boots. She has a narrow foot and high arch and sometimes has to use insoles in hiking boots for added arch support. After wearing the Sawtooth X on two longer hikes, she's not had any foot pain and hasn't needed insoles.
Sawtooth X Performance & Durability
Like many other Oboz hiking boots, the Sawtooth X is made with a combination of leather and extra durable yet breathable CORDURA fabric, and the laces and webbing are made of recycled PET polyester.
While we've only had these for 6 weeks, I can feel how durable they are and mine don't show any scuffs or wear yet. If they're anything like my old Sawtooth IIs, they will last a long time. I've easily got a couple hundred miles on my Sawtooth IIs, and the sole surprisingly still has some tread left. I've also found my Oboz Bridger and Oboz Sypes to be really durable compared to other brands that lose tread after just a few months, earning them both spots on our best women's hiking boots list.
I expect these Sawtooth X hiking shoes to be no different than my experience with other Oboz models and am excited to take them on many more adventures.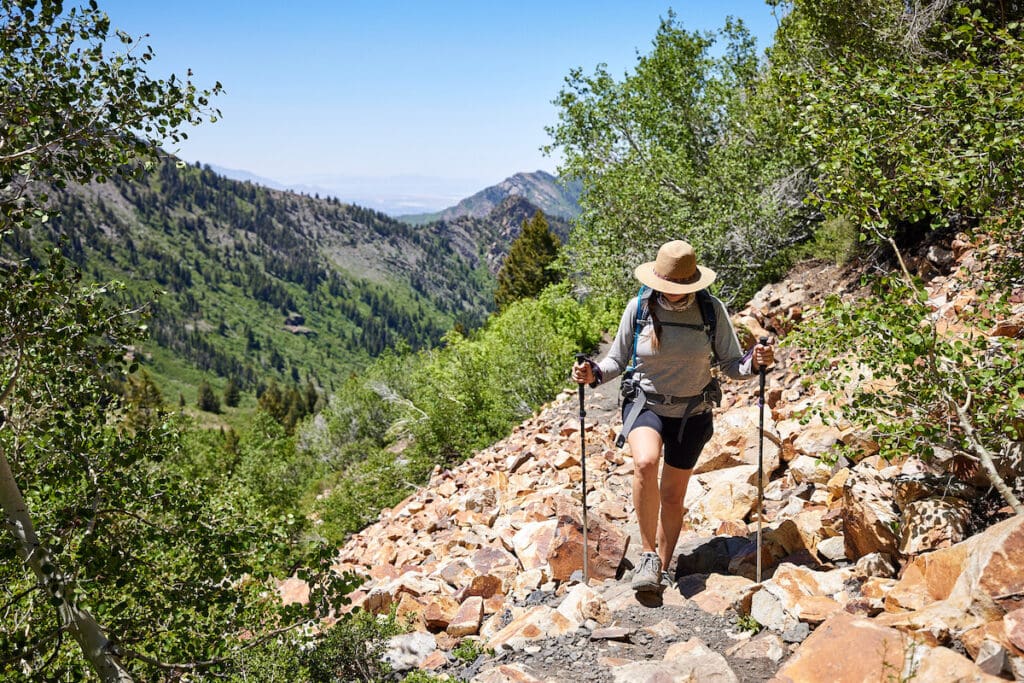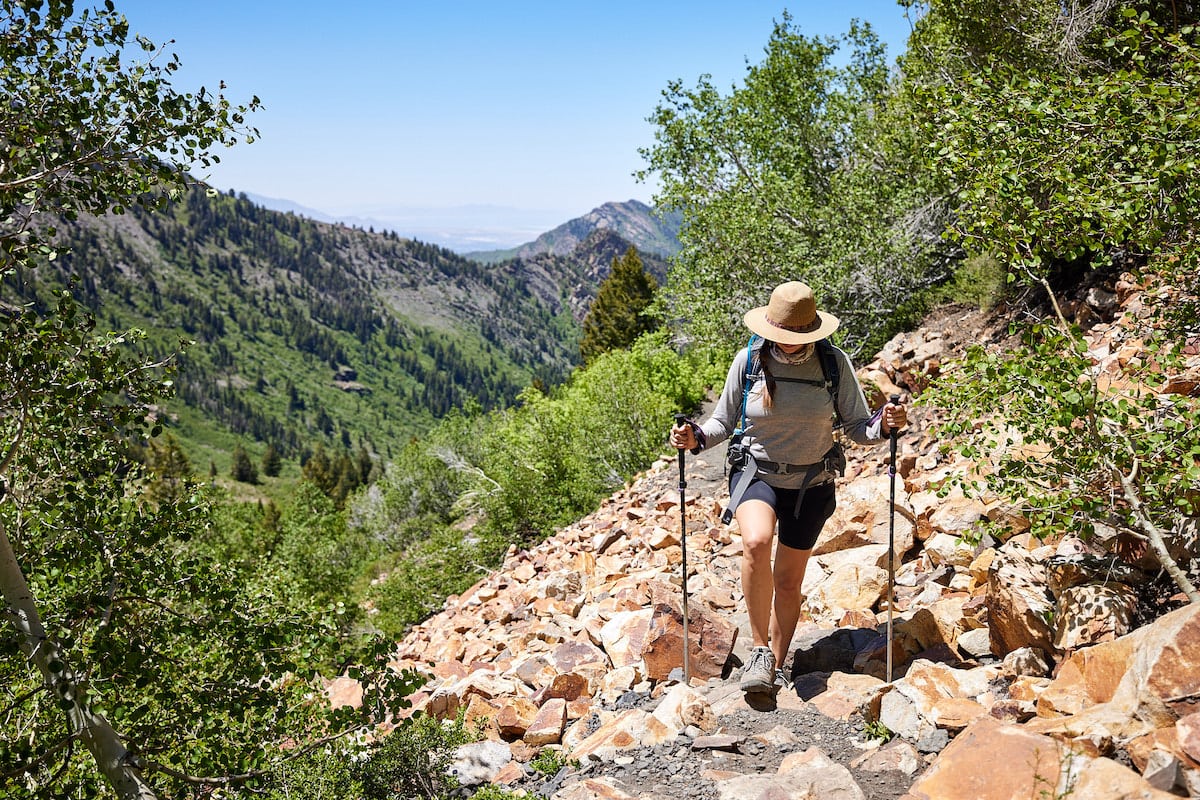 Sawtooth X Traction
The tread on the Oboz Sawtooth X has deep grooves and directional lugs that provide solid traction and makes me feel sure-footed when hiking. Here in Utah, I wore these on a hike up to Lake Blanche, a steep trail that has over 2,800 feet of elevation gain with lots of rocky areas and big steps. I found the Sawtooth X to be super grippy and secure, even on the looser scree. For the most part, I couldn't feel the rocks through the soles which reduced fatigue on this longer hike.
While we haven't had a chance to test these hiking boots out in the rain or in muddy conditions yet, we can tell that the aggressive tread on the Sawtooth X will handle those conditions without a problem.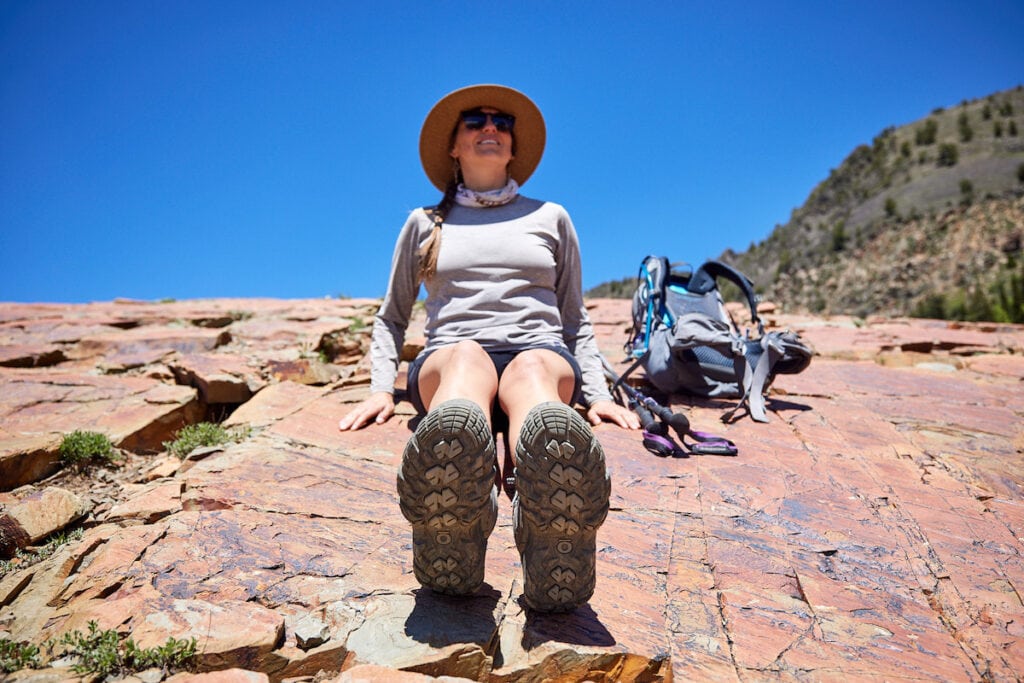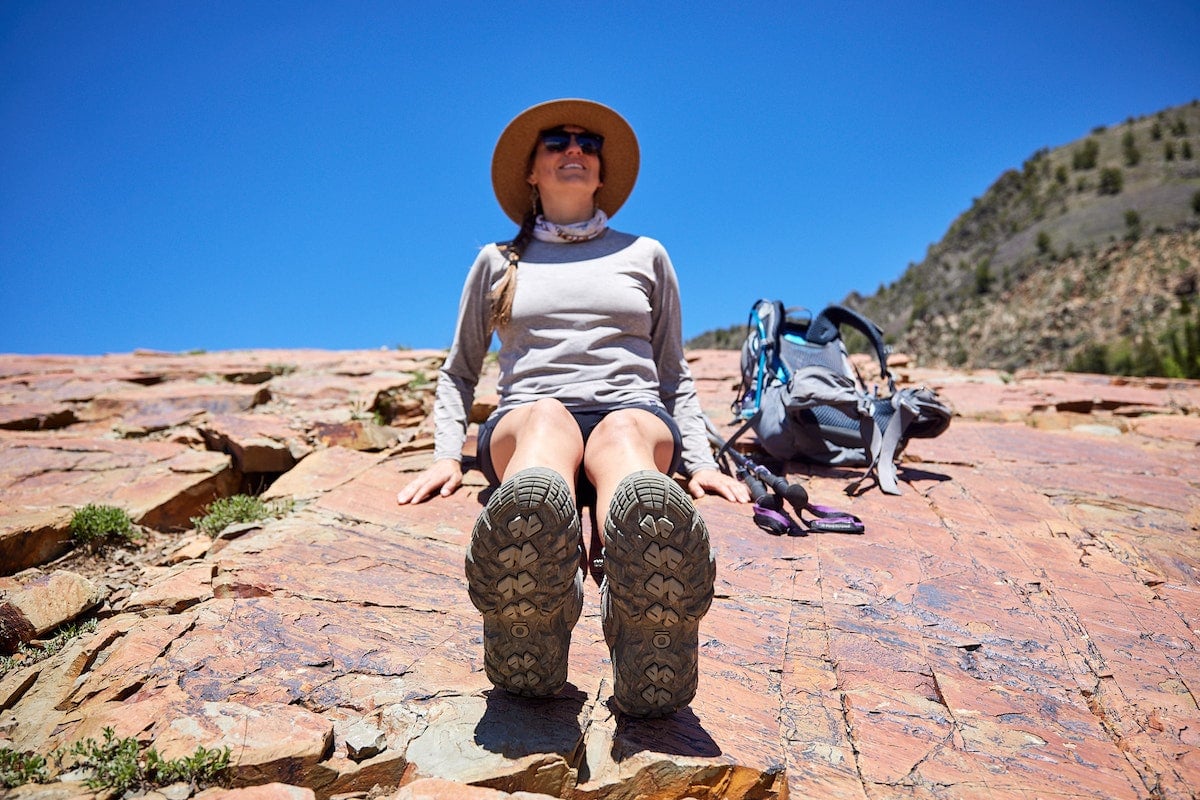 Sawtooth X Breathability
As expected, the non-waterproof Sawtooth X hiking shoes are noticeably more breathable than the waterproof versions. BFT Team Member Linda has been wearing her non-waterproof low Sawtooth X for hikes in Baja California and found them to be really comfortable even in hot weather. The breathability is noticeable and prevents her feet from getting too sweaty while also helping her stay a bit cooler overall.
I personally have been wearing the waterproof version in Utah. After a long hot hike, my feet do get sweaty. However, I prefer the versatility of the waterproof version and am willing to sacrifice a bit of breathability for a shoe that I know will keep my foot dry if I encounter rain or wet and muddy trails in the mountains.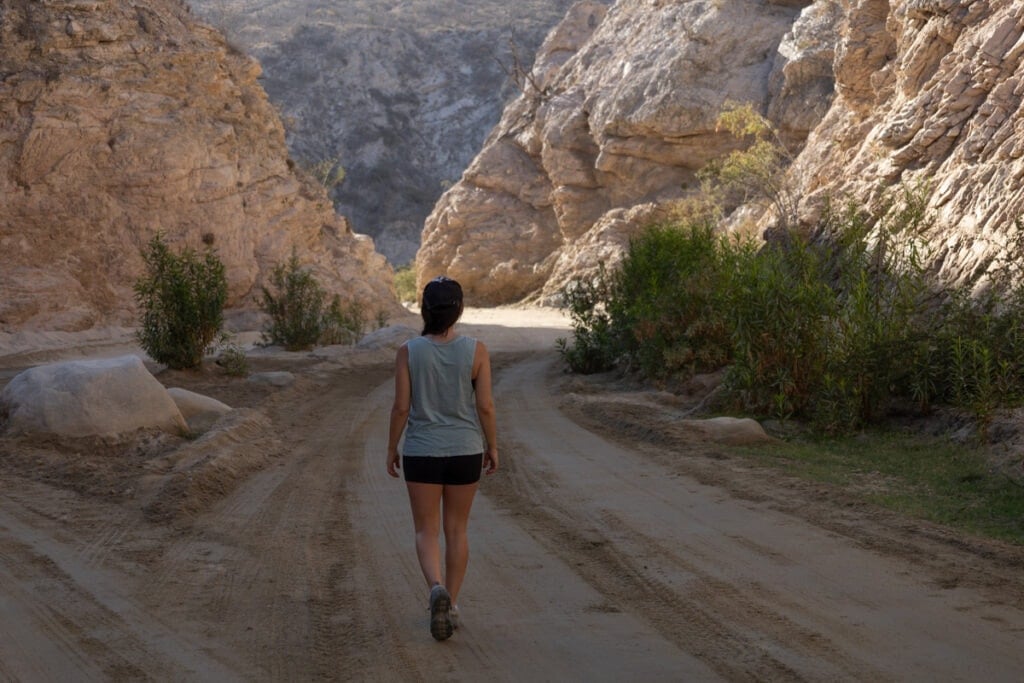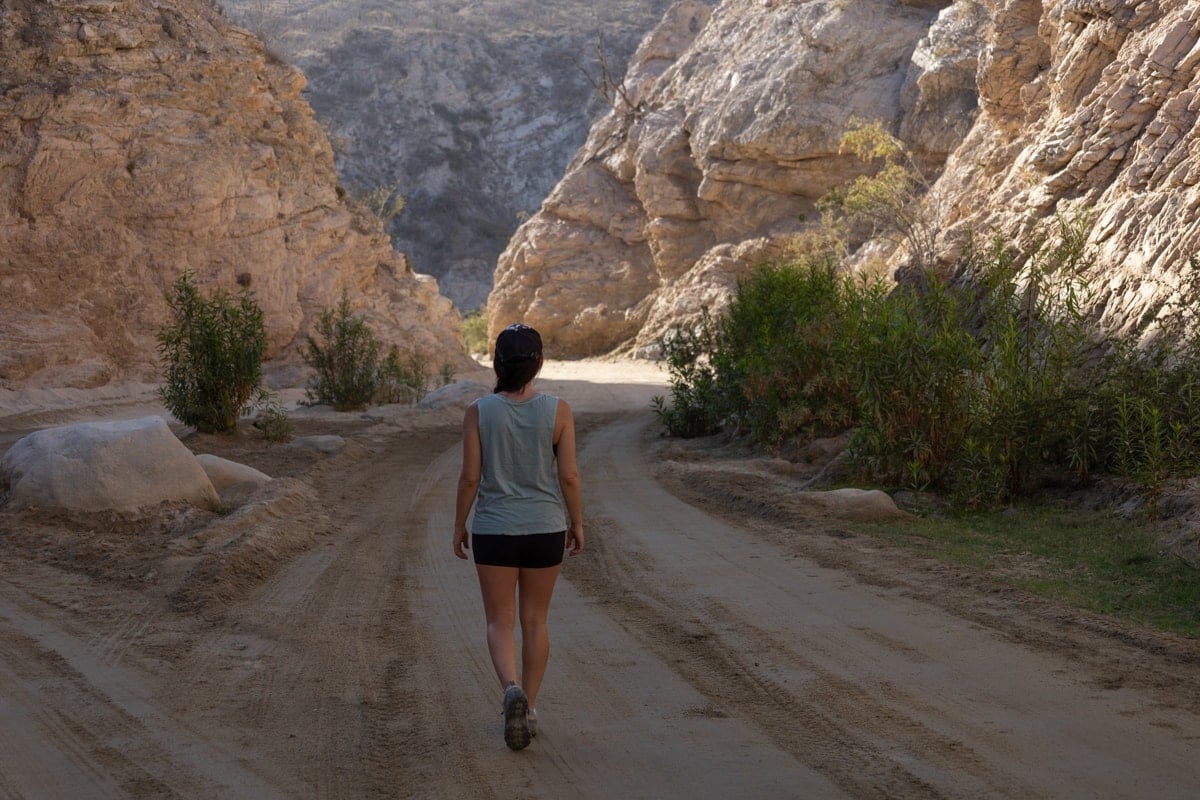 Where to Buy the Oboz Sawtooth X
Right now, the Oboz Sawtooth X are available directly through Oboz Footwear's website as well as at REI. They come in both men's and women's and a low or mid version in both waterproof and non-waterproof in a variety of colors. The mid non-waterproof version will be available later this summer.
Here are the current available models and colors.
Oboz Sawtooth X Hiking Boot Giveaway
Oboz Sawtooth X Giveaway
Do you have any questions about the Oboz Sawtooth X? Have you tried them out yourself? Leave a comment below!