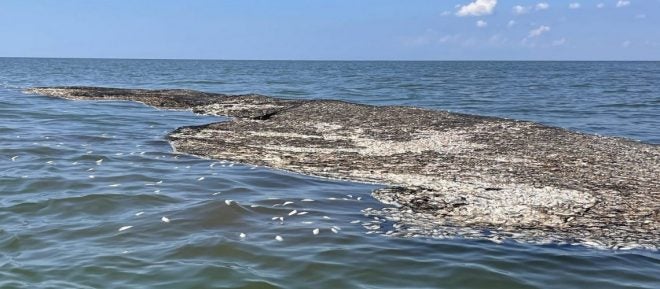 CCA Lousiana (Coastal Conservation Association) had received numerous reports and photos over the weekend of what appears to be an abandoned menhaden net just south of Holly Beach in Cameron Parish. In the photos they received, it showed a net floating surrounded by and filled to the brim with dead pogies. There were also many reports of dead redfish, black drum, and other species found in the water around the net and on the beaches. CCA reported the incident to the Louisiana Department of Wildlife and Fisheries soon after they had received the photos of the net. Now at the recent LDWF's Finfish Task Force Meeting when asking about the menhaden net incident an Omega Protein representative reported to the task force that the company owned the net.
According to the representative, the net contained about 900,000 pogies, which weighed an estimated 500,000lbs. The rep. had no estimate on the possible bycatch that was also in the net. The rep. stated, the net had to be cut loose after the crew realized it contained more fish than they could safely harvest.
Locals who initially found the net have speculated that Omega Protein was netting the menhaden in too shallow of water for their harvesting operation. While the smaller boats could net the big mothership could not come close enough without running aground. To do your part if you're in the area send in any photos of fish kills to the CCA and your Local representatives.
"It's inexcusable to see this kind of waste off Louisiana's coast," Marine Fisheries Director of the Theodore Roosevelt Conservation Partnership Chris Macaluso told Louisiana Sportsman. "Making it more troubling is that the (Louisiana) Department of Wildlife and Fisheries thinks a million pounds of dead fish in this abandoned net is insignificant. Just like they believe the 10,000 or more breeding sized redfish the department estimates the pogie boats kill every year is insignificant.
This sort of waste is disgusting, Menhaden (pogies) is one the most important forage species for so many species of predatory fish. A short list would be flounder, redfish, speckled trout, mackerels, jacks, and cobia. If you take away the forage and the gamefish we love will disappear as well.