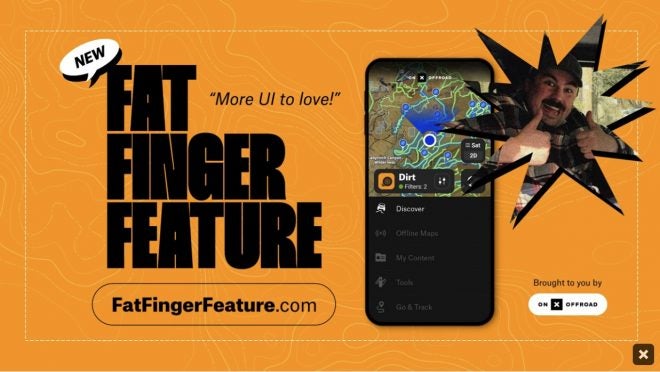 One of the best outdoor adventure apps just got better. Using advanced algorithms and predictive tracking, onX Offroad has created a feature that makes it easier to share trails, waypoints, and details.
onX Offroad Fat Finger Feature
When drivers input their location, they are often prone to making mistakes. This can lead to drivers accidentally sharing their home address with a stranger or the wrong coordinates being shared with friends. OnX Offroad has responded by launching their new "Fat Finger Feature" which corrects these common errors and allows drivers to share locations without error. The feature is said to be in beta testing and will soon be released for all users of the onX Offroad app.
Not Good For Hiking
The onX Offroad Fat Finger Feature comes as the result of an internal survey highlighting how difficult it can be for those without dexterous skills like typing or using chopsticks to accurately and quickly share their location (or share waypoints) with a friend.  Also, while you are on the trail or off-roading, it can be difficult to simply tap the screen on your mobile device (especially if your truck is bouncing around the landscape).
Offline Maps Required
The new feature will be available even when in areas without cell coverage, as it uses an onboard AI (along with the GPS on your phone and previous tracks) to attempt to figure out what you meant to share. As long as you have offline maps saved, it will use satellite imagery (and all the maps) to figure out the best open trails to get to the waypoint you most likely meant to tap. You will need to make sure you download maps before your trip (and upgrade the app).
Using onX Offroad Fat Finger Feature
Once you open the app and start driving down the trail in your vehicle, you will be able to access the feature. It detects the open app is in motion using the GPS to calculate speed and distance and uses the accelerometer to confirm you are offroad (and not just circling a mall parking lot in your Jeep). As soon as you try to share a location with friends or other off-roaders in your group, it will offer a number of suggestions with easy-to-hit buttons (it also works with CarPlay and Android Auto). Tap your choice and the app will share the waypoint with your friends. It will log the waypoint and turn on tracking.
Check out this promo video:
End Stuff
You can learn more about this feature, or become an onX member, by heading to http://fatfingerfeature.com. Note this feature is ONLY available with onX Offroad, not onX Hunt.