When fishing in the summer for the best chance at catching some fish I recommend either going before the sun is up or as close to it as possible. Or, to fish late in the afternoon to sundown. I'm not saying you shouldn't fish during the middle of the day or that you won't catch fish. It's just the Florida sun is hot and I just don't care to be out there during that time. The bite slows down during the heat of the day, so it's just diminishing returns at that point. But again fish if you want to, you can't catch a fish without bait in the water.
So, me – being a dumbass – not listening to my own recommendation got up 45 minutes after the sun came up because (I'm dumb) and drank too much the night before. So, after I hit snooze a couple of times on the alarm, I finally got the truck loaded with all my gear. After driving over and paying my $6 to get on the pier, I was only an hour fifteen past sunrise. So, the target of the day was tarpon and king mackerel. I brought one rod for tarpon, one rod for kings and one rod for bait. On the tarpon rod I have a hogy white swimbait rigged up on 80lb fluorocarbon leader and the king rod has a single treble hook on 20lb 7-strand wire for throwing out bait on.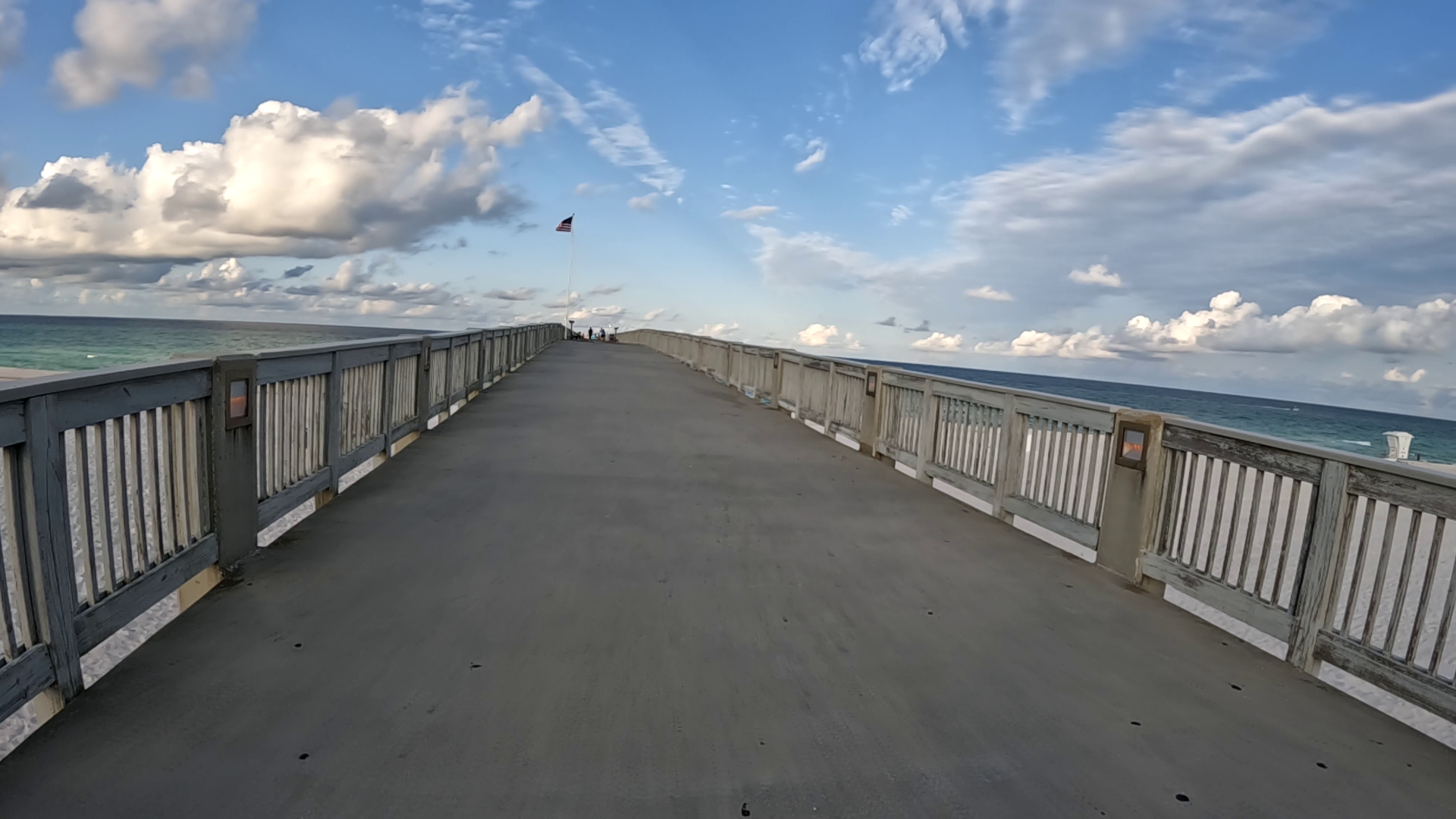 Unfortunately for my chances at king fishing, the tackle shop was out of 1lb boxes of frozen cigar minnows and none that would bite the sabiki rig were to be found on the way up. There were a couple of commercial bait fishermen doing good work in the shallows using cast nets and chum but those baits were honed in on only the chum. Also if you see people fishing like that, don't get in their way. That's their livelihood so don't take food off their table.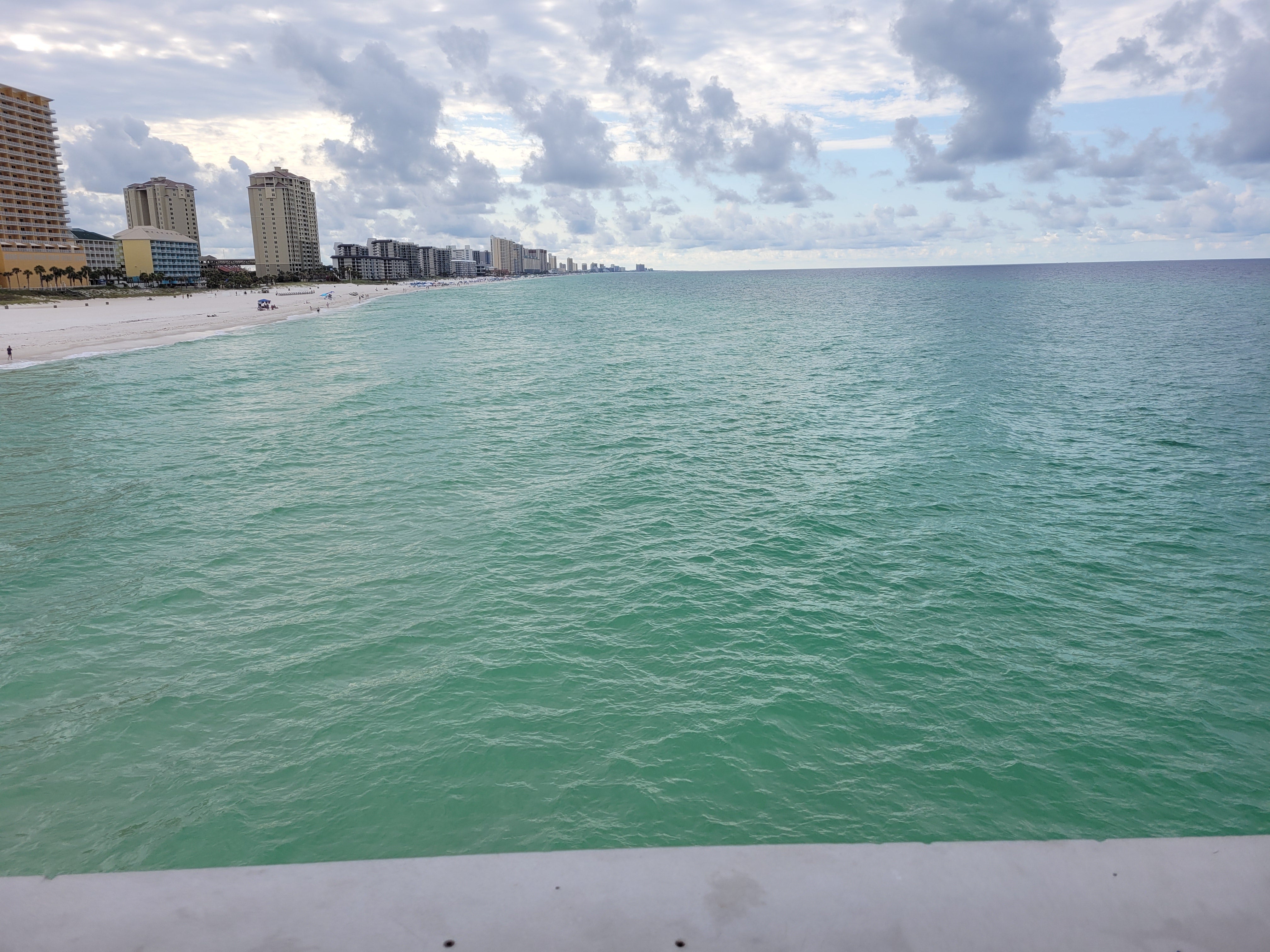 So I did a slow walk to the end trying here and there to find some fresh baits to use but again couldn't find any bait to use. So targeting kings was out of the question for now at least. Getting to the end of the pier I found that the bonita were running thick at the end of the pier. With how overcast the skies were visibility just wasn't there to sight fish for tarpon, so plans were changed again. Don't chase other fish when fish are biting right in front of you. Time to switch that big swimbait to a 42gram knife jig sticking to the same leader.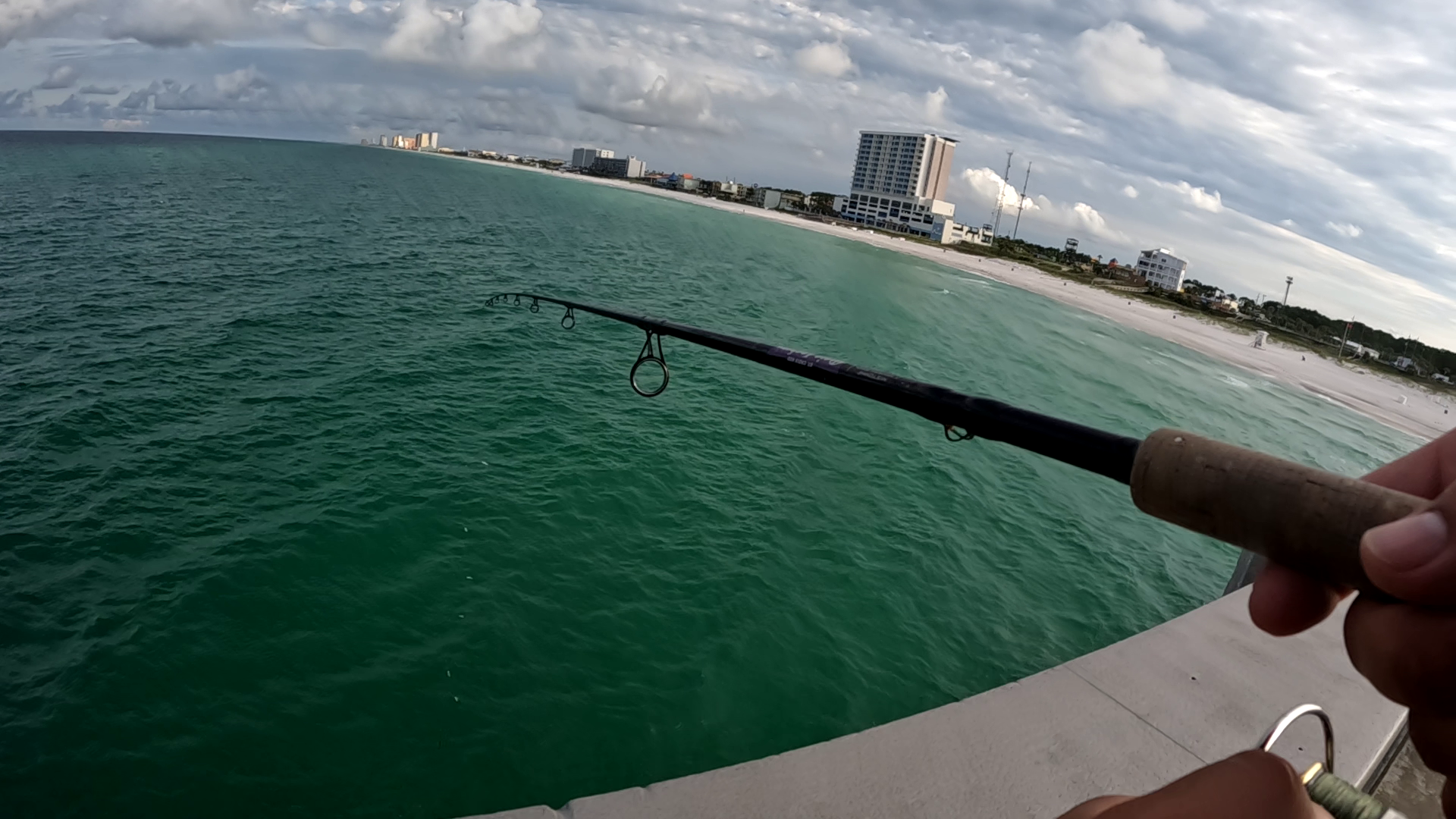 The technique for fishing a heavy jig like this for bonita is pretty straightforward. Sling it as far out as possible trying to cast slightly into the wind, and let it sink till it hits bottom. And then just reel the lure back in relatively fast, then when it almost reaches the surface let it sink again. Just keep doing this till a fish bites, which when they do they will hit it hard. Kings and bonita are ram feeders and will slam into your lure at full speed very often. So be prepared and have your drag set right.
Grabbing a spot in the middle of the rail, which was surprisingly crowded for so early on a Wednesday morning, it only took a couple of casts to hook up on a bonita. Even on heavy tackle, they are very strong fighters. Capable of peeling drag easily and making good runs. First fish inhaled the spoon right as it broke the surface, swinging and missing a couple of times before eating the spoon.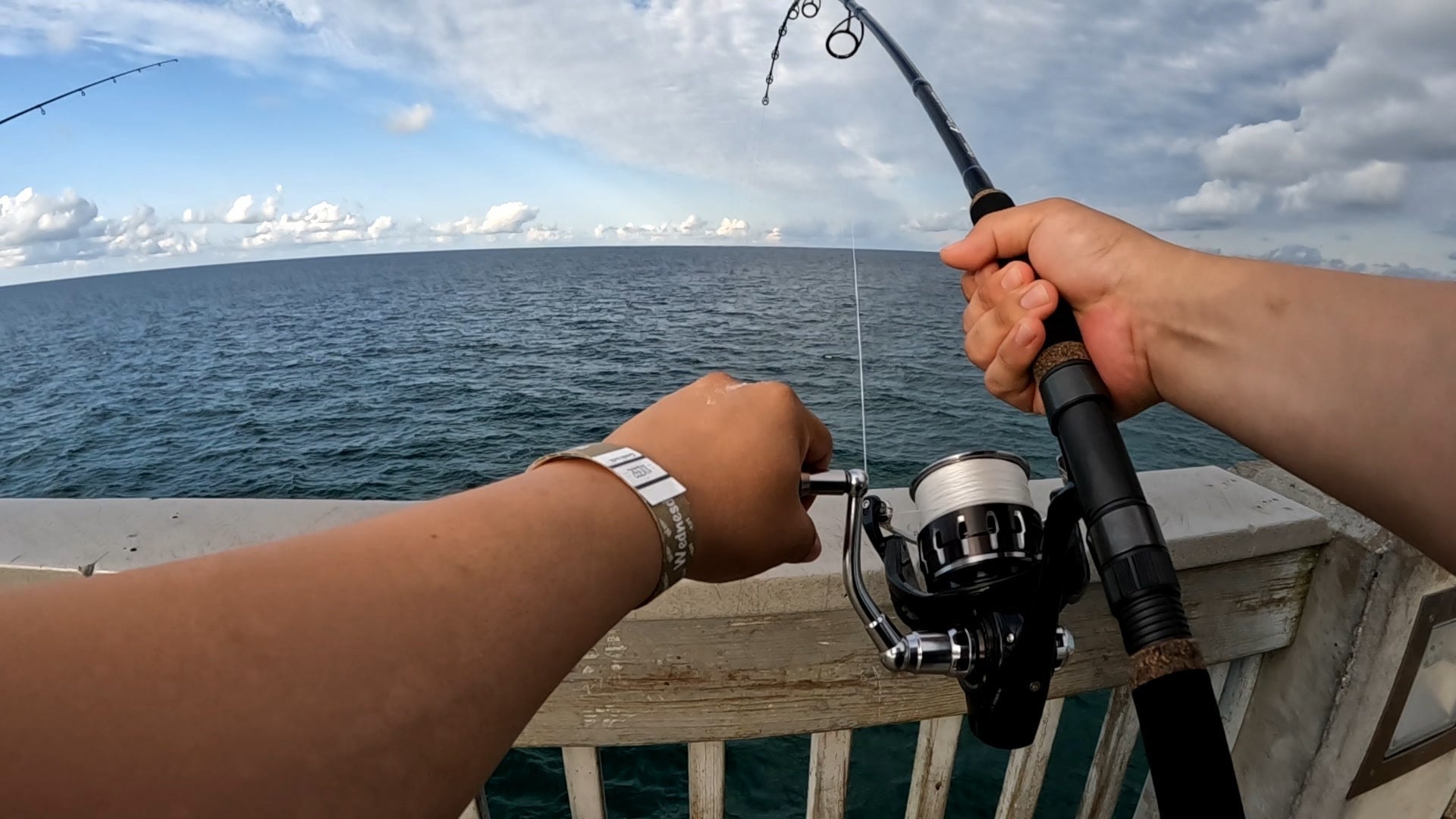 As soon as it felt the hooks in its mouth making a hard run trying to get free. Then it started swinging out to the left, when fishing on the pier you want to stay square with the fish you're fighting. So if the fish moves to the left, you need to move to the left. The bonita then decided it wanted to do a 180 and went straight back across to the right.
The problem with that was of course the damn thing swam through a couple of other lines with one getting tangled on me. So now we're having to clear the lure off my line, and then I got to play catch up with the fish. As soon as I got clear, it was immediately to shouting "coming down" and weaving either over or under people depending on where their lure was at. I get to the corner and I see a problem, the fish had gone around a piling while I was moving down the rail.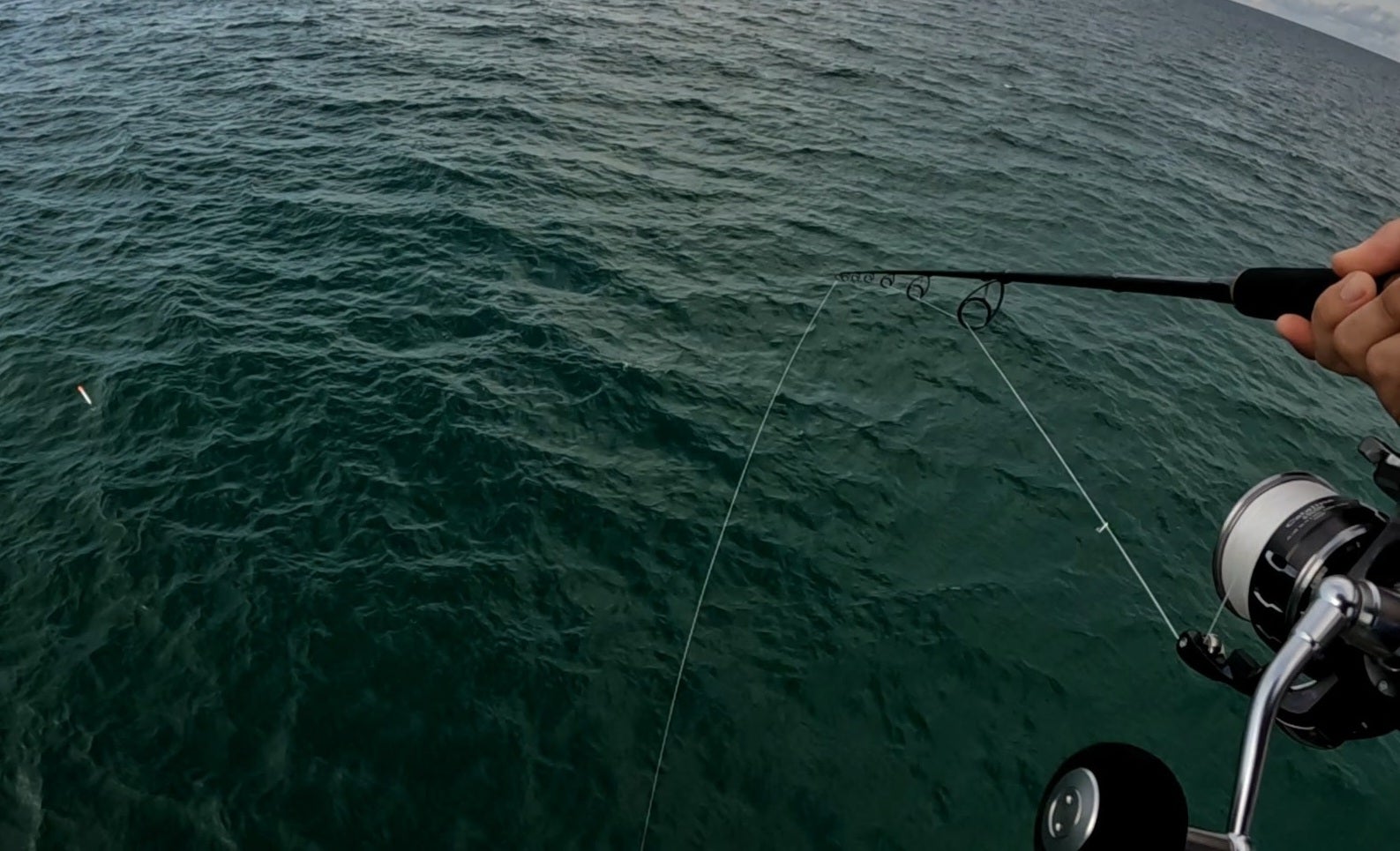 Not going to lie there were more than a couple of "fucks" thrown about when I saw my line slack and on the piling. The first fish of the morning getting messed by someone tangling my line is never a great way to start the day. But luck was on my side because the fish was still on the line. And the heavier tackle I was using held up to the oyster shells and barnacles so the fish was still pinned. After going around the corner I got the fish off the piling and after seeing if anyone had a pier net decided to just winch it up.
After waiting a bit hoping for a net, I didn't see one coming so I just had to winch it up. If it broke the line at this point oh well nothing I could do. Luckily the line was heavy enough so even being abraded a good bit it held as I winched the fish up to the pier deck.
And with one final heave, the fish got flopped onto the deck. I took a quick pic, then got my lure out of its mouth. Then stuck a knife under it's gills to bleed it out and dispatch it quickly. Bonita or False Albacore look like tuna but aren't as good to eat as tuna. They have a large bloodline and when cooked taste strongly of iron. They are alright smoked or fresh raw. So already having a couple of blackfin tuna on ice from going offshore the day before. I was quick to give away the bonita to the first person who asked for it.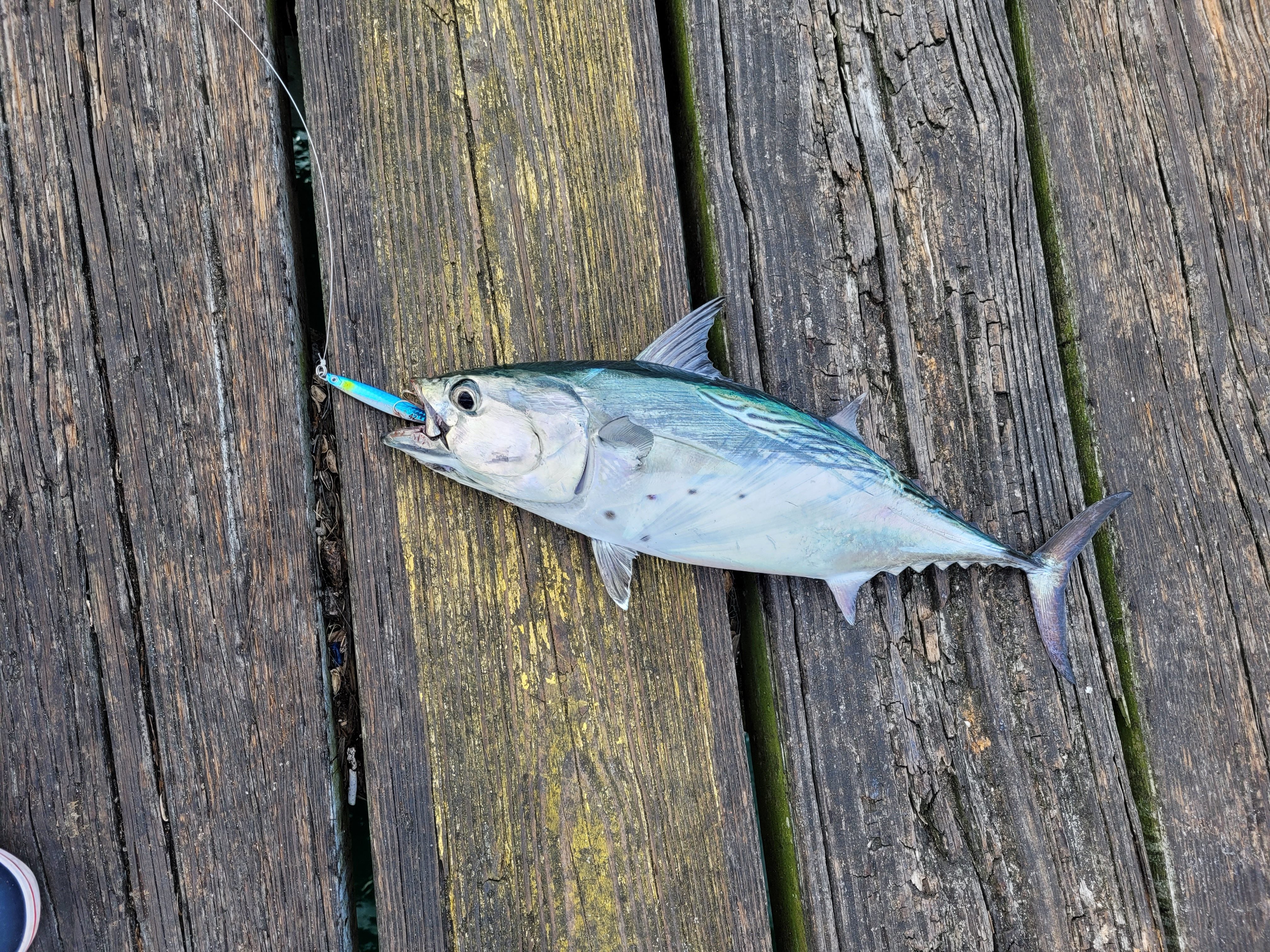 After the fish was given away I had to sort my line and leader out. While they didn't snap, the piling had eaten them up. The leader was frayed heavily along with about 30ft of the braided line behind it. So that was all cut off and trashed. Then replaced with a new leader and the same jigging spoon. For the next 30 minutes, it was on fire. Fish were being caught left and right. Fish were blowing up on lures, and people running back and forth. Everyone weaving amongst each other trying to land their fish.
I had a king mackerel sky on the jigging spoon pretty close to the pier, it completely cleared the water. But unfortunately didn't get a single hook in him. Another guy also got cut off so the kings were there just the bait wasn't. The ever-present remora were also around being a nuisance, several were caught much to everyone's chagrin.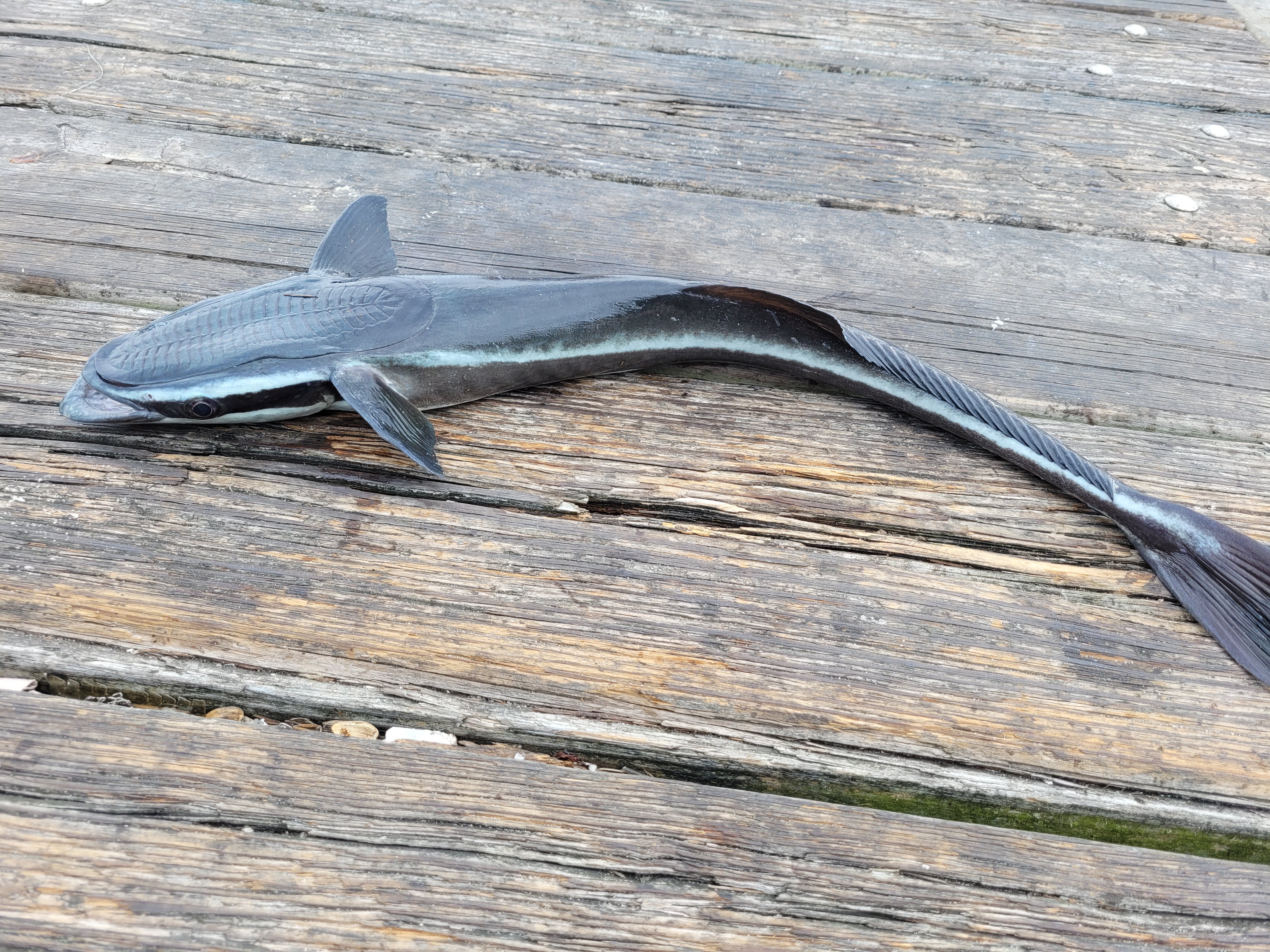 After getting pulled around by that first fish I tightened my drag up. This made for more of a tug-of-war sort of fight vs letting them run around and tire out. This led to a lot of pulled hooks and even bent out the original treble hook of the lure. The 6th bonita I connected was the only other good fish I got to the deck for that morning. Its fight was a lot less eventful with the heavier drag, with it also given away.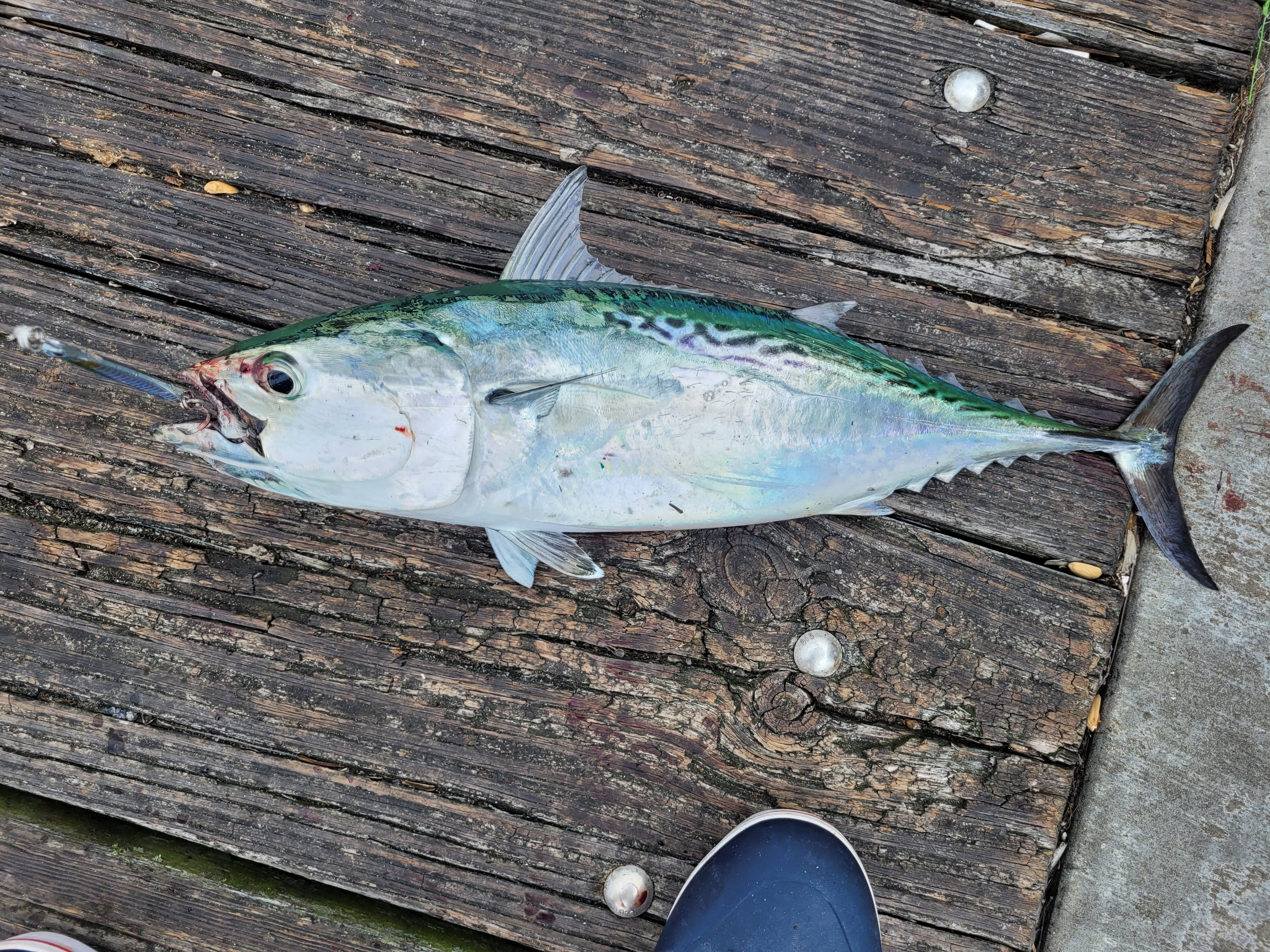 After the bonita bite slowed down, I tried to scrounge up some live bait to try for those king mackerel that were around. But no luck on bait, just these baby banded rudderfish. While a king would eat one of these little guys in a heartbeat, they're a regulated gamefish so you can't use them for bait unless they're over twelve inches. So with the sun going up higher, the bite slowed down, and no bait to be seen. I called it a day for pier fishing. For only spending an hour out there, it was definitely a good morning out on the County Pier.