My blood sugar can sometimes go for an unpredicted swing when out and about. Luckily, I decided to cook up a Sweet Pork and Rice meal by Peak Refuel while feeling hungry on a dock on the bay, watching the fishing boats pull away…
I've had a lot of MRE and dehydrated camping meals and have become somewhat of an auteur with my approach to camp foods. So, when fellow writer Rusty offered to mail me a pouch of this, of course I didn't say no!
Continue to read to see whether this satisfied my hunger and whether I caught any bluegill out on the lake!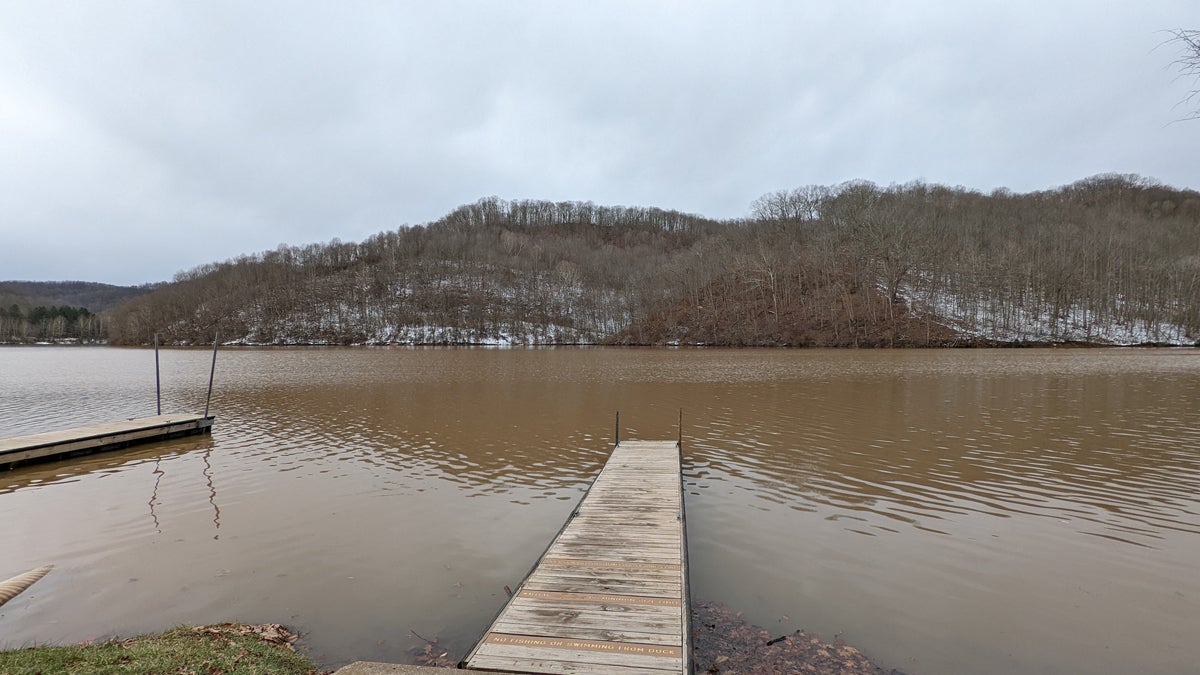 ---
Welcome to our recurring series of "The Path Less Traveled." In this series, we want to take you along for our exploits out in the wilderness while hiking, camping, exploring, and general adventuring. This will include our small daily victories, foibles, tips, tricks, and reviews of gear we authentically appreciate and frequently utilize. While a well-worn trail can often be the pathway to a leisurely day, the paths less traveled can often spur on some of the greatest memories, misadventures, and fun we could imagine. Join us in the Comments as we share our travels and hopefully, we can all come together for a greater appreciation of the outdoors.
---
Mmm… Chomp on this Food Coverage
Company Info – Peak Refuel
I was not able to find a clear Peak webpage indicating the brand's owner or history. ReddyYeti did an interview with the Owner of Peak Refuel, Seth Adams in August of 2018. You can find that podcast here. Peak Refuel states all of their meals are made in the USA (Utah), with 100% real meat; not TVP or fillers. They report their meals contain twice the protein as other similar meals. One of their biggest sale points are non-GMO ingredients and responsibly sourced from well vetted sources. The meals typically require less water than other meals which can require up to 475 grams of water. Check out their site and social media:
Product Info – Peak Refuel Sweet Pork and Rice
There is no clear way to describe the Sweet Pork & Rice meal other than I feel it is something David Chang would have created if he was raised in the Southwestern part of America for most of his life. There's hefty chunks of shredded pork, peppers, corn and black beans to ensure you can call mom and tell her you ate healthy on your backpacking trip. (Remember that time you just brought fruit roll ups and Reese's pieces?)
Sodium is under 50% for the entire pack, and there's enough carbohydrates in this to ensure satiation and refueling of your body and spirit. This meal specifically has 22g of added sugar per serving. This is ghastly, but once I tried it… I couldn't complain.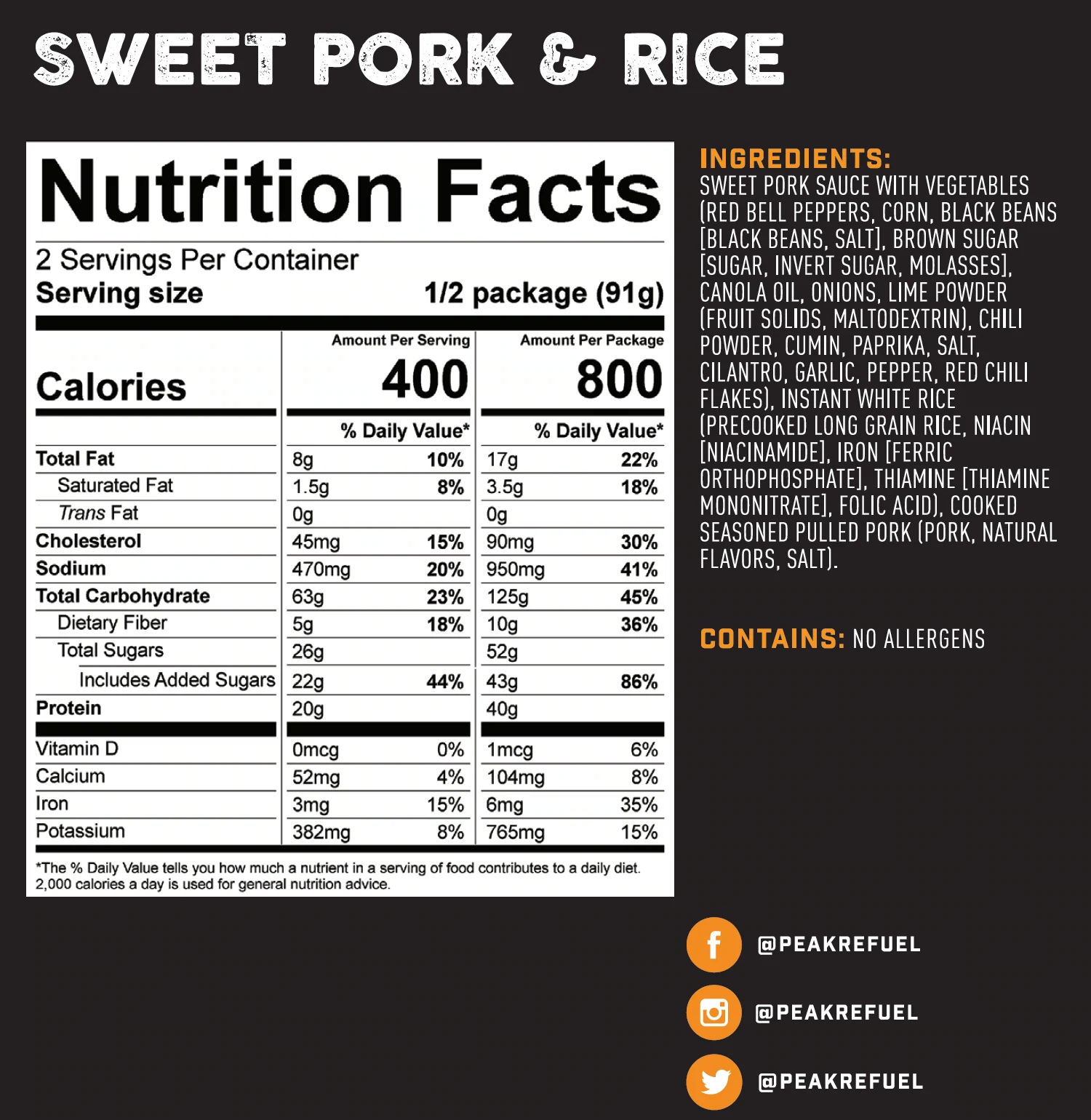 Protein – 40g per pouch
Servings – 2
Serving size – ½ pouch
Net Weight – 6.07oz
Made & Packaged in the USA
Calories per Pouch – 800
Prep Time – 10 min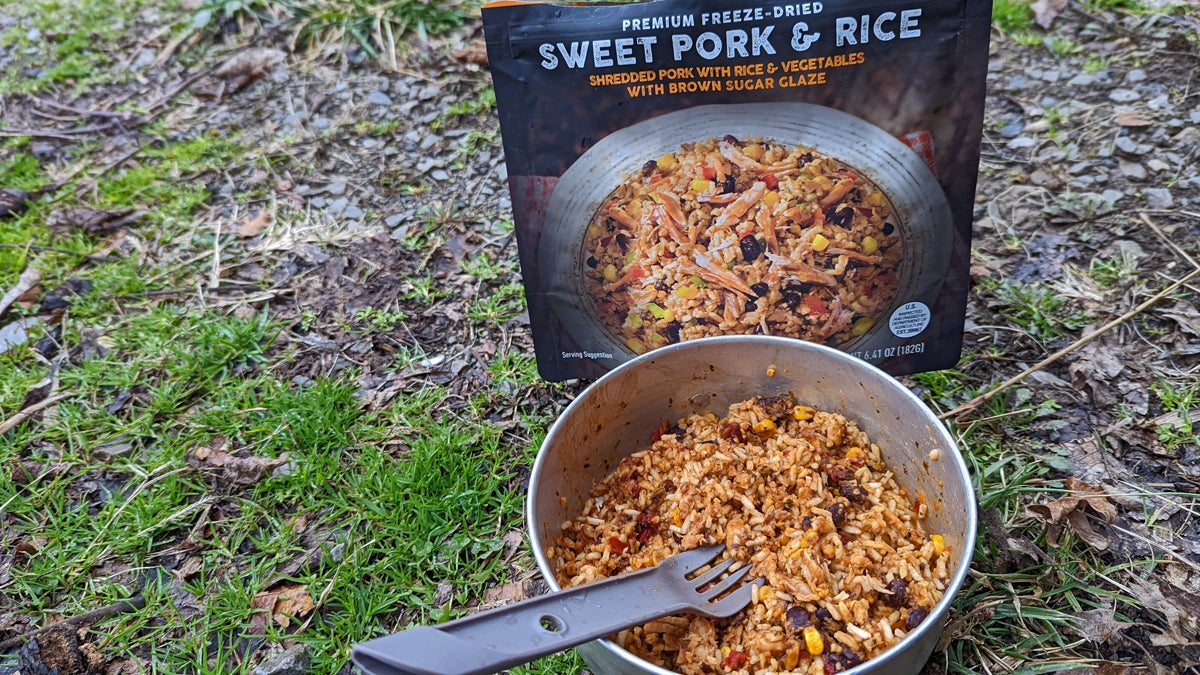 Instructions on how to cook the meal were as follows:
Open pouch at tear mark, remove oxygen absorber.
Carefully add "300g" (10.5 ounces) boiling water to pouch,
Stir well and zip pouch closed, let stand for 10 minutes.
Open pouch, stir again and enjoy!
Observations
In dehydrated form, you can clearly tell what ingredients were used to make this meal. I was surprised to see there wasn't an overwhelming amount of beans or rice in this meal despite the eponymous nature of the product. It seems this company doesn't skimp on their ingredients!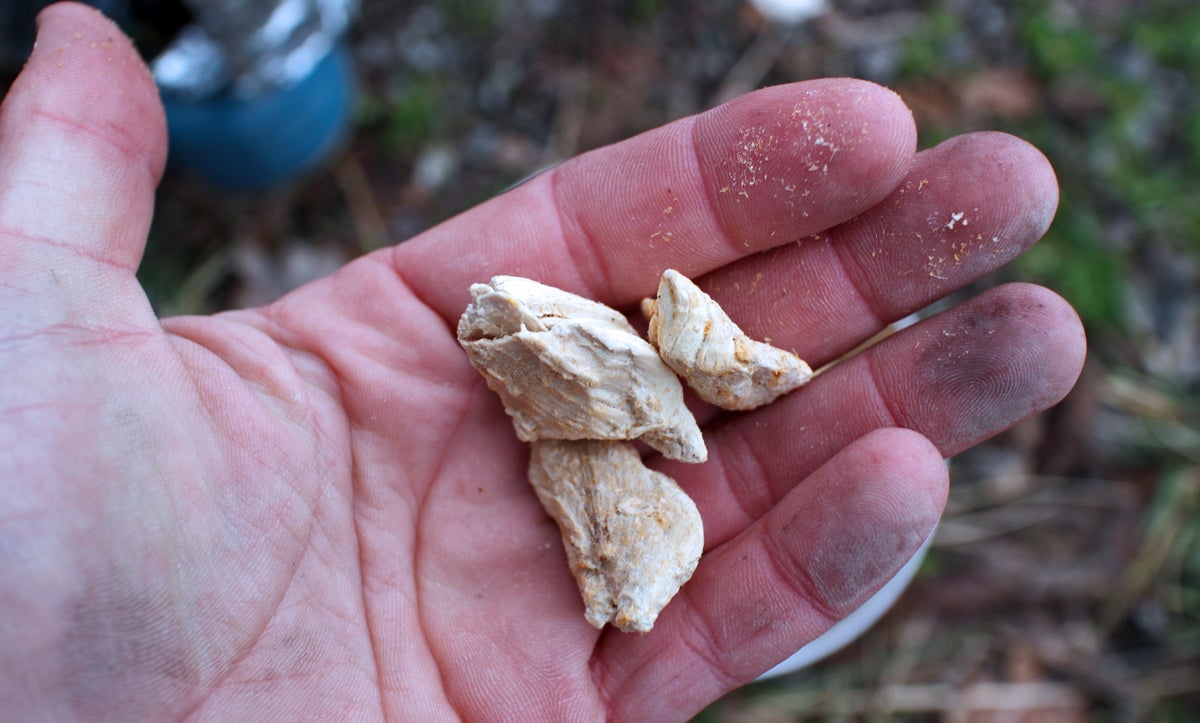 I did not follow PR's instructions and allowed the food to reconstitute in my mess kit. This allowed me to monitor the "done-ness" of the rice and beans to prevent crunchy pieces of food.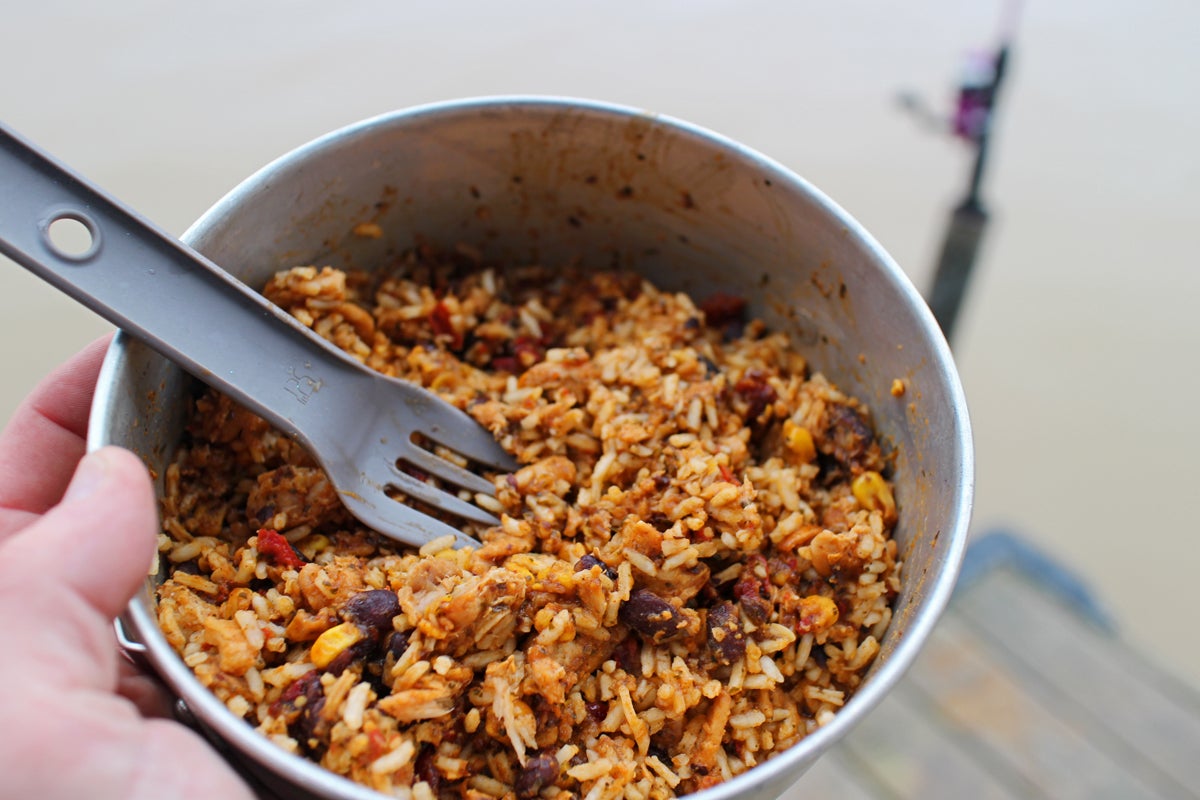 As stated before, you can really look at the ingredients and tell what you are eating. The aromas from the meal ranged from pulled pork-y sweetness to something similar to Indian or East Asian curries with the cinnamon, nutmeg, cloves, and savory spices.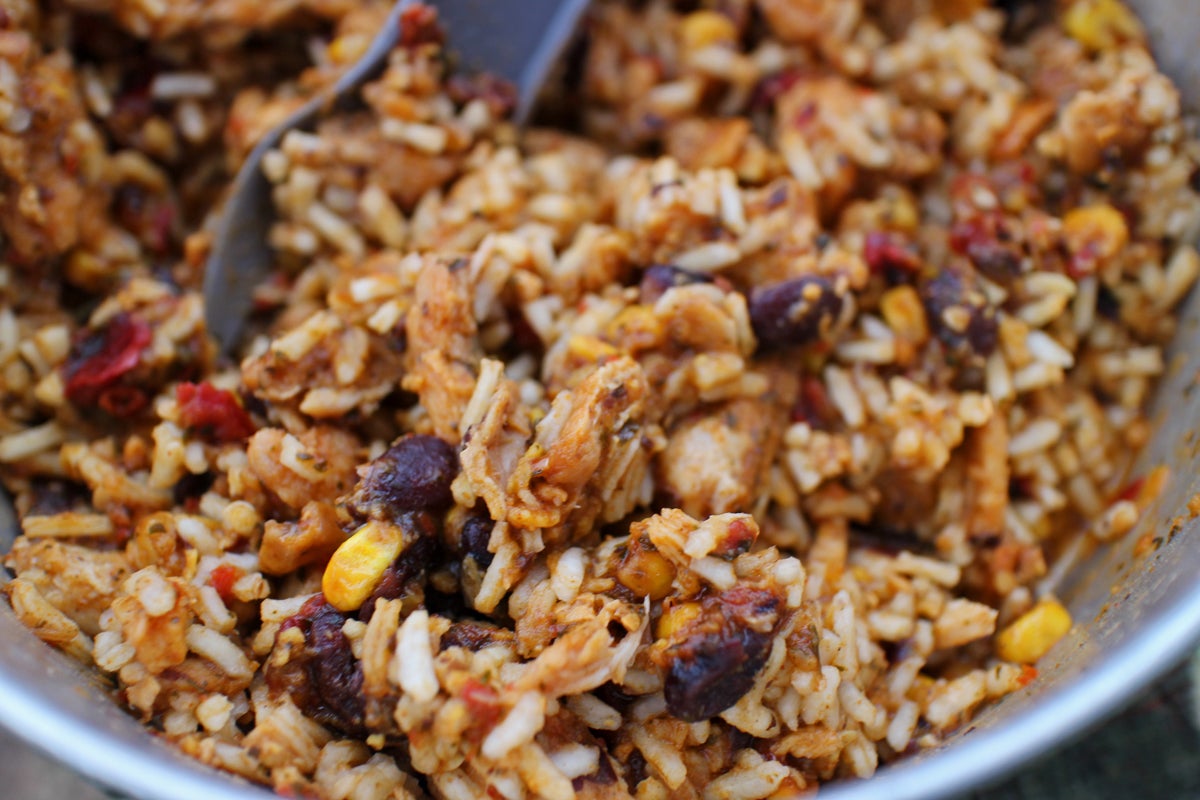 First bite was not disappointing! All food was well hydrated, meat felt and tasted like sweet barbecued pulled pork in a confusing Asian-Southwest fusion flavored rice. After three hours of not catching any fish, this meal did it's job well in satisfying my hunger and frustration on the water.
To put bluntly, Peak Refuel hit the flavor and composition of this meal out of the park. This is a meal I'm tempted to make at home and try to copycat the flavor. I have no complaints other than the $13 price for this meal, but then again I do understand the price with the quality types of food utilized.
Would I eat it again outdoors? Zero doubt.
Would I eat it at home? I can't say no.
Overall Rating: ???? out of 4.
P.S. This meal was good enough, I bought two of my own. Damn you, Rusty for introducing me to something I'll actually like, support and buy!???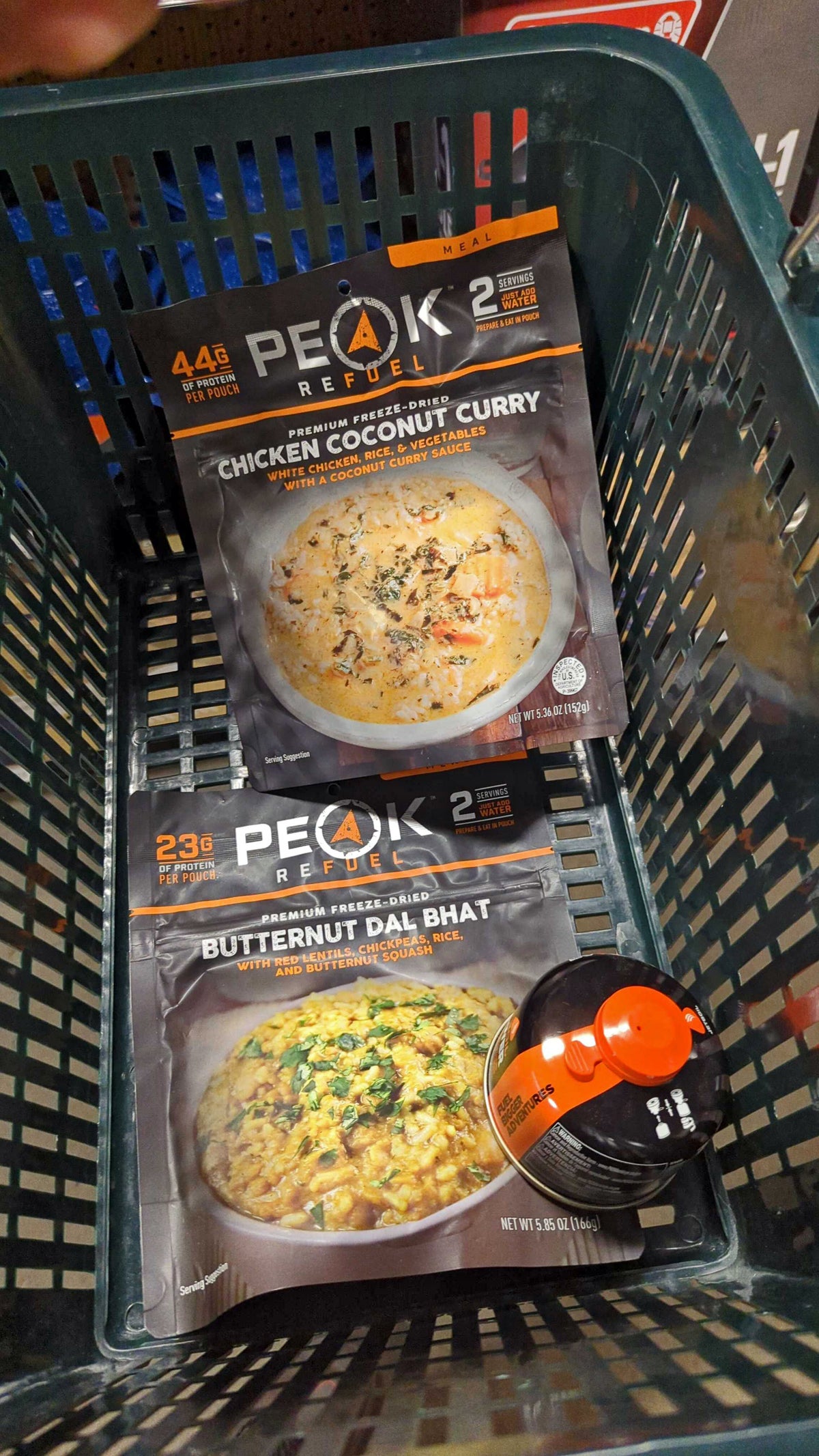 Comparison
Backpacker's Pantry Santa Fe Style Rice & Beans with Chicken – $13.41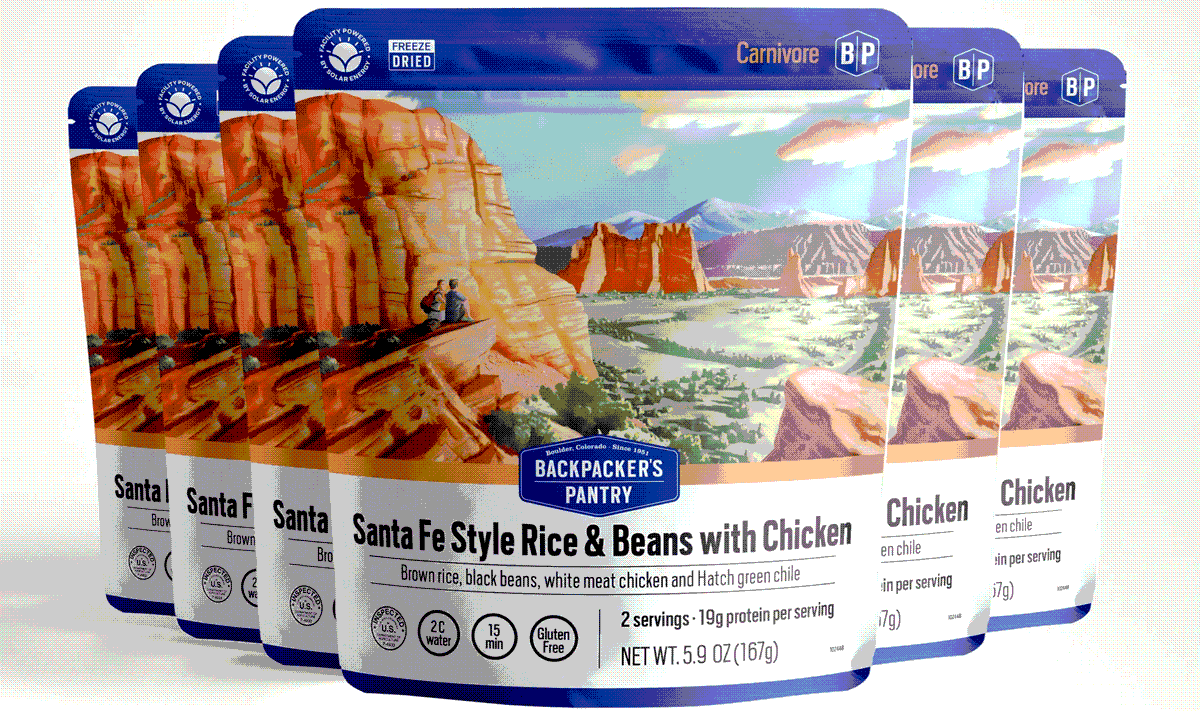 "A spicy combination of bell peppers, tomatoes, and onions with shredded pork and rice, AlpineAire Foods Pork Jambalaya offers a great-tasting fuel for your adventure that's easy to prepare."
Trailtopia Bent Paddle Beer Braised Chicken Stew – $11.99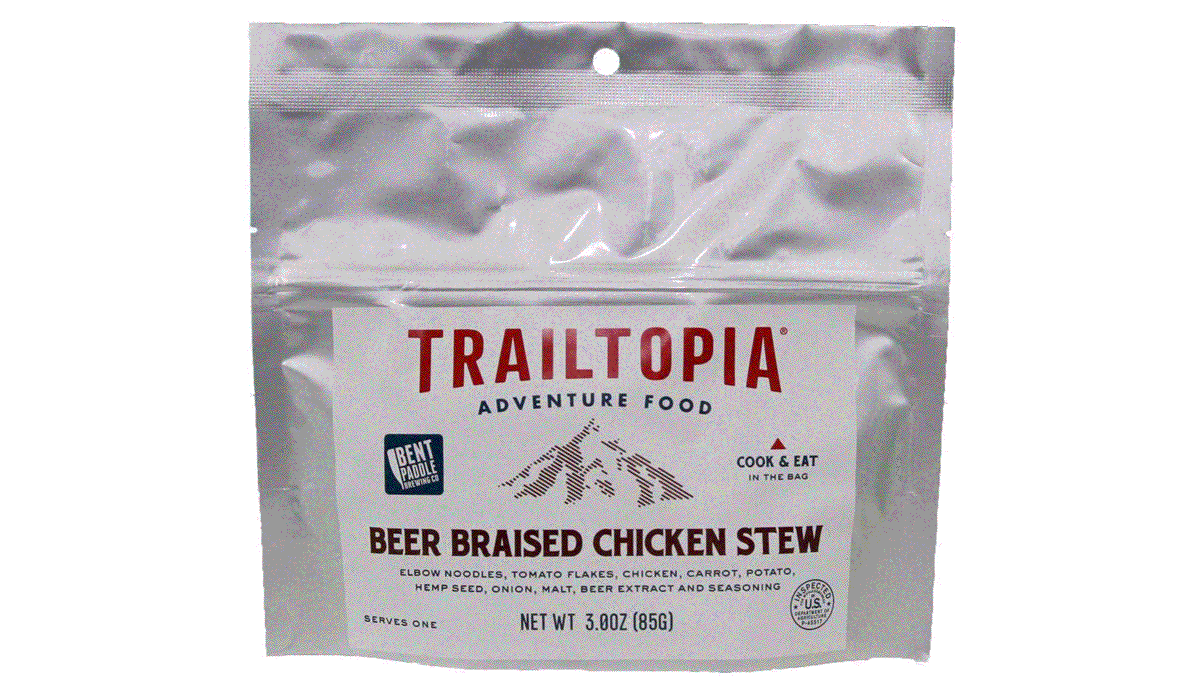 "We teamed up with Bent Paddle Brewing Co. from Duluth, Minn. to create a unique stew featuring their ESB Ale and malt. This meal includes all the goods: premium elbow noodles, tomatoes, chicken, carrots, potatoes, hemp seeds, malt, beer extract and our homemade seasoning blend."
Specifications –Peak Refuel Sweet Pork and Rice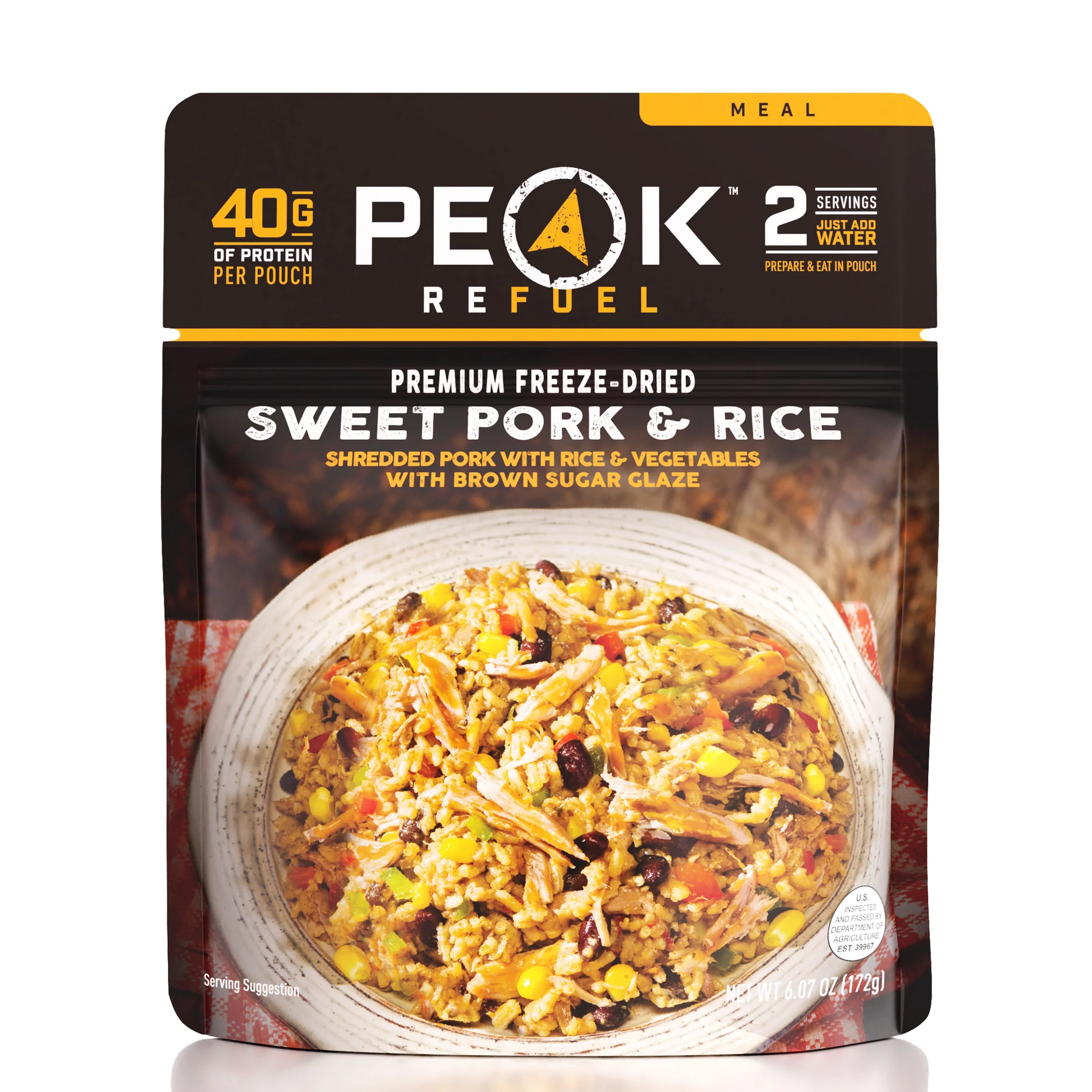 As per Peak Refuel's site:
"HIGH PROTEIN | 100% REAL MEAT | PREMIUM INGREDIENTS – Sweet Pork & Rice: Shredded Pork with Rice & Vegetables with Brown Sugar Glaze."
Model: #55224
UPC: 813546022012
MSRP: $12.99
---
Come join Alloutdoor's Discord server and chat about Archery, Firearms, Fishing and other topics with others! Sneak peaks, early notifications, and perks await. We have a Tiktok account, too!