Exercising with minimal equipment has certainly become more prevalent over the last year and a half. Amidst a pandemic, more and more people have chosen to stay home and workout. This has given rise to many home-training options like video products, streaming fitness classes, home gyms, and easy-to-use equipment. Among the companies entering this arena is 5.11. While 5.11 products are becoming associated with CrossFit, they're also a solid home gym investment for anyone looking to get in better shape, regardless of the type of training you do. Given that these products are from 5.11, a company whose products many of us have likely used in the past, there's certainly a level of durability and functionality we can expect. So, let's take a closer look at some plate carrier workouts with their TacTec Plate Carrier, Weight Vest Plates, and PT-R Weight Kits.
Above: The full arsenal of 5.11 fitness gear makes it easy to get a good workout in anywhere.
Plate Carrier Workouts with the 5.11 Tactical TacTec
Out of the box, this plate carrier looks cool — and who doesn't want to look their best when working out? Originally meant to carry armor plates and tactical gear, its design is similar to that of many plate carriers used by military and law enforcement units, which is a differentiating factor among other weight vests. In the author's humble opinion, it's hands down the best-looking weight vest on the market. Also, if you happen to use a plate carrier for your day job or intend to use one as part of your preparedness plan, the fit, finish, and feel of the TacTec will likely be similar to whatever plate carrier you have for personal protection. Outside of that, it appears durable and well-made. Based on the initial feel, it seems like it'll last a while. Other weight vests we've used have broken down over the course of one to two years of consistent use, but this vest feels different. Meant for frontline service, it's a little overbuilt by home gym standards, which hopefully translates to an extended lifespan of hard training use and helps to justify the higher price tag at $210.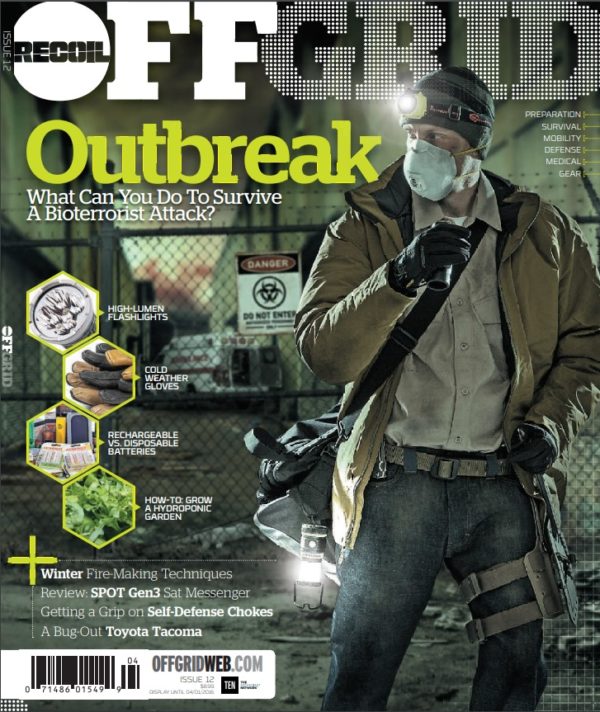 Subscribe Today and Save!
In terms of first-time wear impressions, the TacTec feels more stable and more comfortable than other commercial weight vests due to the large degree of fit adjustment that's possible with this design, as well as the padded shoulder straps. These are similar to the straps they have on their backpacks. Using a weight vest for long periods of time certainly can be a strain on the shoulders and neck, so the extra padding is a nice touch. It's a little larger than others on the market today, but it doesn't feel very bulky. Overall, it fits well and doesn't move very much during use once adjusted properly. Based on the out-of-the-box adjustments, it'll likely fit most adult males well.
Above: Bodyweight movements can easily be made more challenging with a weight vest like the TacTec Plate Carrier.
The plate carrier has some other nice features like perforated mesh padding on the inside as well as vents to increase airflow and cushion it while resting on your chest and back. Even though this vest is a little bigger than many others on the market, it doesn't get too hot, and range of motion is good. This makes the TacTec Plate Carrier an excellent choice for anyone looking to use a vest looking for more comfort in general, endurance training of any kind, or individuals looking to use a weight vest for a prolonged period of time. No matter how long you wear it, it doesn't really get to a point where it's uncomfortable or very hot, unlike other commercial weight vests.
Above: Using both the TacTec Plate Carrier and the PT-R Weight Kit gives you numerous different training options to keep training interesting.
One unique feature of the TacTec Plate Carrier not found in other vests is the quick-release cable escape system. This allows the user to pull on a Velcro-enclosed cable and quickly disassemble the vest. Putting it back together is a bit of a process, but it's not difficult. This feature was originally meant for the TacTec's primary role as an armor carrier for first responders, who may need to ditch the vest in a hurry — for example, if their vehicle rolls over, they wind up in water, or are wounded and need to quickly remove the vest for medical treatment. But as a weight training vest, the cutaway feature is a unique feature to have in the case of an injury or medical emergency while training.
Weight Vest Plates
Above: The metal plates are likely the best option for most people as they're the easiest to use with the least amount of setup.
The 5.11 TacTec Plate Carrier offers two different options to add weight for plate carrier workouts — the Metal Weight Vest Plate and the Weight Plate Sandbag. The Metal Weight Vest Plates are easier to use compared to the Weight Plate Sandbags, as they don't require any filling of sand. They slid in easily and fastened well in the compartment. These plates come in a pair and are offered in both 5.75- and 8.75-pound options, at the additional expense of $70 or $75, respectively. If you don't have the actual armor plates to train with, or don't want to train with said plates for fear of damaging them during a workout, these plates are a great way to add weight that integrates seamlessly with the TacTec. The plates measure 12.5 inches high and 9.5 inches wide, which means they may also be able to integrate with other plate carriers, if you happen to have one on hand already.
Above: These durable sand-filled plates were very easy to fill and are a very suitable alternative to the metal weight plates.
As far as the Weight Plate Sandbags, they don't require much sand to fill to the requisite weight, and they Velcro easily with both a regular closure and a rolled closure. Once filled, just slide them into the TacTec carrier. These are very well-designed with two individual compartments to fill with sand and a break in the center to better fit the contours of the body. There was no issue at all with sand leaking out during use, which is always a concern when using any sand-filled training product since some can create a real mess. Once filled, they fit snugly in the vest and attach to the inside of the weight vest via Velcro to keep them secure. These were about 8.5 pounds each when fully filled, and they run $50 for a pair.
PT-R Weight Kits
Above: Each PT-R Weight Kit is composed of two liner bags inside of the weight bag. Just unzip the weight bag and take out the liner bags for other exercise options.
Sandbag training may be new to much of the public but has been around in the fitness community for a little while now. Using sandbags as a weight training implement is a nice option; it gives people the ability to easily get a resistance training workout with numerous different exercises and very little equipment necessary. On top of that, sandbags allow the user to do work in multiple planes of motion easily, and they also allow some movements that are generally more coaching intensive, such as the hang clean, to be done without as much difficulty compared to a barbell version.
The 5.11 PT-R Weight Kit feels well-made, although some of the other similar products on the market do feel a bit more durable due to different materials. They use 1050D nylon, which will increase durability over extended-use periods. There are a few different options in terms of handle placement, giving some freedom as to what feels most comfortable and to accommodate an array of different movements.
One very useful feature of the PT-R Weight Kit that competitors don't have is the ability to use the internal liner bags on their own. 5.11 thought to put handles on each liner bag. Individually, they function similar to a kettlebell with a handle at the top with the weight below. This is very useful to be able to do exercises like swings and Turkish Get-Ups, but you can certainly use them for much more than that.
Above: The different handle placements can change an exercise quite a bit.
The PT-R Weight Kit comes in both 50- and 100-pound sizes, which should have your bases covered for most exercises. These two sandbags will run you $140 for the 50-pound bag and $160 for the 100-pound bag.
Above: Feel free to experiment with the best way to use these liner bags in your workout. They easily slide back into the weight bag.
Conclusion
Overall, these products were durable, reliable, and reflect the high-quality standard that 5.11 has set for most of its products. The TacTec Plate Carrier fit well, didn't move very much during our plate carrier workouts, was cool and comfortable. The larger size may be a turn-off for some, but it does add more comfort and stability not found in other vests. If you don't mind the price tag, it'll likely be the most comfortable weight vest you ever use.
Above: The Velcro cummerbund Velcro closure does a great job keeping the vest firmly in place.
The PT-R Weight Kits function very well and allow for a wide range of different exercises making them a very useful part of a home gym, or even as the sole piece of workout equipment. Their durability should result in a lot of use without issues. If you're someone who wants to keep most of your training at home, or you'd like some new equipment to broaden your catalog of exercises, consider these products as they're a great addition to your plate carrier workout arsenal, and you can take them on the road with you to exercise on the go.
About the Author
Ryne Gioviano is the owner of Achieve Sports Performance & Personal Training located in Aurora, Illinois. He earned his master's degree in exercise physiology and is a Certified Strength and Conditioning Specialist through the National Strength and Conditioning Association. You can find more information at www.Achieve-SportsPerformance.com or reach him on Twitter and Instagram at @rgioviano.
---
Prepare Now:
Disclosure: These links are affiliate links. Caribou Media Group earns a commission from qualifying purchases. Thank you!
---
STAY SAFE: Download a Free copy of the OFFGRID Outbreak Issue
In issue 12, Offgrid Magazine took a hard look at what you should be aware of in the event of a viral outbreak. We're now offering a free digital copy of the OffGrid Outbreak issue when you subscribe to the OffGrid email newsletter. Sign up and get your free digital copy Click to Download!
---