When most people think of survival knives, images of 1980s action films with muscle-bound heroes sporting massive Bowie knives with serrated spines, hollow handles to store fishing gear, and a mostly useless compass spring to mind. The fact is that more often than not, a small pocket knives can take care of 95 percent of your cutting chores.
Small Pocket Knives Buyer's Guide
If you're in a rough and rugged setting where you need to baton up batches of firewood, clear massive amounts of brush, or perhaps skin a lot of game in a short period of time, you may need a better choice of tool. For most day-to-day uses, however, small pocket knives can make a lot more sense than tromping around with a Bowie knife or a Woodsman's Pal. These are the knives for opening boxes, letters, or cutting zip ties. Sometimes a sub-3-inch blade may be the only knife you're legally allowed to have in certain jurisdictions. Likewise, if you're an extreme backpacker, skier, or climber and are looking at carry essentials in terms of ounces, one of these may be the right knife for you.
Blade styles may vary and one can see the real effectiveness of a Wharncliffe, reverse tanto, reverse-S curve, or recurve blade as these blade profiles tend to offer a more effective cutting edge in a shorter profile. Any of the knives on this list are small enough to carry everywhere, and they can all fit inside an Altoids tin. One model has been part of my personal EDC for close to 25 years. Chances are if you have a small pocket knife like one of these, or are thinking of picking one up, it'll turn out to be the most-used knife out of your entire collection.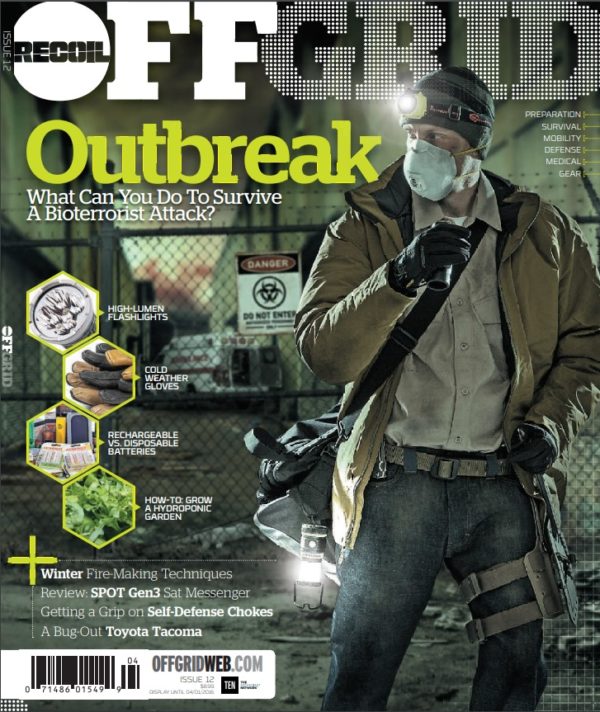 Subscribe Today and Save!
Most of us open more cardboard boxes and envelopes with our knives as opposed to hacking through the fuselage of a downed aircraft on a daily basis. Take a look at the attributes and design of each one of these and you're bound to find one that meets your needs.
Spyderco Cricket
OAL
4.75 inches
Blade Length
2.75 inches
Blade Steel
VG10
Weight
1.75 ounces
MSRP
$127
URL
www.spyderco.com
Notes
I have been carrying a Spyderco Cricket since 1995. Flat, unobtrusive, and it can perform double duty as a money clip or tie clasp if needed. The reverse-S blade design is very similar to the curvature of the Civilian and Matriarch defensive blades and the Cricket works well in that manner, too. I may carry other knives in addition to this one, but the Cricket handles most of the mundane tasks of the day. Ironically, at the time I got this, I was looking for another Spyderco called the Co-Pilot. I could never find one but found the Cricket instead, and it has served me well over the years.
Pros:
The reverse-S blade has more cutting surface area in a shorter package.
The edge is very easy to maintain.
This knife can literally disappear into the folds of your clothing — always double check before you go through TSA.
Cons:
We can live with tip-down carry on this model, but we feel bad for the southpaws. Could we get three holes on the other side?
The stainless handles and frame lock may add strength, but the older FRN handles were more comfortable.
Kershaw Kapsule
OAL
5 inches
Blade Length
1.9 inches
Blade Steel
8Cr13MoV
Weight
2 ounces
MSRP
$54
URL
www.kershaw.kaiusa.com
Notes
Kershaw's Kapsule is one of those designs I overlooked at first glance, but eventually grew to appreciate it. Designed by custom knifemaker Jens Anso, the Kapsule has a spearpoint blade and deploys out the front of the handle via a sliding button. The best part of this design is that when it's closed, it doesn't look very much like a knife. This is definitely one of those designs we see all too often that works well in its factory configuration, but could have much more potential if it were made with better materials and attention to detail. As it is, it's perfect for light cutting chores like opening boxes.
Pros:
Its benign appearance when closed makes this the perfect blade to stash in an Altoids tin, spare pocket, etc.
While not as sexy as an OTF automatic knife, the slider has a cool gadget factor.
The clip placement and opening style make this ambidextrous.
Cons:
Not very sharp out of the box, but took a keen edge in a matter of minutes
There's a bit of blade play in the locked position.
Although the design looks great, a different style of blade might make it more effective.
CRKT Razelcliffe Compact
OAL
5.25 inches
Blade Length
2.09 inches
Blade Steel
8Cr13MoV
Weight
3.3 ounces
MSRP
$40
URL
www.crkt.com
Notes
The CRKT Razelcliffe Compact is a recent design between Jon Graham and CRKT. Graham is usually known for his Razel designs, which are blades more profiled like a cleaver or straight razor. This one is styled as a Wharncliffe, but the sharpened front edge makes it more like a reverse tanto blade. It uses a frame lock construction with a finish giving it an ancient look. The pocket clip is removable but restricted to tip-up and right-hand use only. This is a stout little workhorse of a knife.
Pros:
Small, compact, and equipped with a flipper for fast deployment
Sharp and ready to go out of the box. The sharpened front edge turned out to be more useful than expected.
The contour of the handle and placement of the checkering make this one very comfortable to use.
Cons:
Limitations on clip placement may rule this one out for southpaws.
The only option for a lanyard is through the body of the clip, which isn't ideal.
While there were no problems flipping this one open due to the IKBS, we're a fan of backup opening methods, even if it's just a nail nick.
Cold Steel Tuff Lite
OAL
6 inches
Blade Length
2.5 inches
Blade Steel
AUS-8A
Weight
2.5 ounces
MSRP
$51
URL
www.coldsteel.com
Notes
The Cold Steel Tuff Lite illustrates all the virtues of the Wharncliffe blade, as a knife this small is packed full of cutting power all the way to the tip. The blade's profile transfers its energy into whatever you're cutting. Its small size ensures you can carry it comfortably almost anywhere. Other features include a very generously sized lanyard hole in the handle and a similar treatment on the opening hole in the blade. This particular model features a serrated edge with very usable serrations.
Pros:
This is a very short knife that anyone should be able to carry regardless of wardrobe.
The blade is AUS-8A stainless steel, which is sharp and corrosion resistant.
Whether it's a knife this small or a hand and a half sword, Cold Steel builds tools that last.
Cons:
It can be a tough knife to close due to its size and a stiff lockbar.
Hard use can take a toll on AUS-8A, so you'll probably have to sharpen it more often than most other knives on this list.
Clip position is ambidextrous but the only option for positioning the knife in your pocket for carry is tip-down.
Benchmade 533 Mini Bugout
OAL
6.49 inches
Blade Length
2.82 inches
Blade Steel
S30V
Weight
1.5 ounces
MSRP
$140
URL
www.benchmade.com
Notes
The Benchmade Mini Bugout is aptly named, as this is a perfect lightweight pocket folder that can be stashed anywhere. Its light weight and short length are impressive. This is in large part due to the Grivory handles. Grivory is a thermoplastic synthetic nylon resin mostly used in the automotive trade for high-temp electrical connectors. An Axis lock secures the blade in the open position and imparts enough resistance to prevent unwanted openings. Unfortunately, you can't disengage the lock and flip the blade open as you might on a larger Benchmade. The lanyard hole is perfectly sized for attaching a lanyard, and the blade steel is S30V. The pocket clip is reversible for right- and left-handed use in the tip-up position.
Pros:
The construction on this knife was very well-thought-out.
Razor-sharp out of the box and a quality steel to boot
Extremely lightweight and comfortable
Cons:
At 1.5 ounces, this may take a bit of adjusting if you're used to heavier knives.
We're not big fans of these minimalist-style clips.
The blade's spine could use some jimping for the thumb.
Kizer Cutlery Mini Begleiter
OAL
6.61 inches
Blade Length
2.87 inches
Blade Steel
N690
Weight
2.12 ounces
MSRP
$55
URL
www.kizerknives.com
Notes
I recently became aware of Kizer Cutlery over the past few years and have been growing more and more impressed with their offerings. The Vanguard represents a slimline series of folders with the touch of a gentleman's knife. The steel is N690, which is made in Austria and has properties similar to VG10. The linen Micarta handles provide for a sturdy hold. The pocket clip is removable, but restricted to tip-up and right-hand use only. Construction of the clip may be the weakest link on this one.
Pros:
The reverse tanto blade shines in this size and configuration, this one is a keen slicer out of the box.
There's a great deal of value packed into this little knife. Fit and finish is tight and the opening is extremely smooth.
Razor-sharp out of the box, this knife cut like a scalpel.
Cons:
Even though I'm right-handed and a tip-up carry kind of guy, there should at least be an option for lefties.
The pocket clip feels flimsy, as if it could easily be unsprung.
Although the design looks great, a different style of blade might make it more effective.
Civivi Knives Appalachian Drifter Slip Joint
OAL
6.8 inches
Blade Length
2.96 inches
Blade Steel
S35VN
Weight
2.49 ounces
MSRP
$99
URL
www.civivi.com
Notes
Civivi is a Chinese company that produces knives built to close tolerances with quality materials. The Appalachian Drifter is a slip-joint with a clip-point-style blade. Slip-joint knives don't have a lock like many other pocket knives. The blade is held under slight tension when the knife is in the open position. It normally takes a second hand to push the blade closed while the other hand holds the handle. Most pocketknives used by the Boy Scouts are of this type. The clip-point blade is razor sharp and this traditional profile is reminiscent of the Bowie style. The Micarta handles are grippy and the blade opens via front flipper or nail nick.
Pros:
The blade fires with authority via front flipper.
Quality steel with a razor-sharp edge
Handles are well fitted, aesthetically pleasing, and make for a very comfortable hold
Cons:
The lock is a bit loose for a slip joint. If you have a habit of placing your thumb on the spine of the blade, don't do it with this knife lest it prematurely close.
The mounting point for the lanyard isn't the most intuitive.
---
Prepare Now:
Disclosure: These links are affiliate links. Caribou Media Group earns a commission from qualifying purchases. Thank you!
---
STAY SAFE: Download a Free copy of the OFFGRID Outbreak Issue
In issue 12, Offgrid Magazine took a hard look at what you should be aware of in the event of a viral outbreak. We're now offering a free digital copy of the OffGrid Outbreak issue when you subscribe to the OffGrid email newsletter. Sign up and get your free digital copy Click to Download!
---