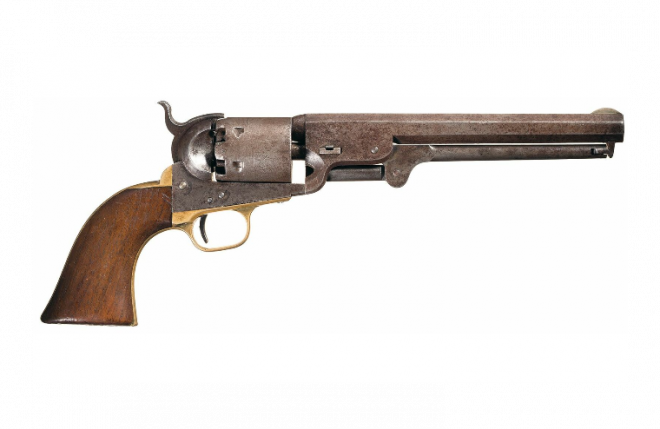 Welcome to today's Photo of the Day! I saw that Rock Island Auction Company published a post entitled The 7 Most Sought-After Civil War Guns. We figured we would share since it is a very well done article covering a whole host of guns we have looked at in brief here on our POTD session. Yet again we are diving into a Civil War-era icon, the Colt 1851 Navy percussion revolver. The Colt 1851 was Colt's real big win since its introduction of the Colt Paterson revolver. It was a beloved sidearm for lawmen and outlaws alike. It was nonetheless also found in Civil War battlefields. A common problem with these revolvers was cap jamming where the percussion cap becomes jammed in the rotating mechanism of the revolver.
"Manufactured in 1857. Notes provided by the consignor attribute the weapon as a family heirloom carried by an unnamed ancestor who was a Civil War soldier. Silver blade front and hammer notch rear sights, with "-ADDRESS COL. SAML COLT NEW-YORK U.S. AMERICA-" on top of the barrel, "COLTS/PATENT/U.S." on the left side of the frame, and the "Texas Navy" scene on the cylinder. Matching numbers are present on the barrel, frame, grip frame, loading lever, wedge, cylinder pin and cylinder. Fitted with a smooth walnut grip. Included with the revolver is a brown leather belt, a brown leather "J.A. BAKER/NEW.YORK" cap box (contains a number of lead bullets) and a brown leather cross-draw holster with no visible maker's marks."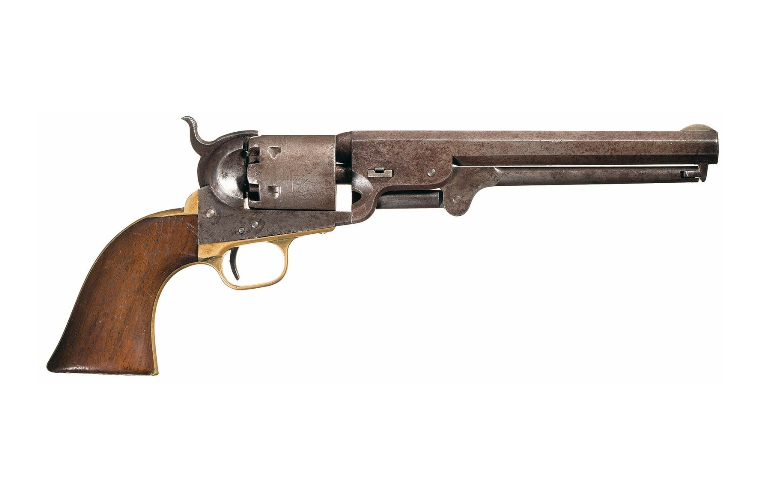 Springfield Model 1861 Rifled Musket. (2019). Rock Island Auction Company. photograph. Retrieved April 12, 2022, from https://www.rockislandauction.com/riac-blog/7-best-civil-war-guns?msclkid=a94e2739aa2011eca205ffa082614340.