Welcome to today's Photo of the Day! Here we have another Confederate Colt copy in the form of a Dance Brothers revolver. This particular model is an "Army" model given it is a .44 caliber revolver, they also made .36 caliber Navy revolvers. In the early 1860s, three brothers with the last name Dance got together and went to Texas to start a business. From what I have seen they tinkered in a little bit of everything, but mainly leaned toward manufacturing. When the American Civil War broke out the south was left with very few firearm manufacturers which is why you see a lot of "Confederate" revolvers. Many small manufacturing businesses were contracted by the Confederate government to make miscellaneous small arms, artillery pieces, and equipment to go with said artillery pieces. At the end of the day, the Dance Brothers were expected to churn out 50 of these revolvers a week. In reality, they only produced about 10 on average and as you can expect with a war on there were not any repercussions taken out on them for slacking. This is also why there are very few of these Dance Brothers revolvers today, a majority being in .44 caliber.
"Confederate Dragoon style revolver manufactured by J.H. Dance & Brothers of Columbia, Texas, c. 1864. The Dance & Brothers manufactured an estimated 275-350 .44 caliber revolvers during the Civil War. This revolver has the distinctive flat frame with no recoil shields, part-octagon barrel and nickel-silver front sight blade. The hammer spur is not knurled. The six-shot cylinder has rectangular stops. There are no safety pins in the rear face of the percussion cylinder. The revolver has a thick oval brass trigger guard and brass back strap. The one-piece grip is nicely figured walnut with a high polish finish. The revolver is not serial numbered but is stamped with a diamond with "O" on either side, the left side of the loading lever, bottom of the barrel lug, bottom of the frame, trigger guard, back strap and the left side of the hammer. All of the visible marks appear to be identical and matching. There are no other external markings on the revolver."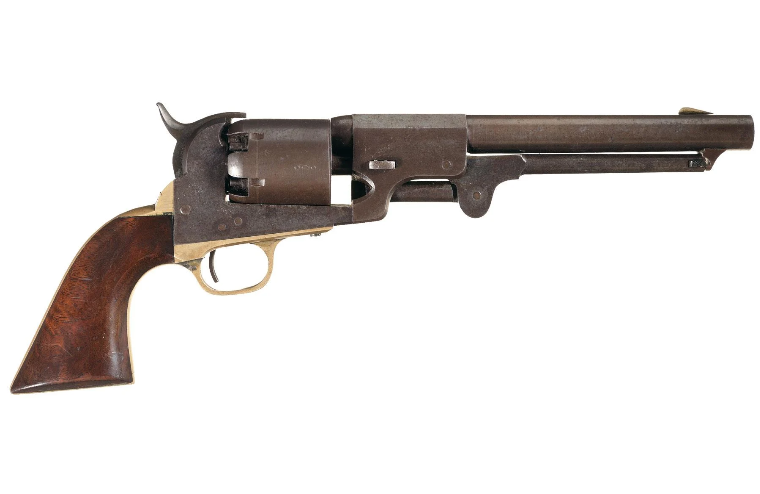 Lot 1106: Dance & Brothers Confederate Revolvers Percussion Revolver 44 pe. (n.d.). Rock Island Auction Company. photograph. Retrieved April 24, 2022, from https://www.rockislandauction.com/detail/58/1106/dance-brothers-confederate-revolvers-percussion-revolver-44-pe.